Featuring our lovely Burlesque Attractions live onstage: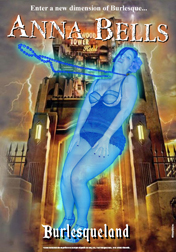 ANNA BELLS
Anna Bells first struck the Burlesque scene as half of The Fishnet Floozies back in the early to mid 2000's. Their talents brought them both to the Exotic World stage as well as appearing in the burlesque movie BROAD DAYLIGHT directed by John Michael McCarthy (Teenage Tupelo, Superstarlet A.D.). Until last year, she co-produced the annual burlesque holiday show "JESUS CHRIST: A HOLIDAY BURLESQUE REVUE." After taking much of 2008 off, she's back in her burlesque heels with force and plans to bring you her interpretation of a different side of the park...or should that be the other side of the park that we don't often think about. http://www.myspace.com/annabells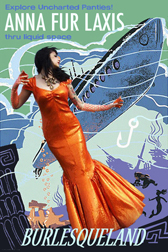 ANNA FUR LAXIS
We are very lucky to have our friend Anna Fur Laxis here at our show. She's a native of Yorkshire, England, but has made her way across the ocean (AND the rest of the country) to perform in L.A. for her third visit in a year! Anna Fur Laxis is a full-time Superhero Hausfrau who's superpowers entail constantly getting into scrapes for which the only solution is to take off her clothes. Generally found with a cup of Earl Grey tea in one hand and a French Fancy in the other, her interests include adding to her portfolio of housewifely skills and mincing around in rubber and pencil skirts. Or rubber pencil skirts. She probably knows how to handle a pencil too. She will be bringing an aquatic themed act she's well known for in the UK that would make Nemo himself hop out of his aquarium for.
http://www.annafurlaxis.com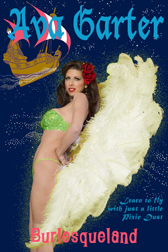 AVA GARTER
Ava Garter is here to preserve and carry on the tradition of classic Hollywood glamour and burlesque with impeccable style and beauty. Trained by world-renowned Catherine D'lish and Dita Von Teese. Her outstanding performances have been seen on stages around the world from Los Angeles, Las Vegas, Dallas, Paris, and Tokyo. Liz Goldwyn (director of the burlesque documentary Pretty Things) says "Ava Garter is a first class performer, a broad in the best sense of the word and in the tradition of the great stars of the Golden Age of Burlesque. With deep respect for her craft, she brings a sensuality to the stage that is lovely to admire." Ava is a big fan of the theme park we are lampooning and plans to light up the stage with one of her favorite characters!
http://www.avagarter.com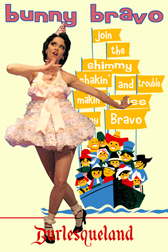 BUNNY BRAVO
They aren't kidding when they call her "The Shimmy-Shaking And Trouble Making" Bunny Bravo. She is the producer of the successful SHIMMY & SHAKE burlesque shows in Los Angeles and Orange County. She was also 1st runner up at the 2008 Miss Viva Las Vegas Burlesque competition. A student of Kitten De Ville, she hit the ground running and soon started one of the best burlesque shows in Los Angeles and the O.C.. This year she will be featured in the 2010 L.A. Burlesque Calendar (available this April!). You may have met her and not even knew it when she played Alice, Snow White (and other various characters) at Disneyland and Tokyo Disneyland. So she's already dealing with familiar territory with this show. Her performance at this show will be a tribute to not only South America, but also the endangered Rain Forest in the ride "It's A Small World" which is rumored to be taken out after the current ride closure.
http://www.myspace.com/bunnybravo1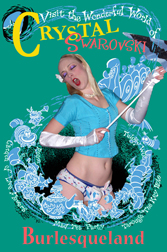 CRYSTAL SWAROVSKI
Sparkling brighter than a pair of diamond encrusted pasties, international model and dancer Crystal Swarovski has become known in the Burlesque world for her controversial political satire and sexy numbers packed with sometimes shocking and usually irreverent humor. She is also the brainchild of the Burlesque tribute to the films of Stanley Kubrick; KUBRRILESQUE. When not enticing onlookers from coast to coast Crystal can be found touring Europe with EROCKTICA or CHERRY KISS BURLESQUE and has shaken her arse for 14 countries. She was also recently seen as George Bush on MTV's Jackass with the band Virginia City Revival. A talented singer herself, Crystal's new album is available on her myspace page (see below). Crystal has modeled for many designers including FCUK, Juicy and Levi's and has been photographed by some of the world's finest such as Anne Lebowitz. In her spare time she is a pre-law major studying for her LSAT... and has a TV show in the works. This will be her second performance with PEEPSHOW MENAGERIE.
http://www.myspace.com/crystalswarovski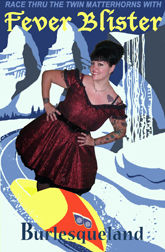 FEVER BLISTER
Fever Blister is a former club-kid & Go Go Gal turned "ENTERTAINER EXTRAORDINAIRE". An Unconventional conventionalist, don't call her a PIN-UP please. She is too heavy to hang on the wall... She isn't a model, she considers herself a personality! She believes in ambitious exploitation of her female assets... Her specialty is her own take on BURLESQUE ENTER*TEASE*MENT. Not only is she a burlesque performer, she's a producer of shows for the ANIMAL charity she founded - PAWS FOR A CAUSE in L.A. & also the producer of The BANG! BANG! Burlesque Show. She's a clothing & costume designer, sock rocker, jack-off of all trades, sex symbol, scavanger of used goods, former queen of the Cleveland scene now rocking out in Bob Barker's guest house in Burbank, California. A Voluptuous Blood Sucker, Volcanic Orgasmic Song Bird, Head stomper, Pastie twirler, Consumer of fine sparkling water, Candy advocate/enthusiast/addict and Tattoooed to the 9th power. The only fever you'd want to catch, she is Fever Blister. Fever will not only be performing her dizney inspired act onstage, but she will also be participating in various burlesque skits throughout the evening.
http://www.myspace.com/feverbeaver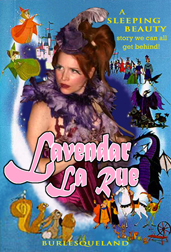 LAVENDAR LA RUE
Lavendar has performed with us before AND she's been on our stage before as a pick-up girl! Miss Lavendar La Rue is in love with costumes and glam and everything vintage. Vaudville appeals to her and most of her performances reflect that. She's a little vaudvillian package, dancing to her own tune. She has performed at the MONDAY NIGHT TEASE at 3 Clubs, SCHMUTZIG(that's german for dirty) at El Cid, LE FEMMES CHERRIS at The Key Club, Bordello for Friday Nights, and SHIMMY & SHAKE. She also ran in a marathon last year. On SUnday, January 4th, Lavendar plans to bring her interpretation of a certain sleepyheaded character to our stage. We're pretty sure that the audience will be anything but asleep when they see her up there.
http://www.myspace.com/lillianlassen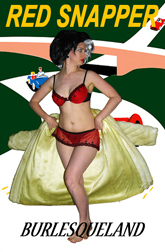 RED SNAPPER
"Sass, class and a black girl's ass" is only one of many ways to describe this performer. She brings with her a very impressive pedigree. She has studied pole dancing with Aphrodite Strip-N-Pole for two years. She's also had the amazing opportunity to study burlesque with several incredible performers: Miss Indigo Blue, Jo Boobs, Lux LaCroix, Jewel of Denial, Lili Von Schtupp, Vanity Flair, Scarlett Letter and Penny Starr, Jr.. She recently finished acting in a play called "Pin-Up Girls" (directed by Andrew Moore) in a role for which the L.A. Weekly called her "Robust And Sassy." She is going to trying out for 2009's Miss Viva Las Vegas pageant and hopes all of you vote for her. She is also this month's "Peepshow Pin-Up" and poster starlet if you haven't noticed (and we're pretty sure you did).
http://www.myspace.com/ms_red_snapper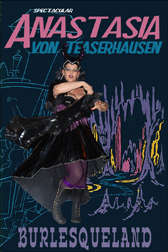 ANASTASIA VON TEASERHAUSEN
Anastasia Von Teaserhausen is one of the newest performers on the burlesque scene, but she's taken to it perfectly as she has studied under some of the best performers in L.A. and has already performed at MONDAY NIGHT TEASE and VICTORY VARIETY HOUR. She also may have the longest name in burlesque [citation needed]. Beyond her performances, she is a maker of custom corsets and accessories. Tonight she brings to the PEEPSHOW MENAGERIE stage her interpretation of one of the most evil characters from Disney history. Although we've known her for quite a while, this will be her first performance with PEEPSHOW MENAGERIE and we're very happy to have her.
http://www.myspace.com/pinkfouffy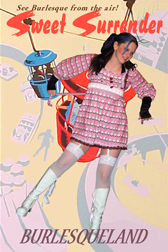 SWEET SURRENDER
Sweet Surrender's myspace sez, "My life is...my life. I work, eat, drink, laugh, and chill with my gnomies." Well, her life may be a little more complicated than that. She been doing Rocky Horror since 2001 with Wild And Untamed Things. She loves performing. She says its a way to be more than just her. She is also a member of the local caffine junkies at TOO MUCH COFFEE CAST in Ventura and Creatures Of The Night in Clairemont where she performins regularly. And you thought that was all, she also slings her flesh around the Velvet Darkness stage in Bakersfield. When she isn't performing, she loves to hang out and watch movies, go to Shows, play video games, and just basically go with the flow. She is relatively new to burlesque, but she has already performed at MONDAY NIGHT TEASE and this will be her first appearance at PEEPSHOW MENAGERIE as she brings a much beloved character to our stage at Bordello.
http://www.myspace.com/wildthang4711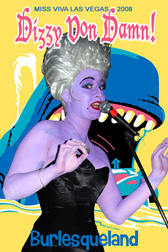 Hosted by DIZZY VON DAMN!
Dizzy von Damn! is a science-experiment gone horribly awry- she's what happens when you mix the genes of the lovely Bettie Page with those of kitschy-eccentric Liberace... she's proof that science can be sexy...and weird. In April she won the title of Miss Viva Las Vegas 2008, has performed across the country, as well as performing regularly at Victory Variety Hour, Monday Night Tease, and , and will be appearing in the LA Burlesque Calendar for 2009. She dabbles in design and is a jill of all trades - She's the Always girl. After not being able to perform in our last show due to getting emergency stitches for an injury created while making a cannon (don't ask), Dizzy is finally back on our stage and hosting at that. Perhaps if we're very lucky she'll even sing for us. Why not?
http://www.dizzyvondamn.com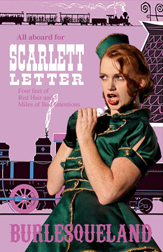 Produced by SCARLETT LETTER
Scarlett Letter is not only the co-producer of this show, but is also the co-producer of the MONDAY NIGHT TEASE which takes place every Monday at 3 Clubs in Hollywood. She has performed at Exotic World in 2007 and 2008 and was winner of "Most Classic" at the 2007 Boston Burlesque Exposition. She has performed in more countries than you've been to. She's got "four feet of red hair and miles of bad intentions" and dances her life away every chance she gets. This includes currently: Burlesque at the 3 of Clubs, Rocky Horror with Wild and Untamed Things (WUT), and miscellaneous burlesque, go-go, and pole-go around the greater Los Angeles Metropolitan area. Scarlett has always been more partial to the live-action Disney films from he 50's and 60's and plans to bring her interpretation of one of those movies to our stage at Bordello on Sunday, January 4th.
http://www.myspace.com/apriest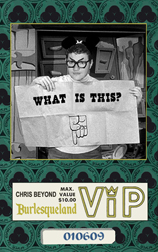 Produced by CHRIS BEYOND
Chris Beyond has been a part of the L.A. independent music scene since the early nineties and has really had his hands full since then. He is the creator of No-Fi "Magazine" in 1996 and No-Fi "Radio" in 2002, both of which are still in production today. He has appeared on the television shows SEXBYTES on HBO and on DEADLINE on HDnet. He's been an in-studio guest on the radio show LOVELINE, was interviewed on Playstation.com, and has been published in Ben Is Dead and Harper's magazines. He has produced several concerts around the Los Angeles area as well as been a member of the bands EAR BEYOND and POPULAR GIRL. He is also a designer whose works have appeared in albums, magazines, newspapers, flyers, and DVDs (including the burlesque film Broad Daylight directed by JMM). He is a prominent burlesque and pin-up photographer in the burlesque scene and a staffmember of the Burlesque Hall Of Fame/Exotic World. He has hosted shows for Shimmy & Shake, Dolls Of Fox, Monday Night Tease, & more, and is co-host of The Burlesque Podcast with Lili VonSchtupp. In this show, Chris will be bringing you a few burlesque skits and a bit of Diz-ney history that you may not have known about. See you real soon!
http://www.myspace.com/beyondphotography


Photos from event by Dan Hendricks, S.H. Photo, and Markus Alias!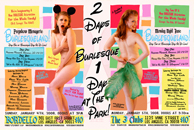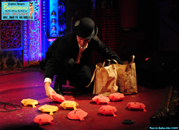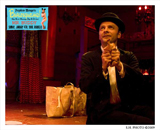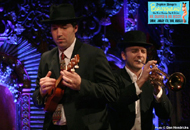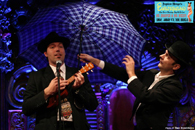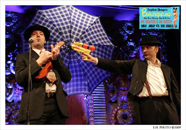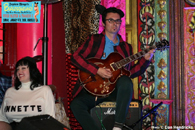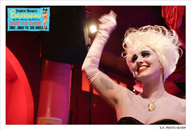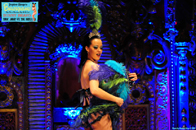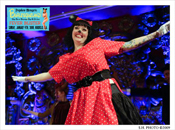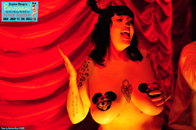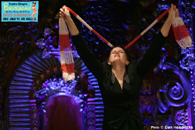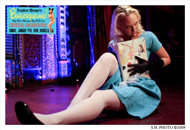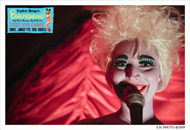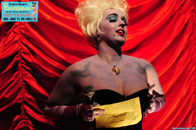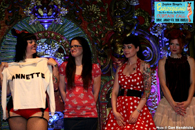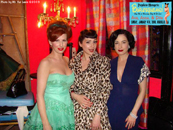 Click on each image to see a BIGGER version!
SHOW REVIEWS!

Jack Dagger's experience at Peepshow Menagerie: Burlesqueland!

Click on each image to see a BIGGER version!