Featuring a cast of starlets and kissin' cuzzins live onstage: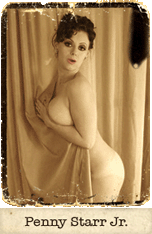 PENNY STARR JR.
Penny Starr, Jr. is known as "The Pe-tite Barnum" and it's a well deserved nickname. She produces both VICTORY VARIETY HOUR ("high fallutin' low-brow") and CLUB SCHMUTZIG (a dark, dirty den of bygone debauchery) at El Cid in Los Angeles. She was the centerfold in issue 12 of Barracuda Magazine as well as the online centerfold of issue 55 of No-Fi "Magazine". Penny Starr, Jr. was First Runner Up of the 2004 Miss Exotic World competition and has performed on stage in Las Vegas with her grandmother who was the original burlesque performer known as Penny Starr. Penny Starr, Jr. is also the only award winning burlesque dancer who is also an award winning filmmaker. She has directed AGENT 15, LE JEU DE KINDERSPIEL, MOUN OF TUNIS PRESENTS PRINCESS FARHANA / BOOM BOOM: HOT BURLESQUE MOVES FOR COOL CHICKS (instructional dance videos) and her feature length documentary THE VELVET HAMMER BURLESQUE which ran at The Egyptian Theatre among other places. She also teaches an intensive burlesque course with fellow performer Jewel Of Denial called the STRIP TEASE SYMPOSIUM. This is her 2nd time performing in Peepshow Menagerie and we are very proud to feature her as this month's "Peepshow Pin-Up" (available on the back of our latest postcards).
http://www.myspace.com/thepetitebarnum
http://www.itsachick.com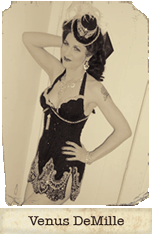 VENUS DeMILLE
The Deity Of Desire is reborn! She has come to Earth as Burlesque Artist Venus De Mille, crowned "Legend In The Making" at the Miss Exotic World 2005 Pageant. Mere mortals are held spellbound by her heavenly body and dazzling performances which combine the glamour of Hollywood with the temptation of striptease and the bluster of a good old bump 'n'grind earning her the nickname "Weapon of Man's Destruction". Emerging from a mad scientist's laboratory (as opposed to the usual half shell), Venus adapted her lofty self to portraying a range of earthy vixens. Her accordion skills are unparalleled, and whether she's serenading the audience while shedding flimsy garments, rappelling from the rafters, or transforming before your very eyes into a ball of flame, she always envelops the crowd in preternaturally supreme theatrical experience, continuously reducing human spectators to helpless piles of rubble with a mere glance. The Divine One's own costume designs were so spectacular, that though he preferred to see her unclothed, Zeus himself was inspired to bestow upon her a Master's Degree in Theater. But Venus can be benevolent as well as meddlesome. In addition to costuming many of your favorite burlesque starlets, she has been sharing her costuming expertise with other mortals for several years now, teaching Burlesque Costume Classes at Costume College (Van Nuys), Stiletto (Redlands), and Tease-O-Rama (San Francisco.) She also donates her time and efforts to various local charities. Venus has graced the stage at such diverse events as The Velvet Hammer Burlesque, Tease-O-rama, The Miss Exotic World Pageant, The Victory Variety Hour, Margaret Cho's Sensuous Woman, and many others. Venus, having once been rendered tragically armless, knows the importance of having one's limbs properly clothed. Thus, she has unveiled her own line of luxuriously embellished gloves under the name: "Gloves By Venus"
http://www.venusdemille.net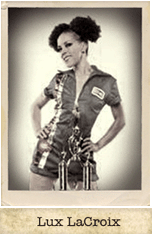 LUX LaCROIX
Lux LaCroix is a documentary filmmaker, cinematographer, art show curator, ballet teacher, choreographer, professional dancer and burlesque starlet who recently won First Runner Up at The Burlesque Hall Of Fame: Exotic World 2008 which took place at The Palms in Las Vegas as well as winning the title of "Most Dazzling." She is the co-producer of BURLESQUE-A-GO-GO which is temporarily on hiatus while they find a new venue. She also teaches burlesque dance at the Bump 'N" Grind Bootcamp with her show partner Vixen Violette. Apart from her burlesque adventures, Lux does choreography for musical celebrities like P-Diddy and recently performed lead in a all black cast production of Swan Lake in Paris. This is her second time appearing in Peepshow Menagerie since her last appearance in our very first show.
http://www.myspace.com/luxlacroix
http://www.luxlacroix.com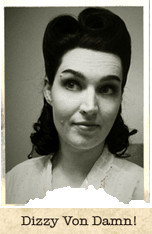 DIZZY VON DAMN!
Fresh after expertly hosting our show last month (and her first hosting gig ever), Dizzy Von Damn! is a science-experiment gone horribly awry- she's what happens when you mix the genes of the lovely Bettie Page with those of kitschy-eccentric Liberace... she's proof that science can be sexy...and weird. In April she won the title of Miss Viva Las Vegas 2008, has performed across the country, as well as performing regularly at Victory Variety Hour, Monday Night Tease, and , and will be appearing in the LA Burlesque Calendar for 2009. She dabbles in design and is a jill of all trades - She's the Always Girl. This cowgirl has had the blues lately so help us cheer her up by giving her all the hoots n' hollars a respectable gal like her deserves.
http://www.dizzyvondamn.com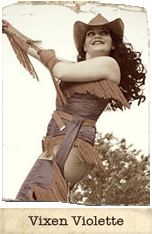 VIXEN VIOLETTE
Vixen Violette can't decide if she is an alter ego, or if she has an alter ego. One thing that is for sure is that she is a very talented performer and producer who produces BURLESQUE-A-GO-GO with her co-producer Lux LaCroix. This past year she made her Burlesque Hall Of Fame: Exotic World debut at The Palms casino in Las Vegas. She's known for her "Sharp Tongue and Soft Curves" and also teaches costuming as part of the "Bump 'N' Grind Bootcamp" with her show partner Lux LaCroix, like whom she appeared in the official L.A. Burlesque calendar last year. This is her third appearance in our show.
http://www.myspace.com/VixenViolette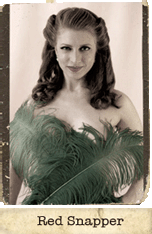 RED SNAPPER
"Sass, class and a black girl's ass" is only one of many ways to describe this performer. She brings with her a very impressive pedigree. She has studied pole dancing with Aphrodite Strip-N-Pole for two years. She's also had the amazing opportunity to study burlesque with several incredible performers: Miss Indigo Blue, Jo Boobs, Lux LaCroix, Jewel of Denial, Lili Von Schtupp, Vanity Flair, Scarlett Letter and Penny Starr, Jr.. She recently finished acting in a play called "Pin-Up Girls" (directed by Andrew Moore) in a role for which the L.A. Weekly called her "Robust And Sassy." Right now she's preparing to direct a whole other play as well as trying out for 2009's Miss Viva Las Vegas pageant and hopes all of you vote for her.
http://www.myspace.com/ms_red_snapper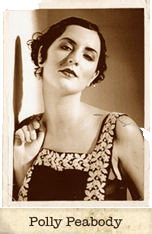 POLLY PEABODY
Polly Peabody has graced the stages of the following establishments: The Slipper Room, The Blue Angel, Limelight, Rififi, Veruka, Galapagos, SHOW, The Spider Club, The Key Club, The Derby, Tangier, Passive Arts Studios, MBar, El Cid, Fais Do Do, Bordello and many more that she's forgotten to mention. She has worked with The Boomshell Girls (NYC), The Va Va Voom Room (San Francisco and NYC), The Red Rooster Review (Key West), and with the great Shelly Bomb on events in Vegas, NY, Madison, Wisconsin and beyond. She and partner Crystal Swarovski competed in the Miss Exotic World competition 2006. Their production company, Lopsided Productions has been bringing infantile entertainment to LA for a good four years now -- on and off, you know, whatever... She was a contributor and co-writer on Miss Swarovski's opus, Kubrilesque. Before that, she was co-artistic director at SHOW Nightclub with NY club impresario, Norman Gosney. She co-directed The Pink Rhino Review, The Pirate Show, Dark Carnival and The Hitchcock Show, as well as co-opening for Pink, Britney Spears, and Dita Von Teese. Fancy right? Nowadays, her main focus within the wacky world of neuvo-retro-homo-fatso-metro-lesbo-burlesque is to sharpen her razor-like wit on the whetstone of David Hasselhoff, abortion jokes, and the vast comic trench of Adolf Hitler, securing a place for herself as the proverbial "hostess with the mostest," a cognomen she has bestowed shamelessly on herself (at least she admits it, girls). Her alter ego, Adria Lang, is a screenwriter and novelist living in Echo Park with her cat Bobo. This is her third appearance in Peepshow Menagerie
http://www.pollypeabody.com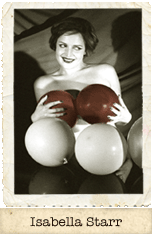 ISABELLA STARR
Professional makeup artist, professional ball breaker, model, burlesque performer/chanteuse, freak of nature, muse, wannabe rock star, go-getter, artist, lush, bohemian, part time lover, believer of true love, geek, anglophile, old soul, closet intellectual, social butterfly, narsacist, art/musical/fetish/rock'n'roll/karaoke/film enthusiast. By day she's a make-up artist who has worked with more famous celebrities than you can even think of off the top of her head...and that was just last week. Imagine who she must meet in a month or a year! By night she is a burlesque vixen who paints the stage just as smoothly as she does her subjects in the make-up chair. She has performed for adoring audiences at Club Schmutzig, On The Rox, and at the Monday Night Tease. This is her first appearance with Peepshow Menagerie and we would hope not her last. She plans to dazzle you with her homespun tribute to Hollywood and the legends it left us with...and who left us too soon.
http://www.myspace.com/evastefania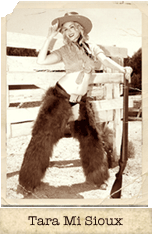 TARA MI SIOUX
Tara Mi Sioux recently made her home in Stockholm, Sweden, but has returned to L.A for we must only assume was just to be able to perform on our stage with many of the top burlesque performers in L.A.. From her myspace page: "If I could do crafts all day I would. I love dogs. Cats are ok for 5 minutes and then I realize dogs are way cooler. I argue with little kids. I don't like it when people misspell "quiet" and "quite." I'm addicted to chocolate, I love my music collection which inspires me with everything I do. Excessive PDA bugs the crap out of me. I was once considered a hero and received a reward of $200 that was taxed along with a coffee mug coozie. I can't stand the feeling of my hands not being moisturized...and if we don't get along.... it's you, not me." Her next stop is Italy just days after our show so if you want a chance to see this rare appearance of this international beauty, this is the show to do it. She puts the country in international countries.
http://www.myspace.com/taramisioux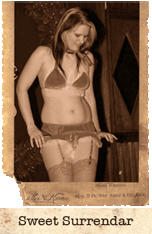 SWEET SURRENDER
Sweet Surrender's myspace sez, "My life is...my life. I work, eat, drink, laugh, and chill with my gnomies." Well, her life may be a little more complicated than that. She been doing Rocky Horror since 2001 with Wild And Untamed Things. She loves performing. She says its a way to be more than just her. She is also a member of the local caffine junkies at TOO MUCH COFFEE CAST in Ventura and Creatures Of The Night in Clairemont where she performins regularly. And you thought that was all, she also slings her flesh around the Velvet Darkness stage in Bakersfield. When she isn't performing, she loves to hang out and watch movies, go to Shows, play video games, and just basically go with the flow. She is relatively new to burlesque, but she has already performed at MONDAY NIGHT TEASE and this will be her second appearance at PEEPSHOW MENAGERIE after her Peepshow debut last month at our Dizney themed show!
http://www.myspace.com/wildthang4711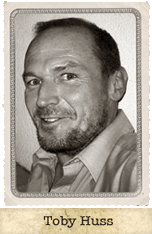 Hosted by TOBY HUSS
Mr. Toby Huss is an Iowa bred actor, photographer, singer, painter, comedian who has appeared in over 35 movies and television series. Notable roles include Artie, the Strongest Man in the World on "The Adventures of Pete & Pete" He was the man behind the voices of Cotton Hill and Kahn Souphanousinphone on the Fox show "King of the Hill" and played "The Wiz", a boyfriend of Elaine Benes in "The Junk Mail" episode of Seinfeld. He also played a supporting lead character in the critically acclaimed HBO television show "Carnivale" Basically he's been around the entertainment industry more than Paris Hilton has crabs. And like Paris's crabs, you probably won't realize you're already familiar with his work until a little while later. I mean the guy was in Spaceballs. Yeah, SPACEBALLS! He's also known for his parodies of Frank Sinatra, which were featured in the films "Vegas Vacation" and "Down Periscope." But is it really Toby or his alter ego, Rudy Casoni? In the early nineties, he appeared in network promos for MTV, playing odd characters, including a crooner known at the time as Ol' Two Eyes (the predecessor to Rudy Casoni) who sang lounge-singer versions of rap and grunge hits. We are very happy to have him here on our stage hosting our show. At first we couldn't figure out why he'd want to host a show filled with beautiful half-naked women until we realized, "Oh, yeah... It's a show filled with beautiful half-naked women."
http://www.myspace.com/vootini
http://www.myspace.com/rudycasoni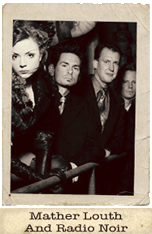 Music by MATHER LOUTH AND RADIO NOIR
From Jeffry Pegg's review of a live Mather Louth And Radio Noir show from his blog on myspace; "Lights shine sultry on red lips spreading to a chrome polished microphone. What comes forth is an eerie southern breeze floating off a murky backwater bayou. David Meadow on drums pattering calm, Randall Keith on upright bass thumping lull, Jon Nilsen on sax blowing it smooth, and Mather on a blues guitar strums the strings to her glimmering soul while exhaling vocals from the shadowy depths of her heart. It's a mystical New Orleans sound from L.A. Mather dressed in southern belle Goth; the Goth being a slim midnight felt outfit with frills dangling from a short thick skirt with charcoal sheer stockings and black boot heels; the southern belle being her pale blush beautiful face with glittering peacock eyes and plum wine hair tied up in a red bouquet of flowers and feathers. She looked like a blossoming red rose with feather foliage penetrating through the darkness. In the essence of blues, Mather Louth vibes a depressingly hopeful feel in her music, like a steady trudge through thick oily mud with optimism to reach the sparkle in the distance. The air becomes thick with her rough ominous vocals that soak listeners completely. It's not a miserable 'I hate life' attitude, but rather a rhythmic release of despair and tiny possibilities. Your troubles are momentarily forgotten when Mather Louth absorbs you into her bourbon sipping blues, which lasted forty-five minutes." Hear it for yourself at our show this February 1st at Bordello!
http://www.matherlouth.com/
http://www.myspace.com/matherlouth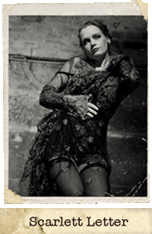 Produced by SCARLETT LETTER
Scarlett Letter is not only the co-producer of this show, but is also the co-producer of the MONDAY NIGHT TEASE which takes place every Monday at 3 Clubs in Hollywood. Like most dancers in Hollywood, Scarlett Letter has been performing since childhood. However, her experiences have helped her develop a strong capacity for performing off the cuff and from the hip. During her lonely days in rural Nevada, she spent many a night performing under the glow of a black and white TV, dancing along with the best. She quickly developed an "I can do that" attitude and jumped at every performance opportunity that came her way. Upon moving to California, she put her dreams of a chorus girl life on the backburner and earned a bachelors in Performing Arts Management. Since her graduation, it has been all systems go. Now, she is using the skills acquired growing up Mormon to keep her trunk full of award winning costumes and ready for every situation. Scarlett has performed in a wide variety of venues including the World Famous Derby, The Queen Mary in Long Beach, The Whiskey a Go-Go, the Gig and the Mint. She has also performed in Tucson, Vancouver, Seattle, Las Vegas and Boston, where she was awarded the title of "Most Classic" at the Great Boston Burlesque Exposition of 2007.
http://www.myspace.com/apriest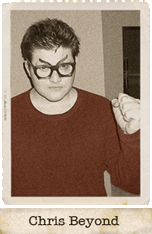 Produced by CHRIS BEYOND
Chris Beyond has been a part of the L.A. independent music scene since the early nineties and has really had his hands full since then. He is the creator of No-Fi "Magazine" in 1996 and No-Fi "Radio" in 2002, both of which are still in production today. He has appeared on the television shows SEXBYTES on HBO and on DEADLINE on HDnet. He's been an in-studio guest on the radio show LOVELINE, was interviewed on Playstation.com, and has been published in Ben Is Dead and Harper's magazines. He has produced several concerts around the Los Angeles area as well as been a member of the bands EAR BEYOND and POPULAR GIRL. He is also a designer whose works have appeared in albums, magazines, newspapers, flyers, and DVDs (including the burlesque film Broad Daylight directed by JMM). He is a prominent burlesque and pin-up photographer in the burlesque scene and a staffmember of the Burlesque Hall Of Fame/Exotic World. He has hosted shows for Shimmy & Shake, Dolls Of Fox, Monday Night Tease, & more, and is co-host of The Burlesque Podcast with Lili VonSchtupp. Chris will be making appearances here and there during the show, perhaps with a couple hillbilly inspired skits.
http://www.myspace.com/beyondphotography


More photos from event Coming Soon!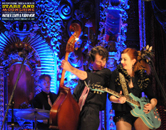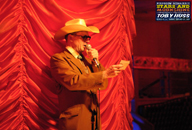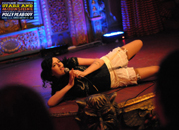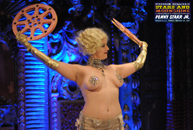 Click on each image to see a BIGGER version!
PAST SHOW REVIEWS!

Jack Dagger's experience at Peepshow Menagerie: Burlesqueland!

Click on each image to see a BIGGER version!