Featuring Suspicious Burlesque Performances By: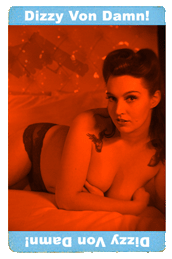 DIZZY VON DAMN!
Dizzy Von Damn! is a science-experiment gone horribly awry- she's what happens when you mix the genes of the lovely Bettie Page with those of kitschy-eccentric Liberace... She's proof that science can be sexy...and weird. Last year, she won the title of Miss Viva Las Vegas 2008, has performed across the country, as well as performing regularly at VICTORY VARIETY HOUR, MONDAY NIGHT TEASE, as well as various shows around town, and can be seen in the new LA Burlesque Calendar for 2010 which will be available for purchase at the show. She dabbles in design and is a jill of all trades - She's the Always Girl. She has both hosted and performed burlesque in many of our shows and we're always happy to have her. On this night she will be performing THREE acts in this burlesque investigation.
http://www.dizzyvondamn.com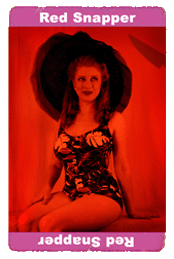 RED SNAPPER
"Sass, class and a black girl's ass" is only one of many ways to describe this performer. She brings with her a very impressive pedigree. She has studied pole dancing with Aphrodite Strip-N-Pole for two years. She's had the opportunity to study burlesque with several incredible performers: Lux LaCroix (Bump and Grind 101), Miss Indigo Blue (Academy of Burlesque), Jo Boobs (New York School of Burlesque), Jewel of Denial and Penny Starr, Jr. (Striptease Symposium), Scarlett Letter (Little Red Schoolhouse of Burlesque) as well as Lili VonSchtupp, Vanity Flair, Tigger!, Desire' D'Amour, Princess Farhana, and burlesque legends Wild Cherry and April March. Last year she starred in the play "Pin-Up Girls" (directed by Andrew Moore) in a role for which the L.A. Weekly called her "Robust And Sassy" and recently directed a play called "Tracing Sunny" for her theatre company Theatre Unleashed. She co-produced two Peepshow Menagerie shows during Scarlett Letter's absence (who was on a European tour) and has performed in more of our shows than any other performer, besides Scarlett. She is also the newest teacher with Striptease Symposium. Before that she has taught pole and chair dancing with Aphrodite Strip-N-Pole in West Hollywood, as well as coached a number of actresses in the art of striptease and she's even held a tassel twirling clinic for men. This Sunday School Teacher's Pet has put together a presentation on safe sex that you just might find interesting.
http://www.myspace.com/ms_red_snapper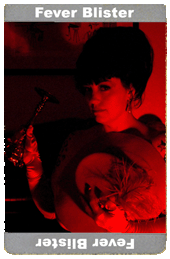 FEVER BLISTER
Fever Blister is a former club-kid & Go Go Gal turned "ENTERTAINER EXTRAORDINAIRE". An Unconventional conventionalist, don't call her a PIN-UP please. She is too heavy to hang on the wall... She isn't a model, she considers herself a personality! She believes in ambitious exploitation of her female assets... Her specialty is her own take on BURLESQUE ENTER*TEASE*MENT. Not only is she a burlesque performer, she's a producer of shows for the ANIMAL charity she founded - PAWS FOR A CAUSE in L.A. & also the producer of The BANG! BANG! Burlesque Show. She's a clothing & costume designer, sock rocker, jack-off of all trades, sex symbol, scavanger of used goods, former queen of the Cleveland scene now rocking out in Bob Barker's guest house in Burbank, California. A Voluptuous Blood Sucker, Volcanic Orgasmic Song Bird, Head stomper, Pastie twirler, Consumer of fine sparkling water, Candy advocate/enthusiast/addict and Tattoooed to the 9th power. She's the only fever you'd want to catch.
http://www.myspace.com/feverbeaver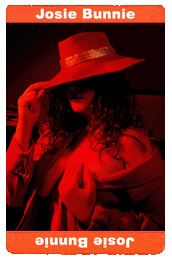 JOSIE BUNNIE
She's got "Curves, Curls and Baby Blue Eyes!" Josie Bunnie is a burlesque performer, occasional nude model, and confirmed nudist who loves being creative and artistic. She has performed at El Cid with the Victory Variety Hour & Schmutzig, 3 Clubs with the Monday Night Tease, Mr T's Bowl and The Scene club with Burlesque-a-go-go, in the live Camp Burlesque show, and other various shows. She is a student of Kitten De Ville, Augusta (AKA Penny Starr Jr.), Jewel Of Denial, Lux La Croix and Vixen Violette. She is a very bubbly person who likes to socialize and meet new people. She knows what she's got and knows how to use it, as they say. She also says she loves being in front of a camera and playing with her kitty cats.
http://www.myspace.com/missjosiebunnie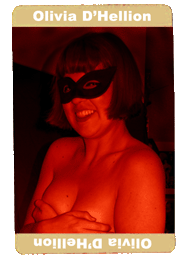 OLIVIA D'HELLION
Olivia D'Helion brings with her a lot of fun and spunkiness! From her Myspace profile: "WHY HELLO DARLING, MY NAME IS OLIVIA D'HELLION AND I'M READY TO SHIMMY AND SHAKE MY WAY ALL OVER LOS ANGELES. I MAY ACT SHY, BUT I SURE KNOW HOW TO RAISE HELL!" She also loves to leave the caps-lock on as it would seem. You'll often find her working the door at Victory Variety Hour and our show, but she's ready to hit the stage and she'll be breaking out her own perky junior sleuth for this show.
http://www.myspace.com/oliviadhelion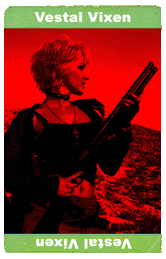 VESTAL VIXEN & MISS GIGGLES
VESTAL adjective- (1) Roman Mythology: a) Of or relating to Vesta b)Relating to or characteristics of the vestal virgins (2) Chaste; pure. noun- (1) Roman Mythology: A vestal virgin (2) A woman who is a virgin (3) A nun. VIXEN noun- (1) A female fox (2) a sexually attractive woman. Hailing from Southern California, Burlesque diva Vestal Vixen combines millennia of feminine sensuality in a shiny new package. Whether sizzling on stage as a member of Miss Kitty's Filthy Family or dazzling the room with beauty and class during her Burlesque numbers, Vestal Vixen knows how to seduce a crowd and leave them yearning for more. This is her third performance with Peepshow Menagerie and she's bringing with her her own partner to help investigate the crime. Let's hope she works for Scooby Snacks.
http://www.myspace.com/vestalvixen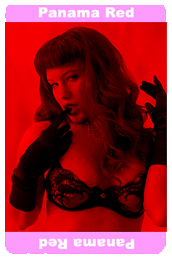 PANAMA RED
Panama Red talks about herself in the 3rd person. She is a lover of all things glamourous and ostentatious. She is a fan of rhinestones. She likes the bump and grind. It's no wonder that she is also a lover of Burlesque. She performs when she can and you should come see her. Her favourite drink is the Seagram's 7 & 7. Buy her one. In this show she'll be performing a tribute to everyone's favorite theatrical pink diamond.
http://www.myspace.com/mspanamared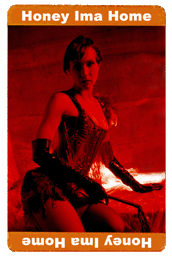 HONEY IMA HOME
Bio info TK
www.facebook.com/people/Honey-Ima-Home
Hosted by: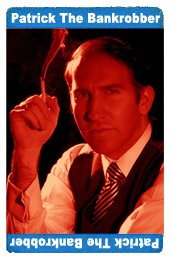 PATRICK THE BANKROBBER
Since the beginning of Peepshow Menagerie, he has always occupied a corner of the upper deck of Bordello; well dressed, sharply combed - somearial in gloves - and watching silently from above. We eventually discovered that his name is Patrick The Bank Robber and when he isn't a burlesque enthusiast, he can often be found on stage reciting Shakespeare, traveling across the country, or just simply robbing banks (it is his name after all and he's a pretty genuine fellow). After being made at various shows across town, he eventually found himself hosting for shows like Ragdolls Burlesque and the Monday Night Tease. Besides, it's easier to see what he's up to when he's on stage rather than any dark corners of the club. On this night, Patrick will be hosting as the one and only Sherlock Holmes along with Rex as his Watson.
http://www.myspace.com/patrickthebankrobber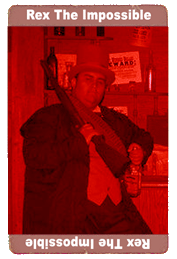 REX THE IMPOSSIBLE
Rex The Impossible made his Peepshow Menagerie comedy debut last month, but he's been on our stage before, making cameo appearances in both The Burlesque Gong Show and Beach Blanket Burlesque (of which he'll play a bigger part in the sequel next year). He has also performed in various comedy clubs and has hosted a couple other burlesque shows including The Monday Night Tease and a gig at The Derby. Tonight he'll be co-cohosting as Watson to Patrick's Holmes, only Sherlock doesn't seem to be himself these days...
http://www.myspace.com/therevofcomedy
with a LIVE MAGIC performance by: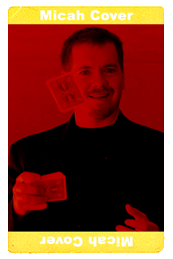 MICAH COVER
Micah Cover is a writer, lecturer, teacher, charity event producer and performer - all in the Art of Magic. He has been performing professionally since 1995. He is a past Vice President of the Hollywood chapter of the International Brotherhood of Magicians (IBM Ring 21), who named him Member of the Year. He is a frequent performer at the world-famous Magic Castle and The Monday NIght Tease. We have been looking for a good show to get this guy on for quite a while and when our band suddenly broke up, we snatched him up quick! Micah will be opening the show at 9:45pm so don't be late or you will indeed miss something magical!
http://www.micahsmagic.com/
Produced by:
Performing Burlesque and Co-Produced by SCARLETT LETTER
Scarlett Letter is not only the co-producer of this show, but is also the co-producer of the MONDAY NIGHT TEASE which takes place every Monday at 3 Clubs in Hollywood. Like most dancers in Hollywood, Scarlett Letter has been performing since childhood. However, her experiences have helped her develop a strong capacity for performing off the cuff and from the hip. During her lonely days in rural Nevada, she spent many a night performing under the glow of a black and white TV, dancing along with the best. She quickly developed an "I can do that" attitude and jumped at every performance opportunity that came her way. Upon moving to California, she put her dreams of a chorus girl life on the backburner and earned a bachelors in Performing Arts Management. Since her graduation, it has been all systems go. Now, she is using the skills acquired growing up Mormon to keep her trunk full of award winning costumes and ready for every situation. Scarlett has performed in a wide variety of venues including the World Famous Derby, The Queen Mary in Long Beach, The Whiskey a Go-Go, the Gig and the Mint. You may have recently seen her in an episode of the television show "Chuck" where she played the part of an unsavory stripper which is worlds away from her real life persona. She has also performed in Tucson, Vancouver, Seattle, Las Vegas and Boston, where she was awarded the title of "Most Classic" at the Great Boston Burlesque Exposition of 2007. Recently Scarlett began teaching a class on burlesque in Ventura called "The Little Red Schoolhouse Of Burlesque."
http://stagelightstudios.com/the_little_red_schoolhouse_of_burlesque_workshop.html
http://www.myspace.com/apriest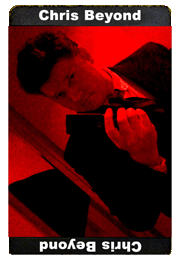 Co-Produced by CHRIS BEYOND
Chris Beyond has been a part of the L.A. independent music scene since the early nineties and has really had his hands full since then. He is the creator of No-Fi "Magazine" in 1996 and No-Fi "Radio" in 2002, both of which are still in production today. He has appeared on the television shows SEXBYTES on HBO and on DEADLINE on HDnet. He's been an in-studio guest on the radio show LOVELINE, was interviewed on Playstation.com, and has been published in Ben Is Dead and Harper's magazines. He has produced several concerts around the Los Angeles area as well as been a member of the bands EAR BEYOND and POPULAR GIRL. He is also a designer whose works have appeared in albums, magazines, newspapers, flyers, and DVDs (including the burlesque film Broad Daylight directed by JMM). He is a prominent burlesque and pin-up photographer in the national burlesque scene and a staffmember of the Burlesque Hall Of Fame/Exotic World. He has hosted shows for Shimmy & Shake, Dolls Of Fox, Monday Night Tease, & more, and is co-host of The Burlesque Podcast with Lili VonSchtupp which recently began production on it's second season of shows which are available for free on iTunes. By the way, if you are lucky, you just MIGHT win a copy of his new "Chris Beyond's Bootleg Stag Party Volume 2" at this show! Just be prepared to be pulled on stage for the chance.
http://www.myspace.com/beyondphotography
http://www.facebook.com/chrisbeyond


Show Photos! (Live photos will be updated after the show.)




Click on each image to see a BIGGER version!
PAST SHOW REVIEWS!

THE L.A. WEEKLY visits Peepshow Menagerie as their featured slideshow!

THE GUARDIAN U.K.'s very positive mention about Peepshow Menagerie in this article about David Lynch!

HOLLYWIRE.COM's review of Peepshow Menagerie: Beneath The Surface!

A review of Peepshow Menagerie: Beneath The Surface on YELP.COM!

Jack Dagger's experience at Peepshow Menagerie: Burlesqueland!