Featuring our Scientific Burlesque Faculty: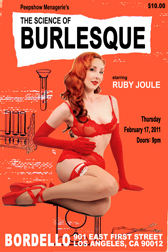 ROUBY JOULE
"Ruby Joule is a lissome and silky debutante with a talent for scandal. Her girlhood ballet lessons have now translated into daring cabaret moves, but her charm-school manners and joie de vivre keep her in good graces." Breathing life into her favorite role yet, Ruby is co-founder and headliner of The Jigglewatts Burlesque, based in Austin, Texas. Her style dances the spectrum from the whimsical to the enigmatic, and she is known for her effortless grace and the lavish glamour of her routines. She has performed at legendary Texas venues including Austin's Antone's, Stubb's, Esther's Follies, and Dallas' historic Texas Theatre and Lakewood Theatre. At the Texas Burlesque Festival, she won the award for "Most Original" and was nominated for the Lone Star and Garters Award in 2007, and received the "Best Costume" award in 2010. She was also a finalist for the Hot Rods & Heels "Performer of the Year 2010" award. Ruby has thrilled audiences around the country, performing at The Viper Room in Hollywood, the Double Down Saloon in Las Vegas, the historic KiMo Theatre in Albuquerque, and co-headlined the Bustout Burlesque show at The House of Blues in New Orleans. Ruby is a native Austinite with extensive experience in dance, theatre and film. Early training includes many years of classical ballet at Ballet Austin Academy and later, nine years of traditional Polynesian dance with Tropical Productions Company. Her theatrical career includes starring roles in many prominent Austin productions and in film, she starred as Charity in the feature comedy thriller, Z: A Zombie Musical, was featured in The 2 Bobs, A Mind of its Own, Natural Selection and also the ABC series The Deep End. She has also appeared in countless short films and music videos, including "I'm Not Dead Yet" by Riverboat Gamblers, and "New Morning" by Alpha Rev. She has appeared on the covers of Pin Curl Magazine and Space Squid Magazine, and in the pages of The Economist and Wall Street Journal in vintage inspired ads. A featured model for Timeless Trends Corsetry, Emily Clay Corsets, Dakota's Vintage, and Pony-Cha Paris, she also graced the pages of Bachelor Pad Magazine in a Mad Men inspired pictorial.
http://www.rubyjoule.com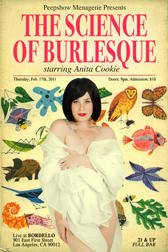 ANITA COOKIE
Anita Cookie is dedicated to bringing quality burlesque to the masses, and she hopes to do this by always finding new and exciting ways to showcase jokes as well as jiggling bosoms. She is a character with the curves of Marilyn Monroe, the helium pipes of Betty Boop and the wit of Mae West. The Cookie drinks like Dean Martin, is usually involved in antics reminiscent of Lucille Ball, and in most cases her glitzy costumes seem to some how inevitably find there way on to the floor. She is a popular performer in new york and tours around the country constantly. She produces Anita's Underground, a risque live game show, monthly at Under St. Marks in New York. She is also a recent transplant to Southern California and while she is here, for as long as that is, we hope to have her in as many shows as we can.
http://www.facebook.com/anita.cookie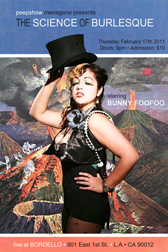 BUNNY FOOFOO
Bunny FooFoo is a newer performer in the burlesque world, having recently graduated from the Striptease Symposium but has already made a nice splash, having already performed at The Monday Night Tease and other various shows. We can't wait to see her erupting with pure molten talent at our own sexy science fair!
http://www.facebook.com/LittleBunnyFooFoo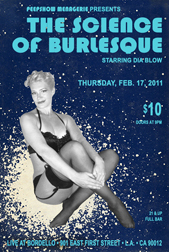 DIA BLOW
Your favorite fallen angel from the depths of hell comes Miss Dia Blow, a favorite of Satan's roller skating, hellfire spitting vixens! Don't let that sweet smile fool you, she will steal your soul just as soon as kiss you! Dia is known to wear a lot of hats; helmets, top hats, fedoras, and of course her devil horns. She also wears a lot of shoes; skates, heels, chucks, spurs, folded up newspapers, and toe socks. She also wears a backpack with a towel in it and asks us not to question it. Dia is a former member of the Angel City Derby Girls. If you ever get lucky enough to go skating with her, be sure to to wear more protection than your standard knee and elbow pads because if you get in her way, you surely find yourself under her wheels. Since skating her way into the burlesque scene, she has performed at the Monday Night Tease, Viva Las Vegas, Pirate Burlesque, and various others.
http://www.myspace.com/diablowburlesque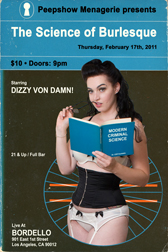 DIZZY VON DAMN!
Dizzy Von Damn! is an experiment gone horribly awry- she's what happens when you mix the genes of the lovely Bettie Page with those of kitschy-eccentric Liberace; she's proof that science can be sexy...and weird. As Miss Viva Las Vegas 2008, she can be seen in the 2010 LA Burlesque Calendar and she has performed across the country- not to mention performing regularly at Peepshow Menagerie, Monday Night Tease, and producing her own show, Uncommon Burlesque at the Commonwealth Lounge. She enjoys pineapples and space, and believes that the truth is out there.
http://www.dizzyvondamn.com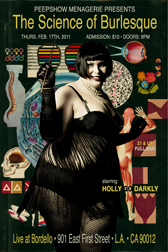 HOLLY GO DARKLY
It's been said they saved William Castle's brain and we know it to be true: One stormy night in the basement of the haunted honkytonk on the edge of town, they put that brain into a girl made from bits of showgirls, flappers, dames, dolls, and molls. Fed with electricity and a steady diet horror films, musicals, and the souls of men that girl became...Holly Go Darkly. Apart from a couple of our other shows, he has performed at the Monday Night Tease and with Sealed With A Kiss and we are happy to have her back on Peepshow Menagerie's stage.
Holly Go Darkly on Facebook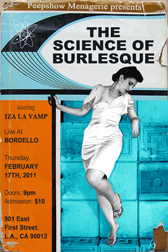 IZA LA VAMP
Iza la Vamp is known as the "Lost Ziegfeld Girl!" She was a chorus girl on her way to center stage until a freak accident caused her to body to be frozen. The details are sketchy as records of spontaneous freezings were not as well kept as they are today. Lucky for you and the art of burlesque, she is now defrosted and ready to perform. She is finding herself in a different time with different music and decades of history to catch up with, but she seems to be taking it in stride and taking the stage by force. Please join her on an adventure in recreating herself as a Burlesque starlet. She's a great performer with a lot of talent so we are very happy to have her back!
http://www.facebook.com/izalavamp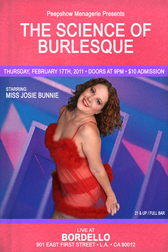 MISS JOSIE BUNNIE
She's got "Curves, Curls and Baby Blue Eyes!". Josie Bunnie is a burlesque performer, occasional nude model, and confirmed nudist who loves being creative and artistic. She has performed at El Cid with the Victory Variety Hour & Schmutzig, 3 Clubs with the Monday Night Tease, Mr T's Bowl and The Scene club with Burlesque-a-go-go, in the live Camp Burlesque show, and other various shows. She is a student of Kitten De Ville, Augusta (AKA Penny Starr Jr.), Jewel Of Denial, Lux La Croix and Vixen Violette. She is a very bubbly person who likes to socialize and meet new people. She knows what she's got and knows how to use it, as they say. She also says she loves being in front of a camera and playing with her kitty cats.
Miss Josie Bunnie on Facebook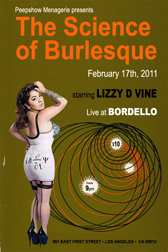 LIZZY D VINE
Miss Lizzy D. Vine, a small town girl living in a world of vintage dreams grew up to be an international writer, a pinup & alternative and founder of Operation: Patriotic PinUp. Her editorial work and involvement have been shared through various online and published magazines and a member of the Norcal Vixens with whom she produces burlesque in Northern California. She is also the Bachelor Pad Magazine "Christmas Cutie" for 2010.
Lizzy D Vine on Facebook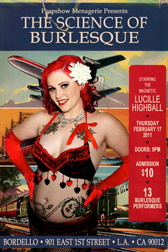 LUCILLE HIGHBALL
A sexpot so intoxicating it will take 12 steps to get over her! (And even still, she'll haunt you in your drunken dreams) Growing up doing musical theater and dance, she loves getting dolled up, and playing a role other than her day to day persona. She's also doing a bit of modeling on the side. She has performed at the Monday Night Tease and with Sealed With A Kiss Burlesque.
http://www.lucillehighball.com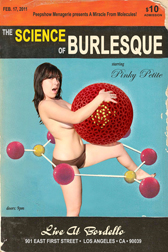 PINKY PETITE
The sweet and petite treat known as Miss Pinky Petite hails originally from Boston where she was a member of THE BOSTON BABYDOLLS and even performed with them at the 2006 Miss Exotic World pageant. In 2007 she moved to Los Angeles and quickly found a place near the beach and a place in the Los Angeles Burlesque Scene. She has performed at VICTORY VARIETY HOUR, SHIMMY & SHAKE, PIRATE BURLESQUE PRESENTS, and the MONDAY NIGHT TEASE. She was also the coverstar of the first "Chris Beyond's Bootleg Stag Party and has appeared on the cover of No-Fi "Magazine".
Pinky Petite on Facebook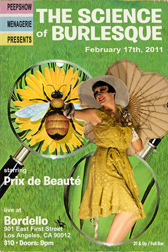 PRIX DE BEAUTE'
Come and see 100 lbs of what is mighty sweet: flashing eyes, how they roll, a disposition like a sugar bowl, rosy cheeks, red hot lips and a million dollars worth of flying hips. Born in Paris, France in 'aught seven, this fiery flapper started her career dancing on cobblestone streets to the tune of an organ grinder with her pet monkey. Soon she found herself in Vaudeville shows, tap dancing on a diving board before she leapt 40 feet into a glass of water! This high diving mistress broke all the port sailors hearts, and continued to do so with millionaires and sheiks alike, after her grand debut in the Folies Berg¸re (much to the dismay and clucking tongues of the upper crust ladies). With her rosy cheeks, red hot lips, and million dollars worth of flying hips, please welcome this prize of beauty: Prix de Beaute'! You can also see Mademoiselle Beaute' play Tin Pan Alley tunes on her ukulele in her band Two-Bit Opera and also performs regularly at the early 20th Century inspired Vaudeville, The Petting Pantry.
Prix de Beaute' on Facebook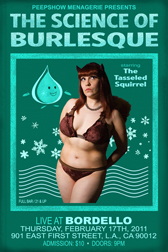 THE TASSELED SQUIRREL
Her name is The Tasseled Squirrel and she calls herself "The Nut Lovin' Rump Shaker." She discovered burlesque when she was in high school and it was always something that intrigued her. She never thought that one day that she would ever hit the stage, but here she is in Peepshow Menagerie! Apart from performing in our show, she is a recent graduate of Striptease Symposium and has previously performed at the Monday Night Tease. Beware of this Squirrel's bite, Peepshow fans!
http://www.myspace.com/tasseledsquirrel
Featuring Live Magic from: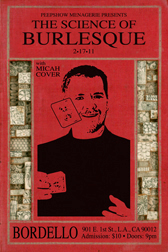 MICAH COVER
Micah Cover is a writer, lecturer, teacher, charity event producer and performer - all in the Art of Magic. He has been performing professionally since 1995. He is a past Vice President of the Hollywood chapter of the International Brotherhood of Magicians (IBM Ring 21), who named him Member of the Year. He is a frequent performer at the world-famous Magic Castle and The Monday Night Tease. In the tradition of magicians of old, on this night Micah will be bridging the gap between magic...and science!
http://www.micahsmagic.com
Featuring Live Music from: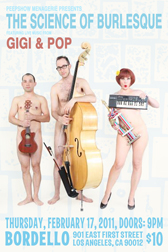 GIGI & POP
Busted bootleggin' during prohibition, blacklisted during the red scare, on the beat road shootin' apples off our heads in Mexico, flippin' and trippin' at the Factory, lost and found somewhere during the seventies & eighties, and now still preachin' power to the people. Steve & Eydie meet Belle and Sebastian. From New York, Indie pop with style, a little new-wave, a little tongue-in-cheek, and a little ukulele. They are the winners of "Best Variety" at the 2009 Burlesque Hall of Fame (Exotic World) Pageant. Gigi & Pop are currently touring the country and can be seen performing their sets acoustically in true vaudeville fashion, or with their complete electronic setup to share their discofied new-wave indie-pop wares with you!
http://www.gigiandpop.com
Hosted by: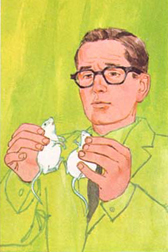 MR. GELSON (aka "THE GELSON")
Mr. Gelson, a High School science instructor lovingly called "The Gelson" by his 1977 High School Special Ed graduating class (and not once since) prides himself on destroying the mysteries of life, bringing young men to science and making sure there are plenty of them. He eats a plate of hash every morning while reading the science journals and in the evening a warm piece of apple pie as he studies the vast Universe of microorganisms through his microscope. He lives, breathes, flirts, cooks and births science. Whether you call him "The Gelson" or not, he is "The Gelson".


Produced by: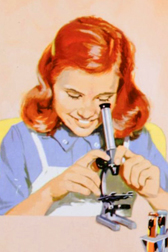 Co-Produced by SCARLETT LETTER
Scarlett Letter is not only the co-producer of Peepshow Menagerie and Naked Girls Reading Los Angeles, but is the producer of The Letter Follies and Dr Sketchy's Anti-Art School Ventura. She has performed at Exotic World in 2007 and 2008 and was winner of "Most Classic" at the 2007 Boston Burlesque Exposition and most recently won "Best Solo Performance" and The Legends' Award at the 2010 Boston Burlesque Exposition. She has performed in more countries than you've been to. She's got "four feet of red hair and miles of bad intentions" and dances her life away every chance she gets, be it pole-go, go-go, goth clubs or Burlesque stages. Recently she was able to perform at a private show for director Quentin Tarantino who had never seen a real live fan dancer before in person and raved about her performance to her for over 5 minutes.
http://stagelightstudios.com/the_little_red_schoolhouse_of_burlesque_workshop.html
http://www.myspace.com/apriest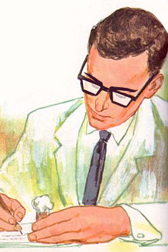 Co-Produced by CHRIS BEYOND
Chris Beyond has been a part of the L.A. independent music scene since the early nineties and has really had his hands full since then. He is the creator of No-Fi "Magazine" in 1996 and No-Fi "Radio" in 2002, both of which are still in production today. He has appeared on the television shows SEXBYTES on HBO and on DEADLINE on HDnet. He's been an in-studio guest on the radio show LOVELINE, was interviewed on Playstation.com, and has been published in Ben Is Dead and Harper's magazines. He has produced several concerts around the Los Angeles area as well as been a member of the bands EAR BEYOND and POPULAR GIRL. He is also a designer whose works have appeared in albums, magazines, newspapers, flyers, and DVDs (including the burlesque film Broad Daylight directed by JMM). He is a prominent burlesque and pin-up photographer in the national burlesque scene and a staffmember of the Burlesque Hall Of Fame/Exotic World. He has hosted shows for Shimmy & Shake, Dolls Of Fox, Monday Night Tease, & more, and is co-host of The Burlesque Podcast with Lili VonSchtupp which recently began production on it's second season of shows which are available for free on iTunes. By the way, if you are lucky, you just MIGHT win a copy of his new "Chris Beyond's Bootleg Stag Party Volume 2" at this show! Just be prepared to be pulled on stage for the chance.
http://www.chrisbeyond.com
http://www.facebook.com/chrisbeyond


Thank You's
Sean and Tim, Vlad The Retailer. Wacko, Sophya, X-Large, Y-Que, Pop Killer, Golden Apple Comics, Meltdown Comics, Secret Headquarters, The Monday Night Tease, Facebook, and all of our fans and friends who trust us to do some pretty crazy shows and keep coming back and helping us out! We look forward to continuing to bring you some of our biggest shows yet in 2011!
Show Photos! (Live photos will be updated after the show.)




Click on each image to see a BIGGER version!
PAST SHOW REVIEWS!

GUEST OF A GUEST shares a very positive and humorous review of Burlesqueland 2010.

THE GLOSS suggests visiting Burlesqueland over Iceland.

THE L.A. WEEKLY joins the "Burlesqueland!!" cast at at the park for Burlesque Day At D-Land.

THE L.A. WEEKLY visits Peepshow Menagerie "Burlesqueland!!"

THE L.A. WEEKLY visits Peepshow Menagerie as their featured slideshow!

THE GUARDIAN U.K.'s very positive mention about Peepshow Menagerie in this article about David Lynch!

HOLLYWIRE.COM's review of Peepshow Menagerie: Beneath The Surface!

A review of Peepshow Menagerie: Beneath The Surface on YELP.COM!

Jack Dagger's experience at Peepshow Menagerie: Burlesqueland!