Featuring Wild and Weird acts from our contestants
and Bawdy Burlesque from our "Ringers":
(Special Guest Burlesque Performers and other Special Guests are not qualified to win the night's cash prize.)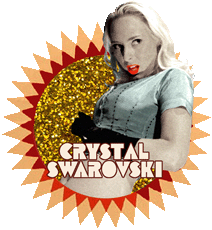 CRYSTAL SWAROVSKI
Sparkling brighter than a pair of diamond encrusted pasties, international model and dancer Crystal Swarovski has become known in the Burlesque world for her controversial political satire and sexy numbers packed with sometimes shocking and usually irreverent humor. She is also the brainchild of the Burlesque tribute to the films of Stanley Kubrick; KUBRRILESQUE. When not enticing onlookers from coast to coast Crystal can be found touring Europe with EROCKTICA or CHERRY KISS BURLESQUE and has shaken her arse for 14 countries. She was also recently seen as George Bush on MTV's Jackass with the band Virginia City Revival. A talented singer herself, Crystal's new album is available on her myspace page (see below). Crystal has modeled for many designers including FCUK, Juicy and Levi's and has been photographed by some of the world's finest such as Anne Lebowitz. In her spare time she is a pre-law major studying for her LSAT... and has a TV show in the works. This will be her third performance with PEEPSHOW MENAGERIE.
http://www.myspace.com/crystalswarovski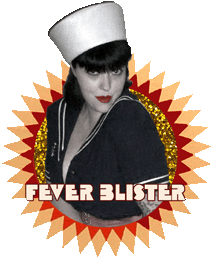 FEVER BLISTER
Fever Blister is a former club-kid & Go Go Gal turned "ENTERTAINER EXTRAORDINAIRE". An Unconventional conventionalist, don't call her a PIN-UP please. She is too heavy to hang on the wall... She isn't a model, she considers herself a personality! She believes in ambitious exploitation of her female assets... Her specialty is her own take on BURLESQUE ENTER*TEASE*MENT. Not only is she a burlesque performer, she's a producer of shows for the ANIMAL charity she founded - PAWS FOR A CAUSE in L.A. & also the producer of The BANG! BANG! Burlesque Show. She's a clothing & costume designer, sock rocker, jack-off of all trades, sex symbol, scavanger of used goods, former queen of the Cleveland scene now rocking out in Bob Barker's guest house in Burbank, California. A Voluptuous Blood Sucker, Volcanic Orgasmic Song Bird, Head stomper, Pastie twirler, Consumer of fine sparkling water, Candy advocate/enthusiast/addict and Tattoooed to the 9th power. She's the only fever you'd want to catch.
http://www.myspace.com/feverbeaver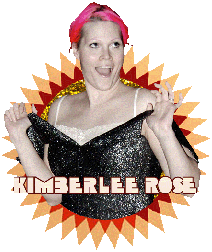 KIMBERLEE ROSE
Kimberlee Rose is known as "The Muppet of Burlesque." Her acts are as animated as any puppet show (more so, actually) and filled with energy, even when she slows down. A student of Kitten De Ville, she embraces the silly and fun side of burlesque performing and her routines are sure to leave a smile on your face by the time she leaves the stage. She has performed for SHIMMY & SHAKE, BURLESQUE-A-GO-GO, SHADOW CIRCUS, BUCKINGHAM BURLESQUE, TIKI INVASION, and more. She's even opened for The English Beat and Cherry Poppin' Daddies. She's also produced her own show; SLUMBER PARTY SLAUGHTER. This will be Kimberlee's third appearance at PEEPSHOW MENAGERIE.
http://www.myspace.com/thekimberleerose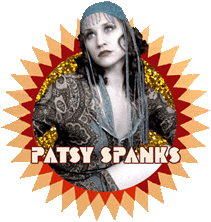 PATSY SPANKS
This is Patsy's first show with PEEPSHOW MENAGERIE. Before this night she has been seen on the stages of MONDAY NIGHT TEASE and RAG DOLLS BURLESQUE. We saw her perform the act she's performing this evening at another show and we had to book her on this show. The rest of Patsy Spanks' background is shrouded in mystery. We know she must have professional dance training. We're guessing perhaps a theatre background. She's an enigma wrapped up in a riddle wrapped around a puzzle. And she'll leave you as confused as much as entertained when she hits the stage on our first Peepshow Menagerie show on its new monthly Wednesday spot.
http://www.myspace.com/patsydollface


With Special Guest Appearances by: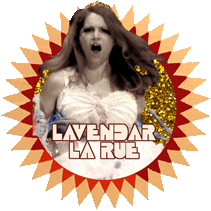 LAVENDAR LA RUE
Miss Lavendar La Rue is in love with costumes and glam and everything vintage. Vaudville appeals to her and most of her performances reflect that. She's a little vaudvillian package, dancing to her own tune. She has performed at the Monday Night Tease at 3 Clubs, Schmutzig (that's german for dirty) at El Cid, Le Femmes Cherris at The Key Club, Bordello for Friday Nights, and Shimmy & Shake. She joins us tonight as a gal of all trades; a Gal-Friday (or make that a Gal-Wednesday), if you will.
http://www.myspace.com/lillianlassen


THE UNKNOWN SNAPPER
Who is The Unknown Snapper and how did he get on this show? Very little is known about this undercover comic. Where is he from? What does he look like? Is this his first burlesque show? How does he seem to know embarrassing intimate details about our host and the judges? As much research as we usually do on our performers, we turned up empty when we looked into him. We just can't find out what this guy's bag is. If only we we could sneak a peak under his sack. If only there was some kind of clue to figure out who he is! Perhaps we'll just never know. That is, unless he reveals himself at our show.
A Mugshot of The Unknown Snapper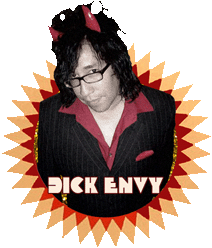 DICK ENVY
After making his burlesque debut at the MONDAY NIGHT TEASE burlesque tribute to the band Queen for the AIDS/Lifecycle charity, Mr. Dick Envy will be swinging his stuff onstage in another classic character revival. From his bio: "I'm a jaded misanthrope whose also a fun and sprite Los Angeles musician, songwriter... semi-icon and legend in my own mind."
http://www.myspace.com/sugarblaster


With our "Celebrity" Judges: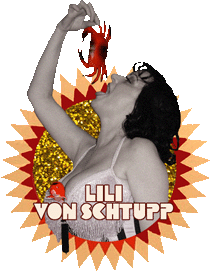 LILI VonSCHTUPP
There's two big things you can't help but notice about Lili VonSchtupp. She's a radio producer by day and a burlesque dancer/producer by night. Not only did she create the first burlesque themed podcast, called appropriately The Burlesque Podcast (which she co-hosts with Chris Beyond), but also created Burlesque411.com which in a valuble tool to burlesque producers, performers, and fans alike across the world to find out where burlesque shows are happening in any given town on any given date. She's also had many a celebrity all over her treasure chest which you can see at her site signmyboobs.com. She has appeared on the television show DEADLINE on HDnet. She co-produces the longest running burlesque show in Los Angeles called MONDAY NIGHT TEASE at the club known as 3 Clubs in Hollywood with her co-producer (and OURS) Scarlett Letter.
http://www.myspace.com/lilivonschtupp
http://www.mondaynighttease.com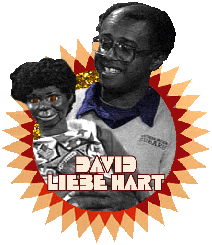 DAVID LIEBE HART
David Nkrumah Liebe Unger Hart - or simply David Liebe Hart - is a church musician, sign painter, artist, puppeteer, actor... But, he is best known for his role as a puppeteer and host on The Junior Christian Science Bible Lesson Show, a Los Angeles based public access program and also for his frequent appearances on the Adult Swim television show Tim and Eric Awesome Show, Great Job! (which is now in its fourth season) as well as the web-only talk show Tim and Eric Nite Live. He has also performed live on the national Tim and Eric's Awesome Tour and is fresh back in L.A. after the most recent tour which included DVD signing stops for season 2 of T&EASGJ. He can often be seen performing with his puppet "Doug the Dog" just outside the Hollywood Bowl after shows, as well as at the Music Center of Los Angeles. He has appeared on The Daily Show with Jon Stewart and was a guest on Jimmy Kimmel Live! in 2004. He tells us in 1990 he made an appearance in Golden Girls and in 1993 on the show Wings. He has said that he was good friends with Robin Williams and was a student of Jim Hensen. David Hart writes his own music, mostly about religion, aliens, keeping kids off drugs and in school, women, and his life. Hart's improvised songs from Tim and Eric are also featured on the soundtrack album "Tim And Eric Awesome Record, Great Songs!". Recently, David told us that he appeared on the original 70's television Gong Show twice! With a resume like this, how could we not pass up having David as one of our judges in this very crazy show? We can't and we are very happy to have him as a part of the show for his second appearance in PEEPSHOW MENAGERIE.
http://www.chiptheblackboy.com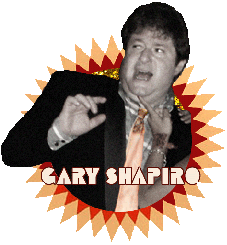 GARY SHAPIRO
According to Gary's myspace page he is a four-time Grammy winner who often lies about various awards he's received. What we really know about Gary is that he works for Comedy Central television and is the host of VICTORY VARIETY HOUR. When he's not on stage making us laugh, he's also a comedian. Among his many talents, he's also a talented writer, musician (with his band SPELD BADLEE), and religious consultant for television shows like Six Feet Under and Seventh Heaven (he is a retired cantor after all). We also think that Gary might be some kind of genie because we often see him appearing from a puff of smoke when he takes the stage. He said he could show us how to rub his lamp to get a free wish, but we decided not to take him up on his offer...yet. (Let's see how this show goes first.) We are very happy to have Gary judging this show for us. His entertainment industry background will help him decide who is really bringing it to our show. His religious background will tell them where to go afterwards. This is his first appearance in PEEPSHOW MENAGERIE.
http://www.myspace.com/1583424


Live Music by: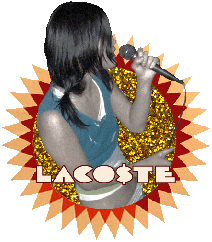 Music by LACO$TE
LACO$TE is one of producer/host Chris Beyond's favorite L.A. bands. You can read his interview with them from No-Fi "Magazine" HERE. From LA City Beat who called their 2009 debut album one of the best albums of 2009: "Just in time for summer 2009, Manimal Vinyl will release LACO$TE's as-yet-untitled debut album. If only they could package lead singer X and deliver her from The Smell to your living room. She'd come cartwheeling out of a cardboard box and crawl all over the furniture while rapping over grungy electronic beats with syllabic reinforcement from her two partners in crime." They are definitely not a band to miss and we think they fit in quite well into the beautiful insanity of this particular show. See them on Wednesday, March 18th at our show!
http://www.myspace.com/lacoste


Produced by: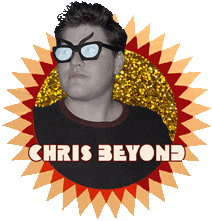 Produced and Hosted by CHRIS BEYOND
Chris Beyond has been a part of the L.A. independent music scene since the early nineties and has really had his hands full since then. He is the creator of No-Fi "Magazine" in 1996 and No-Fi "Radio" in 2002, both of which are still in production today. He has appeared on the television shows SEXBYTES on HBO and on DEADLINE on HDnet. He's been an in-studio guest on the radio show LOVELINE, was interviewed on Playstation.com, and has been published in Ben Is Dead and Harper's magazines. He has produced several concerts around the Los Angeles area as well as been a member of the bands EAR BEYOND and POPULAR GIRL. He is also a designer whose works have appeared in albums, magazines, newspapers, flyers, and DVDs (including the burlesque film Broad Daylight directed by JMM). He is a prominent burlesque and pin-up photographer in the burlesque scene and a staffmember of the Burlesque Hall Of Fame/Exotic World. He has hosted shows for Shimmy & Shake, Dolls Of Fox, Monday Night Tease, & more, and is co-host of The Burlesque Podcast with Lili VonSchtupp.
http://www.myspace.com/beyondphotography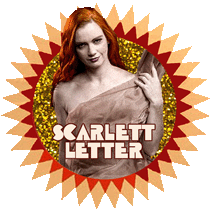 Produced by SCARLETT LETTER
Scarlett Letter is not only the co-producer of this show, but is also the co-producer of the MONDAY NIGHT TEASE which takes place every Monday at 3 Clubs in Hollywood. Like most dancers in Hollywood, Scarlett Letter has been performing since childhood. However, her experiences have helped her develop a strong capacity for performing off the cuff and from the hip. During her lonely days in rural Nevada, she spent many a night performing under the glow of a black and white TV, dancing along with the best. She quickly developed an "I can do that" attitude and jumped at every performance opportunity that came her way. Upon moving to California, she put her dreams of a chorus girl life on the backburner and earned a bachelors in Performing Arts Management. Since her graduation, it has been all systems go. Now, she is using the skills acquired growing up Mormon to keep her trunk full of award winning costumes and ready for every situation. Scarlett has performed in a wide variety of venues including the World Famous Derby, The Queen Mary in Long Beach, The Whiskey a Go-Go, the Gig and the Mint. She has also performed in Tucson, Vancouver, Seattle, Las Vegas and Boston, where she was awarded the title of "Most Classic" at the Great Boston Burlesque Exposition of 2007.
http://www.myspace.com/apriest


Photos from event Coming Soon after the show!




Click on each image to see a BIGGER version!
PAST SHOW REVIEWS!
Jack Dagger's experience at Peepshow Menagerie: Burlesqueland!