Featuring Storybook Burlesque by: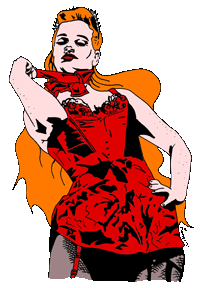 Produced by SCARLETT LETTER
Scarlett Letter is not only the co-producer of this show, but is also the co-producer of the Monday Night Tease which takes place every Monday at 3 Clubs in Hollywood. Like most dancers in Hollywood, Scarlett Letter has been performing since childhood. However, her experiences have helped her develop a strong capacity for performing off the cuff and from the hip. During her lonely days in rural Nevada, she spent many a night performing under the glow of a black and white TV, dancing along with the best. She quickly developed an "I can do that" attitude and jumped at every performance opportunity that came her way. Upon moving to California, she put her dreams of a chorus girl life on the backburner and earned a bachelors in Performing Arts Management. Since her graduation, it has been all systems go. Now, she is using the skills acquired growing up Mormon to keep her trunk full of award winning costumes and ready for every situation. Scarlett has performed in a wide variety of venues including the World Famous Derby, The Queen Mary in Long Beach, The Whiskey a Go-Go, the Gig and the Mint. She has also performed in Tucson, Vancouver, Seattle, Las Vegas and Boston, where she was awarded the title of "Most Classic" at the Great Boston Burlesque Exposition of 2007.
http://www.myspace.com/apriest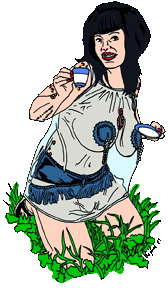 FEVER BLISTER
Our "Peepshow Pin-Up" this month, Fever Blister, is a former club-kid & Go Go Gal turned "ENTERTAINER EXTRAORDINAIRE". An Unconventional conventionalist, don't call her a PIN-UP please. She is too heavy to hang on the wall... She isn't a model, she considers herself a personality! She believes in ambitious exploitation of her female assets... Her specialty is her own take on BURLESQUE ENTER*TEASE*MENT. Not only is she a burlesque performer, she's a producer of shows for the ANIMAL charity she founded - PAWS FOR A CAUSE in L.A. & also the producer of The BANG! BANG! Burlesque Show. She's a clothing & costume designer, sock rocker, jack-off of all trades, sex symbol, scavanger of used goods, former queen of the Cleveland scene now rocking out in Bob Barker's guest house in Burbank, California. A Voluptuous Blood Sucker, Volcanic Orgasmic Song Bird, Head stomper, Pastie twirler, Consumer of fine sparkling water, Candy advocate/enthusiast/addict and Tattoooed to the 9th power. She's the only fever you'd want to catch.
http://www.myspace.com/feverbeaver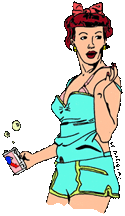 DAHLIA DeLUST
Her name's Dahlia DeLust, but her friends call her Voodoo Dahlia. She's been teasin' and peelin' since 2006 with the OC Underground Burlesque Society and is always shakin' her way to a burlesque stage near you! She is known for her Voodoo Doll act and her Raven act which she performs in seven and a half inch ballet heels, but she'll be bringing you an act dedicated to the working women of America. No, not THAT kind of working woman, but the kind that toils almost thanklessly using good ol' American know-how to get the job done! She performs regularly with Peepshow Menagerie and we are very happy to have her back for her 5th show with us! (Yeah, I thought she did more too! Let's hope she keeps coming back!)
http://www.myspace.com/dahliadelust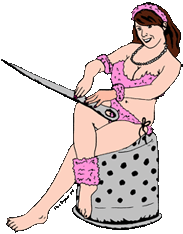 PINKY PETITE
The sweet petite treat known as Miss Pinky Petite hails originally from Boston where she was a member of The Boston Babydolls and even performed with them at the 2006 Miss Exotic World pageant. In 2007 she moved to Los Angeles and quickly found a place near the beach and a place in the Los Angeles Burlesque Scene. She has performed at Victory Variety Hour, Shimmy And Shake, Pirate Burlesque, and The Monday Night Tease. She was the coverstar of "Chris Beyond's Bootleg Stag Party" cd and will also be featured in an upcoming issue of Bachelor Pad Magazine. This will be her third appearance at Peepshow Menagerie and plans to share one of her favorite bedtime stories with you! Which one? Well, you'll just have to come to the show and see, huh!
http://www.myspace.com/pinkypetite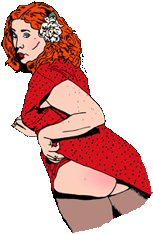 JOSIE BUNNIE
She's got "Curves, Curls and Baby Blue Eyes!" Josie Bunnie is a burlesque performer, occasional nude model, and confirmed nudist who loves being creative and artistic. She has performed at El Cid with the Victory Variety Hour & Schmutzig, 3 Clubs with the Monday Night Tease, Mr T's Bowl and The Scene club with Burlesque-a-go-go, in the live Camp Burlesque show, and other various shows. She is a student of Kitten De Ville, Augusta (AKA Penny Starr Jr.), Jewel Of Denial, Lux La Croix and Vixen Violette. She is a very bubbly person who likes to socialize and meet new people. She knows what she's got and knows how to use it, as they say. She also says she loves being in front of a camera and playing with her kitty cats. This will be Josie's 3rd appearance at PEEPSHOW MENAGERIE.
http://www.myspace.com/missjosiebunnie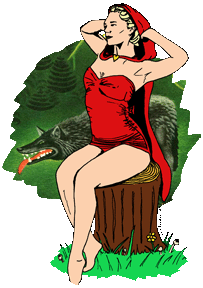 DIA BLOW
Your favorite fallen angel, from the depths of hell comes Miss Dia Blow, a favorite of Satan's roller skating, hellfire spitting vixens! Don't let that sweet smile fool you, she will steal your soul just as soon as kiss you! Dia is known to wear a lot of hats; helmets, top hats, fedoras, and of course her devil horns. She also wears a lot of shoes; skates, heels, chucks, spurs, folded up newspapers, and toe socks. She also wears a backpack with a towel in it and asks us not to question it. Dia is a member of the Angel City Derby Girls. If you ever get lucky enough to go skating with her, be sure to to wear more protection than your standard knee and elbow pads because if you get in her way, you surely find yourself under her wheels. Since skating her way into the burlesque scene, she has performed at the Monday Night Tease and at this year's Viva Las Vegas. This is her first performance at Peepshow Menagerie and we look forward to seeing just how she gets to grandma's place when there are wolves about.
http://www.myspace.com/diablowburlesque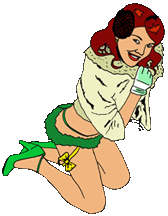 VERONICA YUNE
Veronica Yune, the 5 foot 2, bundle of dynamite, 22 years old, finally felt ready to reveal her fresh young character in October of 2008, for a debut performance at the Monday Night Tease. Veronica also took part in a performance for LA Burlesque's A Tribute to Bettie Page show in January of 2009. She is an L.A. based, highly enthusiastic performer with a charming personality and baby face. She's currently a full time student working towards her BA in Theatre. Veronica splits her time between her studies and the world of burlesque. She loves performing for a live audience and now she's all yours...your Bedtime Story wish come true. This will be Veronica's first performance with Peepshow Menagerie.
http://www.myspace.com/unyfish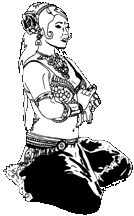 SOPHIA JAGRUTI
Sophia Jagruti is a gal of many skills. When she's not bellydancing, you can find her eatting fire, hula hooping, messing around on the guitar, or hanging out at the all-you-can-eat indian buffets. She started her dance career as a Go Go dancer at the tender age of 18, and now produces fire and bellydance shows throughout Los Angeles. She enjoys Old school Metallica, Ren and Stimpy, stories of epic proportions, and dimension transporting. You can catch her on our stage on April 15th doing her interpretation of the Hindu god Kali Ma.
http://www.myspace.com/lizardsarecool25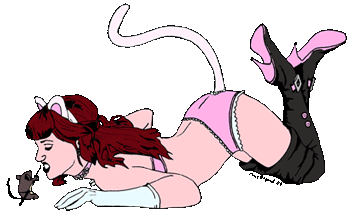 DANNI DOLL
Danni Doll is a retro, burlesque, horror movie, comic book, circus lovin' DORK. But she's an awfully cute and entertaining dork. This eclectic young lady is whirlwind of entertainment. If she's not sparklin' and tappin' with the Rocky Horror Picture Show troupe Midnight Insanity, you might find her walkin' tall on stilts at a fair, or flyin' above your head on a hoop or tissu at an LA club. Or, if you're really lucky, you'll get to see her takin' it off at a burlesque show near you...and imagine your luck! She's performing at THIS show for the first time on Wednesday, April 15th!
http://www.myspace.com/pirate_dolly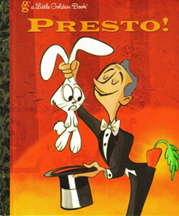 Comedy and Magic by JOSEPH THE CONJUROR
Joseph The Conjuror is a true man of magic and mystery. He's man of fine tastes in wine...and, of course, women. Watch as he dazzles you with feats of illusion so astounding, they could have only been granted to him by the hi-almighty himself (I dunno,...Houdini maybe?). Joseph has performed at The Magic Castle, among other various clubs as well as the Monday Night Tease. This will be his second performance at Peepshow Menagerie and will bring to life a beloved storybook wizard to our stage! Just be prepared to join him on stage if he calls on YOU on Wednesday, April 15th at Bordello.
http://www.merlinshow.com


Hosted by the Twin Fairy Princesses: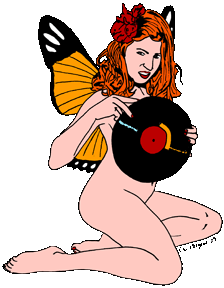 RED SNAPPER
"Sass, class and a black girl's ass" is only one of many ways to describe this performer. She brings with her a very impressive pedigree. She has studied pole dancing with Aphrodite Strip-N-Pole for two years. She's also had the amazing opportunity to study burlesque with several incredible performers: Miss Indigo Blue, Jo Boobs, Lux LaCroix, Jewel of Denial, Lili Von Schtupp, Vanity Flair, Scarlett Letter and Penny Starr, Jr.. She recently finished acting in a play called "Pin-Up Girls" (directed by Andrew Moore) in a role for which the L.A. Weekly called her "Robust And Sassy." She is performing in this year's Boston Burlesque Expo along with our co-producer Scarlett Letter and we hope both of them come back with a title. Red has performed in probably most of our shows but tonight for the first time she will CO-HOST the show along with her fairy twin princess Lavendar La Rue in what will probably be the most sugary battle of utter cuteness you would ever witness.
http://www.myspace.com/ms_red_snapper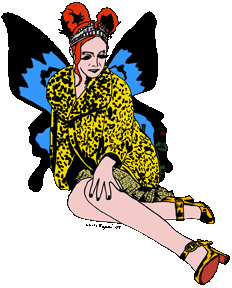 LAVENDAR LA RUE
Miss Lavendar La Rue is in love with costumes and glam and everything vintage. Vaudville appeals to her and most of her performances reflect that. She's a little vaudvillian package, dancing to her own tune. She has performed at the Monday Night Tease at 3 Clubs, Schmutzig (that's german for dirty) at El Cid, Le Femmes Cherris at The Key Club, Bordello for Friday Nights, and Shimmy & Shake. Recently she joined the 'l.a. producers club' as the co-producer of the new Pirate Burlesque Show in Downtown L.A. whose first show was a smashing success! She joins us tonight as her debut as co-host of tonight after-bedtime show along with Red Snapper to not only introduce the acts, but to see once and for all just who is the fairest one of all.
http://www.myspace.com/lillianlassen


Live Music by: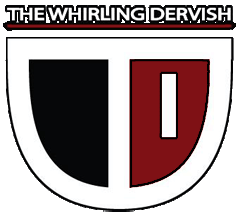 Musical Guest: THE WHIRLING DERVISH
The Whirling Dervish is made up of three hard working young men living in various parts of Los Angeles, Ca. The trio has been playing music individually for the better part of their lives, but it wasn't until playing, writing, drinking, and spreading their benevolence together as The Whirling Dervish that they found the equality and integrity needed at a group's core to properly grow as artists. They are constantly evolving and challenging themselves artistically. To date they still have trouble putting their sound into words. When a band strives to forge a sound that is truly unique; that breaks away from the doldrums of stagnant, formulated commercial radio rock, it is often difficult to describe that sound with a few words. Perhaps Xian Jones has provided the best description yet: "Indie rock smoothed out on the noise pop tip with a post-punk appeal to it." As with all art, each listener's impression is subjective. The kaleidoscope of influences that permeate The Whirling Dervish's music elicits a vast array of comparisons; often times the listener concludes they just sound like The Whirling Dervish.
http://thewhirlingdervish.net/
http://cdbaby.com/cd/whirlingdervish


With Special Appearances by: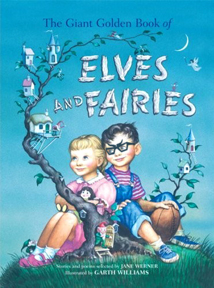 Produced and Special Appearances by CHRIS BEYOND
Chris Beyond has been a part of the L.A. independent music scene since the early nineties and has really had his hands full since then. He is the creator of No-Fi "Magazine" in 1996 and No-Fi "Radio" in 2002, both of which are still in production today. He has appeared on the television shows SEXBYTES on HBO and on DEADLINE on HDnet. He's been an in-studio guest on the radio show LOVELINE, was interviewed on Playstation.com, and has been published in Ben Is Dead and Harper's magazines. He has produced several concerts around the Los Angeles area as well as been a member of the bands EAR BEYOND and POPULAR GIRL. He is also a designer whose works have appeared in albums, magazines, newspapers, flyers, and DVDs (including the burlesque film Broad Daylight directed by JMM). He is a prominent burlesque and pin-up photographer in the burlesque scene and a staffmember of the Burlesque Hall Of Fame/Exotic World. He has hosted shows for Shimmy & Shake, Dolls Of Fox, Monday Night Tease, & more, and is co-host of The Burlesque Podcast with Lili VonSchtupp.
http://www.myspace.com/beyondphotography


Photos from event Coming Soon after the show!
















Click on each image to see a BIGGER version!
PAST SHOW REVIEWS!
Jack Dagger's experience at Peepshow Menagerie: Burlesqueland!