Featuring Animal Themed Burlesque by: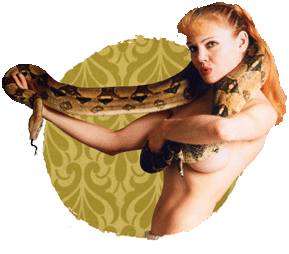 MISS BONNIE DELIGHT
Our "Peepshow Pin-Up" this month; Bonnie Delight is a dancer, actress, singer, who loves to play drums and model for retro pin-up art and lives in Los Angeles. Being on the forefront of the Neo-Burlesque movement, she has performed at Lollapalooza (on the side stage), California Institute of Abnormalarts, Virgin Records, The Orpheum Theater, Exotic World, Monday Night Tease, and many more! She considers herself "just an old-fashioned girl." She's a natch for this show because she loves animal prints (but fake fur *only*, please!). She also loves feathers, rhinestones, sequins, glitter, boas, g-strings, pasties, and collects pinup art, old Playboy and men's magazines. She hopes to pose for aircraft nose art someday. We are very happy for her to join us on stage for her first performance with PEEPSHOW MENAGERIE on May 20th, 2009.
http://www.myspace.com/missbonniedelight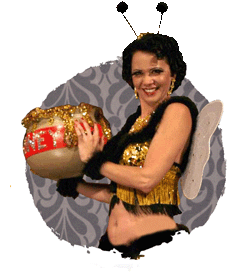 BUNNY BRAVO
They aren't kidding when they call her "The Shimmy-Shaking And Trouble Making" Bunny Bravo. Making her third appearance in our show, she is the producer of the successful SHIMMY & SHAKE burlesque shows in Los Angeles and Orange County. She was also 1st runner up at the 2008 Miss Viva Las Vegas Burlesque competition. A student of Kitten De Ville, she hit the ground running and soon started one of the best burlesque shows in Los Angeles and the O.C.. This year she is featured in the 2010 L.A. Burlesque Calendar which is available now and will be available for purchase at our show. You may have met her and not even knew it when she played Alice, Snow White (and other various characters) at Disneyland and Tokyo Disneyland. Bunny will be putting the "BUZZ" into our Burlesque Animal Kingdom so don't miss it or you'll feel the "STING" of regret later!
http://www.myspace.com/bunnybravo1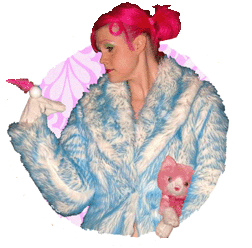 KIMBERLEE ROSE
Kimberlee Rose is known as "The Muppet of Burlesque." Her acts are as animated as any puppet show (more so, actually) and filled with energy, even when she slows down. A student of Kitten De Ville, she embraces the silly and fun side of burlesque performing and her routines are sure to leave a smile on your face by the time she leaves the stage. She has performed for SHIMMY & SHAKE, BURLESQUE-A-GO-GO, SHADOW CIRCUS, BUCKINGHAM BURLESQUE, TIKI INVASION, and more. She's even opened for The English Beat and Cherry Poppin' Daddies. She's also produced her own show; SLUMBER PARTY SLAUGHTER. This will be Kimberlee's fourth appearance at PEEPSHOW MENAGERIE and will be doing a number you won't have to hold your nose at.
http://www.myspace.com/thekimberleerose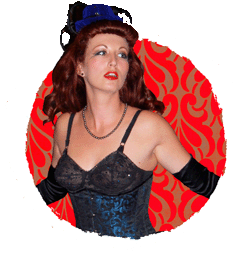 DAHLIA DeLUST
Her name's Dahlia DeLust, but her friends call her Voodoo Dahlia. She's been teasin' and peelin' since 2006 with the OC Underground Burlesque Society and is always shakin' her way to a burlesque stage near you! She is known for her Voodoo Doll act and her Raven act which she performs in seven and a half inch ballet heels, but she'll be bringing you an act dedicated to the working women of America. No, not THAT kind of working woman, but the kind that toils almost thanklessly using good ol' American know-how to get the job done! She performs regularly with Peepshow Menagerie and we are very happy to have her back for her 5th show with us! (Yeah, I thought she did more too! Let's hope she keeps coming back!)
http://www.myspace.com/dahliadelust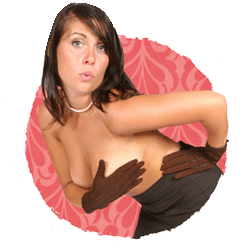 PINKY PETITE
The sweet petite treat known as Miss Pinky Petite hails originally from Boston where she was a member of THE BOSTON BABYDOLLS and even performed with them at the 2006 Miss Exotic World pageant. In 2007 she moved to Los Angeles and quickly found a place near the beach and a place in the Los Angeles Burlesque Scene. She has performed at VICTORY VARIETY HOUR, SHIMMY & SHAKE, PIRATE BURLESQUE, and the MONDAY NIGHT TEASE. She was the coverstar of "Chris Beyond's Bootleg Stag Party" cd and will also be featured in an upcoming issue of Bachelor Pad Magazine. This will be her fourth appearance at PEEPSHOW MENAGERIE and if you sit too close to the stage, you just might get pinched!
http://www.myspace.com/pinkypetite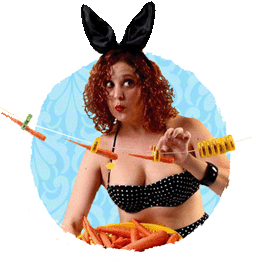 JOSIE BUNNIE
She's got "Curves, Curls and Baby Blue Eyes!" Josie Bunnie is a burlesque performer, occasional nude model, and confirmed nudist who loves being creative and artistic. She has performed at El Cid with the Victory Variety Hour & Schmutzig, 3 Clubs with the Monday Night Tease, Mr T's Bowl and The Scene club with Burlesque-a-go-go, in the live Camp Burlesque show, and other various shows. She is a student of Kitten De Ville, Augusta (AKA Penny Starr Jr.), Jewel Of Denial, Lux La Croix and Vixen Violette. She is a very bubbly person who likes to socialize and meet new people. She knows what she's got and knows how to use it, as they say. She also says she loves being in front of a camera and playing with her kitty cats. This will be Josie's 3rd appearance at PEEPSHOW MENAGERIE.
http://www.myspace.com/missjosiebunnie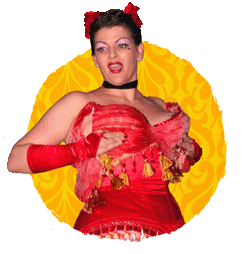 ANASTASIA VON TEASERHAUSEN
There are certain performers we wonder don't do as many shows with us and then we realize that while they are familiar faces, they are still new to the scene. That's how good our performers are. Anastasia Von Teaserhausen is one of those newer performers on the burlesque scene, but she's taken to it perfectly, studied under some of the best performers in L.A., and has already performed at MONDAY NIGHT TEASE, VICTORY VARIETY HOUR, and recently began producing her own PIRATE BURLESQUE SHOW with fellow Peepshow performer alumni Lavendar La Rue. She also may have the longest name in burlesque [citation needed]. Beyond her performances, she is a maker of custom corsets and accessories and has been busy these days working with the Renaissance Faire.
http://www.myspace.com/pinkfouffy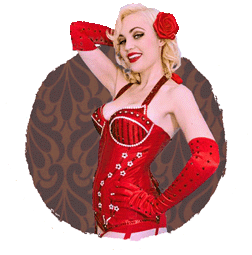 JOLEE BLON'
Jolie Blon' calls herself "The Blon' Bombshell" and that ain't no joke! She's a Tease Artist, a Cheesecake Pin-Up and a Delta Flower, Born 'n bred in Louisiana! She loves a good ol' rowdy honky tonk, a boot scoot boogie, and don't forget that homemade moonshine, fellas! Still, she always dreamt of heading west to become a burlesque showgirl in Hollywood and now here she is. From her Myspace: "I shoulda been born in 1925! Lotta times people ask me what a simple country gal is doin' in the glitzy world of burlesque. To that I say country and burlesque go together like Willie Nelson to a doobie. Southern dames have always loved rhinestones and fringe!" She's already performed at the MONDAY NIGHT TEASE and can also be seen in the PIRATE BURLESQUE SHOW this month. This will be Jolee's first performance with PEEPSHOW MENAGERIE.
http://www.myspace.com/joleeblon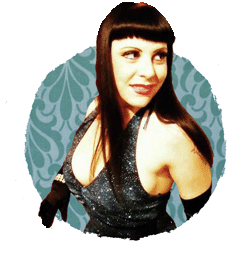 MISS ANGIE CAKES
Miss Angie Cakes has been performing in night clubs from East to West Coast since the late 1990's. By dayn she's a Fashion Designer for a local clothing company in Los Angeles. At night, the stage is her second home. She also makes her own costumes and accessories and will be launching her very own line soon. This little cookie loves all things sweet, (especially cake!). She's a cupcake cutie who spreads her frosting where ever she goes. With just 2 cups of sugar, a little spice, & a pinch of glitter, she'll bake up the hottest show in town and plans to bake you right in your seat with her first performance with PEEPSHOW MENAGERIE.
http://www.myspace.com/missangiecakes


Live Music & Comedy by: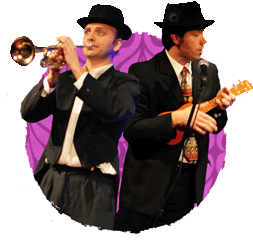 Vaudeville and Music by MR SNAPPER AND MR. BUDDY
This is Mr Snapper & Mr Buddy's 2nd show with us! In fact they saved our butts when they came in at the last minute to open our wildly successful Disney themed BURLESQUELAND show in January and were a huge hit! Helping to keep Vaudeville alive in the modern burlesque circuit, the chatty and singing ukulele playing Mr Snapper and ever-silent but deadly Mr. Buddy bring their years of stage experience to our own stage to entertain all of you looking in at us through our invisible monkey bars Multi-instrumentalist Mr. Snapper and comedy-savant Mr. Buddy have entertained audiences from Hollywood to...North Hollywood. Whether an old-fashioned song and dance, or a comedy variety act, Mr. Snapper & Mr. Buddy live to delight audiences and get paid. And they just might be cooking up something special for this particular show too so don't miss it!
http://www.myspace.com/snapperbuddy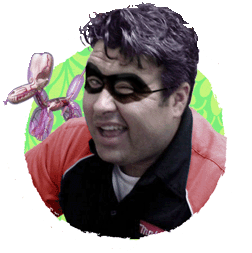 Comedy and Balloon Animals by FAST EDDIE
Making his debut on our stage is Fast Eddie who isn't normally seen in adult themed faire like this one. He's a professional clown, (former circus clown), comedian, magician, and balloon artist who has somehow found himself mixed up with us burlesque types and if you know us long enough, you'll probably wind up on stage at some point! Our point here is that we are very happy to be the place where Fast Eddie makes his burlesque debut. Oh, and speaking of points, please do not point anything sharp to close to his balloons. It's not that we're afraid of you popping them, it's that you really really really don't want to get that close to THESE balloons.


Hosted by our lovely Animal Trainer: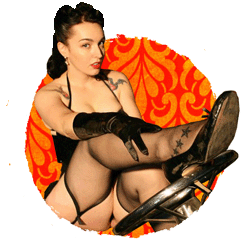 DIZZY VON DAMN!
Dizzy von Damn! is a science-experiment gone horribly awry- she's what happens when you mix the genes of the lovely Bettie Page with those of kitschy-eccentric Liberace... She's proof that science can be sexy...and weird. Last year, she won the title of Miss Viva Las Vegas 2008, has performed across the country, as well as performing regularly at VICTORY VARIETY HOUR, MONDAY NIGHT TEASE, and can be seen in the new LA Burlesque Calendar for 2010 which will be available for purchase at the show. She dabbles in design and is a jill of all trades - She's the Always girl. While she is a regular performer in our shows, she also hosted our successful Disney themed BURLESQUELAND show and this will be her second hosting gig with us. And you never know...she just might be convinced to taker her clothes off too if you are really nice. (But LOUD nice - not quiet nice.)
http://www.dizzyvondamn.com


Produced by: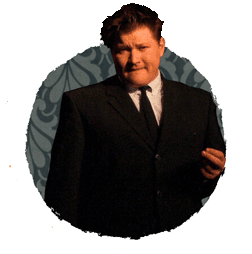 Produced and Special Appearances by CHRIS BEYOND
Chris Beyond has been a part of the L.A. independent music scene since the early nineties and has really had his hands full since then. He is the creator of No-Fi "Magazine" in 1996 and No-Fi "Radio" in 2002, both of which are still in production today. He has appeared on the television shows SEXBYTES on HBO and on DEADLINE on HDnet. He's been an in-studio guest on the radio show LOVELINE, was interviewed on Playstation.com, and has been published in Ben Is Dead and Harper's magazines. He has produced several concerts around the Los Angeles area as well as been a member of the bands EAR BEYOND and POPULAR GIRL. He is also a designer whose works have appeared in albums, magazines, newspapers, flyers, and DVDs (including the burlesque film Broad Daylight directed by JMM). He is a prominent burlesque and pin-up photographer in the burlesque scene and a staffmember of the Burlesque Hall Of Fame/Exotic World. He has hosted shows for Shimmy & Shake, Dolls Of Fox, Monday Night Tease, & more, and is co-host of The Burlesque Podcast with Lili VonSchtupp.
http://www.myspace.com/beyondphotography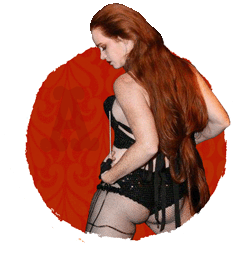 Produced by SCARLETT LETTER
Scarlett Letter is not only the co-producer of this show, but is also the co-producer of the MONDAY NIGHT TEASE which takes place every Monday at 3 Clubs in Hollywood. Like most dancers in Hollywood, Scarlett Letter has been performing since childhood. However, her experiences have helped her develop a strong capacity for performing off the cuff and from the hip. During her lonely days in rural Nevada, she spent many a night performing under the glow of a black and white TV, dancing along with the best. She quickly developed an "I can do that" attitude and jumped at every performance opportunity that came her way. Upon moving to California, she put her dreams of a chorus girl life on the backburner and earned a bachelors in Performing Arts Management. Since her graduation, it has been all systems go. Now, she is using the skills acquired growing up Mormon to keep her trunk full of award winning costumes and ready for every situation. Scarlett has performed in a wide variety of venues including the World Famous Derby, The Queen Mary in Long Beach, The Whiskey a Go-Go, the Gig and the Mint. You may have recently seen her in an episode of the television show "Chuck" where she played the part of an unsavory stripper which is worlds away from her real life persona. She has also performed in Tucson, Vancouver, Seattle, Las Vegas and Boston, where she was awarded the title of "Most Classic" at the Great Boston Burlesque Exposition of 2007. In fact, this is the first PEEPSHOW MENAGERIE that she won't be at because she is on her way to Europe to perform in another tour of KUBRILESQUE, the burlesque tribute to Stanley Kubrick which will be touring all over Europe and possibly the UK. She has still done a lot of work for this and the next show and we can't wait for her to return safely (and we, in turn, hope that we don't accidentally start any fires while she's gone).
http://www.myspace.com/apriest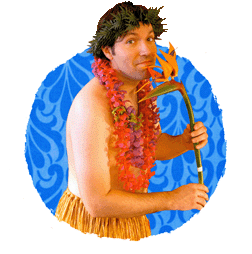 Guest-Produced by MR. SNAPPER
What do you do when your co-producer flies to Europe and you still have a big show to do? Look to the theatre and find somebody who knows a thing or two about burlesque and get that person to co-produce with you. As both one half of Mr. Snapper and Mr. Buddy and the other half of his on and off-stage romantic partnership with Red Snapper (who is also guest producing next month), Mr. Snapper is a creative generalist, an artistic jack-of-all trades, and I don't think he'd mind us saying a fantastic puppeteer, director and playwright who wrote and directed the burlesque themed play set in an American burlesque house during WWII called "Pin-Up Girls." He is a founding member of the theatre troupe THEATRE UNLEASHED and has even been known to grace the burlesque stage himself on occasion as host and performer. (You can see him co-host next month's PEEPSHOW MENAGERIE in fact.) Mr. Snapper brings a wealth of stage experience with him and we are very happy to be working with him on this show.
http://www.myspace.com/scrapsflippy


Photos from event Coming Soon after the show!



















Click on each image to see a BIGGER version!
Videos from event!

Jolee Blon'




Josie Bunnie (with guest appearance by Fever Blister)





PAST SHOW REVIEWS!
Jack Dagger's experience at Peepshow Menagerie: Burlesqueland!