Featuring Burlesque & Tease by: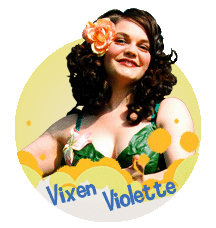 VIXEN VIOLETTE
Our long overdue "Peepshow Pin-Up" this month; Vixen Violette can't decide if she is an alter ego, or if she has an alter ego. One thing that is for sure is that she is a very talented performer and producer who co-produced BURLESQUE-A-GO-GO with her partner Lux LaCroix. Last year she made her Burlesque Hall Of Fame: Exotic World debut at The Palms casino in Las Vegas. She's known for her "Sharp Tongue and Soft Curves" and also teaches costuming as part of the "Bump 'N' Grind Bootcamp" and appeared in the official L.A. Burlesque calendar last year. This is her fourth appearance in our show and will bring IT back to the beach!
http://www.myspace.com/VixenViolette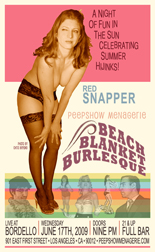 RED SNAPPER (performer & guest-producer)
"Sass, class and a black girl's ass" is only one of many ways to describe this performer. She brings with her a very impressive pedigree. She has studied pole dancing with Aphrodite Strip-N-Pole for two years. She's also had the amazing opportunity to study burlesque with several incredible performers: Miss Indigo Blue, Jo Boobs, Lux LaCroix, Jewel of Denial, Lili Von Schtupp, Vanity Flair, Scarlett Letter and Penny Starr, Jr.. Last year she starred in the play "Pin-Up Girls" (directed by Andrew Moore) in a role for which the L.A. Weekly called her "Robust And Sassy" and is currently directing a play called "Tracing Sunny" which just opened this month. She is co-producing our show in Scarlett Letter's absence (who will be back next month) and is very welcome as she has performed in more of our shows than anyone else beside Scarlett..
http://www.myspace.com/ms_red_snapper


PINKY PETITE
The sweet petite treat known as Miss Pinky Petite hails originally from Boston where she was a member of THE BOSTON BABYDOLLS and even performed with them at the 2006 Miss Exotic World pageant. In 2007 she moved to Los Angeles and quickly found a place near the beach and a place in the Los Angeles Burlesque Scene. She has performed at VICTORY VARIETY HOUR, SHIMMY & SHAKE, PIRATE BURLESQUE, and the MONDAY NIGHT TEASE. She was the coverstar of "Chris Beyond's Bootleg Stag Party" cd and will also be featured in an upcoming issue of Bachelor Pad Magazine. This will be her fourth appearance at PEEPSHOW MENAGERIE and if you sit too close to the stage, you just might get pinched!
http://www.myspace.com/pinkypetite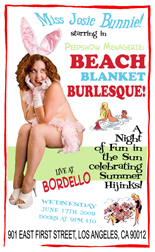 JOSIE BUNNIE
She's got "Curves, Curls and Baby Blue Eyes!" Josie Bunnie is a burlesque performer, occasional nude model, and confirmed nudist who loves being creative and artistic. She has performed at El Cid with the Victory Variety Hour & Schmutzig, 3 Clubs with the Monday Night Tease, Mr T's Bowl and The Scene club with Burlesque-a-go-go, in the live Camp Burlesque show, and other various shows. She is a student of Kitten De Ville, Augusta (AKA Penny Starr Jr.), Jewel Of Denial, Lux La Croix and Vixen Violette. She is a very bubbly person who likes to socialize and meet new people. She knows what she's got and knows how to use it, as they say. She also says she loves being in front of a camera and playing with her kitty cats. This will be Josie's 3rd appearance at PEEPSHOW MENAGERIE.
http://www.myspace.com/missjosiebunnie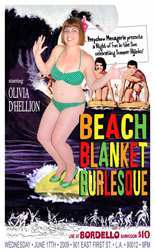 OLIVIA D'HELLION
Olivia D'Helion brings with her a lot of fun and spunkiness! From her Myspace profile: "WHY HELLO DARLING, MY NAME IS OLIVIA D'HELLION AND I'M READY TO SHIMMY AND SHAKE MY WAY ALL OVER LOS ANGELES. I MAY ACT SHY, BUT I SURE KNOW HOW TO RAISE HELL!" She also loves to leave the caps-lock on as it would seem. She first caught our eye at The Monday Night Tease and has been away for a while but we have a feeling she'll be performing all over town pretty soon!
http://www.myspace.com/oliviadhelion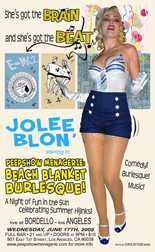 JOLEE BLON'
Jolie Blon' calls herself "The Blon' Bombshell" and that ain't no joke! She's a Tease Artist, a Cheesecake Pin-Up and a Delta Flower, Born 'n bred in Louisiana! She loves a good ol' rowdy honky tonk, a boot scoot boogie, and don't forget that homemade moonshine, fellas! Still, she always dreamt of heading west to become a burlesque showgirl in Hollywood and now here she is. From her Myspace: "I shoulda been born in 1925! Lotta times people ask me what a simple country gal is doin' in the glitzy world of burlesque. To that I say country and burlesque go together like Willie Nelson to a doobie. Southern dames have always loved rhinestones and fringe!" She's already performed at the MONDAY NIGHT TEASE and can also be seen in the PIRATE BURLESQUE SHOW this month. This will be Jolee's second performance with PEEPSHOW MENAGERIE.
http://www.myspace.com/joleeblon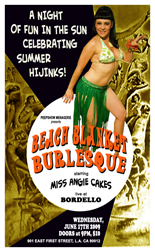 MISS ANGIE CAKES
Miss Angie Cakes has been performing in night clubs from East to West Coast since the late 1990's. By dayn she's a Fashion Designer for a local clothing company in Los Angeles. At night, the stage is her second home. She also makes her own costumes and accessories and will be launching her very own line soon. This little cookie loves all things sweet, (especially cake!). She's a cupcake cutie who spreads her frosting where ever she goes. With just 2 cups of sugar, a little spice, & a pinch of glitter, she'll bake up the hottest show in town and plans to bake you right in your seat with her second performance with PEEPSHOW MENAGERIE after her debut on our stage last month.
http://www.myspace.com/missangiecakes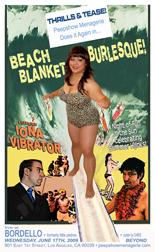 IONA VIBRATOR
Hitachi is her middle name and she wants you all to lubricate rather than hate. She has studied with amazing Jewel of Denial, Penny Starr Jr., Lux LaCroix, and Vixen Violette. One of L.A.'s newest performers, he is now booking shows and getting her feet wet in the Burlesque scene. She recently took part in the 4th Annual Las Vegas Photo Safari during Burlesque Hall Of Fame: Exotic World Weekend. She loves Burlesque dancers and aficionados, lovers of music and art, people who like to shimmy until their sides hurt, and the scientists who discovered the g-spot. See her on Wednesday, June 17th where she hopes somebody remembers to bring the sunscreen for our night of 'Fun In The Sun!'
http://www.myspace.com/ionavibrator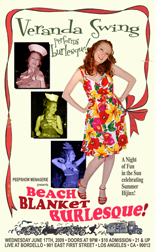 VERANDA SWING
Another newcomer on our stage; Veranda Swing is a graduate of the Striptease Symposium here in L.A., run by our friends Penny Starr Jr. and Jewel Of Denial. She's performed for Victory Variety Hour, Monday Night Tease, and The Ding Bat Show in her short time of doing burlesque in Los Angeles. She also recently returned from Las Vegas where she took part in the 4th Annual Las Vegas Photo Safari as part of The Burlesque Hall Of Fame weekend at the Orleans where she rubbed noses, and who know what else, with burlesque stars from all over the world. Veranda likes to include intelligence and wit to complement her perfectly shaped TaTas in all her acts. She'll melt the ice in your sweet tea, and puts the chick in chicory on Wednesday, June 17th at Bordello in L.A. for our night of Fun In The Sun!
http://www.myspace.com/veranda_swing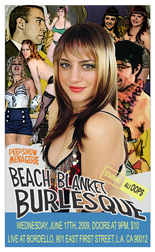 ALI OOPS
Oops! Her clothes fell off... again.

Ali Oops is new to the burlesque scene, raised and cultivated by the lovely Penny Starr Jr., Jewel of Denial, Vixen Violette and Lux LaCriox. She shimmies, shakes, and promises to be your favorite mistake. She can also whip you up a mean screwdriver. Drink her in during this very special show at Bordello on Wednesday, June 17th, in Los Angeles!
http://www.myspace.com/oopsmyclothesfelloff


Hosted by: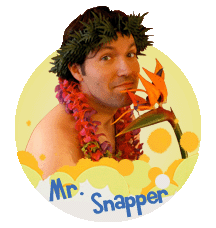 MR. SNAPPER
Mr Snapper is a creative generalist, an artistic jack-of-all trades. Normally seen on stage as one half of the vaudeville comedy and music duo Mr. Snapper and Mr. Buddy, Mr. Snapper has also hosted the Monday Night Tease in Hollywood and even co-produced our last show in Scarlett Letter's absence while on tour in Europe. When not crooning or laffing it up onstage in the burlesque scene, Mr. Snapper find his home on other stages, writing and directing plays as a founding member of Theatre Unleashed who recently celebrated their one year anniversary. His play "Pin-Up Girls" about burlesque dancers in the 1940's was a financial and critical success and his latest work "Tracing Sunny" recently opened in Los Angeles to rave reviews and made one reviewer laugh so hard, he almost died right there in the theatre. (True story!) See Mr. Snapper bring his best "Frankie" on stage with him at our show on Wednesday, June 17th.
http://www.myspace.com/scrapsflippy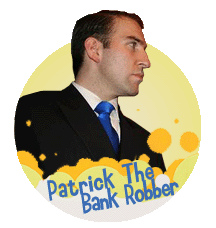 PATRICK THE BANK ROBBER
Since the beginning of Peepshow Menagerie, he has always occupied a corner of the upper deck of Bordello; well dressed, sharply combed, and watching silently from above. We eventually discovered that his name is Patrick The Bank Robber and when he isn't a burlesque enthusiast, he can often be found on stage reciting Shakespeare, traveling across the country, or just simply robbing banks. After being made at various shows across town, he eventually found himself hosting for shows like Ragdolls Burlesque and the Monday Night Tease. This will be his first gig hosting our show. Watch your wallets, watches, and hearts, because Patrick The Bank Robber will be on our stage at Bordello on Wednesday, June 17th.
http://www.myspace.com/patrickthebankrobber

Produced by: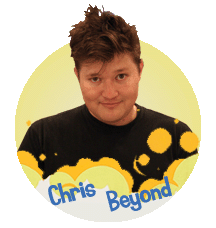 Produced and Special Appearances by CHRIS BEYOND
Chris Beyond has been a part of the L.A. independent music scene since the early nineties and has really had his hands full since then. He is the creator of No-Fi "Magazine" in 1996 and No-Fi "Radio" in 2002, both of which are still in production today. He has appeared on the television shows SEXBYTES on HBO and on DEADLINE on HDnet. He's been an in-studio guest on the radio show LOVELINE, was interviewed on Playstation.com, and has been published in Ben Is Dead and Harper's magazines. He has produced several concerts around the Los Angeles area as well as been a member of the bands EAR BEYOND and POPULAR GIRL. He is also a designer whose works have appeared in albums, magazines, newspapers, flyers, and DVDs (including the burlesque film Broad Daylight directed by JMM). He is a prominent burlesque and pin-up photographer in the burlesque scene and a staffmember of the Burlesque Hall Of Fame/Exotic World. He has hosted shows for Shimmy & Shake, Dolls Of Fox, Monday Night Tease, & more, and is co-host of The Burlesque Podcast with Lili VonSchtupp.
http://www.myspace.com/beyondphotography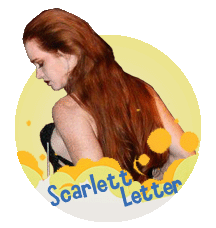 Produced by SCARLETT LETTER
Scarlett Letter is not only the co-producer of this show, but is also the co-producer of the MONDAY NIGHT TEASE which takes place every Monday at 3 Clubs in Hollywood. Like most dancers in Hollywood, Scarlett Letter has been performing since childhood. However, her experiences have helped her develop a strong capacity for performing off the cuff and from the hip. During her lonely days in rural Nevada, she spent many a night performing under the glow of a black and white TV, dancing along with the best. She quickly developed an "I can do that" attitude and jumped at every performance opportunity that came her way. Upon moving to California, she put her dreams of a chorus girl life on the backburner and earned a bachelors in Performing Arts Management. Since her graduation, it has been all systems go. Now, she is using the skills acquired growing up Mormon to keep her trunk full of award winning costumes and ready for every situation. Scarlett has performed in a wide variety of venues including the World Famous Derby, The Queen Mary in Long Beach, The Whiskey a Go-Go, the Gig and the Mint. You may have recently seen her in an episode of the television show "Chuck" where she played the part of an unsavory stripper which is worlds away from her real life persona. She has also performed in Tucson, Vancouver, Seattle, Las Vegas and Boston, where she was awarded the title of "Most Classic" at the Great Boston Burlesque Exposition of 2007. In fact, this is the first PEEPSHOW MENAGERIE that she won't be at because she is on her way to Europe to perform in another tour of KUBRILESQUE, the burlesque tribute to Stanley Kubrick which will be touring all over Europe and possibly the UK. She has still done a lot of work for our last and this show and we can't wait for her to return safely (and we, in turn, hope that we don't accidentally start any fires while she's gone).
http://www.myspace.com/apriest


Photos from event Coming Soon after the show!














Click on each image to see a BIGGER version!
PAST SHOW REVIEWS!
Jack Dagger's experience at Peepshow Menagerie: Burlesqueland!