Featuring Burlesque On The High Seas By: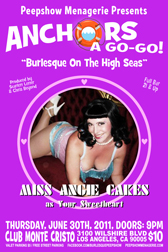 MISS ANGIE CAKES
Miss Angie Cakes has been performing in night clubs from East to West Coast since the late 1990's. By day, she's a Fashion Designer for a local clothing company in Los Angeles. At night, the stage is her second home. She also makes her own costumes and accessories and will be launching her very own line soon. This little cookie loves all things sweet, (especially cake!). She's a cupcake cutie who spreads her frosting where ever she goes. With just 2 cups of sugar, a little spice, & a pinch of glitter, she'll bake up the hottest show in town!
http://www.myspace.com/missangiecakes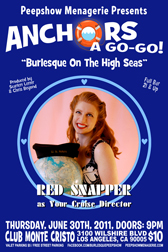 RED SNAPPER
Red Snapper entered the world of exotic dancing through pole dancing. While taking a session of burlesque choreography for pole through Aphrodite Strip-N-Pole, she discovered an innate talent for striptease. Thirsty for knowledge on the subject study, she studied burlesque with several incredible performers: Lux LaCroix (Bump & Grind School - Los Angeles), Miss Indigo Blue & The Shanghai Pearl (Academy of Burlesque - Seattle), Jo Boobs (New York School of Burlesque - New York), Jewel of Denial (Striptease Symposium - Los Angeles), and many others as well as burlesque legends Wild Cherry, April March and Tee Tee Red. She has been performing since she was five. She's been seen in commercials, television and film. As an actress, she's been called "robust and sassy" by L.A. Weekly. The L.A. Times wrote that she "parlay[ed] experience in both theater and burlesque choreography into a thoroughly convincing portrait of hardhearted survival" in her performance in Andrew Moore's Pin-Up Girls. She regularly performs throughout Southern California, and has performed in Las Vegas, Austin, Boston, Dallas, San Antonio, Denver, New Orleans and Albuquerque. Known as "The Go All the Way Girl," she never fails to charm. Red's repertoire varies from classic 1940's elegance to rock & roll, tongue-in-cheek, naughty good girl. Sometimes she shares the stage with puppets or large, silly props built by Mr. Snapper. She's taught men and women the art of pole dancing, lap dancing and burlesque. She currently teaches burlesque independently. She usually spends her free time brainstorming new projects at home with Mr. Snapper, his dog Buster and her Doodlebug.
http://www.snapperburlesque.com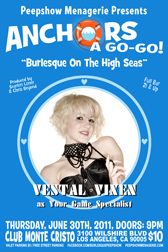 VESTAL VIXEN
VESTAL adjective- (1) Roman Mythology: a) Of or relating to Vesta b)Relating to or characteristics of the vestal virgins (2) Chaste; pure. noun- (1) Roman Mythology: A vestal virgin (2) A woman who is a virgin (3) A nun. VIXEN noun- (1) A female fox (2) a sexually attractive woman. Hailing from Southern California, Burlesque diva Vestal Vixen combines millennia of feminine sensuality in a shiny new package. Whether sizzling on stage as a member of Miss Kitty's Filthy Family or dazzling the room with beauty and class during her Burlesque numbers, Vestal Vixen knows how to seduce a crowd and leave them yearning for more.
Vestal Vixen on Facebook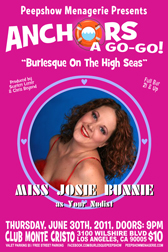 MISS JOSIE BUNNIE
She's got "Curves, Curls and Baby Blue Eyes!" Josie Bunnie is a burlesque performer, occasional nude model, and confirmed nudist who loves being creative and artistic. She has performed at El Cid with the Victory Variety Hour & Schmutzig, 3 Clubs with the Monday Night Tease, Mr T's Bowl and The Scene club with Burlesque-a-go-go, in the live Camp Burlesque show, and other various shows. She is a student of Kitten De Ville, Augusta (AKA Penny Starr Jr.), Jewel Of Denial, Lux La Croix and Vixen Violette. She is a very bubbly person who likes to socialize and meet new people. She knows what she's got and knows how to use it, as they say. She also says she loves being in front of a camera and playing with her kitty cats.
http://www.facebook.com/MissJosieBunnie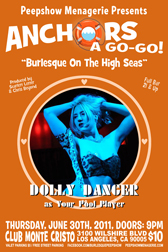 DOLLY DANGER
Dolly Danger is an actress as well as a writer and enjoys living the Burlesque and Vaudeville lifestyle. She has toured Europe with the popular Stanley Kubrick themed burlesque show called Kubrilesque. She has starred in a horror movie starring Steve Guttenburg and James Duval. We're pretty sure that if Mr. Guttenburg's character in Police Academy were real, he'd be a big fan of Dolly and her burlesque performances.
Dolly Danger on Facebook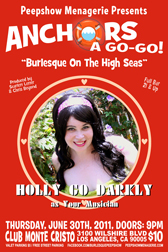 HOLLY GO DARKLY
It's been said they saved William Castle's brain and we know it to be true: One stormy night in the basement of the haunted honkytonk on the edge of town, they put that brain into a girl made from bits of showgirls, flappers, dames, dolls, and molls. Fed with electricity and a steady diet horror films, musicals, and the souls of men that girl became...Holly Go Darkly. Apart from a couple of our other shows, he has performed at the Monday Night Tease and with Sealed With A Kiss and we are happy to have her back on Peepshow Menagerie's stage.
Holly Go Darkly on Facebook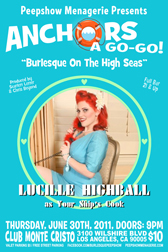 LUCILLE HIGHBALL
A sexpot so intoxicating it will take 12 steps to get over her! (And even still, she'll haunt you in your drunken dreams) Growing up doing musical theater and dance, she loves getting dolled up, and playing a role other than her day to day persona. She's also doing a bit of modeling on the side. She has performed at the Monday Night Tease and with Sealed With A Kiss Burlesque.
http://www.lucillehighball.com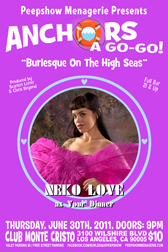 NEKO LOVE
Five feet of fantastic feline fun! Neko Love hails from sunny Riverside, California. She's purring her way into the hearts of fans by putting her paw prints on as many of her favorite scenes as she can. Whether she's modeling for a local photographer, creating dazzling burlesque costumes, laying her ideas out on paper with a tiny micron pen, or dancing herself into a feline frenzy- this curvy cat is loving every minute of it!.
http://www.facebook.com/NekoLoveRiverside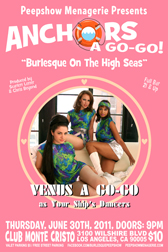 VENUS A GO-GO
LA's very own brand new retro-inspired go-go ensemble featuring Panama Red, Ali Oops and Sioux du Jour. See them perform not one, but TWO performances this night as well as performing Go-Go dancing after the show for your visual and drinking entertainment.
Venus A Go-Go on Facebook
Featuring Music by: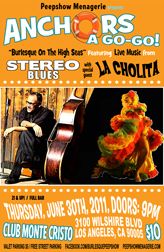 STEREO BLUES
Bassist Tony Marsico has lent his bass lines to everyone from rock icons Bob Dylan, Neil Young, Roger Daltrey, Marianne Faithfull to country legend Willie Nelson, not to mention his many burlesque gigs with Peepshow Menagerie and Shimmy & Shake with his band THE DEL REYS. We are also very luck to have burlesque performer La Cholita jointing them on stage to sing as well and can't wait to see what these two powerful forces create together!
Stereo Blues on Facebook
Hosted by: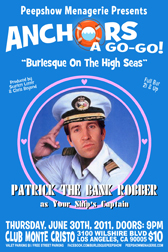 PATRICK THE BANK ROBBER
Since the beginning of Peepshow Menagerie, he has always occupied a dark corner of our venue; well dressed, sharply combed, and watching silently from above. We eventually discovered that his name is Patrick The Bank Robber and when he isn't a burlesque enthusiast, he can often be found on stage reciting Shakespeare, traveling across the country, or just simply robbing banks. After being made at various shows across town, he eventually found himself hosting for shows like Ragdolls Burlesque and the Monday Night Tease as well as producing his own show called Raymond Burl Esq. & The Family Ballyhoo.
Patrick The Bank Robber on Facebook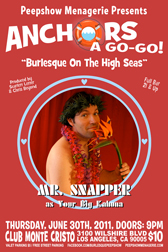 MR. SNAPPER
Mr Snapper is a creative generalist, an artistic jack-of-all trades. Normally seen on stage as one half of the vaudeville comedy and music duo Mr. Snapper and Mr. Buddy, Mr. Snapper has also hosted the Monday Night Tease in Hollywood and even co-produced our last show in Scarlett Letter's absence while on tour in Europe. When not crooning or laffing it up onstage in the burlesque scene, Mr. Snapper find his home on other stages, writing and directing plays as a founding member of Theatre Unleashed who recently celebrated their one year anniversary. His play "Pin-Up Girls" about burlesque dancers in the 1940's was a financial and critical success and his latest work "Tracing Sunny" recently opened in Los Angeles to rave reviews and made one reviewer laugh so hard, he almost died right there in the theatre. (True story!) One of our favorite Hosts (and sometime boylesque performer), we are always happy when he's on our stage.
Mr. Snapper on Facebook
Produced by: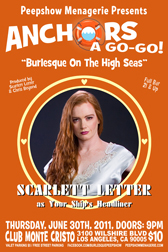 Performing Burlesque and Co-Produced by SCARLETT LETTER
Scarlett Letter is not only the co-producer of Peepshow Menagerie and Naked Girls Reading Los Angeles, but is the producer of The Letter Follies and Dr Sketchy's Anti-Art School Ventura. She has performed at Exotic World in 2007 and 2008 and was winner of "Most Classic" at the 2007 Boston Burlesque Exposition and most recently won "Best Solo Performance" and The Legends' Award at the 2010 Boston Burlesque Exposition. She has performed in more countries than you've been to. She's got "four feet of red hair and miles of bad intentions" and dances her life away every chance she gets, be it pole-go, go-go, goth clubs or Burlesque stages. Recently she was able to perform at a private show for director Quentin Tarantino who had never seen a real live fan dancer before in person and raved about her performance to her for over 5 minutes.
http://stagelightstudios.com/the_little_red_schoolhouse_of_burlesque_workshop.html
http://www.myspace.com/apriest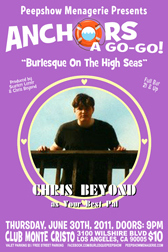 Co-Produced by CHRIS BEYOND
Chris Beyond has been a part of the L.A. independent music scene since the early nineties and has really had his hands full since then. He is the creator of No-Fi "Magazine" in 1996 and No-Fi "Radio" in 2002, both of which are still in production today. He has appeared on the television shows SEXBYTES on HBO and on DEADLINE on HDnet. He's been an in-studio guest on the radio show LOVELINE, was interviewed on Playstation.com, and has been published in Ben Is Dead and Harper's magazines. He has produced several concerts around the Los Angeles area as well as been a member of the bands EAR BEYOND and POPULAR GIRL. He is also a designer whose works have appeared in albums, magazines, newspapers, flyers, and DVDs (including the burlesque film Broad Daylight directed by JMM). He is a prominent burlesque and pin-up photographer in the national burlesque scene and a staffmember of the Burlesque Hall Of Fame/Exotic World. He has hosted shows for Shimmy & Shake, Dolls Of Fox, Monday Night Tease, & more, and is co-host of The Burlesque Podcast with Lili VonSchtupp which recently began production on it's second season of shows which are available for free on iTunes. By the way, if you are lucky and time permitting, you just MIGHT win a copy of his new "Chris Beyond's Bootleg Stag Party Volume 2" at this show! Just be prepared to be pulled on stage for the chance.
http://www.myspace.com/beyondphotography
http://www.facebook.com/chrisbeyond


Thank You's
Mr. Harry Mirkin, James, Shaun, Evelyn, and all the staff at Club Monte Cristo, Arron and Vlad The Retailer. Wacko / La Luz De Jesus / Soap Plant, Sophya St. James, X-Large, Y-Que, Pop Killer, Golden Apple Comics, Meltdown Comics, Secret Headquarters, The Monday Night Tease, Flavorpill, LA Weekly, Facebook, and all of our fans and friends who trust us to do some pretty crazy shows and keep coming back and helping us out! We look forward to continuing to bring you even more of our biggest shows yet in 2011! - Also this year we want to give a special thank you to THE actual and one and only ANNETTE FUNICELLO who lost many of her possessions and personal memorabilia in a huge fire this year. We love you and give you our best wishes!!! This show is dedicated to her.
Show Photos! (Live photos will be updated after the show.)

















Click on each image to see a BIGGER version!
PAST SHOW REVIEWS!

LADY HUMP says that you "can't go wrong" with Peepshow Menagerie's Close Encounters Of The Burlesque Kind.

A wonderful article and review from the national CAMPUS CIRCLE newspaper.

Some great coverage of our Mad Monster Burlesque Pajama Party from FANGORIA Magazine.

GUEST OF A GUEST shares a very positive and humorous review of Burlesqueland 2010.

THE GLOSS suggests visiting Burlesqueland over Iceland.

THE L.A. WEEKLY joins the "Burlesqueland!!" cast at at the park for Burlesque Day At D-Land.

THE L.A. WEEKLY visits Peepshow Menagerie "Burlesqueland!!"

THE L.A. WEEKLY visits Peepshow Menagerie as their featured slideshow!

THE GUARDIAN U.K.'s very positive mention about Peepshow Menagerie in this article about David Lynch!

HOLLYWIRE.COM's review of Peepshow Menagerie: Beneath The Surface!

A review of Peepshow Menagerie: Beneath The Surface on YELP.COM!

Jack Dagger's experience at Peepshow Menagerie: Burlesqueland!