Featuring Readings by:

SCARLETT LETTER
Scarlett Letter is not only the co-producer of this show, but was also the co-producer of the long running Monday Night Tease. She has performed at Exotic World / Burlesque Hall Of Fame in 2007 and 2008 and was winner of "Most Classic" at the 2007 Boston Burlesque Exposition and most recently won "Best Solo Performance" and The Legends' Award at the 2010 Boston Burlesque Exposition. She has performed in more countries than you've been to. She's got "four feet of red hair and miles of bad intentions" and dances her life away every chance she gets. This includes currently: Burlesque at the 3 of Clubs, Rocky Horror with Wild and Untamed Things (WUT), and miscellaneous burlesque, go-go, and pole-go around the greater Los Angeles Metropolitan area.
http://www.myspace.com/apriest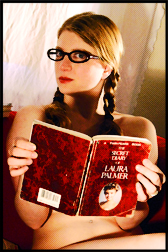 RED SNAPPER
"Sass, class and a loveable ass" is only one of many ways to describe this performer. She brings with her a very impressive pedigree. She has studied pole dancing with Aphrodite Strip-N-Pole for two years. She's also had the amazing opportunity to study burlesque with several incredible performers: Miss Indigo Blue, Jo Boobs, Lux LaCroix, Jewel of Denial, Lili Von Schtupp, Vanity Flair, Scarlett Letter and Penny Starr, Jr.. In 2008 she starred in the play "Pin-Up Girls" (directed by Andrew Moore) in a role for which the L.A. Weekly called her "Robust And Sassy". She is the coverstar of volume 2 of "Chris Beyond's Bootleg Stag Party" cd and is also performing in the big Burlesque Spectacular in Denver along with NGR-LA's Scarlett Letter and Panama Red this month.She is one of our most frequent performers in our burlesque show, a great friend, and we are alway happy and lucky to have her on our stage.
http://www.snapperburlesque.com/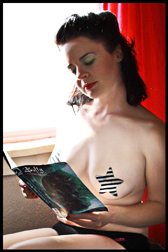 SPY KITTEN
The cat's meow! An entertainer and artist extraordinaire, Kitten dreams of the days when a gal could join up with a vaudeville troupe and travel around having adventures that were sure to include Gene Kelly and tap dancing. Fantasies aside, this sassy cupcake has really only just begun to dip her toes in the glittery world of burlesque. Originally from Denver, Kitten was bouncing around the Mid-West & the West Coast for the last year and a half, considering the life of a gypsy, before serendipitously settling in Los Angeles. Spy Kitten has studied with the lovely Vivenne VaVoom and has delighted in a class or two at Studio L'amour. In fact, it was just over a year ago that she attended her very first Naked Girls Reading event in Chicago. She knew right then and there she wanted to be naked... and reading, but naked comic book reading takes it to a whole new level!! In the short time she's been in LA , she's worked on a few TV shows, posed for Dr. Sketchy's LA chapter, filmed a horror flick and participated in an art show. When she's not reading naked, Kitten models, writes, volunteers and obsessively talks about zombies, unicorns and Joss Whedon's genius..
http://www.spykittensparkles.com/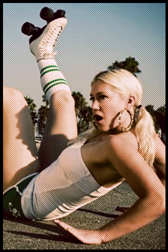 DIA BLOW
Your favorite fallen angel, from the depths of hell comes Miss Dia Blow, a favorite of Satan's roller skating, hellfire spitting vixens! Don't let that sweet smile fool you, she will steal your soul just as soon as kiss you! Dia is known to wear a lot of hats; helmets, top hats, fedoras, and of course her devil horns. She also wears a lot of shoes; skates, heels, chucks, spurs, folded up newspapers, and toe socks. She also wears a backpack with a towel in it and asks us not to question it. Dia is a member of the Angel City Derby Girls. If you ever get lucky enough to go skating with her, be sure to to wear more protection than your standard knee and elbow pads because if you get in her way, you surely find yourself under her wheels. Since skating her way into the burlesque scene, she has performed at the Monday Night Tease, Viva Las Vegas, Pirate Burlesque, and various others.


Show Photos and Posters!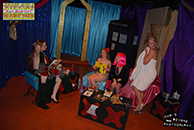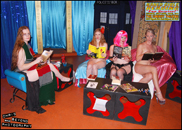 Click on each image to see a BIGGER version!