Featuring Burlesque By: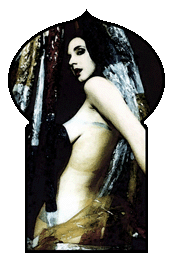 POLLY PEABODY
Polly Peabody has graced the stages of the following establishments: The Slipper Room, The Blue Angel, Limelight, Rififi, Veruka, Galapagos, SHOW, The Spider Club, The Key Club, The Derby, Tangier, Passive Arts Studios, MBar, El Cid, Fais Do Do, Bordello and many more that she's forgotten to mention. She has worked with The Boomshell Girls (NYC), The Va Va Voom Room (San Francisco and NYC), The Red Rooster Review (Key West), and with the great Shelly Bomb on events in Vegas, NY, Madison, Wisconsin and beyond. She and partner Crystal Swarovski competed in the Miss Exotic World competition 2006. Their production company, Lopsided Productions has been bringing infantile entertainment to LA for a good four years now -- on and off, you know, whatever... She was a contributor and co-writer on Miss Swarovski's opus, Kubrilesque. Before that, she was co-artistic director at SHOW Nightclub with NY club impresario, Norman Gosney. She co-directed The Pink Rhino Review, The Pirate Show, Dark Carnival and The Hitchcock Show, as well as co-opening for Pink, Britney Spears, and Dita Von Teese. Fancy right? Nowadays, her main focus within the wacky world of neuvo-retro-homo-fatso-metro-lesbo-burlesque is to sharpen her razor-like wit on the whetstone of David Hasselhoff, abortion jokes, and the vast comic trench of Adolf Hitler, securing a place for herself as the proverbial "hostess with the mostest," a cognomen she has bestowed shamelessly on herself (at least she admits it, girls). Her alter ego, Adria Lang, is a screenwriter and novelist living in Echo Park with her cat Bobo. Currently she is directing the film version of the Kubrilesque show.
http://www.pollypeabody.com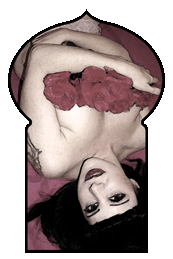 MISS ANGIE CAKES
Miss Angie Cakes has been performing in night clubs from East to West Coast since the late 1990's. By day, she's a Fashion Designer for a local clothing company in Los Angeles. At night, the stage is her second home. She also makes her own costumes and accessories and will be launching her very own line soon. This little cookie loves all things sweet, (especially cake!). She's a cupcake cutie who spreads her frosting where ever she goes. With just 2 cups of sugar, a little spice, & a pinch of glitter, she'll bake up the hottest show in town!
http://www.myspace.com/missangiecakes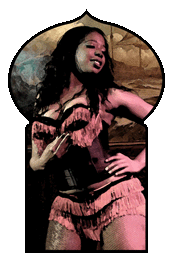 JESSABELLE THUNDER
At a show for Red Snapper's Sassy Classy Review, Fine Arts L.A. said of her, "Ms. Jessabelle Thunder, who's David Lynch-esque number made me realize the hypnotizing effect of such dances." Jessabelle loves the art of dance and was a fan of burlesque before she decided to give it a try herself on stage and the audiences have been loving it since she did. She has performed with us before and has also performed at the Monday Night Tease, Peepshow To Go-Go and at The Bevy, among others.
http://www.facebook.com/jessabelle.thunder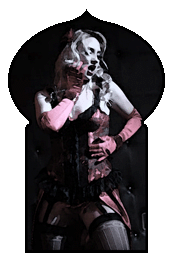 DOLLY DANGER
Dolly Danger is an actress as well as a writer and enjoys living the Burlesque and Vaudeville lifestyle. She has toured Europe with the popular Stanley Kubrick themed burlesque show called Kubrilesque. She has starred in a horror movie starring Steve Guttenburg and James Duval. We're pretty sure that if Mr. Guttenburg's character in Police Academy were real, he'd be a big fan of Dolly and her burlesque performances.
Dolly Danger on Facebook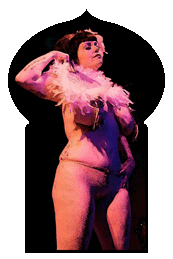 FEVER BLISTER
Fever Blister is a former club-kid & Go Go Gal turned "ENTERTAINER EXTRAORDINAIRE". An Unconventional conventionalist, don't call her a PIN-UP please. She is too heavy to hang on the wall... She isn't a model, she considers herself a personality! She believes in ambitious exploitation of her female assets... Her specialty is her own take on BURLESQUE ENTER*TEASE*MENT. Not only is she a burlesque performer, she's a producer of shows for the ANIMAL charity she founded - PAWS FOR A CAUSE in L.A. & also the producer of The BANG! BANG! Burlesque Show. She's a clothing & costume designer, sock rocker, jack-off of all trades, sex symbol, scavanger of used goods, former queen of the Cleveland scene now rocking out in Bob Barker's guest house in Burbank, California. A Voluptuous Blood Sucker, Volcanic Orgasmic Song Bird, Head stomper, Pastie twirler, Consumer of fine sparkling water, Candy advocate/enthusiast/addict and Tattoooed to the 9th power.
Fever Blister on Facebook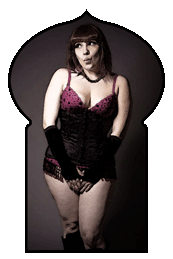 THE TASSELED SQUIRREL
Her name is The Tasseled Squirrel and she calls herself "The Nut Lovin' Rump Shaker." She discovered burlesque when she was in high school and it was always something that intrigued her. She never thought that one day that she would ever hit the stage, but here she is in Peepshow Menagerie! Apart from performing in our show, she is a recent graduate of Striptease Symposium and has previously performed at the Monday Night Tease. She is also a regular reader in the Los Angeles chapter of Naked Girls Reading. Beware of this Squirrel's bite, Peepshow fans!
http://www.myspace.com/tasseledsquirrel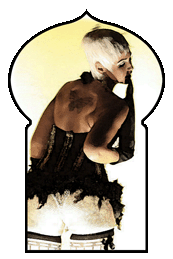 TORI ADORABLE
A Pin-Up Artist turned Pick-Up artist for Dizzy Von Damn!'s Uncommon Burlesque shows, we are very happy to bring you Tori Adorable's first time on the Peepshow Menagerie stage with an act based on one of the lesser known tales from 1001 Nights and that's no bull.
http://www.facebook.com/tori.adorable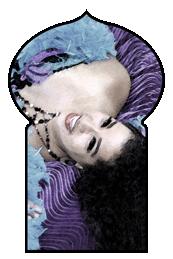 MERCEDES LAVEAUX
Making her debut on the Peepshow Menagerie stage, Mercedes Laveaux has already performed at The Monday Night Tease and Peepshow To Go-Go. She is also a graduate of the Striptease Symposium school of burlesque in Los Angeles.
Featuring Music & Comedy by:
PONY DEATH RIDE
Pony Death Ride is a two piece lounge/comedy/punk outfit consisting of husband and wife team Joe and Jaye MacAskill. Their influences range from the tongue in cheek punk of Art Brut and The Dead Milkmen to piano and ukelele songs you may find in an old tyme burlesque comedy act. Their material is varied, and although they are focusing on performing in burlesque/variety/comedy shows, They're still looking to play bars and clubs, which they've both been playing in for the past 15 years. They are funny and we are very happy to finally have them on our stage for our three year anniversary show.
http://www.ponydeathride.com
Hosted by: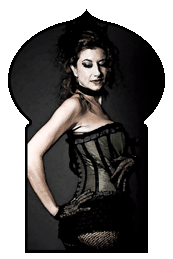 GLAMA SUTRA
Our favorite Los Angeles hedonist, Glama Sutra, considers herself to be a drag queen trapped in a straight woman's body who feels that there's no situation can't be made better by the proper application of a few feathers and rhinestones. She has performed in our 2010 Merrie Maladies and 2011 Flying Saucers Over Burlesque and Peepshow Menagerie's Flying Circus shows and is a regular at the Monday Night Tease and plans to bring her fresh energy and talents back to our stage for her first time hosting one of our shows, as well as performing, this time as one of 1001 Night's most classic characters.
Glama Sutra on Facebook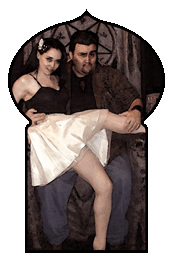 REX THE IMPOSSIBLE
Rex The Impossible has hosted and made several appearances in Peepshow Menagerie including co-hosting The Road To Burlesque and Watching The Detectives as well as appearances in The Burlesque Gong Show, Beach Blanket Burlesque and Burlesqueland. He has also performed in various comedy clubs and has hosted a few other burlesque shows around Southern California including The Monday Night Tease and a gig at The Derby.
http://www.myspace.com/therevofcomedy
Produced by: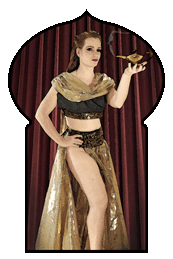 Performing Burlesque and Co-Produced by SCARLETT LETTER
Scarlett Letter is not only the co-producer of Peepshow Menagerie and Naked Girls Reading Los Angeles, but is the producer of The Letter Follies and Dr Sketchy's Anti-Art School Ventura. She has performed at Exotic World in 2007 and 2008 and was winner of "Most Classic" at the 2007 Boston Burlesque Exposition and most recently won "Best Solo Performance" and The Legends' Award at the 2010 Boston Burlesque Exposition. She has performed in more countries than you've been to. She's got "four feet of red hair and miles of bad intentions" and dances her life away every chance she gets, be it pole-go, go-go, goth clubs or Burlesque stages. Recently she was able to perform at a private show for director Quentin Tarantino who had never seen a real live fan dancer before in person and raved about her performance to her for over 5 minutes.
http://stagelightstudios.com/the_little_red_schoolhouse_of_burlesque_workshop.html
http://www.myspace.com/apriest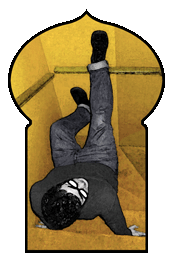 Co-Produced by CHRIS BEYOND
Chris Beyond has been a part of the L.A. independent music scene since the early nineties and has really had his hands full since then. He is the creator of No-Fi "Magazine" in 1996 and No-Fi "Radio" in 2002, both of which are still in production today. He has appeared on the television shows SEXBYTES on HBO and on DEADLINE on HDnet. He's been an in-studio guest on the radio show LOVELINE, was interviewed on Playstation.com, and has been published in Ben Is Dead and Harper's magazines. He has produced several concerts around the Los Angeles area as well as been a member of the bands EAR BEYOND and POPULAR GIRL. He is also a designer whose works have appeared in albums, magazines, newspapers, flyers, and DVDs (including the burlesque film Broad Daylight directed by JMM). He is a prominent burlesque and pin-up photographer in the national burlesque scene and a staffmember of the Burlesque Hall Of Fame/Exotic World. He has hosted shows for Shimmy & Shake, Dolls Of Fox, Monday Night Tease, & more, and is co-host of The Burlesque Podcast with Lili VonSchtupp which recently began production on it's second season of shows which are available for free on iTunes. By the way, if you are lucky and time permitting, you just MIGHT win a copy of his new "Chris Beyond's Bootleg Stag Party Volume 2" at this show! Just be prepared to be pulled on stage for the chance.
http://www.myspace.com/beyondphotography
http://www.facebook.com/chrisbeyond


Thank You's
James, Evelyn, Shaun, and all the staff at Club Monte Cristo, Lili VonSchtupp, Vixen Magdelene, Mr. Harry Mirkin, Arron and Vlad The Retailer, Wacko / La Luz De Jesus / Soap Plant, Sophya St. James, X-Large, Y-Que, Pop Killer, Golden Apple Comics, Meltdown Comics, Secret Headquarters, The Monday Night Tease, Flavorpill, LA Weekly, Facebook, and all of our fans and friends who trust us to do some pretty crazy shows and keep coming back and helping us out! Thanks you for keeping us around for THREE long years! We look forward to continuing to bring you even more of our biggest shows through 2012 and beyond!.
Show Photos! (Live photos will be updated after the show.)






Click on each image to see a BIGGER version!
PAST SHOW REVIEWS!

LADY HUMP says that you "can't go wrong" with Peepshow Menagerie's Close Encounters Of The Burlesque Kind.

A wonderful article and review from the national CAMPUS CIRCLE newspaper.

Some great coverage of our Mad Monster Burlesque Pajama Party from FANGORIA Magazine.

GUEST OF A GUEST shares a very positive and humorous review of Burlesqueland 2010.

THE GLOSS suggests visiting Burlesqueland over Iceland.

THE L.A. WEEKLY joins the "Burlesqueland!!" cast at at the park for Burlesque Day At D-Land.

THE L.A. WEEKLY visits Peepshow Menagerie "Burlesqueland!!"

THE L.A. WEEKLY visits Peepshow Menagerie as their featured slideshow!

THE GUARDIAN U.K.'s very positive mention about Peepshow Menagerie in this article about David Lynch!

HOLLYWIRE.COM's review of Peepshow Menagerie: Beneath The Surface!

A review of Peepshow Menagerie: Beneath The Surface on YELP.COM!

Jack Dagger's experience at Peepshow Menagerie: Burlesqueland!