A Night Of Redheaded Burlesque & Ruskies
Featuring BURLESQUE Performances By Our RED ARMY: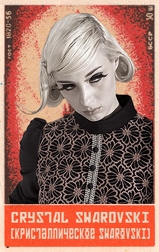 CRYSTAL SWAROVSKI
The only non-redhead in the show, Sparkling brighter than a pair of diamond encrusted pasties international model and dancer Crystal Swarovski has become know in the Burlesque world for her controversial political satire and sexy numbers packed with sometimes shocking and usually irreverent humor. She is also the brainchild of the Burlesque tribute to the films of Stanley Kubrick; Kubrilesque. When not enticing onlookers from coast to coast Crystal can be found touring Europe with Erocktica or Cherry Kiss Burlesque and has shaken her ass for 14 countries. She was also recently seen as George Bush on MTV's Jackass with the band Virginia City Revival. A talented singer herself, Crystal's new album is available on her myspace page (see below). Crystal has modeled for many designers including FCUK, Juicy and Levi's and has been photographed by some of the world's finest such as Anne Lebowitz. In her spare time she is a pre-law major studying for her LSAT... and has a TV show in the works..
http://www.myspace.com/crystalswarovski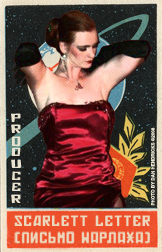 SCARLETT LETTER
Scarlett Letter is not your normal (fill in the blank).... She is not only the co-producer of this show, but is also the co-producer of the MONDAY NIGHT TEASE which takes place every Monday at 3 Clubs in Hollywood. She has performed at Exotic World in 2007 and 2008 and was winner of "Most Classic" at the 2007 Boston Burlesque Exposition. She has performed in more countries than you've been to. She's got "four feet of RED hair and miles of bad intentions" and dances her life away every chance she gets. This includes currently: Burlesque at the 3 of Clubs, Rocky Horror with Wild and Untamed Things (WUT), and miscellaneous go-go and pole-go around the greater Los Angeles Metropolitan area. Not only is she producing this show, but she is PERFORMING in it as well!
http://www.myspace.com/apriest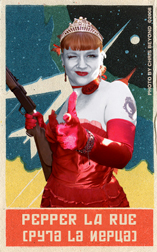 PEPPER LA RUE
Pepper La Rue is known as "The Queen Of Red Hot" who after moving from Riverside where she performs with BUCKINGHAM BURLESQUE, started producing her own show at The Anarchy Library in Downey called THE JUVENILE DELINQUENT REVUE. She has appeared as "The Red Hot Devilette" in the "Monstergirls" feature in No-Fi "Magazine" issue 55 and is a member of the So. Cal Bombshells. She has also performed in the 2007 Vancouver International Burlesque Festival. She's a fan of horror movies who brings a lot of energy and dazzle to every stage she performs on. This will be Pepper's second time performing at PEEPSHOW MENAGERIE and we are happy to feature her as our third "PEEPSHOW PIN-UP" (collect each one on the back of our postcards) as well as our poster girl this month.
http://www.myspace.com/pepper_larue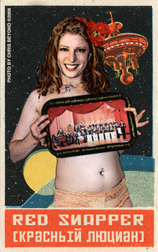 RED SNAPPER
"Sass, class and a black girl's ass" is only one of many ways to describe this performer. She brings with her a very impressive pedigree. She has studied pole dancing with Aphrodite Strip-N-Pole for two years. She's also had the amazing opportunity to study burlesque with several incredible performers: Miss Indigo Blue, Jo Boobs, Lux LaCroix, Jewel of Denial, Lili VonSchtupp, Vanity Flair, Scarlett Letter and Penny Starr, Jr. She's picked up more than a few things along the way and this will be her 2nd time performing in PEEPSHOW MENAGERIE.
http://www.myspace.com/ms_red_snapper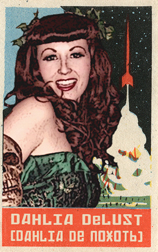 DAHLIA DeLUST
Her name's Dahlia DeLust, but her friends call her "Voodoo Dahlia." She's been a-teasin' and a-peelin' since 2006 with the OC Underground Burlesque Society and is always shakin' her way to a burlesque stage near you! And, lucky you, that stage just happens to be ours! This will be her second time performing in the PEEPSHOW MENAGERIE and she was quite a hit the last time. Tonight, like all of our performers she is representing redheads everywhere! What will she be doing? Well you'll just have to find out by joining us on October 5th!
http://www.myspace.com/dahliadelust


NANCY SinULTRA
Her name is Nancy SinUltra but her friends call her SIN. She loves interesting people and am fascinated with lifestyles and alternative realities. This is probably why she jumped into the burlesque scene. By day Nancy is a Professional group fitness instructor and has been in this field for 18 yrs. She's also a certified Pilates instructor and massage therapist. When she isn't helping people work out and getting loose, she's onstage letting loose working her audience into a frenzy! She loves being self employed as it was a dream of hers for many years. Now see her make all your redheaded dreams come true on stage at our show!
http://www.myspace.com/letameow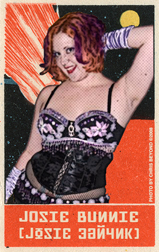 JOSIE BUNNIE
She's got "Curves, Curls and Baby Blue Eyes!" Josie Bunnie is a burlesque performer and occasional nude model who loves being creative and artistic. She has performed at El Cid with the Victory Variety Hour & Schmutzig, 3 Clubs with the Monday Night Tease, Mr T's Bowl with Burlesque-a-go-go, and other various shows at Bordello. She is a student of Kitten De Ville, Augusta (AKA Penny Starr Jr.), Jewel Of Denial, Lux La Croix and Vixen Violette. She is a very bubbly person who likes to socialize and meet new people. She knows what she's got and knows how to use it, as they say. She also says she loves being in front of a camera and playing with her kitty cats. She's recently recovered from a knee injury so help her heal herself (and YOU) on stage on October 5th!
http://www.myspace.com/missjosiebunnie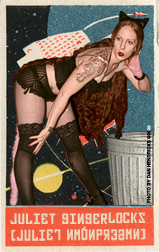 JULIET GINGERLOCKS
Juliet Gingerlocks may have the longest red heair in burlesque right now...maybe even the longest hair in burlesque in general! SHe considers herself to be a faithful romantic, a kindred spirit of Juliet Capulet, the grandaughter of Pippi Longstocking, an evil twin to the little mermaid, a monozygotic twin to Sally. She has the ginger locks of a genuine Rapunzel! You may have seen her perform at The Monday Night Tease at 3 Clubs. She also loves cats and plans to show you how much at our show this October 5th!
http://www.myspace.com/cityofcapulet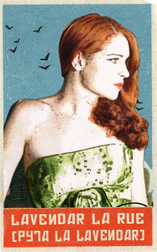 LAVENDAR LA RUE
Lavendar is our newest performer. But she's been on our stage before as a pick-up girl! Miss Lavendar La Rue is in love with costumes and glam and everything vintage. Vaudville appeals to her and most of her performances reflect that. She's a little vaudvillian package, dancing to her own tune. She has performed at the Monday Night Tease at 3 Clubs, Schmutzig(that's german for dirty) at El Cid, Le Femmes Cherris at The Key Club, Bordello for Friday Nights, and Shimmy & Shake. She's also training for a marathon. Beat that!
http://www.myspace.com/lillianlassen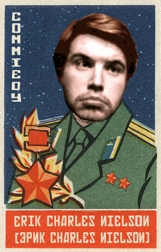 Comedy by ERIK CHARLES NIELSON
Like the Red Menace in the 1950's, Erik Charles Nielson plans to take over the world. Erik Charles Nielsen started doing comedy in Boston, but has lived in Los Angeles for the last four years. He performs regularly at venues around town, including the Improv and the UCB, and runs his own monthly show, "Horse Fight", at the R Bar in Koreatown. His credits include the History Channel's "History of the Joke", 60frames.com's Erik the Librarian Mysteries and the US Comedy Arts Festival in Aspen. This isn't his first venture into the world of burlesque as he performs regularly at Victory Variety Hour. Help us settle the debate if Erik is a redhead, a blonde, a kind of strawberry blonde, or some kind of color from another galaxy that by the time it reaches our audience it comes off like some whole other color.
http://www.myspace.com/erikcharlesnielsen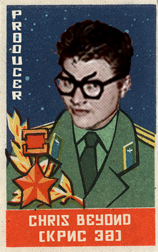 Special Appearances by CHRIS BEYOND
Chris Beyond has been a part of the L.A. independent music scene since the early nineties and has really had his hands full since then. He is the creator of No-Fi "Magazine" in 1996 and No-Fi "Radio" in 2002, both of which are still in production today. He has appeared on the television shows SEXBYTES on HBO and on DEADLINE on HDnet. He's been an in-studio guest on the radio show LOVELINE and was interviewed on Playstation.com, and has been published in Ben Is Dead and Harper's magazines. He has produced several concerts around the Los Angeles area as well as been a member of the bands EAR BEYOND and POPULAR GIRL. He is also a designer whose works have appeared in albums, magazines, newspapers, flyers, and DVDs (including the burlesque film Broad Daylight directed by JMM). He is a prominent burlesque and pin-up photographer in the burlesque scene and a staffmember of the Burlesque Hall Of Fame/Exotic World. He has hosted shows for Shimmy & Shake, Dolls Of Fox, Monday Night Tease, & more, and is co-host of The Burlesque Podcast with Lili VonSchtupp. In addition to co-producing this show, he'll be bringing you some ol' timey burlesque skits with some of our lovely performers.
http://www.myspace.com/beyondphotography


Musical Guests: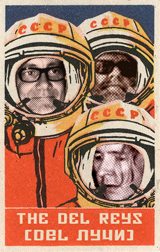 THE DEL REYS
The California Del Reys Of The San Fernando Valley, or simply "The Del Reys" as they're known to fans, formed in 2005 over a mutual love for rockin' instrumental music. They have been labeled a "surf group" by the media, but don't strictly adhere to a reverb-drenched, tidal wave of sound. Instead, the Del Reys include elements of fuzz, garage rock, heavy British blues, 50's rock & roll, and more into their eclectic approach. The band consists of Tony Marsico (Cruzados, Matthew Sweet, Martini Kings), Ric Menck (Velvet Crush, Matthew Sweet, Susanna Hoffs), and Pete Phillips (Matthew Sweet, Marianne Faithfull, Six Finger Satellite). Their debut album was recorded on a cheap 2 track recorder because they wanted to achieve a "trashy, primitive" sound similar to their biggest idols, Link Wray & the Wray Men. The Del Reys are intent on a basic, no frills approach that rocks hard, but they also have a romantic side. They have performed burlesque shows for Shimmy & Shake, Dolls Of Fox, and recently played their own debut party for their new CD here at Bordello. Dig their scene and see what they're all about at our show on October 5th!
http://www.myspace.com/thedelreys


Hosted by: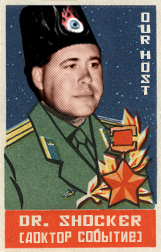 DR. SHOCKER
Dr. Shocker began his relationship with the microphone as a young boy hosting a boy scout event, even then he had a problem with keeping the sobriety in check. Since then he continues to find time to continue the relationship. He can be regularly seen in this illicent affair at the Monday Night Tease and TooMuchCoffeeCast productions. He has also graced the stage of New Mexico's Burlesque Festival, MLS Conventions, Wild and Untamed Things, Sea Bee Holiday Party and was even seen tied up and gaged at Tease-O-Rama with Bella Beretta. Most days he can be found palling around with the Vice Squad from the Cult Of The Eye and knocking back a few at your local dive.
http://www.myspace.com/dr_shocker_vta


Photos from event Coming Soon!





Click on each image to see a BIGGER version!