A Mad Monster Burlesque Party
featuring BURLESQUE Performances By Our Groovy Ghoulies:
Hosted by SCARLETT LETTER
Scarlett Letter is not your normal (fill in the blank).... She is not only the co-producer of this show, but is also the co-producer of the MONDAY NIGHT TEASE which takes place every Monday at 3 Clubs in Hollywood. She has performed at Exotic World in 2007 and 2008 and was winner of "Most Classic" at the 2007 Boston Burlesque Exposition. She has performed in more countries than you've been to. She's got "four feet of RED hair and miles of bad intentions" and dances her life away every chance she gets. This includes currently: Burlesque at the 3 of Clubs, Rocky Horror with Wild and Untamed Things (WUT), and miscellaneous go-go and pole-go around the greater Los Angeles Metropolitan area. Not only is she producing this show, but she is HOSTING and PERFORMING in it as well!
http://www.myspace.com/apriest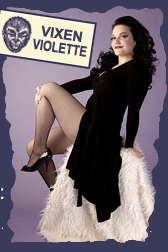 VIXEN VIOLETTE
Vixen Violette is one of our favorite people in the Los Angeles burlesque scene. She says can't decide if she is an alter ego, or if she has an alter ego at all. One thing that IS for sure is that she is a very talented performer and producer who produces BURLESQUE-A-GO-GO with her co-producer Lux LaCroix at Mr. T's Bowl on the third Thursday of every month in Highland Park. This year she made her Burlesque Hall Of Fame: Exotic World debut at The Palms Casino in Las Vegas AND at the New York Burlesque Fest. She was also named one of the top twenty current burlesque performers working today. She's known for her "Sharp Tongue and Soft Curves" and also teaches costuming as part of the "Bump 'N' Grind Bootcamp" with her show partner Lux LaCroix.
http://www.myspace.com/VixenViolette


PINKY PETITE
Our "Peepshow Pin-Up" this month hails from Boston where she was a member of The Boston Babydolls. Last year she moved to Los Angeles and quickly found a place near the beach and a place in the Los Angeles Burlesque Scene. She has performed at Victory Variety Hour, Shimmy And Shake, and The Monday Night Tease. She will also be featured in an upcoming issue of Bachelor Pad Magazine next year. This will be her first appearance at Peepshow Menagerie and probably far from her last!
http://www.myspace.com/pinkypetite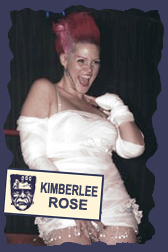 KIMBERLEE ROSE
Kimberlee Rose is known as "The Muppet of Burlesque." Her acts are as animated as any puppet show (more so, actually) and filled with energy, even when she slows down. A student of Kitten De Ville, she embraces the silly and fun side of burlesque performing and her routines are sure to leave a smile on your face by the time she leaves the stage. She has performed for Shimmy & Shake, Burlesque-A-Go-Go, Shadow Circus, Buckingham Burlesque, Tiki Invasion, and more. She's even opened for The English Beat and Cherry Poppin' Daddies. She's also produced her own show; Slumber Party Slaughter. This will be Kimberlee's 2nd appearance at Peepshow Menagerie. Jim Henson would be proud.
http://www.myspace.com/thekimberleerose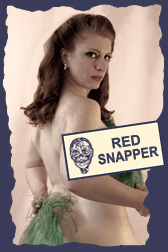 RED SNAPPER
"Sass, class and a white girl's ass" is only one of many ways to describe this performer. She brings with her a very impressive pedigree. She has studied pole dancing with Aphrodite Strip-N-Pole for two years. She's also had the amazing opportunity to study burlesque with several incredible performers: Miss Indigo Blue, Jo Boobs, Lux LaCroix, Jewel of Denial, Lili VonSchtupp, Vanity Flair, Scarlett Letter and Penny Starr, Jr. Currently she can be seen acting in the new play "Pin-Up Girls" (directed by Andrew Moore) in a role for which the L.A. Weekly called her "Robust And Sassy." This will be her 3rd time performing in PEEPSHOW MENAGERIE and this time will be performing as the worst monster of them all!
http://www.myspace.com/ms_red_snapper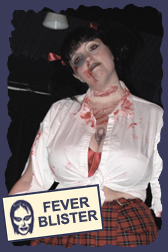 FEVER BLISTER
Fever Blister is a former club-kid & Go Go Gal turned "ENTERTAINER EXTRAORDINAIRE". An Unconventional conventionalist, don't call her a PIN-UP please. She is too heavy to hang on the wall... She isn't a model, she considers herself a personality! She believes in ambitious exploitation of her female assets... Her specialty is her own take on BURLESQUE ENTER*TEASE*MENT. Not only is she a burlesque performer, she's a producer of shows for the ANIMAL charity she founded - PAWS FOR A CAUSE in L.A. & also the producer of The BANG! BANG! Burlesque Show. She's a clothing & costume designer, sock rocker, jack-off of all trades, sex symbol, scavanger of used goods, former queen of the Cleveland scene now rocking out in Bob Barker's guest house in Burbank, California. A Voluptuous Blood Sucker, Volcanic Orgasmic Song Bird, Head stomper, Pastie twirler, Consumer of fine sparkling water, Candy advocate/enthusiast/addict and Tattoooed to the 9th power. The only fever you'd want to catch, she is Fever Blister.
http://www.myspace.com/feverbeaver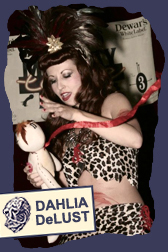 DAHLIA DeLUST
Her name's Dahlia DeLust, but her friends call her "Voodoo Dahlia." She's been a-teasin' and a-peelin' since 2006 with the OC Underground Burlesque Society and is always shakin' her way to a burlesque stage near you! And, lucky you, that stage just happens to be ours! This will be her third time performing in the PEEPSHOW MENAGERIE and she are happy to have her back. This time she's here to put a little scare into your burlesque fun!
http://www.myspace.com/dahliadelust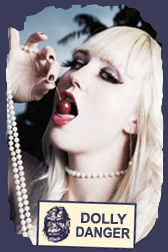 DOLLY DANGER
Dolly Danger is 25 and has made Hollywood her home for the last three years. She is an actress as well as a writer and enjoys living the Burlesque and Vaudeville lifestyle. She recently returned to America after from touring Europe with the popular Stanley Kubrick themed burlesque show called Kubrilesque. She also has a horror movie coming out soon starring Steve Guttenburg and James Duval. We're pretty sure that if Mr. Guttenburg's character in Police Academy were real, he'd be a big fan of Dolly and her burlesque performances. This is her first show with Peepshow Menagerie.
http://www.myspace.com/28585472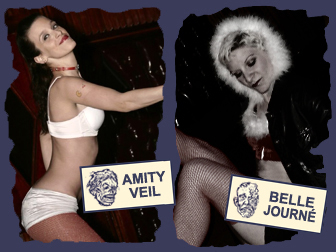 AMITY VEIL & BELLE JOURNE'
This is our first "Sister Act" at Peepshow Menagerie! It's true! Amity Veil and Belle Journe' are sisters in real life and together they plan to put a bit of a THRILL into our evening of delightfully ghoulish burlesque! Amity and Belle made their burlesque debuts at The Monday Night Tease last year. Since then, they have been practicing away and Amity even performed at MNT's "Tarantino Burlesque" show. Sure we all know a Zombie can walk, but can a zombie DANCE? Come to our show to learn the answers from these satanic siblings!
http://www.myspace.com/lillianlassen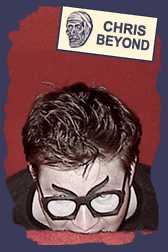 Special Appearances by CHRIS BEYOND
Chris Beyond has been a part of the L.A. independent music scene since the early nineties and has really had his hands full since then. He is the creator of No-Fi "Magazine" in 1996 and No-Fi "Radio" in 2002, both of which are still in production today. He has appeared on the television shows SEXBYTES on HBO and on DEADLINE on HDnet. He's been an in-studio guest on the radio show LOVELINE and was interviewed on Playstation.com, and has been published in Ben Is Dead and Harper's magazines. He has produced several concerts around the Los Angeles area as well as been a member of the bands EAR BEYOND and POPULAR GIRL. He is also a designer whose works have appeared in albums, magazines, newspapers, flyers, and DVDs (including the burlesque film Broad Daylight directed by JMM). He is a prominent burlesque and pin-up photographer in the burlesque scene and a staffmember of the Burlesque Hall Of Fame/Exotic World. He has hosted shows for Shimmy & Shake, Dolls Of Fox, Monday Night Tease, & more, and is co-host of The Burlesque Podcast with Lili VonSchtupp. In addition to co-producing this show, he'll be bringing you some ol' timey burlesque skits with some of our lovely performers.
http://www.myspace.com/beyondphotography


Musical Guests: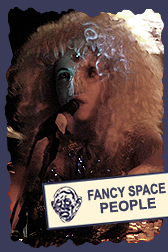 FANCY SPACE PEOPLE
I find it a little hard to describe the sound and EXPERIENCE of the band FANCY SPACE PEOPLE. Taking their name from an obscure short story that appeared in a Sci-Fi magazine in the 50's, FANCY SPACE PEOPLE is made up of several veterans of the L.A. Music Scene including Don Bolles of THE GERMS and 45 GRAVE (as well as a new member of the newly reformed SEEDS) and Nora Keyes of THE CENTIMETERS and THE PARKAS (as well as her own beautifully spooky solo work). FANCY SPACE PEOPLE can also be seen in the new documentary of the same name coming out this Fall. We are very happy to be showcasing this band for you at our show!
http://www.myspace.com/fancyspacepeople


Photos from Event!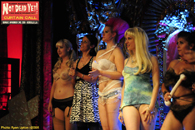 Click on each image to see a BIGGER version!