Featuring Fetish Inspired Burlesque Performances By: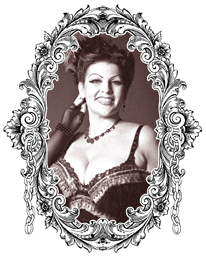 ANASTASIA VON TEASERHAUSEN
Anastasia Von Teaserhausen is one the best costume makers as well as being one of our favorite performers on the burlesque scene. She has studied under some of the best performers in L.A. and has performed at MONDAY NIGHT TEASE and VICTORY VARIETY HOUR and was the co-producer of PIRATE BURLESQUE PRESENTS. She also may have one of the longest names in burlesque. Additionally to her performances, she is a maker of custom corsets and accessories for anyone willing to pay for the quality. She is also this month's 'Peepshow Pin-Up' and it's about time, we say. She'll be performing a number for all of you will Pony Girl fantasies.
http://www.myspace.com/pinkfouffy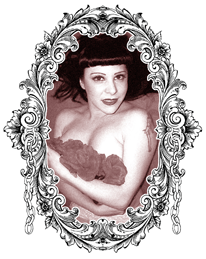 MISS ANGIE CAKES
Miss Angie Cakes has been performing in night clubs from East to West Coast since the late 1990's. By day, she's a Fashion Designer for a local clothing company in Los Angeles. At night, the stage is her second home. She also makes her own costumes and accessories and will be launching her very own line soon. This little cookie loves all things sweet, (especially cake!). She's a cupcake cutie who spreads her frosting where ever she goes. With just 2 cups of sugar, a little spice, & a pinch of glitter, she'll bake up the hottest show in town!
http://www.myspace.com/missangiecakes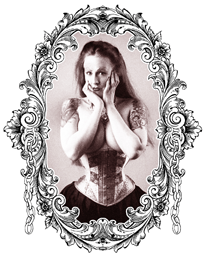 BELLE-MORTE BAUDELAIRE
Belle Morte Baudelaire was born on the same day as the poet Baudelaire, which she finds amusing. Being severely bi-coastal, she performs at various clubs in LA and NYC, models for latex/corset clothing companies and select photographers, and harkens back to the old days of large feather fans, which she makes herself, and fine costumes/corsets, custom work from various designers. She is also a milliner. She has performed in such shows as the Monday Night Tease and Pinchbottom Burlesque. On this night she brings you a particular burlesque presentation of a fetish that certainly must affect her fans who are more than happy to follow her around.
http://www.modelmayhem.com/1655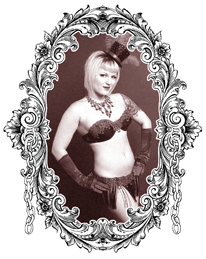 FLAME CYNDERS
The starlet that would one day become the alluring Flame Cynders began her journey into performance by studying classical ballet, tap and jazz dance beginning at the age of 4. Her love of dance coupled with years of vocal training afforded her many opportunities to perform throughout the world and to gather a strong sense of style to call her own. She has graced cities such as New York, San Francisco, Los Angeles, Berlin, Hamburg, Brussels, Manchester and London with her performances.
http://www.flamecynders.com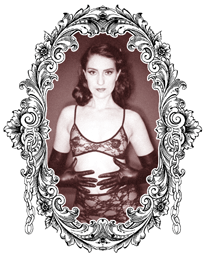 IZA LA VAMP
Iza la Vamp is known as the "Lost Ziegfeld Girl!" She was a chorus girl on her way to center stage until a freak accident caused her to body to be frozen. The details are sketchy as records of spontaneous freezings were not as well kept as they are today. Lucky for you and the art of burlesque, she is now defrosted and ready to perform. She is finding herself in a different time with different music and decades of history to catch up with, but she seems to be taking it in stride and taking the stage by force. Please join her on an adventure in recreating herself as a Burlesque starlet. Iza is a regular at Victory Variety Hour as one of the Vamp til Ready Dancers. She's a great performer with a lot of talent so we are very happy to have her back!
Iza La Vamp on Facebook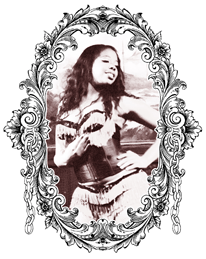 JESSABELLE THUNDER
At a recent show for Red Snapper's Sassy Classy Review, Fine Arts L.A. said of her, "Ms. Jessabelle Thunder, who's David Lynch-esque number made me realize the hypnotizing effect of such dances." Jessabelle loves the art of dance and was a fan of burlesque before she decided to give it a try herself on stage and the audiences have been loving it since she did. She has performed with us before and has also performed at the MONDAY NIGHT TEASE and at THE BEVY, among others. Don't miss her in this show because you'll be kicking yourself later when all your friends are talking about it!
Jessabelle Thunder on Facebook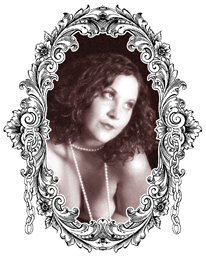 MISS JOSIE BUNNIE
She's got "Curves, Curls and Baby Blue Eyes!". Josie Bunnie is a burlesque performer, occasional nude model, and confirmed nudist who loves being creative and artistic. She has performed at El Cid with the Victory Variety Hour & Schmutzig, 3 Clubs with the Monday Night Tease, Mr T's Bowl and The Scene club with Burlesque-a-go-go, in the live Camp Burlesque show, and other various shows. She is a student of Kitten De Ville, Augusta (AKA Penny Starr Jr.), Jewel Of Denial, Lux La Croix and Vixen Violette. She is a very bubbly person who likes to socialize and meet new people. She knows what she's got and knows how to use it, as they say. She also says she loves being in front of a camera and playing with her kitty cats. Don't doubt this one's love for fetishes. She's probably invented a few.
Josie Bunnie on Facebook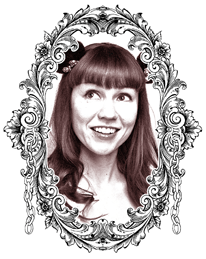 KATE FOX
Kate Fox is the Producer/Founder/Host of the Orange County Underground Burlesque Society. She was born into an aristocratic family in London, England and has been raising hell in polite society ever since. When her nasty mum and dad threatened to disown her if she didn't give up her dream of becoming a burlesque queen, she flipped her family the bird, denied her inheritance, and hightailed her little arse to Orange County, where she is currently living and working illegally. Now she's flat broke, but happy to be in her new surroundings. She was an accomplished equestrian back in jolly old England, and she loves to ride wild phillies and stallions of all varieties. (She is rarely seen without her riding crop.)
http://www.myspace.com/katefox_ubs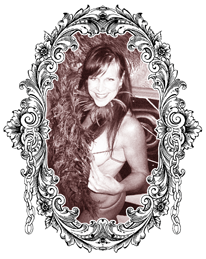 NANCY SinULTRA
Her name is Nancy SinUltra but her friends call her SIN. She loves interesting people and is fascinated with lifestyles and alternative realities. This is probably why she jumped into the burlesque scene. By day Nancy is a professional group fitness instructor and has been in this field for 18 yrs. She's also a certified Pilates instructor and massage therapist. When she isn't helping people work out and getting loose, she's onstage letting loose working her audience into a frenzy! She loves being self employed as it was a dream of hers for many years. Now see her make all your nun fantasies come true on stage at our show!
http://www.myspace.com/letameow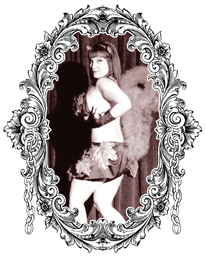 THE TASSELED SQUIRREL
Her name is The Tasseled Squirrel and she calls herself "The Nut Lovin' Rump Shaker." She discovered burlesque when she was in high school and it was always something that intrigued her. She never thought that one day that she would ever hit the stage, but here she is in PEEPSHOW MENAGERIE! She is a recent graduate of STRIPTEASE SYMPOSIUM and has previously performed at the MONDAY NIGHT TEASE. Beware of this Squirrel's bite, Peepshow fans, as she goes crazy at the sight of red.
http://www.myspace.com/tasseledsquirrel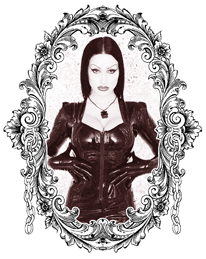 VAMP LORRAINE
Vamp Lorraine came to this mortal coil from the union between Vampira and Bela Lugosi. When she is not lurking in the cemetary with her pet Tarantula Lydia, she can be found shopping for shoes, tight-lacing corsets or tantalizing Los Angeles burlesque audiences. You may have seen her perform at Bordello before with Courtney Cruz and in our shows such as Merrie Maladies and Mad Monster Burlesque Pajama Party.
http://www.facebook.com/vamplorraine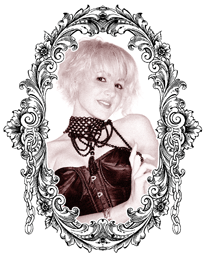 VESTAL VIXEN
VESTAL adjective- (1) Roman Mythology: a) Of or relating to Vesta b)Relating to or characteristics of the vestal virgins (2) Chaste; pure. noun- (1) Roman Mythology: A vestal virgin (2) A woman who is a virgin (3) A nun. VIXEN noun- (1) A female fox (2) a sexually attractive woman. Hailing from Southern California, Burlesque diva Vestal Vixen combines millennia of feminine sensuality in a shiny new package. Whether sizzling on stage as a member of Miss Kitty's Filthy Family or dazzling the room with beauty and class during her Burlesque numbers, Vestal Vixen knows how to seduce a crowd and leave them yearning for more.
http://www.myspace.com/vestalvixen
VIXEN MAGDALENE
Vixen Magdalene brings the stage alive with her hot choices for music and hot burlesque moves. Part pin up come to life, part naughty girl next door, Vixen will tease your senses. You can catch her often on Mondays at the 3 Clubs for the MONDAY NIGHT TEASE, but you'll never catch her heart! At our show, Vixen plans to share with you her particular fetish for fashion.
http://www.myspace.com/vixen_magdalene
Hosted by: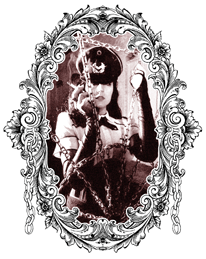 POLLY PEABODY
Polly Peabody has graced the stages of the following establishments: The Slipper Room, The Blue Angel, Limelight, Rififi, Veruka, Galapagos, SHOW, The Spider Club, The Key Club, The Derby, Tangier, Passive Arts Studios, MBar, El Cid, Fais Do Do, Bordello and many more that she's forgotten to mention. She has worked with The Boomshell Girls (NYC), The Va Va Voom Room (San Francisco and NYC), The Red Rooster Review (Key West), and with the great Shelly Bomb on events in Vegas, NY, Madison, Wisconsin and beyond. She and partner Crystal Swarovski competed in the Miss Exotic World competition 2006. Their production company, Lopsided Productions has been bringing infantile entertainment to LA for a good four years now -- on and off, you know, whatever... She was a contributor and co-writer on Miss Swarovski's opus, Kubrilesque. Before that, she was co-artistic director at SHOW Nightclub with NY club impresario, Norman Gosney. She co-directed The Pink Rhino Review, The Pirate Show, Dark Carnival and The Hitchcock Show, as well as co-opening for Pink, Britney Spears, and Dita Von Teese. Fancy right? Nowadays, her main focus within the wacky world of neuvo-retro-homo-fatso-metro-lesbo-burlesque is to sharpen her razor-like wit on the whetstone of David Hasselhoff, abortion jokes, and the vast comic trench of Adolf Hitler, securing a place for herself as the proverbial "hostess with the mostest," a cognomen she has bestowed shamelessly on herself (at least she admits it, girls). Her alter ego, Adria Lang, is a director/screenwriter and novelist living in Echo Park with her cat Bobo.
http://www.pollypeabody.com
Produced by: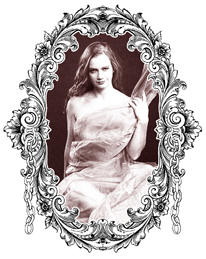 Performing Burlesque and Co-Produced by SCARLETT LETTER
Scarlett Letter is probably a walking living fetish for many people. She is not only the co-producer of Peepshow Menagerie and Naked Girls Reading Los Angeles, but is the producer of The Letter Follies and Dr Sketchy's Anti-Art School Ventura. She has performed at Exotic World in 2007 and 2008 and was winner of "Most Classic" at the 2007 Boston Burlesque Exposition and most recently won "Best Solo Performance" and The Legends' Award at the 2010 Boston Burlesque Exposition. She has performed in more countries than you've been to. She's got "four feet of red hair and miles of bad intentions" and dances her life away every chance she gets, be it pole-go, go-go, goth clubs or Burlesque stages. Recently she was able to perform at a private show for director Quentin Tarantino who had never seen a real live fan dancer before in person and raved about her performance to her for over 5 minutes.
http://stagelightstudios.com/the_little_red_schoolhouse_of_burlesque_workshop.html
http://www.myspace.com/apriest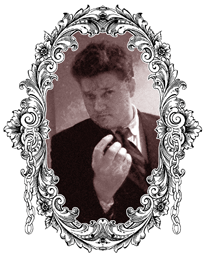 Co-Produced by CHRIS BEYOND
Chris Beyond has been a part of the L.A. independent music scene since the early nineties and has really had his hands full since then. He is the creator of No-Fi "Magazine" in 1996 and No-Fi "Radio" in 2002, both of which are still in production today. He has appeared on the television shows SEXBYTES on HBO and on DEADLINE on HDnet. He's been an in-studio guest on the radio show LOVELINE, was interviewed on Playstation.com, and has been published in Ben Is Dead and Harper's magazines. He has produced several concerts around the Los Angeles area as well as been a member of the bands EAR BEYOND and POPULAR GIRL. He is also a designer whose works have appeared in albums, magazines, newspapers, flyers, and DVDs (including the burlesque film Broad Daylight directed by JMM). He is a prominent burlesque and pin-up photographer in the national burlesque scene and a staffmember of the Burlesque Hall Of Fame/Exotic World. He has hosted shows for Shimmy & Shake, Dolls Of Fox, Monday Night Tease, & more, and is co-host of The Burlesque Podcast with Lili VonSchtupp which recently began production on it's second season of shows which are available for free on iTunes. By the way, if you are lucky, you just MIGHT win a copy of his new "Chris Beyond's Bootleg Stag Party Volume 2" at this show! Just be prepared to be pulled on stage for the chance.
http://www.myspace.com/beyondphotography
http://www.facebook.com/chrisbeyond


Also Appearing:
Special Appearance by HARRY MIRKIN
Pick-Up by THE SPY KITTEN
Show Photos! (Live photos will be updated after the show.)




Click on each image to see a BIGGER version!
PAST SHOW REVIEWS!

GUEST OF A GUEST shares a very positive and humorous review of Burlesqueland 2010.

THE GLOSS suggests visiting Burlesqueland over Iceland.

THE L.A. WEEKLY joins the "Burlesqueland!!" cast at at the park for Burlesque Day At D-Land.

THE L.A. WEEKLY visits Peepshow Menagerie "Burlesqueland!!"

THE L.A. WEEKLY visits Peepshow Menagerie as their featured slideshow!

THE GUARDIAN U.K.'s very positive mention about Peepshow Menagerie in this article about David Lynch!

HOLLYWIRE.COM's review of Peepshow Menagerie: Beneath The Surface!

A review of Peepshow Menagerie: Beneath The Surface on YELP.COM!

Jack Dagger's experience at Peepshow Menagerie: Burlesqueland!