Featuring BURLESQUE DevoTEASE By: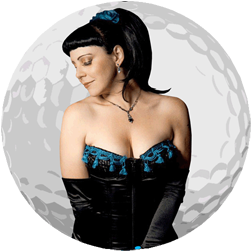 MISS ANGIE CAKES
Miss Angie Cakes has been performing in night clubs from East to West Coast since the late 1990's. By day, she's a Fashion Designer for a local clothing company in Los Angeles. At night, the stage is her second home. She also makes her own costumes and accessories and will be launching her very own line soon. This little cookie loves all things sweet, (especially cake!). She's a cupcake cutie who spreads her frosting where ever she goes. With just 2 cups of sugar, a little spice, & a pinch of glitter, she'll bake up the hottest show in town!
http://www.myspace.com/missangiecakes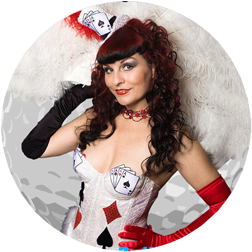 CHARLOTTE LA BELLE ARAIGNE'E
<Charlotte La Belle Arrainge'e is one of the pioneers of the new wave of burlesque who has been performing since the late 80's. She produces a show called Buckingham Burlesque. She designs and creates the majority of her hats, corsets and costumes. She has performed on the main stage at Exotic World (aka "The Burlesque Hall Of Fame"), Lucha VaVoom, Ink & Iron, has opened for Dita Von Teese at The Orpheum Theatre, and has performed at many of the best burlesque stages all over the world. She is a great performer and friend of the show and we are always very happy to have her back.
Charlotte La Belle Araigne'e on Facebook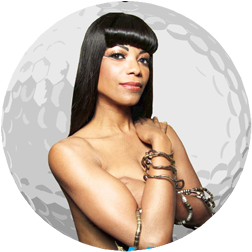 DIAMOND DEBBIE
Diamond Debbie is a new performer in the burlesque world and is a graduate of Penny Starr Jr.'s Striptease Symposium in Los Angeles. She has already performed at the Monday Night Tease and Victory Variety Hour and you may have even seen her at this year's Burlesqueland where she took the stage as one of our Burlesqueateers. Don't be a chicken and check out with this gal has clucking' up for you at our show!
Diamond Debbie on Facebook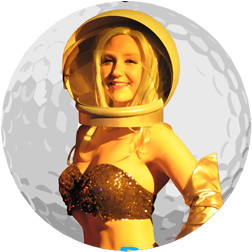 DOLLY DANGER
Dolly Danger is an actress as well as a writer and enjoys living the Burlesque and Vaudeville lifestyle. She has toured Europe with the popular Stanley Kubrick themed burlesque show called Kubrilesque. She has starred in a horror movie starring Steve Guttenburg and James Duval. We're pretty sure that if Mr. Guttenburg's character in Police Academy were real, he'd be a big fan of Dolly and her burlesque performances.
Dolly Danger on Facebook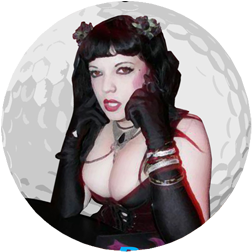 EDEN DRAVEN
Eden is "more than just a great set of boobs and a deck of unmarked cards... Eden Draven, the acknowledged 'Mortician Magician' brings the dead into dead glamorous. When she isn't helping the deceased to their final resting places, her arcane knowledge of the world of magic finds her at the Magic Castle - with the occasional time off for bad behaviour. She can occasionally be found painting the town in an apropriately Gothic shade of red. She has appeared with Madame Sunset & the Hollywood Kittens, Bondage Ball, and the Erotica Expo. Though her dancing career began as a childhood dream, her career in burlesque is a more recent development that she takes firmly to heart (but not one in formaldehyde). Underneath that demure and spookily seductive outside, she remains firmly a geek at heart, loving comic books, weird science and Cthulu in equal measure.
Eden Draven on Facebook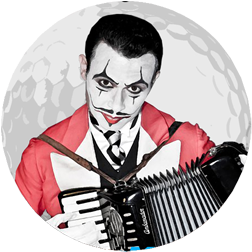 HARRY MIRKIN
Harry Mirkin is one of the newest boylesque performers to hit the burlesque scene. Both a musician and dancer, this fella knows his moves and all the beats need to take the stage. So far he has performed at the Monday Night Tease and other various shows around town. This will be his first solo performance in front of a crowd. A triple threat, Harry also edited all of the videos you will be seeing behind the performers in the show. A huge fan of the band Devo, Harry plans to bring to you the burlesque equivalent of de-evolution live to our stage!
Harry Mirkin on Facebook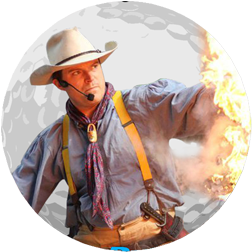 JACK DAGGER
In addition to precision whip cracks and wise cracks, watch Jack throw knives within a hairÕs breadth of his beautiful assistant, finishing with his signature stunt, "The Jack Knife - Cucumber Slice", as seen on The Tonight Show with Conan O'Brien. The legendary Carl Ballantine, after seeing Jack perform at the Steve Allen Theater in 2005, turned to the resident director, Amit Ittleman, and said, "Now THATÕS Vaudeville!" Jack has performed at The Monday Night Tease as well as other shows around town and will be performing with Vamp Lorraine in a classic bit of "Whiptease"...
http://www.jackdagger.com/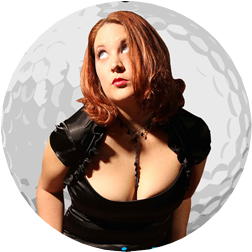 MISS JOSIE BUNNIE
Let's get this straight... She's got "Curves, Curls and Baby Blue Eyes!" Josie Bunnie is a burlesque performer, occasional nude model, and confirmed nudist who loves being creative and artistic. She has performed at El Cid with the Victory Variety Hour & Schmutzig, 3 Clubs with the Monday Night Tease, Mr T's Bowl and The Scene club with Burlesque-a-go-go, in the live Camp Burlesque show, and other various shows. She is a student of Kitten De Ville, Augusta (AKA Penny Starr Jr.), Jewel Of Denial, Lux La Croix and Vixen Violette. She is a very bubbly person who likes to socialize and meet new people. She knows what she's got and knows how to use it, as they say. She also says she loves being in front of a camera and playing with her kitty cats.
http://www.facebook.com/MissJosieBunnie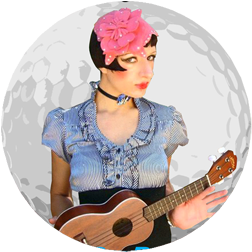 PRIX DE BEAUTE'
Come and see 100 lbs of what is mighty sweet: flashing eyes, how they roll, a disposition like a sugar bowl, rosy cheeks, red hot lips and a million dollars worth of flying hips. Born in Paris, France in 'aught seven, this fiery flapper started her career dancing on cobblestone streets to the tune of an organ grinder with her pet monkey. Soon she found herself in Vaudeville shows, tap dancing on a diving board before she leapt 40 feet into a glass of water! This high diving mistress broke all the port sailors hearts, and continued to do so with millionaires and sheiks alike, after her grand debut in the Folies Berg¸re (much to the dismay and clucking tongues of the upper crust ladies). With her rosy cheeks, red hot lips, and million dollars worth of flying hips, please welcome this prize of beauty: Prix de Beaute'! You can also see Mademoiselle Beaute' play Tin Pan Alley tunes on her ukulele in her band Two-Bit Opera and also performs regularly at the early 20th Century inspired Vaudeville, The Petting Pantry.
Prix De Beaute' on Facebook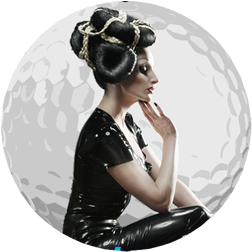 VAMP LORRAINE
Vamp Lorraine came to this mortal coil from the union between Vampira and Bela Lugosi. When she is not lurking in the cemetary with her pet Tarantula Lydia, she can be found shopping for shoes, tight-lacing corsets or tantalizing Los Angeles burlesque audiences. You may have seen her perform at Bordello before with Courtney Cruz and in our shows such as Merrie Maladies, Beneath The Surface, and Mad Monster Burlesque Pajama Party.
http://www.facebook.com/vamplorraine
Featuring Live Music by: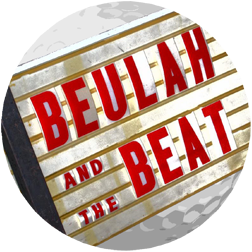 BEULAH AND THE BEAT
BEULAH AND THE BEAT formed in 2010 with a prolific creative vigor that would have made Michelangelo's jaw drop in amazement. Bored with their old projects these four veterans decided to collaborate on what has become a perfect tribute to the very core of rock 'n' roll. Sometimes their music hits hard enough to spur a full on head banging session while other times it feels fit to raise a pint and sing along to the southern twang of Steve's penetrable lyrics. Vocal harmonies and irresistible hooks show off the complimenting songwriting abilities of Mike and Steve while Beulah and Danny hold down the fort with a consistent and smooth rhythm section. The songs are too catchy to ignore and the live show has a Doc Holliday (Tombstone) atmosphere to it as the set will make you want to love, fight, and drink with friends all at the same time!
http://www.facebook.com/beulahandthebeat
Produced by: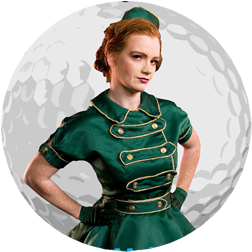 Performing Burlesque and Co-Produced by SCARLETT LETTER
Scarlett Letter is not only the co-producer of Peepshow Menagerie and Naked Girls Reading Los Angeles, but is the producer of The Letter Follies and Dr Sketchy's Anti-Art School Ventura. She has performed at Exotic World in 2007 and 2008 and was winner of "Most Classic" at the 2007 Boston Burlesque Exposition and most recently won "Best Solo Performance" and The Legends' Award at the 2010 Boston Burlesque Exposition. She has performed in more countries than you've been to. She's got "four feet of red hair and miles of bad intentions" and dances her life away every chance she gets, be it pole-go, go-go, goth clubs or Burlesque stages. Recently she was able to perform at a private show for director Quentin Tarantino who had never seen a real live fan dancer before in person and raved about her performance to her for over 5 minutes.
http://stagelightstudios.com/the_little_red_schoolhouse_of_burlesque_workshop.html
http://www.myspace.com/apriest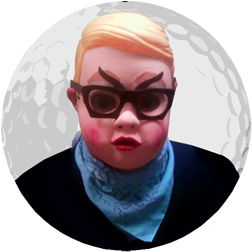 Hosted and Co-Produced by CHRIS BEYOND
Chris Beyond has been a part of the L.A. independent music scene since the early nineties and has really had his hands full since then. He is the creator of No-Fi "Magazine" in 1996 and No-Fi "Radio" in 2002, both of which are still in production today. He has appeared on the television shows SEXBYTES on HBO and on DEADLINE on HDnet. He's been an in-studio guest on the radio show LOVELINE, was interviewed on Playstation.com, and has been published in Ben Is Dead and Harper's magazines. He has produced several concerts around the Los Angeles area as well as been a member of the bands EAR BEYOND and POPULAR GIRL. He is also a designer whose works have appeared in albums, magazines, newspapers, flyers, and DVDs (including the burlesque film Broad Daylight directed by JMM). He is a prominent burlesque and pin-up photographer in the national burlesque scene and a staffmember of the Burlesque Hall Of Fame/Exotic World. He has hosted shows for Shimmy & Shake, Dolls Of Fox, Monday Night Tease, & more, and is co-host of The Burlesque Podcast with Lili VonSchtupp which recently began production on it's second season of shows which are available for free on iTunes. By the way, if you are lucky and time permitting, you just MIGHT win a copy of his new "Chris Beyond's Bootleg Stag Party Volume 2" at this show! Just be prepared to be pulled on stage for the chance.
http://www.myspace.com/beyondphotography
http://www.facebook.com/chrisbeyond


Thank You's
James, Evelyn, Shaun, and all the staff at Club Monte Cristo, Lili VonSchtupp, Mr. Harry Mirkin, Arron and Vlad The Retailer, Wacko / La Luz De Jesus / Soap Plant, Sophya St. James, X-Large, Y-Que, Pop Killer, Golden Apple Comics, Meltdown Comics, Secret Headquarters, The Monday Night Tease, Pat, FangoriaLA Weekly, Facebook, and all of our fans and friends who trust us to do some pretty crazy shows and keep coming back and helping us out! Thanks you for keeping us around for THREE long years! We look forward to continuing to bring you even more of our biggest shows through 2012 and beyond!.
Show Photos! (Live photos will be updated after the show.)

















Click on each image to see a BIGGER version!
PAST SHOW REVIEWS!

LADY HUMP says that you "can't go wrong" with Peepshow Menagerie's Close Encounters Of The Burlesque Kind.

A wonderful article and review from the national CAMPUS CIRCLE newspaper.

Some great coverage of our Mad Monster Burlesque Pajama Party from FANGORIA Magazine.

GUEST OF A GUEST shares a very positive and humorous review of Burlesqueland 2010.

THE GLOSS suggests visiting Burlesqueland over Iceland.

THE L.A. WEEKLY joins the "Burlesqueland!!" cast at at the park for Burlesque Day At D-Land.

THE L.A. WEEKLY visits Peepshow Menagerie "Burlesqueland!!"

THE L.A. WEEKLY visits Peepshow Menagerie as their featured slideshow!

THE GUARDIAN U.K.'s very positive mention about Peepshow Menagerie in this article about David Lynch!

HOLLYWIRE.COM's review of Peepshow Menagerie: Beneath The Surface!

A review of Peepshow Menagerie: Beneath The Surface on YELP.COM!

Jack Dagger's experience at Peepshow Menagerie: Burlesqueland!