Featuring heavenly BURLESQUE Performances By: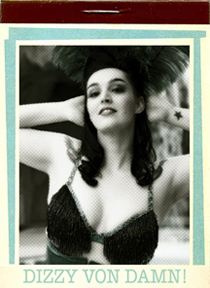 DIZZY VON DAMN!
Dizzy von Damn! is a science-experiment gone horribly awry- she's what happens when you mix the genes of the lovely Bettie Page with those of kitschy-eccentric Liberace... she's proof that science can be sexy...and weird. In April she won the title of Miss Viva Las Vegas 2008, has performed across the country, as well as performing regularly at Victory Variety Hour, Monday Night Tease, and , and will be appearing in the LA Burlesque Calendar for 2009. She dabbles in design and is a jill of all trades - She's the Always girl. This will be her 2nd appearance with Peepshow Menagerie. UPDATE: Dizzy was not able to perform this evening because of an injury she sustained while building a prop for another show which caused her to get stitches in her leg on the day of the show.
http://www.dizzyvondamn.com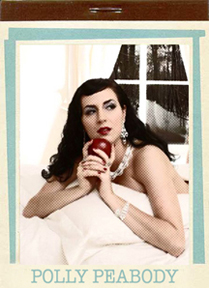 POLLY PEABODY
Sure she has hosted one of our shows before,...but can she dance? The answer to that dumb question is "Yes. Yes, she can." Polly Peabody has graced the stages of the following establishments: The Slipper Room, The Blue Angel, Limelight, Rififi, Veruka, Galapagos, SHOW, The Spider Club, The Key Club, The Derby, Tangier, Passive Arts Studios, MBar, El Cid, Fais Do Do, Bordello and many more that she's forgotten to mention. She has worked with The Boomshell Girls (NYC), The Va Va Voom Room (San Francisco and NYC), The Red Rooster Review (Key West), and with the great Shelly Bomb on events in Vegas, NY, Madison, Wisconsin and beyond. She and partner Crystal Swarovski competed in the Miss Exotic World competition 2006. Their production company, Lopsided Productions has been bringing infantile entertainment to LA for a good four years now -- on and off, you know, whatever... She was a contributor and co-writer on Miss Swarovski's opus, Kubrilesque. Before that, she was co-artistic director at SHOW Nightclub with NY club impresario, Norman Gosney. She co-directed The Pink Rhino Review, The Pirate Show, Dark Carnival and The Hitchcock Show, as well as co-opening for Pink, Britney Spears, and Dita Von Teese. Fancy right? Nowadays, her main focus within the wacky world of neuvo-retro-homo-fatso-metro-lesbo-burlesque is to sharpen her razor-like wit on the whetstone of David Hasselhoff, abortion jokes, and the vast comic trench of Adolf Hitler, securing a place for herself as the proverbial "hostess with the mostest," a cognomen she has bestowed shamelessly on herself (at least she admits it, girls). Her alter ego, Adria Lang, is a screenwriter and novelist living in Echo Park with her cat Bobo.
http://www.pollypeabody.com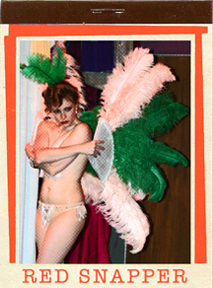 RED SNAPPER
"Sass, class and a white girl's ass" is only one of many ways to describe this performer. She brings with her a very impressive pedigree. She has studied pole dancing with Aphrodite Strip-N-Pole for two years. She's also had the amazing opportunity to study burlesque with several incredible performers: Miss Indigo Blue, Jo Boobs, Lux LaCroix, Jewel of Denial, Lili Von Schtupp, Vanity Flair, Scarlett Letter and Penny Starr, Jr.. She recently finished acting in a play called "Pin-Up Girls" (directed by Andrew Moore) in a role for which the L.A. Weekly called her "Robust And Sassy." She is going to trying out for next year's Miss Viva Las Vegas pageant and hopes all of you vote for her. This will be her 4th time performing in Peepshow Menagerie!
http://www.myspace.com/ms_red_snapper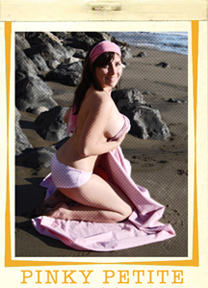 PINKY PETITE
The sweet petite treat known as Miss Pinky Petite hails originally from Boston where she was a member of The Boston Babydolls and even performed with them at the 2006 Miss Exotic World pageant. Last year she moved to Los Angeles and quickly found a place near the beach and a place in the Los Angeles Burlesque Scene. She has performed at Victory Variety Hour, Shimmy And Shake, and The Monday Night Tease. She will also be featured in an upcoming issue of Bachelor Pad Magazine next year. This will be her second appearance at Peepshow Menagerie and plans to give you a Sunday School lesson you'll never forget!
http://www.myspace.com/pinkypetite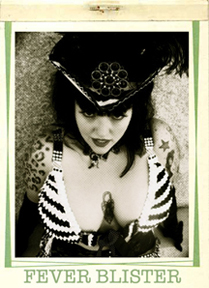 FEVER BLISTER
Fever Blister is a former club-kid & Go Go Gal turned "ENTERTAINER EXTRAORDINAIRE". An Unconventional conventionalist, don't call her a PIN-UP please. She is too heavy to hang on the wall... She isn't a model, she considers herself a personality! She believes in ambitious exploitation of her female assets... Her specialty is her own take on BURLESQUE ENTER*TEASE*MENT. Not only is she a burlesque performer, she's a producer of shows for the ANIMAL charity she founded - PAWS FOR A CAUSE in L.A. & also the producer of The BANG! BANG! Burlesque Show. She's a clothing & costume designer, sock rocker, jack-off of all trades, sex symbol, scavanger of used goods, former queen of the Cleveland scene now rocking out in Bob Barker's guest house in Burbank, California. A Voluptuous Blood Sucker, Volcanic Orgasmic Song Bird, Head stomper, Pastie twirler, Consumer of fine sparkling water, Candy advocate/enthusiast/addict and Tattoooed to the 9th power. The only fever you'd want to catch, she is Fever Blister. Fever is also going to trying out for next year's Miss Viva Las Vegas pageant and hopes all of you vote for her. She will be joined onstage with special guests Carolina Moon and Josie Bunnie.
http://www.myspace.com/feverbeaver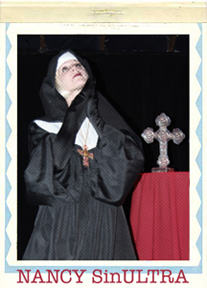 NANCY SinULTRA
Her name is Nancy SinUltra but her friends call her SIN. She loves interesting people and is fascinated with lifestyles and alternative realities. This is probably why she jumped into the burlesque scene. By day Nancy is a professional group fitness instructor and has been in this field for 18 yrs. She's also a certified Pilates instructor and massage therapist. When she isn't helping people work out and getting loose, she's onstage letting loose working her audience into a frenzy! She loves being self employed as it was a dream of hers for many years. Now see her make all your redheaded dreams come true on stage at our show! This will be Nancy's second show with Peepshow Menagerie and looks forward to introducing you to our catholic cousin SISTER SIN!
http://www.myspace.com/letameow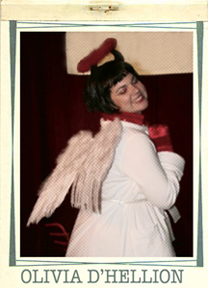 OLIVIA D'HELLION
Olivia D'Helion is one of the fresher faces in the burlesque crowd, but brings with her a lot of fun and spunkiness! From her Myspace profile: "WHY HELLO DARLING, MY NAME IS OLIVIA D'HELION AND I'M READY TO SHIMMY AND SHAKE MY WAY ALL OVER LOS ANGELES. I MAY ACT SHY, BUT I SURE KNOW HOW TO RAISE HELL!" She also loves to leave the caps-lock on as it would seem. (We kid! We love ya Olivia!) She first caught our eye at the Monday Night Tease but we have a feeling she'll be performing all over town just as she announced sooner than she thinks! This is her second time performing in Peepshow Menagerie. UPDATE: Olivia was unable to perform this evening due to an illness. It happens in Burlesque too.
http://www.myspace.com/oliviadhelion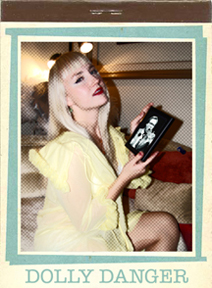 DOLLY DANGER
Dolly Danger is 25 and has made Hollywood her home for the last three years. She is an actress as well as a writer and enjoys living the Burlesque and Vaudeville lifestyle. She recently returned to America after from touring Europe with the popular Stanley Kubrick themed burlesque show called Kubrilesque. She also has a horror movie coming out soon starring Steve Guttenburg and James Duval. We're pretty sure that if Mr. Guttenburg's character in Police Academy were real, he'd be a big fan of Dolly and her burlesque performances. This is her second show with Peepshow Menagerie and you can see her as this month's PEEPSHOW PIN-UP. She will be available to sign posters and postcards at the show.
http://www.myspace.com/28585472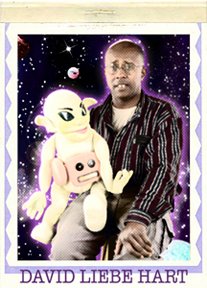 Music and Puppetry by DAVID LIEBE HART
David Nkrumah Liebe Unger Hart - or simply David Liebe Hart - is a church musician, sign painter, artist, puppeteer, actor...and in his own way, an ACTUAL televangelest - just not the kind you should hide your wallet from. He is best known for his role as a puppeteer on The Junior Christian Science Bible Lesson Show, a Los Angeles based public access program. He had appeared frequently on three seasons of the Adult Swim television show Tim and Eric Awesome Show, Great Job! as well as the web-only talk show Tim and Eric Nite Live. He has also performed live on the national Tim and Eric's Awesome Tour. He can often be seen performing with his puppet "Doug the Dog" just outside the Hollywood Bowl after shows, as well as at the Music Center of Los Angeles. He has appeared on The Daily Show with Jon Stewart and was a guest on Jimmy Kimmel Live! in 2004. In 1990 he made an appearance in Golden Girls and in 1993 on the show Wings. He has said that he was good friends with Robin Williams and was a student of Jim Hensen. David Hart writes his own music, mostly about religion, aliens, keeping kids off drugs and in school, women, and his life. Hart's improvised songs from Tim and Eric are also featured on the soundtrack album "Tim And Eric Awesome Record, Great Songs!". We are very happy to be bringing you David Liebe Hart to you at our show on Sunday, December 7th at Bordello.
http://www.chiptheblackboy.com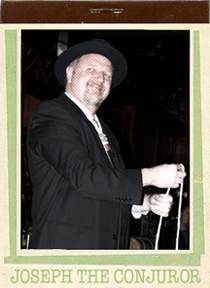 Comedy and Magic by JOSEPH THE CONJUROR
Joseph The Conjuror is a true man of magic and mystery. He's man of fine tastes in wine...and, of course, women. Watch as he dazzles you with feats of illusion so astounding, they could have only been granted to him by the hi-almighty himself (I dunno,...Houdini maybe?) or perhaps even the devil. Better to keep him close to us, just in case, either way. Joseph has performed at The Magic Castle, among other various clubs as well as the Monday Night Tease. Just be prepared to join him on stage if he calls on YOU on Sunday, December 7th at Bordello.
http://www.merlinshow.com/private.html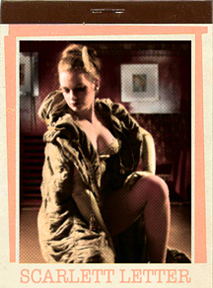 Special Appearances by SCARLETT LETTER
Scarlett Letter is not your normal (fill in the blank).... She is not only the co-producer of this show, but is also the co-producer of the MONDAY NIGHT TEASE which takes place every Monday at 3 Clubs in Hollywood. She has performed at Exotic World in 2007 and 2008 and was winner of "Most Classic" at the 2007 Boston Burlesque Exposition. She has performed in more countries than you've been to. She's got "four feet of RED hair and miles of bad intentions" and dances her life away every chance she gets. This includes currently: Burlesque at the 3 of Clubs, Rocky Horror with Wild and Untamed Things (WUT), and miscellaneous burlesque, go-go, and pole-go around the greater Los Angeles Metropolitan area. This will be the first of our shows that she isn't performing burlesque in, but has the very important job of keeping the Ir-Reverend Chris Beyond from frolicing too frivolously with our faithful flock of fun followers in between the fabulous burlesque acts!
http://www.myspace.com/apriest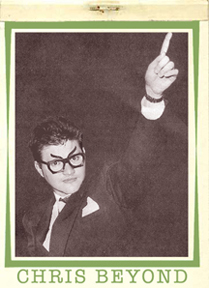 Hosted by CHRIS BEYOND
Chris Beyond has been a part of the L.A. independent music scene since the early nineties and has really had his hands full since then. He is the creator of No-Fi "Magazine" in 1996 and No-Fi "Radio" in 2002, both of which are still in production today. He has appeared on the television shows SEXBYTES on HBO and on DEADLINE on HDnet. He's been an in-studio guest on the radio show LOVELINE, was interviewed on Playstation.com, and has been published in Ben Is Dead and Harper's magazines. He has produced several concerts around the Los Angeles area as well as been a member of the bands EAR BEYOND and POPULAR GIRL. He is also a designer whose works have appeared in albums, magazines, newspapers, flyers, and DVDs (including the burlesque film Broad Daylight directed by JMM). He is a prominent burlesque and pin-up photographer in the burlesque scene and a staffmember of the Burlesque Hall Of Fame/Exotic World. He has hosted shows for Shimmy & Shake, Dolls Of Fox, Monday Night Tease, & more, and is co-host of The Burlesque Podcast with Lili VonSchtupp. In this show he'll be delivering you the burlesque acts in the manner of the old time fire and brimstone revival. Only in our case, unlike the televangelists we parody in this show, we can guarantee that all of the money we raise at the door or via hat-pass WILL be going to a charity that funds full art programs for children.
http://www.myspace.com/beyondphotography


Photos from Event!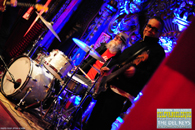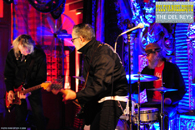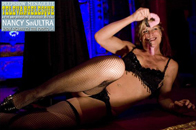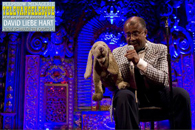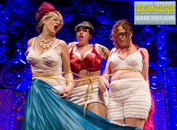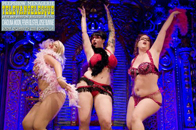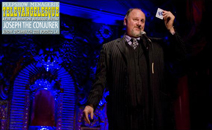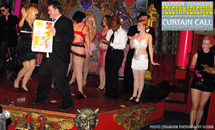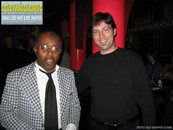 Click on each image to see a BIGGER version!
QUOTES, LINKS, & REVIEWS!

"If you're in the area, don't miss it. These are great events."
~ Miss Poppy Dixon on http://adultchristianity.blogspot.com