Featuring BURLESQUE By: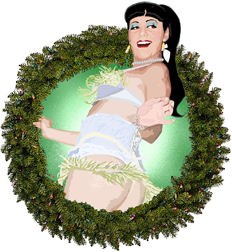 MISS ANGIE CAKES as The Ghost Of Christmas Past
Miss Angie Cakes has been performing in night clubs from East to West Coast since the late 1990's. By day, she's a Fashion Designer for a local clothing company in Los Angeles. At night, the stage is her second home. She also makes her own costumes and accessories and will be launching her very own line soon. This little cookie loves all things sweet, (especially cake!). She's a cupcake cutie who spreads her frosting where ever she goes. With just 2 cups of sugar, a little spice, & a pinch of glitter, she'll bake up the hottest show in town!
http://www.myspace.com/missangiecakes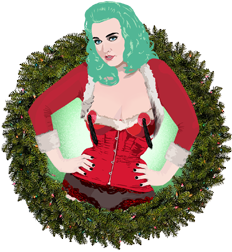 DIZZY VON DAMN! as The Ghost Of Christmas Present
Dizzy Von Damn! is an experiment gone horribly awry- she's what happens when you mix the genes of the lovely Bettie Page with those of kitschy-eccentric Liberace; she's proof that science can be sexy...and weird. As Miss Viva Las Vegas 2008, she can be seen in the 2010 LA Burlesque Calendar and she has performed across the country- not to mention performing regularly at Peepshow Menagerie, Monday Night Tease, and producing her own show, Uncommon Burlesque at the Commonwealth Lounge. She enjoys pineapples and space, and believes that the truth is out there.
http://www.dizzyvondamn.com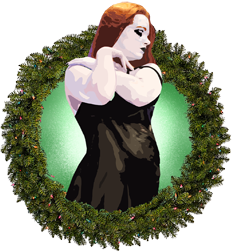 Performing Burlesque and Co-Produced by
SCARLETT LETTER as The Ghost Of Christmas Yet To Come
Scarlett Letter is not only the co-producer of Peepshow Menagerie and Naked Girls Reading Los Angeles, but is the producer of The Letter Follies and Dr Sketchy's Anti-Art School Ventura. She has performed at Exotic World in 2007 and 2008 and was winner of "Most Classic" at the 2007 Boston Burlesque Exposition and most recently won "Best Solo Performance" and The Legends' Award at the 2010 Boston Burlesque Exposition. She has performed in more countries than you've been to. She's got "four feet of red hair and miles of bad intentions" and dances her life away every chance she gets, be it pole-go, go-go, goth clubs or Burlesque stages. Recently she was able to perform at a private show for director Quentin Tarantino who had never seen a real live fan dancer before in person and raved about her performance to her for over 5 minutes.
http://stagelightstudios.com/the_little_red_schoolhouse_of_burlesque_workshop.html
http://www.myspace.com/apriest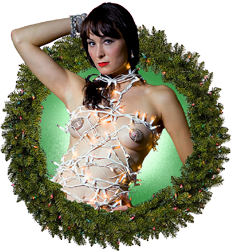 SCARLET O'KELJUS as Jackie Marley
Scarlet O'Keljus, the burlesque artist formerly known as Scarlet O'Gasm is now in Hollywoodland. Conjured in a Big Easy cauldron full of sass, a no good Carpetbagger wooed her on up to The Big Apple with promises of fame and fortune. With nothing but lint in her pockets and stars in her eyes she sought refuge on the Burlesque stages of Brooklyn where she quickly turned her unique gifts for voodoo, ninjutsu, trapeze, bumping, grinding, and hospitality into Yankee greenbacks. She has been spotted across the States, Europe, Africa, and Japan making bootleg burly-Q with her first class shimmy shaker.
http://www.facebook.com/ScarletxxO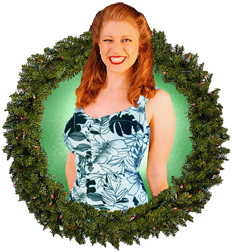 RED SNAPPER as Mrs. Crotchit
"Sass, class and a black girl's ass" is only one of many ways to describe this performer. She brings with her a very impressive pedigree. She has studied pole dancing with Aphrodite Strip-N-Pole for two years. She's had the opportunity to study burlesque with several incredible performers: Lux LaCroix (Bump and Grind 101), Miss Indigo Blue (Academy of Burlesque), Jo Boobs (New York School of Burlesque), Jewel of Denial and Penny Starr, Jr. (Striptease Symposium), Scarlett Letter (Little Red Schoolhouse of Burlesque) as well as Lili VonSchtupp, Vanity Flair, Tigger!, Desire' D'Amour, Princess Farhana, and burlesque legends Wild Cherry and April March. Last year she starred in the play "Pin-Up Girls" (directed by Andrew Moore) in a role for which the L.A. Weekly called her "Robust And Sassy" and recently directed a play called "Tracing Sunny" for her theatre company Theatre Unleashed. She co-produced two Peepshow Menagerie shows during Scarlett Letter's absence (who was on a European tour) and has performed in more of our shows than any other performer, besides Scarlett. She is also the newest teacher with Striptease Symposium. Before that she has taught pole and chair dancing with Aphrodite Strip-N-Pole in West Hollywood, as well as coached a number of actresses in the art of striptease and she's even held a tassel twirling clinic for men.
http://www.redsnapperburlesque.com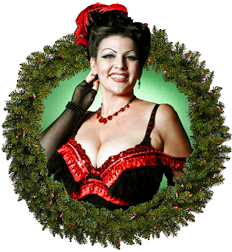 ANASTASIA VON TEASERHAUSEN as Belle Fezziwig
Anastasia Von Teaserhausen is one the best costume makers as well as being one of our favorite performers on the burlesque scene. She has studied under some of the best performers in L.A. and has performed at MONDAY NIGHT TEASE and VICTORY VARIETY HOUR and was the co-producer of PIRATE BURLESQUE PRESENTS. She also may have one of the longest names in burlesque. Additionally to her performances, she is a maker of custom corsets and accessories for anyone willing to pay for the quality.
http://www.myspace.com/pinkfouffy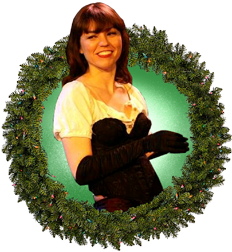 KATE FOX as Fran Scrooge
Kate Fox is the Producer/Founder/Host of the Orange County Underground Burlesque Society. She was born into an aristocratic family in London, England and has been raising hell in polite society ever since. When her nasty mum and dad threatened to disown her if she didn't give up her dream of becoming a burlesque queen, she flipped her family the bird, denied her inheritance, and hightailed her little arse to Orange County, where she is currently living and working illegally. Now she's flat broke, but happy to be in her new surroundings. She was an accomplished equestrian back in jolly old England, and she loves to ride wild phillies and stallions of all varieties. (She is rarely seen without her riding crop.)
http://www.myspace.com/katefox_ubs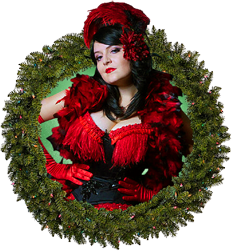 ISABELLA STAR as FiFi
Professional makeup artist, professional ball breaker, model, burlesque performer/chanteuse, freak of nature, muse, wannabe rock star, go-getter, artist, lush, bohemian, part time lover, believer of true love, geek, anglophile, old soul, closet intellectual, social butterfly, narsacist, art/musical/fetish/rock'n'roll/karaoke/film enthusiast. By day she's a make-up artist who has worked with more famous celebrities than you can even think of off the top of her head...and that was just last week. Imagine who she must meet in a month or a year! By night she is a burlesque vixen who paints the stage just as smoothly as she does her subjects in the make-up chair. She has performed for adoring audiences at Club Schmutzig, On The Rox, and at the Monday Night Tease.
http://www.myspace.com/evastefania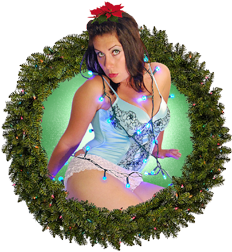 PINKY PETITE as FooFoo
The sweet and petite treat known as Miss Pinky Petite hails originally from Boston where she was a member of THE BOSTON BABYDOLLS and even performed with them at the 2006 Miss Exotic World pageant. In 2007 she moved to Los Angeles and quickly found a place near the beach and a place in the Los Angeles Burlesque Scene. She has performed at VICTORY VARIETY HOUR, SHIMMY & SHAKE, PIRATE BURLESQUE PRESENTS, and the MONDAY NIGHT TEASE. She was also the coverstar of the first "Chris Beyond's Bootleg Stag Party and has appeared on the cover of No-Fi "Magazine"
http://www.myspace.com/pinkypetite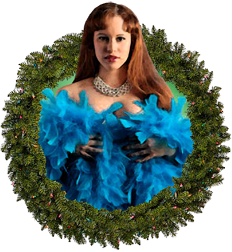 PANAMA RED
Panama Red talks about herself in the 3rd person. She is a lover of all things glamourous and ostentatious. She is a fan of rhinestones. She likes the bump and grind. It's no wonder that she is also a lover of Burlesque. She performs when she can and you should come see her. Her favourite drink is the Seagram's 7 & 7. Buy her one. In addition to Peepshow's Please Tease Me and Watching The Dectectives, Panama has performed in Victory Variety Hour and the Monday Night Tease.
http://www.myspace.com/mspanamared
Featuring a Special Guest Performance by: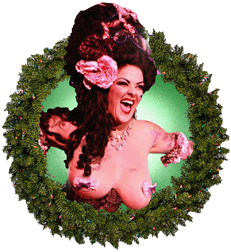 RENEA' LE ROUX
Renea' Le Roux "The Southern Belle from Hell" started performing burlesque in 2002 with Big City Burlesque in Atlanta Georgia. Renea' has many faces with a variety of hand sewn costumes to match. She finds inspiration in almost everything dealing with everyday life, but her greatest and most reaction provoking costumes are her vamped up modern take on historical costumes, ranging from the early 1700's through the post modern era. Paying attention to every detail to create a truly unique costume experience for her audience to match her over the top performance style. In 2008 after moving back to the "Dirty South" she teamed up with Syrens of the South productions as their official costume designer and headliner performer. She began performing Syrens at various Sci-Fi and Pirate conventions as well as continuing to perform on the burlesque stage, which turned into a constant schedule of events through out the U.S. as the convention circuit embrassed her performance and costuming talents. Her sewing talents have become legendary through out the south as she has won numerous costuming awards. Renea' felt that she wanted to share her 100% self taught costuming knowledge with the burlesque community so she is currently involved in teaching a series of costume design and sewing classes as well as teaching new comers to burlesque basic stage make-up and stage presence techniques . In June 2010 Renea' relocated to the glitzy Las Vegas, Nevada and while we call Renea' a personal friend, we feel very honored to have her in our show for the first time and we can't wait to share her talents with you.
http://www.facebook.com/people/Renea-Le-Roux/1466473174
Starring: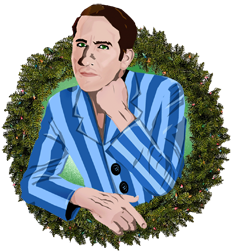 PATRICK THE BANKROBBER as Ebenezer Scrooge
Since the beginning of Peepshow Menagerie, he has always occupied a corner of the upper deck of Bordello; well dressed, sharply combed, and watching silently from above. We eventually discovered that his name is Patrick The Bank Robber and when he isn't a burlesque enthusiast, he can often be found on stage reciting Shakespeare, traveling across the country, or just simply robbing banks. After being made at various shows across town, he eventually found himself hosting for shows like Ragdolls Burlesque and the Monday Night Tease as well as producing his own show called Raymond Burl Esq. & The Family Ballyhoo.
http://www.myspace.com/patrickthebankrobber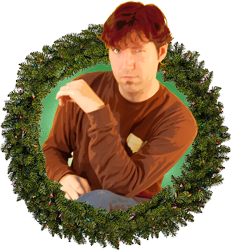 MR. SNAPPER as Bob Crotchit
Mr Snapper is a creative generalist, an artistic jack-of-all trades. Normally seen on stage as one half of the vaudeville comedy and music duo Mr. Snapper and Mr. Buddy, Mr. Snapper has also hosted the Monday Night Tease in Hollywood and even co-produced our last show in Scarlett Letter's absence while on tour in Europe. When not crooning or laffing it up onstage in the burlesque scene, Mr. Snapper find his home on other stages, writing and directing plays as a founding member of Theatre Unleashed who recently celebrated their one year anniversary. His play "Pin-Up Girls" about burlesque dancers in the 1940's was a financial and critical success and his latest work "Tracing Sunny" recently opened in Los Angeles to rave reviews and made one reviewer laugh so hard, he almost died right there in the theatre. (True story!) One of our favorite Hosts (and sometime boylesque performer), we are always happy when he's on our stage.
http://www.myspace.com/scrapsflippy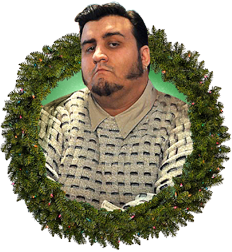 REX THE IMPOSSIBLE
Rex The Impossible has hosted and made several appearances in Peepshow Menagerie including co-hosting The Road To Burlesque and Watching The Detectives as well as appearances in The Burlesque Gong Show, Beach Blanket Burlesque and Burlesqueland. He has also performed in various comedy clubs and has hosted a couple other burlesque shows including The Monday Night Tease and a gig at The Derby.
http://www.myspace.com/therevofcomedy
Live Music by: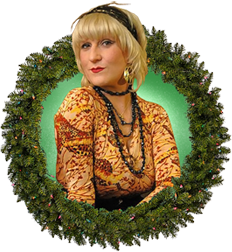 SOPHYA ST. JAMES
Sophya St. James was the lead singer of one of Peepshow producer Chris Beyond's favorite L.A. bands called NEW COLLAPSE. While her new solo career is very different and pulls from many genres of music, she still brings that same spirit to the stage and has a lot of talented musicians to back her up including Adrián Terrazas-González, Christian Ellsworth, and Adam Weiss. Not only is she a great musician, but also a great costumer and make-up artist with obvious influences from David Bowie and late 70's/early 80's new wave.
http://www.facebook.com/sophiastjames
Produced by: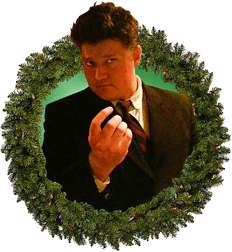 Co-Produced by CHRIS BEYOND
Chris Beyond has been a part of the L.A. independent music scene since the early nineties and has really had his hands full since then. He is the creator of No-Fi "Magazine" in 1996 and No-Fi "Radio" in 2002, both of which are still in production today. He has appeared on the television shows SEXBYTES on HBO and on DEADLINE on HDnet. He's been an in-studio guest on the radio show LOVELINE, was interviewed on Playstation.com, and has been published in Ben Is Dead and Harper's magazines. He has produced several concerts around the Los Angeles area as well as been a member of the bands EAR BEYOND and POPULAR GIRL. He is also a designer whose works have appeared in albums, magazines, newspapers, flyers, and DVDs (including the burlesque film Broad Daylight directed by JMM). He is a prominent burlesque and pin-up photographer in the national burlesque scene and a staffmember of the Burlesque Hall Of Fame/Exotic World. He has hosted shows for Shimmy & Shake, Dolls Of Fox, Monday Night Tease, & more, and is co-host of The Burlesque Podcast with Lili VonSchtupp which recently began production on it's second season of shows which are available for free on iTunes. By the way, if you are lucky, you just MIGHT win a copy of his new "Chris Beyond's Bootleg Stag Party Volume 2" at this show! Just be prepared to be pulled on stage for the chance.
http://www.myspace.com/beyondphotography
http://www.facebook.com/chrisbeyond


Credits
Written by CHRIS BEYOND and PATRICK THE BANK ROBBER
based on "A Christmas Carol" originally written by Charles Dickens
Show Photos! (Live photos will be updated after the show.)






Click on each image to see a BIGGER version!
PAST SHOW REVIEWS!

GUEST OF A GUEST shares a very positive and humorous review of Burlesqueland 2010.

THE GLOSS suggests visiting Burlesqueland over Iceland.

THE L.A. WEEKLY joins the "Burlesqueland!!" cast at at the park for Burlesque Day At D-Land.

THE L.A. WEEKLY visits Peepshow Menagerie "Burlesqueland!!"

THE L.A. WEEKLY visits Peepshow Menagerie as their featured slideshow!

THE GUARDIAN U.K.'s very positive mention about Peepshow Menagerie in this article about David Lynch!

HOLLYWIRE.COM's review of Peepshow Menagerie: Beneath The Surface!

A review of Peepshow Menagerie: Beneath The Surface on YELP.COM!

Jack Dagger's experience at Peepshow Menagerie: Burlesqueland!