Featuring BURLESQUE By: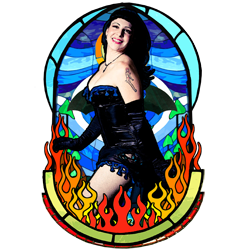 MISS ANGIE CAKES
Miss Angie Cakes has been performing in night clubs from East to West Coast since the late 1990's. By day, she's a Fashion Designer for a local clothing company in Los Angeles. At night, the stage is her second home. She also makes her own costumes and accessories and will be launching her very own line soon. This little cookie loves all things sweet, (especially cake!). She's a cupcake cutie who spreads her frosting where ever she goes. With just 2 cups of sugar, a little spice, & a pinch of glitter, she'll bake up the hottest show in town!
http://www.myspace.com/missangiecakes
BELLE-MORTE BAUDELAIRE
Belle Morte Baudelaire was born on the same day as the poet Baudelaire, which she finds amusing. Being severely bi-coastal, she performs at various clubs in LA and NYC, models for latex/corset clothing companies and select photographers, and harkens back to the old days of large feather fans, which she makes herself, and fine costumes/corsets, custom work from various designers. She is also a milliner. She has performed in such shows as the Monday Night Tease and Pinchbottom Burlesque. On this night she brings you a particular burlesque presentation of a fetish that certainly must affect her fans who are more than happy to follow her around.
http://www.modelmayhem.com/1655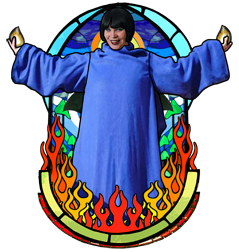 HOLLY GO DARKLY
It's been said they saved William Castle's brain and we know it to be true: One stormy night in the basement of the haunted honkytonk on the edge of town, they put that brain into a girl made from bits of showgirls, flappers, dames, dolls, and molls. Fed with electricity and a steady diet horror films, musicals, and the souls of men that girl became...Holly Go Darkly. She has performed with Monday Night Tease and Sealed With A Kiss and we are happy to have her back on Peepshow Menagerie's stage and as this month's "Peepshow Pin-Up."
Holly Go Darkly's profile on Facebook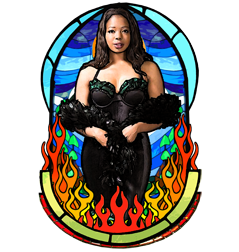 JESSABELLE THUNDER
At a recent show for Red Snapper's Sassy Classy Review, Fine Arts L.A. said of her, "Ms. Jessabelle Thunder, who's David Lynch-esque number made me realize the hypnotizing effect of such dances." Jessabelle loves the art of dance and was a fan of burlesque before she decided to give it a try herself on stage and the audiences have been loving it since she did. She has performed with us before and has also performed at the MONDAY NIGHT TEASE and at THE BEVY, among others. Don't miss her in this show because you'll be kicking yourself later when all your friends are talking about it!
Jessabelle Thunder on Facebook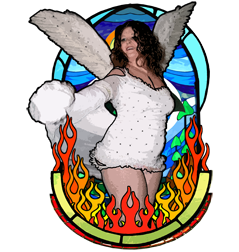 MISS JOSIE BUNNIE
She's got "Curves, Curls and Baby Blue Eyes!". Josie Bunnie is a burlesque performer, occasional nude model, and confirmed nudist who loves being creative and artistic. She has performed at El Cid with the Victory Variety Hour & Schmutzig, 3 Clubs with the Monday Night Tease, Mr T's Bowl and The Scene club with Burlesque-a-go-go, in the live Camp Burlesque show, and other various shows. She is a student of Kitten De Ville, Augusta (AKA Penny Starr Jr.), Jewel Of Denial, Lux La Croix and Vixen Violette. She is a very bubbly person who likes to socialize and meet new people. She knows what she's got and knows how to use it, as they say. She also says she loves being in front of a camera and playing with her kitty cats.
Josie Bunnie on Facebook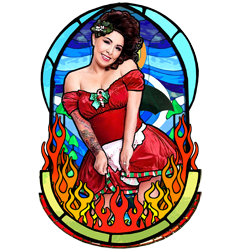 LIZZY D VINE
Miss Lizzy D. Vine, a small town girl living in a world of vintage dreams grew up to be an international writer, a pinup & alternative and founder of Operation: Patriotic PinUp. Her editorial work and involvement have been shared through various online and published magazines and a member of the Norcal Vixens with whom she produces burlesque in Northern California. She is also the Bachelor Pad Magazine "Christmas Cutie" for 2010.
Lizzy D Vine on Facebook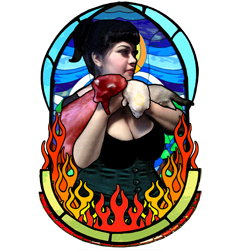 MEOWBERRY DEATHLY
Meowberry loves to be crafty and is full of love. She is a burlesque performer who loves to do makeup and also loves anything to do with trannys, stockings, shoes, corsets, eyelashes, bettie page, her momma, and anything girlie! She additionally loves her kitty emily and her two lovely ferrets Sid and Nancy. She plans to bring her love to you on stage as part of our third and final Televangelesque burlesque show.
Meowberry Deathly on Facebook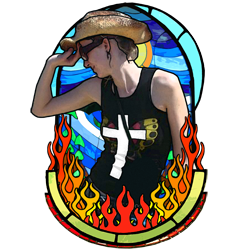 PEPPER LE PEW
Pepper Le Pew is the stinker that steals your car keys so you can never find them. The first rekindling of her love of the limelight came in the form of a tawdry affair with the Eclectic Company Theatre in North Hollywood, California. There she produced and starred in the Eclectic Company Theatre's Xmas Cabaret in the winter of '09. Not long after, Crystal Swarovski found her crying over a pair of pasties and offered her a part in Kubrilesque. Where Pepper performed with many talented ladies of the Burlesque scene in February. The Eclectic Company Theater Xmas Cabaret was revived for the holiday season as the 'Traveling Carnival Freakshow' and is running right now. Keep an eye on your car keys.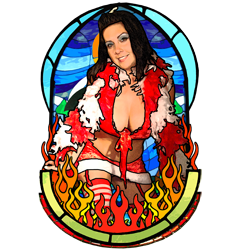 PINKY PETITE
The sweet and petite treat known as Miss Pinky Petite hails originally from Boston where she was a member of THE BOSTON BABYDOLLS and even performed with them at the 2006 Miss Exotic World pageant. In 2007 she moved to Los Angeles and quickly found a place near the beach and a place in the Los Angeles Burlesque Scene. She has performed at VICTORY VARIETY HOUR, SHIMMY & SHAKE, PIRATE BURLESQUE PRESENTS, and the MONDAY NIGHT TEASE. She was also the coverstar of the first "Chris Beyond's Bootleg Stag Party and has appeared on the cover of No-Fi "Magazine"
http://www.myspace.com/pinkypetite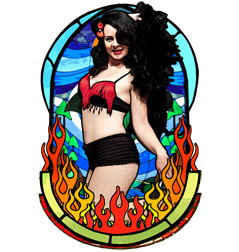 SPY KITTEN
Spy Kitten is the cat's meow! An entertainer, muse and artist extraordinaire, Kitten dreams of the days when a gal could join up with a vaudeville troupe and travel around having adventures that were sure to include Gene Kelly and tap dancing. Originally from Denver, this sassy cupcake was considering the life of a gypsy, before serendipitously settling in Los Angeles in 2010. She started modeling in 2007 and soon realized how much she enjoyed modeling and working with talented photographers to bring a vision to life. A year later, she did her first pin up style photo-shoot and it opened up a whole new land of wonder and enchantment. That wonder and enchantment included burlesque and other types of performance arts. Kitten studied burlesque with the lovely Vivenne VaVoom and delighted in a class or two at Studio L'amour. She has already been one of our readers for our Los Angeles edition of Naked Girls Reading and after recently making her burlesque debut elsewhere, she is making her Peepshow debut on our stage on this night.
http://www.spykittensparkles.com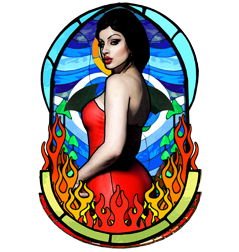 VAMP LORRAINE
Vamp Lorraine came to this mortal coil from the union between Vampira and Bela Lugosi. When she is not lurking in the cemetary with her pet Tarantula Lydia, she can be found shopping for shoes, tight-lacing corsets or tantalizing Los Angeles burlesque audiences. You may have seen her perform at Bordello before with Courtney Cruz and in our shows such as Merrie Maladies and Mad Monster Burlesque Pajama Party.
http://www.facebook.com/vamplorraine
Featuring A Special Guest Baggy Pants Comedy Appearance from: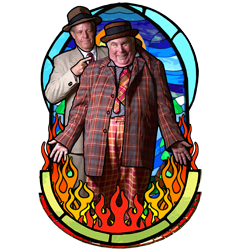 DOC & STUMPY
Doc And Stumpy celebrate the golden age of burlesque and the vaudeville routines that are often forgotten in most burlesque shows. They have been dazzling audiences in Las Vegas and Hollywood with their performances at The Burlesque Hall Of Fame and the Monday Night Tease. If you are a true fan of the history of burlesque, you'll understand why they fit right in to our show and we are very excited and lucky that they have donated their time and talent to opening this year's annual charity show.
Live Music & Comedy by: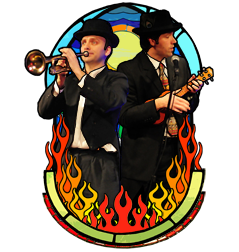 MR. SNAPPER & MR. BUDDY
Helping to keep Vaudeville alive in the modern burlesque circuit, the chatty and singing ukulele playing Mr Snapper and ever-silent but deadly Mr. Buddy bring their years of stage experience to our own stage to entertain all of you looking in at us through our invisible monkey bars Multi-instrumentalist Mr. Snapper and comedy-savant Mr. Buddy have entertained audiences from Hollywood to...North Hollywood. Whether an old-fashioned song and dance, or a comedy variety act, Mr. Snapper & Mr. Buddy live to delight audiences and get paid. And they just might be cooking up something special for this particular show too so don't miss it!
http://www.myspace.com/snapperbuddy


Produced by: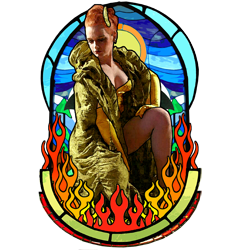 Performing Burlesque and Co-Produced by SCARLETT LETTER
Scarlett Letter is not only the co-producer of Peepshow Menagerie and Naked Girls Reading Los Angeles, but is the producer of The Letter Follies and Dr Sketchy's Anti-Art School Ventura. She has performed at Exotic World in 2007 and 2008 and was winner of "Most Classic" at the 2007 Boston Burlesque Exposition and most recently won "Best Solo Performance" and The Legends' Award at the 2010 Boston Burlesque Exposition. She has performed in more countries than you've been to. She's got "four feet of red hair and miles of bad intentions" and dances her life away every chance she gets, be it pole-go, go-go, goth clubs or Burlesque stages. Recently she was able to perform at a private show for director Quentin Tarantino who had never seen a real live fan dancer before in person and raved about her performance to her for over 5 minutes.
http://stagelightstudios.com/the_little_red_schoolhouse_of_burlesque_workshop.html
http://www.myspace.com/apriest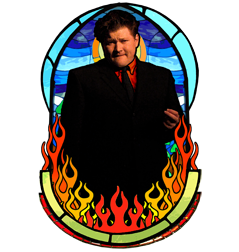 Co-Produced and Hosted by CHRIS BEYOND
Chris Beyond has been a part of the L.A. independent music scene since the early nineties and has really had his hands full since then. He is the creator of No-Fi "Magazine" in 1996 and No-Fi "Radio" in 2002, both of which are still in production today. He has appeared on the television shows SEXBYTES on HBO and on DEADLINE on HDnet. He's been an in-studio guest on the radio show LOVELINE, was interviewed on Playstation.com, and has been published in Ben Is Dead and Harper's magazines. He has produced several concerts around the Los Angeles area as well as been a member of the bands EAR BEYOND and POPULAR GIRL. He is also a designer whose works have appeared in albums, magazines, newspapers, flyers, and DVDs (including the burlesque film Broad Daylight directed by JMM). He is a prominent burlesque and pin-up photographer in the national burlesque scene and a staffmember of the Burlesque Hall Of Fame/Exotic World. He has hosted shows for Shimmy & Shake, Dolls Of Fox, Monday Night Tease, & more, and is co-host of The Burlesque Podcast with Lili VonSchtupp which recently began production on it's second season of shows which are available for free on iTunes. By the way, if you are lucky, you just MIGHT win a copy of his new "Chris Beyond's Bootleg Stag Party Volume 2" at this show! Just be prepared to be pulled on stage for the chance.
http://www.myspace.com/beyondphotography
http://www.facebook.com/chrisbeyond


Thank You's
Thank you to the staff of Bordello, Wacko, X-Large, Y-Que, Pop Killer, Golden Apple Comics, Meltdown Comics, Secret Headquarters, The Monday Night Tease, Facebook, and all of our fans and friends who trust us to do some pretty crazy shows and keep coming back and helping us out! We also want to thank everyone, audience, Bordello, and performers alike for helping up put on this special charity show to help raise funds for full art programs for children in the middle of Skid Row. You are all very VERY appreciated!
Show Photos! (Live photos will be updated after the show.)




Click on each image to see a BIGGER version!
PAST SHOW REVIEWS!

GUEST OF A GUEST shares a very positive and humorous review of Burlesqueland 2010.

THE GLOSS suggests visiting Burlesqueland over Iceland.

THE L.A. WEEKLY joins the "Burlesqueland!!" cast at at the park for Burlesque Day At D-Land.

THE L.A. WEEKLY visits Peepshow Menagerie "Burlesqueland!!"

THE L.A. WEEKLY visits Peepshow Menagerie as their featured slideshow!

THE GUARDIAN U.K.'s very positive mention about Peepshow Menagerie in this article about David Lynch!

HOLLYWIRE.COM's review of Peepshow Menagerie: Beneath The Surface!

A review of Peepshow Menagerie: Beneath The Surface on YELP.COM!

Jack Dagger's experience at Peepshow Menagerie: Burlesqueland!