Featuring Los Angeles Inspired Burlesque By: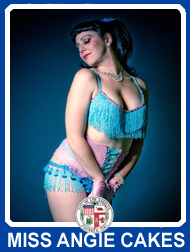 MISS ANGIE CAKES
Miss Angie Cakes has been performing in night clubs from East to West Coast since the late 1990's. By day, she's a Fashion Designer for a local clothing company in Los Angeles. At night, the stage is her second home. She also makes her own costumes and accessories and will be launching her very own line soon. This little cookie loves all things sweet, (especially cake!). She's a cupcake cutie who spreads her frosting where ever she goes. With just 2 cups of sugar, a little spice, & a pinch of glitter, she'll bake up the hottest show in town!
http://www.myspace.com/missangiecakes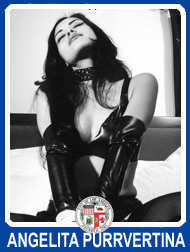 ANGELITA PURRVERTINA
Her interests and hobbies are in Costume design; especially lingerie, girdles. She has a fetish for girdles since she was a teenager. In 2009 you may have seen her as the star of the Tinto Brass short film called "Kick The Cock" and lately she has been very busy as a model and burlesque star, as well as a writer. You can also see her in the Terry Richardson book "Wives, Wheels, Weapons." She is a regular reader at the Los Angeles chapter ofNaked Girls Reading and this is her first performance for Peepshow Menagerie.
http://www.xinema-x.com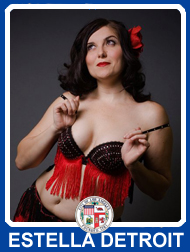 ESTELLA DETROIT
An actress and tease artist ,making her Peepshow Menagerie debit, Miss Estella Detroit is also a regular in several shows around town and has also performed in our Peepshow To Go-Go shows. She has been featured as a burlesque performer in the AMC television show MAD MEN and even performed in the official MAD MEN burlesque show. She also just happens to be our Peepshow Pin-Up This month too.
http://www.facebook.com/EstellaDetroit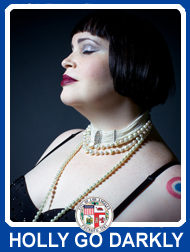 HOLLY GO DARKLY
It's been said they saved William Castle's brain and we know it to be true: One stormy night in the basement of the haunted honkytonk on the edge of town, they put that brain into a girl made from bits of showgirls, flappers, dames, dolls, and molls. Fed with electricity and a steady diet horror films, musicals, and the souls of men that girl became...Holly Go Darkly. Apart from a couple of our other shows, he has performed at the Monday Night Tease and with Sealed With A Kiss and we are happy to have her back on Peepshow Menagerie's stage.
Holly Go Darkly on Facebook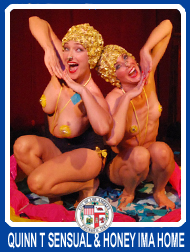 HONEY IMA HOME & QUINN T SENSUAL
One of our surprise performances for this night are these two performers who will be performing a tribute to one of their favorite classic Hollywood movies featuring Honey Ima Home as well as Quinne T Sensual - who is making her Peepshow Menagerie debut.
Honey Ima Home on Facebook
Quinn T Sensual on Facebook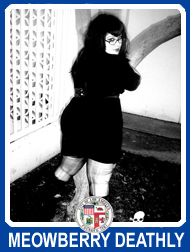 MEOWBERRY DEATHLY
Meowberry loves to be crafty and is full of love. She is a burlesque performer who loves to do makeup and also loves anything to do with trannys, stockings, shoes, corsets, eyelashes, bettie page, her momma, and anything girlie! She additionally loves her kitty emily and her two lovely ferrets Sid and Nancy.
Meowberry Deathly on Facebook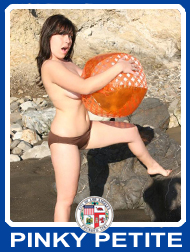 PINKY PETITE
The sweet and petite treat known as Miss Pinky Petite hails originally from Boston where she was a member of THE BOSTON BABYDOLLS and even performed with them at the 2006 Miss Exotic World pageant. In 2007 she moved to Los Angeles and quickly found a place near the beach and a place in the Los Angeles Burlesque Scene. She has performed at VICTORY VARIETY HOUR, SHIMMY & SHAKE, PIRATE BURLESQUE PRESENTS, and the MONDAY NIGHT TEASE. She was also the coverstar of the first "Chris Beyond's Bootleg Stag Party and has appeared on the cover of No-Fi "Magazine".
Pinky Petite on Facebook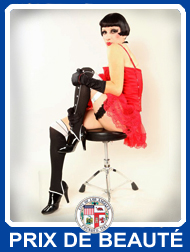 PRIX DE BEAUTE'
Come and see 100 lbs of what is mighty sweet: flashing eyes, how they roll, a disposition like a sugar bowl, rosy cheeks, red hot lips and a million dollars worth of flying hips. Born in Paris, France in 'aught seven, this fiery flapper started her career dancing on cobblestone streets to the tune of an organ grinder with her pet monkey. Soon she found herself in Vaudeville shows, tap dancing on a diving board before she leapt 40 feet into a glass of water! This high diving mistress broke all the port sailors hearts, and continued to do so with millionaires and sheiks alike, after her grand debut in the Folies Berg¸re (much to the dismay and clucking tongues of the upper crust ladies). With her rosy cheeks, red hot lips, and million dollars worth of flying hips, please welcome this prize of beauty: Prix de Beaute'! You can also see Mademoiselle Beaute' play Tin Pan Alley tunes on her ukulele in her band Two-Bit Opera and also performs regularly at the early 20th Century inspired Vaudeville, The Petting Pantry.
Prix De Beaute' on Facebook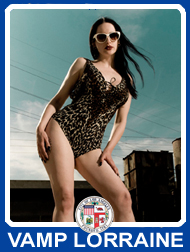 VAMP LORRAINE
Vamp Lorraine came to this mortal coil from the union between Vampira and Bela Lugosi. When she is not lurking in the cemetary with her pet Tarantula Lydia, she can be found shopping for shoes, tight-lacing corsets or tantalizing Los Angeles burlesque audiences. You may have seen her perform at Bordello before with Courtney Cruz and in our shows such as Merrie Maladies, Beneath The Surface, and Mad Monster Burlesque Pajama Party.
http://www.facebook.com/vamplorraine
Live Magic from:
MICAH COVER
Micah Cover is a writer, lecturer, teacher, charity event producer and performer - all in the Art of Magic. He has been performing professionally since 1995. He is a past Vice President of the Hollywood chapter of the International Brotherhood of Magicians (IBM Ring 21), who named him Member of the Year. He is a frequent performer at the world-famous Magic Castle, as well as our show and The Monday Night Tease.
http://www.micahsmagic.com
Guest Appearances by: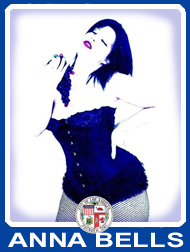 ANNA BELLS
Anna Bells first struck the Burlesque scene as half of The Fishnet Floozies back in the early to mid 2000's. Their talents brought them both to the Exotic World stage as well as appearing in the burlesque movie BROAD DAYLIGHT directed by John Michael McCarthy (Teenage Tupelo, Superstarlet A.D.).
http://www.myspace.com/annabells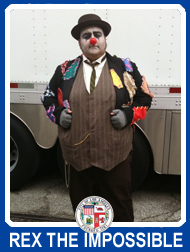 REX THE IMPOSSIBLE
Rex The Impossible has hosted and made several appearances in Peepshow Menagerie including co-hosting The Road To Burlesque and Watching The Detectives as well as appearances in The Burlesque Gong Show, Beach Blanket Burlesque and Burlesqueland. He has also performed in various comedy clubs and has hosted a few other burlesque shows around Southern California including The Monday Night Tease and a gig at The Derby.
http://www.myspace.com/therevofcomedy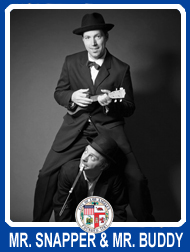 MR. SNAPPER & MR. BUDDY
Helping to keep Vaudeville alive in the modern burlesque circuit, the chatty and singing ukulele playing Mr Snapper and ever-silent but deadly Mr. Buddy bring their years of stage experience to our own stage to entertain all of you looking in at us through our invisible monkey bars Multi-instrumentalist Mr. Snapper and comedy-savant Mr. Buddy have entertained audiences from Hollywood to...North Hollywood. Whether an old-fashioned song and dance, or a comedy variety act, Mr. Snapper & Mr. Buddy live to delight audiences and get paid. And they just might be cooking up something special for this particular show too so don't miss it!
Mr. Snapper & Mr. Buddy on Facebook
Co-Hosted by: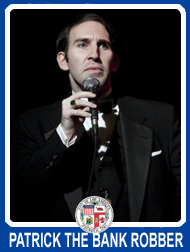 PATRICK THE BANK ROBBER
Since the beginning of Peepshow Menagerie, he has always occupied a dark corner of our venue; well dressed, sharply combed, and watching silently from above. We eventually discovered that his name is Patrick The Bank Robber and when he isn't a burlesque enthusiast, he can often be found on stage reciting Shakespeare, traveling across the country, or just simply robbing banks. After being made at various shows across town, he eventually found himself hosting for shows like Ragdolls Burlesque and the Monday Night Tease as well as producing his own show called Raymond Burl Esq. & The Family Ballyhoo.
Patrick The Bank Robber on Facebook
Live Music by: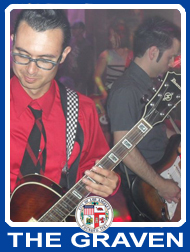 THE GRAVEN
THE GRAVEN play a catchy mix of garage rock with a hint of dark gothic flair. They also feature sometime boylesque star Harry Mirkin on guitar who was also a member of the bands BOB, POPULAR GIRL, and EAR BEYOND. We can't wait to finally have them on our stage for this very special night.
The Graven on Facebook
Records Spun by: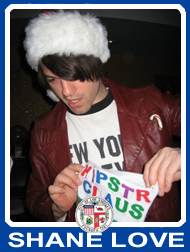 DJ SHANE LOVE
Shave has been doing sound and DJing after each of our shows for several months now. Apart from his own dance night called CLUB LOVE, club promotions, and his new website ROCK N ROLL PARTY, Shane will be playing a mix of Classic and new indie, new wave, post punk and alternative at our show at the end of the night so you can dance the night away after the burlesque show.
Shane Love on Facebook
Produced by: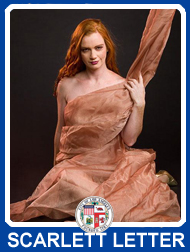 Performing Burlesque, Hosting and Co-Produced by SCARLETT LETTER
Scarlett Letter is not only the co-producer of Peepshow Menagerie and Naked Girls Reading Los Angeles, but is the producer of The Letter Follies and Dr Sketchy's Anti-Art School Ventura. She has performed at Exotic World in 2007 and 2008 and was winner of "Most Classic" at the 2007 Boston Burlesque Exposition and most recently won "Best Solo Performance" and The Legends' Award at the 2010 Boston Burlesque Exposition. She has performed in more countries than you've been to. She's got "four feet of red hair and miles of bad intentions" and dances her life away every chance she gets, be it pole-go, go-go, goth clubs or Burlesque stages. Recently she was able to perform at a private show for director Quentin Tarantino who had never seen a real live fan dancer before in person and raved about her performance to her for over 5 minutes.
http://stagelightstudios.com/the_little_red_schoolhouse_of_burlesque_workshop.html
http://www.myspace.com/apriest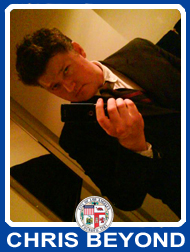 Co-Produced by CHRIS BEYOND
Chris Beyond has been a part of the L.A. independent music scene since the early nineties and has really had his hands full since then. He is the creator of No-Fi "Magazine" in 1996 and No-Fi "Radio" in 2002, both of which are still in production today. He has appeared on the television shows SEXBYTES on HBO and on DEADLINE on HDnet. He's been an in-studio guest on the radio show LOVELINE, was interviewed on Playstation.com, and has been published in Ben Is Dead and Harper's magazines. He has produced several concerts around the Los Angeles area as well as been a member of the bands EAR BEYOND and POPULAR GIRL. He is also a designer whose works have appeared in albums, magazines, newspapers, flyers, and DVDs (including the burlesque film Broad Daylight directed by JMM). He is a prominent burlesque and pin-up photographer in the national burlesque scene and a staffmember of the Burlesque Hall Of Fame/Exotic World. He has hosted shows for Shimmy & Shake, Dolls Of Fox, Monday Night Tease, & more, and is co-host of The Burlesque Podcast with Lili VonSchtupp which recently began production on it's second season of shows which are available for free on iTunes. By the way, if you are lucky and time permitting, you just MIGHT win a copy of his new "Chris Beyond's Bootleg Stag Party Volume 2" at this show! Just be prepared to be pulled on stage for the chance.
http://www.myspace.com/beyondphotography
http://www.facebook.com/chrisbeyond


Thank You's
James, Evelyn, Shaun, and all the staff at Club Monte Cristo, Lili VonSchtupp, Mr. Harry Mirkin, Arron and Vlad The Retailer, Wacko / La Luz De Jesus / Soap Plant, Sophya St. James, X-Large, Y-Que, Pop Killer, Golden Apple Comics, Meltdown Comics, Secret Headquarters, The Monday Night Tease, Pat, FangoriaLA Weekly, Facebook, and all of our fans and friends who trust us to do some pretty crazy shows and keep coming back and helping us out! Thanks you for keeping us around for over THREE long years! We look forward to continuing to bring you even more of our biggest shows through 2012 and beyond!.
Show Photos! (Live photos will be updated after the show.)




Click on each image to see a BIGGER version!
PAST SHOW REVIEWS!

LADY HUMP says that you "can't go wrong" with Peepshow Menagerie's Close Encounters Of The Burlesque Kind.

A wonderful article and review from the national CAMPUS CIRCLE newspaper.

Some great coverage of our Mad Monster Burlesque Pajama Party from FANGORIA Magazine.

GUEST OF A GUEST shares a very positive and humorous review of Burlesqueland 2010.

THE GLOSS suggests visiting Burlesqueland over Iceland.

THE L.A. WEEKLY joins the "Burlesqueland!!" cast at at the park for Burlesque Day At D-Land.

THE L.A. WEEKLY visits Peepshow Menagerie "Burlesqueland!!"

THE L.A. WEEKLY visits Peepshow Menagerie as their featured slideshow!

THE GUARDIAN U.K.'s very positive mention about Peepshow Menagerie in this article about David Lynch!

HOLLYWIRE.COM's review of Peepshow Menagerie: Beneath The Surface!

A review of Peepshow Menagerie: Beneath The Surface on YELP.COM!

Jack Dagger's experience at Peepshow Menagerie: Burlesqueland!