Featuring our lovely Burlesque Attractions live onstage: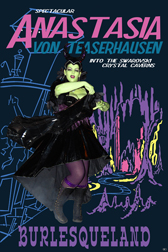 ANASTASIA VON TEASERHAUSEN
Anastasia Von Teaserhausen is one of the newest performers on the burlesque scene, but she's taken to it perfectly as she has studied under some of the best performers in L.A. and has already performed at MONDAY NIGHT TEASE and VICTORY VARIETY HOUR. She also may have the longest name in burlesque [citation needed]. Beyond her performances, she is a maker of custom corsets and accessories. Tonight she brings to the PEEPSHOW MENAGERIE stage her interpretation of one of the Mouse House's princesses.
http://www.myspace.com/pinkfouffy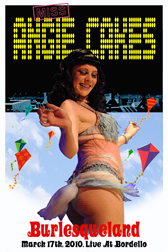 MISS ANGIE CAKES
Miss Angie Cakes has been performing in night clubs from East to West Coast since the late 1990's. By day, she's a Fashion Designer for a local clothing company in Los Angeles. At night, the stage is her second home. She also makes her own costumes and accessories and will be launching her very own line soon. This little cookie loves all things sweet, (especially cake!). She's a cupcake cutie who spreads her frosting where ever she goes. With just 2 cups of sugar, a little spice, & a pinch of glitter, she'll bake up the hottest show in town! And in this show, you just might want to add 2 spoonfuls of sugar to that cup. Catch her quick before she flies away, umbrella in hand.
http://www.myspace.com/missangiecakes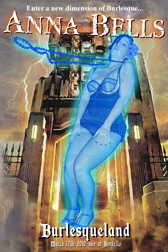 ANNA BELLS
Anna Bells first struck the Burlesque scene as half of The Fishnet Floozies back in the early to mid 2000's. Their talents brought them both to the Exotic World stage as well as appearing in the burlesque movie BROAD DAYLIGHT directed by John Michael McCarthy (Teenage Tupelo, Superstarlet A.D.). Until last year, she co-produced the annual burlesque holiday show "JESUS CHRIST: A HOLIDAY BURLESQUE REVUE." After taking much of 2008 off, she's back in her burlesque heels with force and plans to bring you her interpretation of a different side of the park...or should that be the other side of the park that we don't often think about. http://www.myspace.com/annabells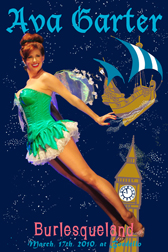 AVA GARTER
Ava Garter is here to preserve and carry on the tradition of classic Hollywood glamour and burlesque with impeccable style and beauty. Trained by world-renowned Catherine D'lish and Dita Von Teese. Her outstanding performances have been seen on stages around the world from Los Angeles, Las Vegas, Dallas, Paris, and Tokyo. Liz Goldwyn (director of the burlesque documentary Pretty Things) says "Ava Garter is a first class performer, a broad in the best sense of the word and in the tradition of the great stars of the Golden Age of Burlesque. With deep respect for her craft, she brings a sensuality to the stage that is lovely to admire." Ava is a big fan of the theme park we are lampooning and plans to light up the stage with one of her favorite characters!
http://www.avagarter.com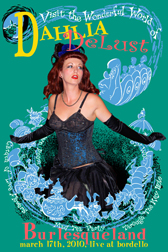 DAHLIA DeLUST
Dahlia DeLust has been missing from our stage for a while and we've certainly missed her. Known to her friends as Voodoo Dahlia, she's been teasin' and peelin' since 2006 with the OC Underground Burlesque Society and is always shakin' her way to a burlesque stage near you! She is known for her Voodoo Doll act and her Raven act which she performs in seven and a half inch ballet heels, but she'll be bringing you an act dedicated to the working women of America. No, not THAT kind of working woman, but the kind that toils almost thanklessly using good ol' American know-how to get the job done! Peepshow Menagerie is very happy to have her back for her 6th show with us! On our stage for this show she will be experimenting with the many curious effects of mushrooms.
http://www.myspace.com/dahliadelust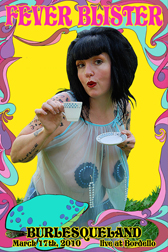 FEVER BLISTER
Fever Blister is a former club-kid & Go Go Gal turned "ENTERTAINER EXTRAORDINAIRE". An Unconventional conventionalist, don't call her a PIN-UP please. She is too heavy to hang on the wall... She isn't a model, she considers herself a personality! She believes in ambitious exploitation of her female assets... Her specialty is her own take on BURLESQUE ENTER*TEASE*MENT. Not only is she a burlesque performer, she's a producer of shows for the ANIMAL charity she founded - PAWS FOR A CAUSE in L.A. & also the producer of The BANG! BANG! Burlesque Show. She's a clothing & costume designer, sock rocker, jack-off of all trades, sex symbol, scavanger of used goods, former queen of the Cleveland scene now rocking out in Bob Barker's guest house in Burbank, California. A Voluptuous Blood Sucker, Volcanic Orgasmic Song Bird, Head stomper, Pastie twirler, Consumer of fine sparkling water, Candy advocate/enthusiast/addict and Tattoooed to the 9th power. The only fever you'd want to catch, she is Fever Blister. Fever will not only be performing her dizney inspired act onstage, but she will be sharing the stage with Josie Bunny in an act that'll give you a big glowing grin.
http://www.myspace.com/feverbeaver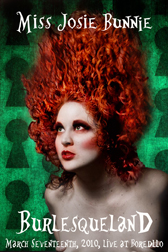 JOSIE BUNNIE
She's got "Curves, Curls and Baby Blue Eyes!" Josie Bunnie is a burlesque performer, occasional nude model, and confirmed nudist who loves being creative and artistic. She has performed at El Cid with the Victory Variety Hour & Schmutzig, 3 Clubs with the Monday Night Tease, Mr T's Bowl and The Scene club with Burlesque-a-go-go, in the live Camp Burlesque show, and other various shows. She is a student of Kitten De Ville, Augusta (AKA Penny Starr Jr.), Jewel Of Denial, Lux La Croix and Vixen Violette. She is a very bubbly person who likes to socialize and meet new people. She knows what she's got and knows how to use it, as they say. She also says she loves being in front of a camera and playing with her kitty cats. Speaking of kitties, she'll be performing the part (or would it be A part?) of a particularly famous kitty in a duo-act with with Fever Blister.
http://www.myspace.com/missjosiebunnie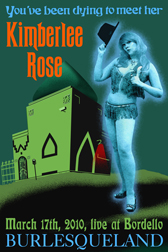 KIMBERLEE ROSE
Here is another great performer who has been absent from our stage for far too long. Kimberlee Rose is known as "The Muppet of Burlesque." Her acts are as animated as any puppet show (more so, actually) and filled with energy, even when she slows down. A student of Miss Exotic World 2002 Kitten De Ville, she embraces the silly and fun side of burlesque performing and her routines are sure to leave a smile on your face by the time she leaves the stage. She has performed for Shimmy & Shake, Burlesque-A-Go-Go, Shadow Circus, Buckingham Burlesque, Tiki Invasion, and more. She's even opened for The English Beat and Cherry Poppin' Daddies. She has produced her own show; Slumber Party Slaughter and was the featured performer at the Monday Night Tease "Muppet Of Burlesque Show" and our critically acclaimed Lynch themed show "Beneath The Surface". This will be Kimberlee's 6th appearance at Peepshow Menagerie and will be bringing what many people consider to be their favorite ride to after-life on stage!
http://www.myspace.com/thekimberleerose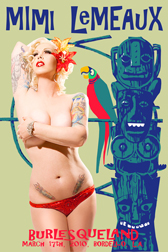 MIMI LeMEAUX
This San Diego Native has been headlining shows from the US to Europe starting back in 1995. MiMi has been featured in several Burlesque movies and documentaries shown by AMC, CBS and HBO such as Broad Daylight and Camp Burlesque, as well as gracing the pages of numerous international magazines. She has even been lucky enough to tour the world with the band The Damned. With great love for the Tiki, she is performing one of her signature acts, paying tribute to a certain magical Tiki Room...Burlesque style! http://www.myspace.com/mimilemeaux


RED SNAPPER
"Sass, class and a black girl's ass" is only one of many ways to describe this performer. She brings with her a very impressive pedigree. She has studied pole dancing with Aphrodite Strip-N-Pole for two years. She's also had the amazing opportunity to study burlesque with several incredible performers: Miss Indigo Blue, Jo Boobs, Lux LaCroix, Jewel of Denial, Lili Von Schtupp, Vanity Flair, Scarlett Letter and Penny Starr, Jr.. She recently finished acting in a play called "Pin-Up Girls" (directed by Andrew Moore) in a role for which the L.A. Weekly called her "Robust And Sassy." She's great and one of the nicest people you could meet, but on this night don't leave any of your finely coated pets with her.
http://www.myspace.com/ms_red_snapper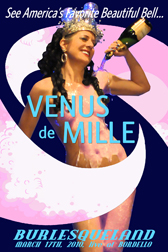 VENUS DeMILLE
The Deity Of Desire is reborn! She has come to Earth as Burlesque Artist Venus De Mille, crowned "Legend In The Making" at the Miss Exotic World 2005 Pageant. Mere mortals are held spellbound by her heavenly body and dazzling performances which combine the glamour of Hollywood with the temptation of striptease and the bluster of a good old bump 'n'grind earning her the nickname "Weapon of Man's Destruction". Emerging from a mad scientist's laboratory (as opposed to the usual half shell), Venus adapted her lofty self to portraying a range of earthy vixens. Her accordion skills are unparalleled, and whether she's serenading the audience while shedding flimsy garments, rappelling from the rafters, or transforming before your very eyes into a ball of flame, she always envelops the crowd in preternaturally supreme theatrical experience, continuously reducing human spectators to helpless piles of rubble with a mere glance. The Divine One's own costume designs were so spectacular, that though he preferred to see her unclothed, Zeus himself was inspired to bestow upon her a Master's Degree in Theater. But Venus can be benevolent as well as meddlesome. In addition to costuming many of your favorite burlesque starlets, she has been sharing her costuming expertise with other mortals for several years now, teaching Burlesque Costume Classes at Costume College (Van Nuys), Stiletto (Redlands), and Tease-O-Rama (San Francisco.) She also donates her time and efforts to various local charities. Venus has graced the stage at such diverse events as The Velvet Hammer Burlesque, Tease-O-rama, The Miss Exotic World Pageant, The Victory Variety Hour, Margaret Cho's Sensuous Woman, and many others. Venus, having once been rendered tragically armless, knows the importance of having one's limbs properly clothed. Thus, she has unveiled her own line of luxuriously embellished gloves under the name: "Gloves By Venus"
http://www.venusdemille.net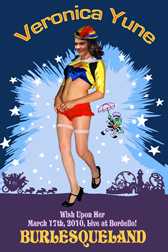 VERONICA YUNE
This 5 foot 2, bundle of dynamite is 22 years old and finally felt ready to reveal her fresh young character in October of 2008, for a debut performance at the Monday Night Tease. Veronica also took part in a performance for LA Burlesque's A Tribute to Bettie Page show in January of 2009. She is an L.A. based, highly enthusiastic performer with a charming personality and baby face. She's currently a full time student working towards her BA in Theatre. Veronica splits her time between her studies and the world of burlesque. She loves performing for a live audience and now she's all yours...your Bedtime Story wish come true. This will be Veronica's 2nd performance with Peepshow Menagerie.
http://www.myspace.com/unyfish


with LIVE COMEDY & MUSIC by: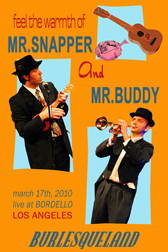 MR SNAPPER AND MR. BUDDY
This is Mr Snapper & Mr Buddy's 2nd show with us! In fact they saved our butts when they came in at the last minute to open our wildly successful Disney themed BURLESQUELAND show in January and were a huge hit! Helping to keep Vaudeville alive in the modern burlesque circuit, the chatty and singing ukulele playing Mr Snapper and ever-silent but deadly Mr. Buddy bring their years of stage experience to our own stage to entertain all of you looking in at us through our invisible monkey bars Multi-instrumentalist Mr. Snapper and comedy-savant Mr. Buddy have entertained audiences from Hollywood to...North Hollywood. Whether an old-fashioned song and dance, or a comedy variety act, Mr. Snapper & Mr. Buddy live to delight audiences and get paid. And they just might be cooking up something special for this particular show too so don't miss it!
http://www.myspace.com/snapperbuddy


Hosted by: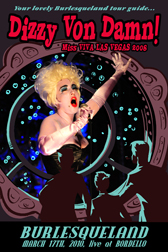 Hosted by DIZZY VON DAMN!
Dizzy Von Damn! is an experiment gone horribly awry- she's what happens when you mix the genes of the lovely Bettie Page with those of kitschy-eccentric Liberace; she's proof that science can be sexy...and weird. As Miss Viva Las Vegas 2008, she can be seen in the 2010 LA Burlesque Calendar and she has performed across the country- not to mention performing regularly at PEEPSHOW MENAGERIE, MONDAY NIGHT TEASE, and producing her own show, UNCOMMON BURLESQUE at the Commonwealth Lounge. She enjoys pineapples and space, and believes that the truth is out there. This will be the 2nd year in a row she has hosted our Burlesqueland! show.
http://www.dizzyvondamn.com


Produced by: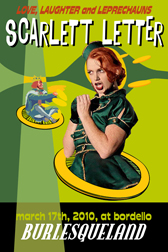 Performing and Produced by SCARLETT LETTER
Scarlett Letter is not only the co-producer of this show, but is also the co-producer of the MONDAY NIGHT TEASE which takes place every Monday at 3 Clubs in Hollywood. She has performed at Exotic World in 2007 and 2008 and was winner of "Most Classic" at the 2007 Boston Burlesque Exposition. She has performed in more countries than you've been to. She's got "four feet of red hair and miles of bad intentions" and dances her life away every chance she gets. This includes currently: Burlesque at the 3 of Clubs, Rocky Horror with Wild and Untamed Things (WUT), and miscellaneous burlesque, go-go, and pole-go around the greater Los Angeles Metropolitan area. Scarlett has always been more partial to the live-action Disney films from he 50's and 60's and plans to bring her interpretation of one of those movies to our stage at Bordello for this special show.
http://www.myspace.com/apriest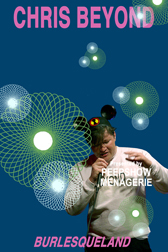 Produced by CHRIS BEYOND
Chris Beyond has been a part of the L.A. independent music scene since the early nineties and has really had his hands full since then. He is the creator of No-Fi "Magazine" in 1996 and No-Fi "Radio" in 2002, both of which are still in production today. He has appeared on the television shows SEXBYTES on HBO and on DEADLINE on HDnet. He's been an in-studio guest on the radio show LOVELINE, was interviewed on Playstation.com, and has been published in Ben Is Dead and Harper's magazines. He has produced several concerts around the Los Angeles area as well as been a member of the bands EAR BEYOND and POPULAR GIRL. He is also a designer whose works have appeared in albums, magazines, newspapers, flyers, and DVDs (including the burlesque film Broad Daylight directed by JMM). He is a prominent burlesque and pin-up photographer in the burlesque scene and a staffmember of the Burlesque Hall Of Fame/Exotic World. He has hosted shows for Shimmy & Shake, Dolls Of Fox, Monday Night Tease, & more, and is co-host of The Burlesque Podcast with Lili VonSchtupp. In this show, Chris will be bringing you a few burlesque skits and a bit of Diz-ney history that you may not have known about. See you real soon!
http://www.myspace.com/beyondphotography


Photos from event by Dan Hendricks, S.H. Photo, and Markus Alias!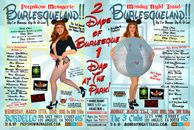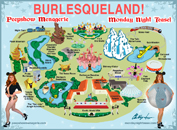 Click on each image to see a BIGGER version!
PAST SHOW REVIEWS!

GUEST OF A GUEST shares a very positive and humorous review of Burlesqueland 2010.

THE GLOSS suggests visiting Burlesqueland over Iceland.

THE L.A. WEEKLY joins the "Burlesqueland!!" cast at at the park for Burlesque Day At D-Land.

THE L.A. WEEKLY visits Peepshow Menagerie "Burlesqueland!!"

THE L.A. WEEKLY visits Peepshow Menagerie as their featured slideshow!

THE GUARDIAN U.K.'s very positive mention about Peepshow Menagerie in this article about David Lynch!

HOLLYWIRE.COM's review of Peepshow Menagerie: Beneath The Surface!

A review of Peepshow Menagerie: Beneath The Surface on YELP.COM!

Jack Dagger's experience at Peepshow Menagerie: Burlesqueland!