Featuring Suspicious Burlesque Performances By: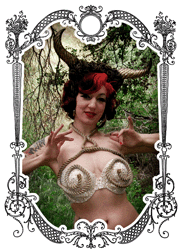 LUNA ROSA
Visiting us from the United Kingdom, classic striptease artiste and exotic dancer, Luna Rosa takes to the stage all that it means to be sexy. Influenced by the beautiful performers of yester-year she delights in entertaining her audiences with vintage inspired flair. A regular dancer for Snake Charm and The Naked Fez, alongside the beautiful Raven Isis, at Peter Parker's Rock n Roll club in London, Luna performs to live jazz, hosted by the very established gentlemen of the business, DJ Snakester, Jake Vegas and the Jukebox Jam. Infatuated with rock n roll, blues and jazz, and her love affair with the golden era of Egyptian cinema, as well as a passion for mambo sleaze, Luna Rosa captivates her audiences with exotic, melodic mystery.
http://www.myspace.com/misslunarosa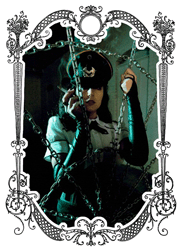 POLLY PEABODY
Polly Peabody has graced the stages of the following establishments: The Slipper Room, The Blue Angel, Limelight, Rififi, Veruka, Galapagos, SHOW, The Spider Club, The Key Club, The Derby, Tangier, Passive Arts Studios, MBar, El Cid, Fais Do Do, Bordello and many more that she's forgotten to mention. She has worked with The Boomshell Girls (NYC), The Va Va Voom Room (San Francisco and NYC), The Red Rooster Review (Key West), and with the great Shelly Bomb on events in Vegas, NY, Madison, Wisconsin and beyond. She and partner Crystal Swarovski competed in the Miss Exotic World competition 2006. Their production company, Lopsided Productions has been bringing infantile entertainment to LA for a good four years now -- on and off, you know, whatever... She was a contributor and co-writer on Miss Swarovski's opus, Kubrilesque. Before that, she was co-artistic director at SHOW Nightclub with NY club impresario, Norman Gosney. She co-directed The Pink Rhino Review, The Pirate Show, Dark Carnival and The Hitchcock Show, as well as co-opening for Pink, Britney Spears, and Dita Von Teese. Fancy right? Nowadays, her main focus within the wacky world of neuvo-retro-homo-fatso-metro-lesbo-burlesque is to sharpen her razor-like wit on the whetstone of David Hasselhoff, abortion jokes, and the vast comic trench of Adolf Hitler, securing a place for herself as the proverbial "hostess with the mostest," a cognomen she has bestowed shamelessly on herself (at least she admits it, girls). Her alter ego, Adria Lang, is a screenwriter and novelist living in Echo Park with her cat Bobo.
http://www.pollypeabody.com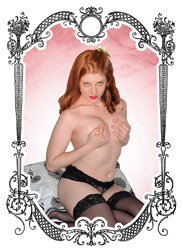 RED SNAPPER
"Sass, class and a black girl's ass" is only one of many ways to describe this performer. She brings with her a very impressive pedigree. She has studied pole dancing with Aphrodite Strip-N-Pole for two years. She's had the opportunity to study burlesque with several incredible performers: Lux LaCroix (Bump and Grind 101), Miss Indigo Blue (Academy of Burlesque), Jo Boobs (New York School of Burlesque), Jewel of Denial and Penny Starr, Jr. (Striptease Symposium), Scarlett Letter (Little Red Schoolhouse of Burlesque) as well as Lili VonSchtupp, Vanity Flair, Tigger!, Desire' D'Amour, Princess Farhana, and burlesque legends Wild Cherry and April March. Last year she starred in the play "Pin-Up Girls" (directed by Andrew Moore) in a role for which the L.A. Weekly called her "Robust And Sassy" and recently directed a play called "Tracing Sunny" for her theatre company Theatre Unleashed. She co-produced two Peepshow Menagerie shows during Scarlett Letter's absence (who was on a European tour) and has performed in more of our shows than any other performer, besides Scarlett. She is also the newest teacher with Striptease Symposium. Before that she has taught pole and chair dancing with Aphrodite Strip-N-Pole in West Hollywood, as well as coached a number of actresses in the art of striptease and she's even held a tassel twirling clinic for men. Ms. Snapper will perform to a number that fans of Fantasia would be familiar with.
http://www.myspace.com/ms_red_snapper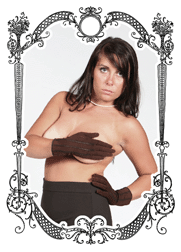 PINKY PETITE
The sweet and petite treat known as Miss Pinky Petite hails originally from Boston where she was a member of THE BOSTON BABYDOLLS and even performed with them at the 2006 Miss Exotic World pageant. In 2007 she moved to Los Angeles and quickly found a place near the beach and a place in the Los Angeles Burlesque Scene. She has performed at VICTORY VARIETY HOUR, SHIMMY & SHAKE, PIRATE BURLESQUE, and the MONDAY NIGHT TEASE. She was the coverstar of the first "Chris Beyond's Bootleg Stag Party" cd and will also be featured in an upcoming issue of Bachelor Pad Magazine. She is a regular performer at Peepshow Menagerie, but she hasn't been in our show since last October so we are very happy to have her back. show (or just wants to see her bring this character to life again!)
http://www.myspace.com/pinkypetite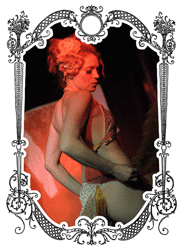 LAVENDAR LA RUE
Lavendar La Rue is in love with costumes and glam and everything vintage. Vaudville appeals to her and most of her performances reflect that. She's a little vaudvillian package, dancing to her own tune. She has performed at the MONDAY NIGHT TEASE at The 3 Clubs, SCHMUTZIG (that's german for dirty) at El Cid, LE FEMMES CHERRIS at The Key Club, Bordello for Friday Nights, and SHIMMY & SHAKE. She is one of our very favorite performers and was a huge hit in our David Lynch themed Beneath The Surface. And we are very proud to finally have her as our Peepshow Pin-Up this month.
http://www.myspace.com/lillianlassen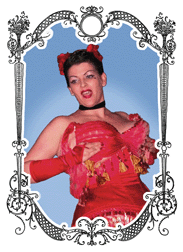 ANASTASIA VON TEASERHAUSEN
Anastasia Von Teaserhausen is one the best costume makers as well as being one of our favorite performers on the burlesque scene. She has studied under some of the best performers in L.A. and has already performed at MONDAY NIGHT TEASE and VICTORY VARIETY HOUR. She also may have the longest name in burlesque [citation needed]. Additionally to her performances, she is a maker of custom corsets and accessories for anyone willing to pay for the quality. We can't wait to see what she has in store for you at this show.
http://www.myspace.com/pinkfouffy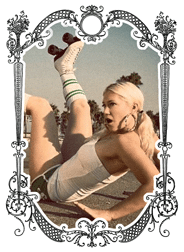 DIA BLOW
Your favorite fallen angel, from the depths of hell comes Miss Dia Blow, a favorite of Satan's roller skating, hellfire spitting vixens! Don't let that sweet smile fool you, she will steal your soul just as soon as kiss you! Dia is known to wear a lot of hats; helmets, top hats, fedoras, and of course her devil horns. She also wears a lot of shoes; skates, heels, chucks, spurs, folded up newspapers, and toe socks. She also wears a backpack with a towel in it and asks us not to question it. Dia is a member of the Angel City Derby Girls. If you ever get lucky enough to go skating with her, be sure to to wear more protection than your standard knee and elbow pads because if you get in her way, you surely find yourself under her wheels. Since skating her way into the burlesque scene, she has performed at the Monday Night Tease, Viva Las Vegas, Pirate Burlesque, and various others.
http://www.myspace.com/diablowburlesque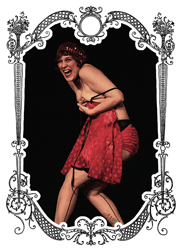 RED SONJA
We are very happy to bring to you Miss Red Sonja who is a recent transplant from New York, who is known for touring around the country, bringing her manic brand of burlesque from town to town like some kind of half dressed female Johnny Appleseed. Would that make her Johnny Appleseed? Well she also runs a burlesque workshop in New York so she really does bring burlesque straight to the people on all levels. She doesn't consider herself to be a dancer, but rather an actress, musician, director, and performance artist. She has performed in Rosie Red Burly-Q, Comedy Period, Hollywood's Monday Night Tease, and probably several others to long to list here. Her acts are very high high energy and we imagine she'll be bringing that same level of energy to our stage on Wednesday, April 21st at Bordello with an act the proposes that a big town like Seville has got to have more than one barber.
http://www.myspace.com/redsonja01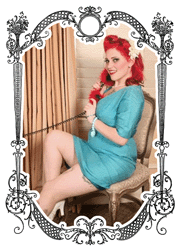 LUCILLE HIGHBALL
A sexpot so intoxicating it will take 12 steps to get over her! (And even still, she'll haunt you in your drunken dreams) Growing up doing musical theater and dance, she loves getting dolled up, and playing a role other than her day to day persona. She's also doing a bit of modeling on the side. She has performed at the Monday Night Tease and with Sealed With A Kiss Burlesque. This will be her first performance with Peepshow Menagerie and we are very happy that she is joining us on our stage at Bordello.
http://www.lucillehighball.com/
Special Appearances by: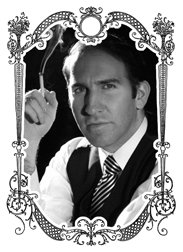 PATRICK THE BANKROBBER
Since the beginning of Peepshow Menagerie, he has always occupied a corner of the upper deck of Bordello; well dressed, sharply combed - somearial in gloves - and watching silently from above. We eventually discovered that his name is Patrick The Bank Robber and when he isn't a burlesque enthusiast, he can often be found on stage reciting Shakespeare, traveling across the country, or just simply robbing banks (it is his name after all and he's a pretty genuine fellow). After being made at various shows across town, he eventually found himself hosting for shows like Ragdolls Burlesque and the Monday Night Tease. Besides, it's easier to see what he's up to when he's on stage rather than any dark corners of the club.
http://www.myspace.com/patrickthebankrobber
Produced by: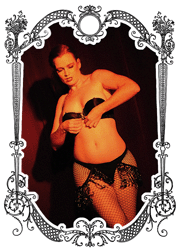 Performing Burlesque and Co-Produced by SCARLETT LETTER
Scarlett Letter is not only the co-producer of this show, but is also the co-producer of the MONDAY NIGHT TEASE which takes place every Monday at 3 Clubs in Hollywood. Like most dancers in Hollywood, Scarlett Letter has been performing since childhood. However, her experiences have helped her develop a strong capacity for performing off the cuff and from the hip. During her lonely days in rural Nevada, she spent many a night performing under the glow of a black and white TV, dancing along with the best. She quickly developed an "I can do that" attitude and jumped at every performance opportunity that came her way. Upon moving to California, she put her dreams of a chorus girl life on the backburner and earned a bachelors in Performing Arts Management. Since her graduation, it has been all systems go. Now, she is using the skills acquired growing up Mormon to keep her trunk full of award winning costumes and ready for every situation. Scarlett has performed in a wide variety of venues including the World Famous Derby, The Queen Mary in Long Beach, The Whiskey a Go-Go, the Gig and the Mint. You may have recently seen her in an episode of the television show "Chuck" where she played the part of an unsavory stripper which is worlds away from her real life persona. She has also performed in Tucson, Vancouver, Seattle, Las Vegas and Boston, where she was awarded the title of "Most Classic" at the Great Boston Burlesque Exposition of 2007. Recently Scarlett began teaching a class on burlesque in Ventura called "The Little Red Schoolhouse Of Burlesque." Even more recently Scarlett was BACK at the Boston Burlesque Expo and won the titles of "Best Solo Performance" and the "Legends Award" for 2010.
http://stagelightstudios.com/the_little_red_schoolhouse_of_burlesque_workshop.html
http://www.myspace.com/apriest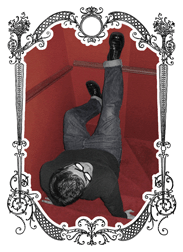 Co-Produced by CHRIS BEYOND
Chris Beyond has been a part of the L.A. independent music scene since the early nineties and has really had his hands full since then. He is the creator of No-Fi "Magazine" in 1996 and No-Fi "Radio" in 2002, both of which are still in production today. He has appeared on the television shows SEXBYTES on HBO and on DEADLINE on HDnet. He's been an in-studio guest on the radio show LOVELINE, was interviewed on Playstation.com, and has been published in Ben Is Dead and Harper's magazines. He has produced several concerts around the Los Angeles area as well as been a member of the bands EAR BEYOND and POPULAR GIRL. He is also a designer whose works have appeared in albums, magazines, newspapers, flyers, and DVDs (including the burlesque film Broad Daylight directed by JMM). He is a prominent burlesque and pin-up photographer in the national burlesque scene and a staffmember of the Burlesque Hall Of Fame/Exotic World. He has hosted shows for Shimmy & Shake, Dolls Of Fox, Monday Night Tease, & more, and is co-host of The Burlesque Podcast with Lili VonSchtupp which recently began production on it's second season of shows which are available for free on iTunes. By the way, if you are lucky, you just MIGHT win a copy of his new "Chris Beyond's Bootleg Stag Party Volume 2" at this show! Just be prepared to be pulled on stage for the chance.
http://www.myspace.com/beyondphotography
http://www.facebook.com/chrisbeyond


Show Photos! (Live photos will be updated after the show.)




Click on each image to see a BIGGER version!
PAST SHOW REVIEWS!

GUEST OF A GUEST shares a very positive and humorous review of Burlesqueland 2010.

THE GLOSS suggests visiting Burlesqueland over Iceland.

THE L.A. WEEKLY joins the "Burlesqueland!!" cast at at the park for Burlesque Day At D-Land.

THE L.A. WEEKLY visits Peepshow Menagerie "Burlesqueland!!"

THE L.A. WEEKLY visits Peepshow Menagerie as their featured slideshow!

THE GUARDIAN U.K.'s very positive mention about Peepshow Menagerie in this article about David Lynch!

HOLLYWIRE.COM's review of Peepshow Menagerie: Beneath The Surface!

A review of Peepshow Menagerie: Beneath The Surface on YELP.COM!

Jack Dagger's experience at Peepshow Menagerie: Burlesqueland!