Featuring Mop-Top Inspired Burlesque Performances By: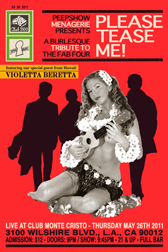 VIOLETTA BERETTA
Honolulu's reigning Queen of Burlesque, Violetta Beretta is known as "The Hottest Little Ticket in Hawaii Nei!" In high demand internationally, nationally and throughout her fair isle, The Scintillating Miss V brings classic pin-up and burlesque imagery into these modern times with her inventive, hilarious and teasingly naughty performances. Whether shaking her hula hips Tahitian style, gliding across the stage during a ethereal fan dance or executing spectacular tricks aloft an aerial silk, darling Violetta will captivate your heart and tantalize your imagination. As technically trained professional dancer, Violetta has had extensive training in Ballet, Aerial Silk, Jazz, Flamenco, Tap, Modern, Character, Ballroom, Samba, Street and Circus Skills. She is currently broadening her horizons in Stage Combat and Aerial Hoop classes. Violetta Beretta has graced stages both internationally and nationally, hula-ing her way into hearts at Madame Jojo's (London), Regine (Paris), Tiki Oasis 2009-2011 (SD), Tease-O-Rama 2008 (SFO) as well as NYC's Jewel Box at the Slipper Room, The Bossanova Ballroom (PDX), and Ivan Kayne's 40 Deuce (LV). In addition to performances at private and corporate events, most recently the Hawaii Theatre Gala. Violetta is also well known across the Islands, regularly entrancing audiences in such venerable venues as The W Hotel Honolulu, The Academy of Art Honolulu, Casanova's (Maui), The Point at the Sheraton Kauai, The Art's at Mark's Garage, The Hano Hano Room at The Sheraton Waikiki, Aaron's, Next Door, 39 Hotel, The Mercury Bar, The Loft, The Venue, The Hawaii Design Center, Anna Banana's and many more. Violetta also regularly takes the stage with the venerated Don Tiki, working her sultry magic as an official Don Tiki Dancer. A serious triple threat, Miss Violetta can occasionally be found singing the Blues in Honolulu's best dive bars. Though no longer performing with her now defunct band, Aja and the Red Rockets, she still regularly sings with the Hawaii Blues Connection at Ward's Rafters and Anna Banana's. She is currently working with Kip Eversbaugh (Don Tiki) and Richard Smith (Slim Jr.) on her first album
http://www.facebook.com/ViolettaBeretta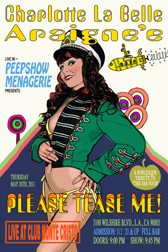 CHARLOTTE LA BELLE ARAINGE'E
Charlotte La Belle Arrainge'e (whose name translates into "Charlotte The Beautiful Spider") first performed in Peepshow Menagerie during last August's David Lynch themed show called Beneath The Surface). Even though it took us lat long to finally get her in one of our shows, she is actually one of the pioneers of the new wave of burlesque who has been performing since the late 80's. She produces a show called Buckingham Burlesque. She designs and creates the majority of her hats, corsets and costumes. She has performed on the main stage at Exotic World (aka "The Burlesque Hall Of Fame"), Lucha VaVoom, Ink & Iron, has opened for Dita Von Teese at The Orpheum Theatre, and has performed at many of the best burlesque stages all over the world. She is a great performer and friend of the show and we are very happy to have her back.
Charlotte La Belle Araigne'e on Facebook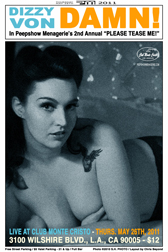 DIZZY VON DAMN!
Dizzy Von Damn! is an experiment gone horribly awry- she's what happens when you mix the genes of the lovely Bettie Page with those of kitschy-eccentric Liberace; she's proof that science can be sexy...and weird. As Miss Viva Las Vegas 2008, she can be seen in the 2010 LA Burlesque Calendar and she has performed across the country- not to mention performing regularly at Peepshow Menagerie, Monday Night Tease, and producing her own show, Uncommon Burlesque at the Commonwealth Lounge. She enjoys pineapples and space, and believes that the truth is out there.
http://www.dizzyvondamn.com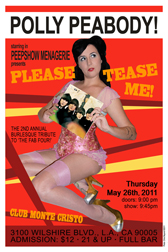 POLLY PEABODY
Polly Peabody has graced the stages of the following establishments: The Slipper Room, The Blue Angel, Limelight, Rififi, Veruka, Galapagos, SHOW, The Spider Club, The Key Club, The Derby, Tangier, Passive Arts Studios, MBar, El Cid, Fais Do Do, Bordello and many more that she's forgotten to mention. She has worked with The Boomshell Girls (NYC), The Va Va Voom Room (San Francisco and NYC), The Red Rooster Review (Key West), and with the great Shelly Bomb on events in Vegas, NY, Madison, Wisconsin and beyond. She and partner Crystal Swarovski competed in the Miss Exotic World competition 2006. Their production company, Lopsided Productions has been bringing infantile entertainment to LA for a good four years now -- on and off, you know, whatever... She was a contributor and co-writer on Miss Swarovski's opus, Kubrilesque. Before that, she was co-artistic director at SHOW Nightclub with NY club impresario, Norman Gosney. She co-directed The Pink Rhino Review, The Pirate Show, Dark Carnival and The Hitchcock Show, as well as co-opening for Pink, Britney Spears, and Dita Von Teese. Fancy right? Nowadays, her main focus within the wacky world of neuvo-retro-homo-fatso-metro-lesbo-burlesque is to sharpen her razor-like wit on the whetstone of David Hasselhoff, abortion jokes, and the vast comic trench of Adolf Hitler, securing a place for herself as the proverbial "hostess with the mostest," a cognomen she has bestowed shamelessly on herself (at least she admits it, girls). Her alter ego, Adria Lang, is a screenwriter and novelist living in Echo Park with her cat Bobo. Currently she is directing the film version of the Kubrilesque show.
http://www.pollypeabody.com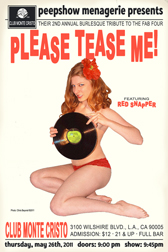 RED SNAPPER
Red Snapper entered the world of exotic dancing through pole dancing. While taking a session of burlesque choreography for pole through Aphrodite Strip-N-Pole, she discovered an innate talent for striptease. Thirsty for knowledge on the subject study, she studied burlesque with several incredible performers: Lux LaCroix (Bump & Grind School - Los Angeles), Miss Indigo Blue & The Shanghai Pearl (Academy of Burlesque - Seattle), Jo Boobs (New York School of Burlesque - New York), Jewel of Denial (Striptease Symposium - Los Angeles), and many others as well as burlesque legends Wild Cherry, April March and Tee Tee Red. She has been performing since she was five. She's been seen in commercials, television and film. As an actress, she's been called "robust and sassy" by L.A. Weekly. The L.A. Times wrote that she "parlay[ed] experience in both theater and burlesque choreography into a thoroughly convincing portrait of hardhearted survival" in her performance in Andrew Moore's Pin-Up Girls. She regularly performs throughout Southern California, and has performed in Las Vegas, Austin, Boston, Dallas, San Antonio, Denver, New Orleans and Albuquerque. Known as "The Go All the Way Girl," she never fails to charm. Red's repertoire varies from classic 1940's elegance to rock & roll, tongue-in-cheek, naughty good girl. Sometimes she shares the stage with puppets or large, silly props built by Mr. Snapper. She's taught men and women the art of pole dancing, lap dancing and burlesque. She currently teaches burlesque independently. She usually spends her free time brainstorming new projects at home with Mr. Snapper, his dog Buster and her Doodlebug.
http://www.snapperburlesque.com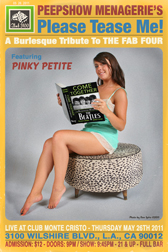 PINKY PETITE
The sweet and petite treat known as Miss Pinky Petite hails originally from Boston where she was a member of THE BOSTON BABYDOLLS and even performed with them at the 2006 Miss Exotic World pageant. In 2007 she moved to Los Angeles and quickly found a place near the beach and a place in the Los Angeles Burlesque Scene. She has performed at VICTORY VARIETY HOUR, SHIMMY & SHAKE, PIRATE BURLESQUE, and the MONDAY NIGHT TEASE. She was the coverstar of the first "Chris Beyond's Bootleg Stag Party" cd and will also be featured in an upcoming issue of Bachelor Pad Magazine. She is a regular performer at Peepshow Menagerie, and we are always happy to have her back.
Pinky Petite on Facebook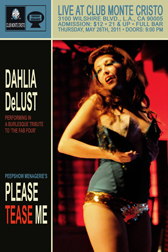 DAHLIA DeLUST
Known to her friends as Voodoo Dahlia, she's been teasin' and peelin' since 2006 with the OC Underground Burlesque Society and is always shakin' her way to a burlesque stage near you! She is known for her Voodoo Doll act and her Raven act which she performs in seven and a half inch ballet heels, but she'll be bringing you an act dedicated to the working women of America. No, not THAT kind of working woman, but the kind that toils almost thanklessly using good ol' American know-how to get the job done! Peepshow Menagerie is very happy to have her back for her 6th show with us! On our stage for this show she will be giving you a virtual burlesque LSD flashback.
Dahlia DeLust on Facebook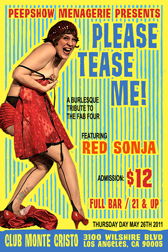 RED SONJA
We are very happy to bring to you Miss Red Sonja who is a recent transplant from New York, who is known for touring around the country, bringing her manic brand of burlesque from town to town like some kind of half dressed female Johnny Appleseed. Would that make her Johnny Appleseed? Well she also runs a burlesque workshop in New York so she really does bring burlesque straight to the people on all levels. She doesn't consider herself to be a dancer, but rather an actress, musician, director, and performance artist. She has performed in Rosie Red Burly-Q, Comedy Period, Hollywood's Monday Night Tease, and probably several others to long to list here. Her acts are very high high energy and we imagine she'll be bringing that same level of energy to our stage on this night.
Red Sonja on Facebook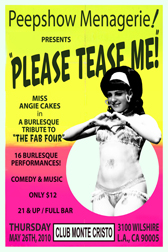 MISS ANGIE CAKES
Miss Angie Cakes has been performing in night clubs from East to West Coast since the late 1990's. By day, she's a Fashion Designer for a local clothing company in Los Angeles. At night, the stage is her second home. She also makes her own costumes and accessories and will be launching her very own line soon. This little cookie loves all things sweet, (especially cake!). She's a cupcake cutie who spreads her frosting where ever she goes. With just 2 cups of sugar, a little spice, & a pinch of glitter, she'll bake up the hottest show in town!
http://www.myspace.com/missangiecakes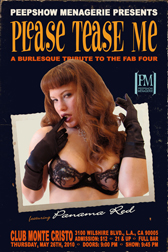 PANAMA RED
Panama Red talks about herself in the 3rd person. She is a lover of all things glamourous and ostentatious. She is a fan of rhinestones. She likes the bump and grind. It's no wonder that she is also a lover of Burlesque. She performs when she can and you should come see her. Her favourite drink is the Seagram's 7 & 7. Buy her one. In this show she will be performing not only a feature song, but will also be taking part in the group number at the end of the show. Which song will she be doing for her solo number? Who knows? Maybe we'll tell you tomorrow.
http://www.facebook.com/PanamaRedBurlesque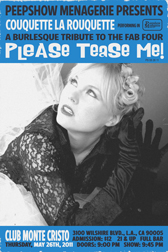 COUQUETTE LA ROUQUETTE!
Coquette spent years lost in a dark world until the fateful day she stumbled upon Lux Lacroix's Bump and Grind 101. From that day forward the wonderful world that is burlesque cast light overpowering all darkness and Coquette La Roquette was born! Coquette studied at the Striptease Symposium, danced at the Monday Night Tease, Pirate Burlesque, Burlesque a Go-Go, Club Schmutzig and Uncommon Burlesque ...just to name a few. This performance will be Coquette's Peepshow Menagerie debut! Coquette once met Sir Paul McCartney when she was seven and has been an avid Beatles fan ever since. Her burlesque as you will find, is fun and quirky. Much like herself! Coquette is also an actress and has if asked nicely may perform a dramatic monologue for you. In her free time she likes bedazzling and practicing her high kicks.
Couquette La Rouquette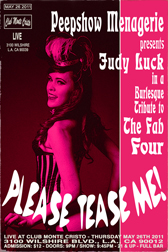 JUDY LUCK
Known as the "Charming Darling of Burlesque", Miss Judy Luck is both a Pin-Up model and burlesque performer who has performed at various shows around L.A. including Uncommon Burlesque, The Whistle Bait, and the Whiskey-A-Go-Go. She is a trained ballet and jazz dancer and happens to be dancer for the band The Hula Girls and has toured around the country with them.
Judy Luck on Facebook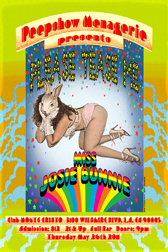 MISS JOSIE BUNNIE
She's got "Curves, Curls and Baby Blue Eyes!" Josie Bunnie is a burlesque performer, occasional nude model, and confirmed nudist who loves being creative and artistic. She has performed at El Cid with the Victory Variety Hour & Schmutzig, 3 Clubs with the Monday Night Tease, Mr T's Bowl and The Scene club with Burlesque-a-go-go, in the live Camp Burlesque show, and other various shows. She is a student of Kitten De Ville, Augusta (AKA Penny Starr Jr.), Jewel Of Denial, Lux La Croix and Vixen Violette. She is a very bubbly person who likes to socialize and meet new people. She knows what she's got and knows how to use it, as they say. She also says she loves being in front of a camera and playing with her kitty cats.
http://www.facebook.com/MissJosieBunnie
Featuring Comedy & Music by: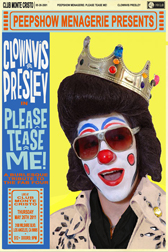 CLOWNVIS PRESLEY
Hailing from the mean streets of St. Louis, MO, Clownvis Presley has accomplished more in the past few years than most entertainers achieve in their whole careers. In addition to hosting his own monthly variety show and MCing countless events, his charisma and superior singing voice have earned him opening slots on quite a few high-profile shows. He has toured extensively and performed with superstars such as Little Richard, Neil Hamburger, The Dresden Dolls, and Tim Heidecker (of Tim and Eric fame) -- all of which has earned him the title "King of Clowns." Thanks to a controversial appearance on NBC's America's Got Talent, Clownvis is now familiar to millions of people around the planet. His phenomenal audition must be seen to be believed (maybe even more than once). Now based in Los Angeles, Clownvis is ready to rock the entertainment world. Much more than just a party clown, this showman does it all. In addition to hosting music awards, festivals, fundraisers and burlesque revues, Clownvis is also a good guy, donating his talents to charity events and non-profit organizations. Mr. Presley's diverse show is loved by a variety of audiences, which has allowed him to perform at theaters, bars, kids parties, biker rallies, store openings and nursing homes. Audiences of all ages appreciate the core of his show -- his singing. Clownvis is a natural daredevil on stage, using dangerous items like fireworks, topless girls and his own invention, the Anti-Gravity Freedom Rocket. On stage, he is flanked by members of the Clownvis Mafia, including his business manager, Narvel P. Tuffnuts and his musical director, Teddy Longsworth. You never know what to expect, but you know you will be a lifelong Clownvis fan by the curtain call. Clownvis' legendary stage show is more in demand than ever. Clownvis shines brightest when he's in the spotlight, and in addition to scheduling live shows in Los Angeles and Las Vegas, he is busy booking a North American tour. The King of Clowns is also producing a comic book and a series of video shorts. He plans to host a television show and headline Las Vegas. Viva Clownvis!
http://www.ClownvisPresley.com
Hosted by Our Own Fab Four: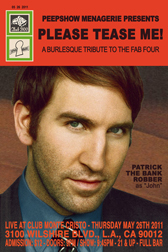 PATRICK THE BANK ROBBER
Since the beginning of Peepshow Menagerie, he has always occupied a dark corner of our venue; well dressed, sharply combed, and watching silently from above. We eventually discovered that his name is Patrick The Bank Robber and when he isn't a burlesque enthusiast, he can often be found on stage reciting Shakespeare, traveling across the country, or just simply robbing banks. After being made at various shows across town, he eventually found himself hosting for shows like Ragdolls Burlesque and the Monday Night Tease as well as producing his own show called Raymond Burl Esq. & The Family Ballyhoo.
Patrick The Bank Robber on Facebook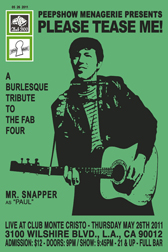 MR. SNAPPER
Mr Snapper is a creative generalist, an artistic jack-of-all trades. Normally seen on stage as one half of the vaudeville comedy and music duo Mr. Snapper and Mr. Buddy, Mr. Snapper has also hosted the Monday Night Tease in Hollywood and even co-produced our last show in Scarlett Letter's absence while on tour in Europe. When not crooning or laffing it up onstage in the burlesque scene, Mr. Snapper find his home on other stages, writing and directing plays as a founding member of Theatre Unleashed who recently celebrated their one year anniversary. His play "Pin-Up Girls" about burlesque dancers in the 1940's was a financial and critical success and his latest work "Tracing Sunny" recently opened in Los Angeles to rave reviews and made one reviewer laugh so hard, he almost died right there in the theatre. (True story!) One of our favorite Hosts (and sometime boylesque performer), we are always happy when he's on our stage.
Mr. Snapper on Facebook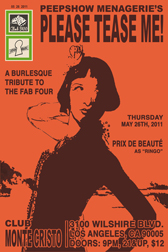 PRIX DE BEAUTE'
Come and see 100 lbs of what is mighty sweet: flashing eyes, how they roll, a disposition like a sugar bowl, rosy cheeks, red hot lips and a million dollars worth of flying hips. Born in Paris, France in 'aught seven, this fiery flapper started her career dancing on cobblestone streets to the tune of an organ grinder with her pet monkey. Soon she found herself in Vaudeville shows, tap dancing on a diving board before she leapt 40 feet into a glass of water! This high diving mistress broke all the port sailors hearts, and continued to do so with millionaires and sheiks alike, after her grand debut in the Folies Berg¸re (much to the dismay and clucking tongues of the upper crust ladies). With her rosy cheeks, red hot lips, and million dollars worth of flying hips, please welcome this prize of beauty: Prix de Beaute'! You can also see Mademoiselle Beaute' play Tin Pan Alley tunes on her ukulele in her band Two-Bit Opera and also performs regularly at the early 20th Century inspired Vaudeville, The Petting Pantry.
Prix De Beaute' on Facebook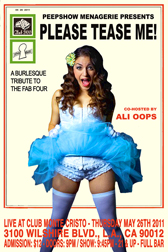 ALI OOPS
Oops! Her clothes fell off... again. Ali Oops is one of the newest and brightest to the burlesque scene in Los Angeles, raised and cultivated by the lovely Penny Starr Jr., Jewel of Denial, Vixen Violette and Lux LaCriox. She shimmies, shakes, and promises to be your favorite mistake. She can also whip you up a mean screwdriver. We believe this may be her first hosting gig so please join us as we bring the best accident you could ever want to our stage for this show.
http://www.facebook.com/MissAliOops
Guest Appearance by: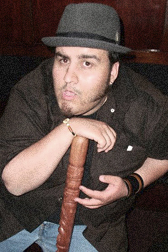 REX THE IMPOSSIBLE
Rex The Impossible has hosted and made several appearances in Peepshow Menagerie including co-hosting The Road To Burlesque and Watching The Detectives as well as appearances in The Burlesque Gong Show, Beach Blanket Burlesque and Burlesqueland. He has also performed in various comedy clubs and has hosted a few other burlesque shows around Southern California including The Monday Night Tease and a gig at The Derby.
Rex The Impossible on Facebook
Produced by: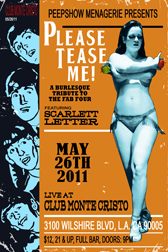 Performing Burlesque and Co-Produced by SCARLETT LETTER
Scarlett Letter is not only the co-producer of Peepshow Menagerie and Naked Girls Reading Los Angeles, but is the producer of The Letter Follies and Dr Sketchy's Anti-Art School Ventura. She has performed at Exotic World in 2007 and 2008 and was winner of "Most Classic" at the 2007 Boston Burlesque Exposition and most recently won "Best Solo Performance" and The Legends' Award at the 2010 Boston Burlesque Exposition. She has performed in more countries than you've been to. She's got "four feet of red hair and miles of bad intentions" and dances her life away every chance she gets, be it pole-go, go-go, goth clubs or Burlesque stages. Recently she was able to perform at a private show for director Quentin Tarantino who had never seen a real live fan dancer before in person and raved about her performance to her for over 5 minutes.
http://stagelightstudios.com/the_little_red_schoolhouse_of_burlesque_workshop.html
http://www.myspace.com/apriest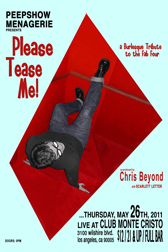 Co-Produced by CHRIS BEYOND
Chris Beyond has been a part of the L.A. independent music scene since the early nineties and has really had his hands full since then. He is the creator of No-Fi "Magazine" in 1996 and No-Fi "Radio" in 2002, both of which are still in production today. He has appeared on the television shows SEXBYTES on HBO and on DEADLINE on HDnet. He's been an in-studio guest on the radio show LOVELINE, was interviewed on Playstation.com, and has been published in Ben Is Dead and Harper's magazines. He has produced several concerts around the Los Angeles area as well as been a member of the bands EAR BEYOND and POPULAR GIRL. He is also a designer whose works have appeared in albums, magazines, newspapers, flyers, and DVDs (including the burlesque film Broad Daylight directed by JMM). He is a prominent burlesque and pin-up photographer in the national burlesque scene and a staffmember of the Burlesque Hall Of Fame/Exotic World. He has hosted shows for Shimmy & Shake, Dolls Of Fox, Monday Night Tease, & more, and is co-host of The Burlesque Podcast with Lili VonSchtupp which recently began production on it's second season of shows which are available for free on iTunes. By the way, if you are lucky and time permitting, you just MIGHT win a copy of his new "Chris Beyond's Bootleg Stag Party Volume 2" at this show! Just be prepared to be pulled on stage for the chance.
http://www.myspace.com/beyondphotography
http://www.facebook.com/chrisbeyond


Thank You's
James and all the staff at Club Monte Cristo, Arron and Vlad The Retailer. Wacko / La Luz De Jesus / Soap Plant, Sophya St. James, X-Large, Y-Que, Pop Killer, Golden Apple Comics, Meltdown Comics, Secret Headquarters, The Monday Night Tease, Flavorpill, LA Weekly, Facebook, and all of our fans and friends who trust us to do some pretty crazy shows and keep coming back and helping us out! We look forward to continuing to bring you even more of our biggest shows yet in 2011!
Show Photos! (Live photos will be updated after the show.)























Click on each image to see a BIGGER version!
PAST SHOW REVIEWS!

LADY HUMP says that you "can't go wrong" with Peepshow Menagerie's Close Encounters Of The Burlesque Kind.

A wonderful article and review from the national CAMPUS CIRCLE newspaper.

Some great coverage of our Mad Monster Burlesque Pajama Party from FANGORIA Magazine.

GUEST OF A GUEST shares a very positive and humorous review of Burlesqueland 2010.

THE GLOSS suggests visiting Burlesqueland over Iceland.

THE L.A. WEEKLY joins the "Burlesqueland!!" cast at at the park for Burlesque Day At D-Land.

THE L.A. WEEKLY visits Peepshow Menagerie "Burlesqueland!!"

THE L.A. WEEKLY visits Peepshow Menagerie as their featured slideshow!

THE GUARDIAN U.K.'s very positive mention about Peepshow Menagerie in this article about David Lynch!

HOLLYWIRE.COM's review of Peepshow Menagerie: Beneath The Surface!

A review of Peepshow Menagerie: Beneath The Surface on YELP.COM!

Jack Dagger's experience at Peepshow Menagerie: Burlesqueland!