Featuring Burlesque & Tease by: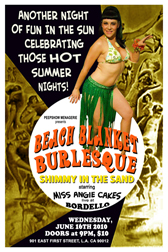 MISS ANGIE CAKES
Miss Angie Cakes has been performing in night clubs from East to West Coast since the late 1990's. By day, she's a Fashion Designer for a local clothing company in Los Angeles. At night, the stage is her second home. She also makes her own costumes and accessories and will be launching her very own line soon. This little cookie loves all things sweet, (especially cake!). She's a cupcake cutie who spreads her frosting where ever she goes. With just 2 cups of sugar, a little spice, & a pinch of glitter, she'll bake up the hottest show in town and plans to bake you right in your seat with latest performance in PEEPSHOW MENAGERIE. In this show she will be starring as our "Annette" to Mr. Snapper's "Frankie" for an evening of Fun In The Sun celebrating those Hot Summer Nights!
http://www.myspace.com/missangiecakes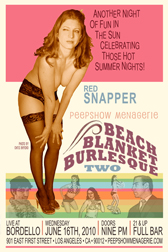 RED SNAPPER
"Sass, class and a black girl's ass" is only one of many ways to describe this performer. She brings with her a very impressive pedigree. She has studied pole dancing with Aphrodite Strip-N-Pole for two years. She's also had the amazing opportunity to study burlesque with several incredible performers: Miss Indigo Blue, Jo Boobs, Lux LaCroix, Jewel of Denial, Lili Von Schtupp, Vanity Flair, Scarlett Letter and Penny Starr, Jr.. In 2008 she starred in the play "Pin-Up Girls" (directed by Andrew Moore) in a role for which the L.A. Weekly called her "Robust And Sassy". She is the coverstar of volume 2 of "Chris Beyond's Bootleg Stag Party" cd and will soon be performing at the big burlesque spectacular in Denver. In this show, she will again be playing the Mysterious Red Headed Tiki Girl that she played in last year's production of BEACH BLANKET BURLESQUE and we are alway happy and lucky to have her on our stage.
http://www.myspace.com/ms_red_snapper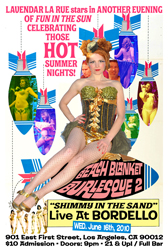 LAVENDAR LA RUE
Lavendar La Rue is in love with costumes and glam and everything vintage. Vaudville appeals to her and most of her performances reflect that. She's a little vaudvillian package, dancing to her own tune. She has performed at the MONDAY NIGHT TEASE at The 3 Clubs, SCHMUTZIG (that's german for dirty) at El Cid, LE FEMMES CHERRIS at The Key Club, Bordello for Friday Nights, and SHIMMY & SHAKE. She's also the producer of PIRATE BURLESQUE PRESENTS which is moving to Bordello and making its debut there in August! In fact she just might bring some of that sea-fairing action to our stage for this show! She is one of our very favorite performers and was a huge hit in our David Lynch themed Beneath The Surface.
http://www.myspace.com/lillianlassen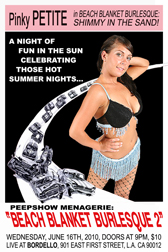 PINKY PETITE
The sweet petite treat known as Miss Pinky Petite hails originally from Boston where she was a member of THE BOSTON BABYDOLLS and even performed with them at the 2006 Miss Exotic World pageant. In 2007 she moved to Los Angeles and quickly found a place near the beach and a place in the Los Angeles Burlesque Scene. She has performed at VICTORY VARIETY HOUR, SHIMMY & SHAKE, PIRATE BURLESQUE, and the MONDAY NIGHT TEASE. She was the coverstar of volume 1 of "Chris Beyond's Bootleg Stag Party" cd and will also be featured in an upcoming issue of Bachelor Pad Magazine. Pinky is a PEEPSHOW MENAGERIE favorite and we can't wait to see what she brings to the stage on Wednesday, June 16th!
http://www.myspace.com/pinkypetite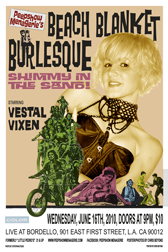 VESTAL VIXEN
VESTAL adjective- (1) Roman Mythology: a) Of or relating to Vesta b)Relating to or characteristics of the vestal virgins (2) Chaste; pure. noun- (1) Roman Mythology: A vestal virgin (2) A woman who is a virgin (3) A nun. VIXEN noun- (1) A female fox (2) a sexually attractive woman. Hailing from Southern California, Burlesque diva Vestal Vixen combines millennia of feminine sensuality in a shiny new package. Whether sizzling on stage as a member of Miss Kitty's Filthy Family or dazzling the room with beauty and class during her Burlesque numbers, Vestal Vixen knows how to seduce a crowd and leave them yearning for more. See Vestal on stage as a character who may be familiar to fans of all the 60's beach movies!
http://www.myspace.com/vestalvixen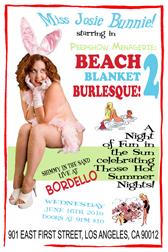 JOSIE BUNNIE
She's got "Curves, Curls and Baby Blue Eyes!" Josie Bunnie is a burlesque performer, occasional nude model, and confirmed nudist who loves being creative and artistic. She has performed at El Cid with the Victory Variety Hour & Schmutzig, 3 Clubs with the Monday Night Tease, Mr T's Bowl and The Scene club with Burlesque-a-go-go, in the live Camp Burlesque show, and other various shows. She is a student of Kitten De Ville, Augusta (AKA Penny Starr Jr.), Jewel Of Denial, Lux La Croix and Vixen Violette. She is a very bubbly person who likes to socialize and meet new people. She knows what she's got and knows how to use it, as they say. She also says she loves being in front of a camera and playing with her kitty cats. Speaking of her nudist lifestyle, she be portraying one at this show, so don't miss it!
http://www.myspace.com/missjosiebunnie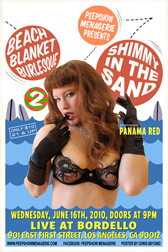 PANAMA RED
Panama Red talks about herself in the 3rd person. She is a lover of all things glamourous and ostentatious. She is a fan of rhinestones. She likes the bump and grind. It's no wonder that she is also a lover of Burlesque. She performs when she can and you should come see her. Her favourite drink is the Seagram's 7 & 7. Buy her one. On this night she will bringing the perfect touch of exotica to our swinging sixties Beach Blanket Burlesque show!
http://www.myspace.com/mspanamared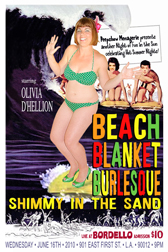 OLIVIA D'HELLION
Olivia D'Helion brings with her a lot of fun and spunkiness! From her Myspace profile: "WHY HELLO DARLING, MY NAME IS OLIVIA D'HELLION AND I'M READY TO SHIMMY AND SHAKE MY WAY ALL OVER LOS ANGELES. I MAY ACT SHY, BUT I SURE KNOW HOW TO RAISE HELL!" She also loves to leave the caps-lock on as it would seem. She first caught our eye at The Monday Night Tease and has since juggled between performing there and our show! In fact, often, you may see her working our door as well. Let's see what she drags up from the depths of the ocean of our 2nd annual Beach Blanket Burlesque show!
http://www.myspace.com/oliviadhelion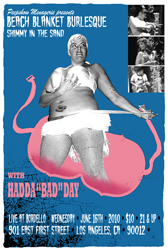 HADDA "BAD" DAY
You may have seen Hadda "Bad" Day perform at the Dragonfly and the Derby some years back or perhaps as part of a different kind of Derby show as part of the L.A. Derby Dolls roller derby team (as well as others). She is the indecent, lascivious, lecherous, licentious, libertine, lustful, unchaste, vulgar and wanton voluptuary burlesque performer with a heart of gold and a chest full of wonder! She enjoys the art of Tom of Finland, kitties, fancy panties (if you have not been flashed by Hadda's panties, you have not lived), mini skirts (see last statement), playing footsie, poodles, hot dogs, rockets, plastic food, men in glasses, steel toed shoes, lobotomies, fancy bras, cute hair and rare meat, vegan soul food, pickles and fainting goats. Join her as she brings high art to our stage with a different director's take on what should be in a beach movie.
http://www.myspace.com/haddabadday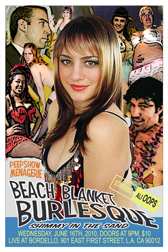 ALI OOPS
Oops! Her clothes fell off... again.

Ali Oops is one of the newest and brightest to the burlesque scene in Los Angeles, raised and cultivated by the lovely Penny Starr Jr., Jewel of Denial, Vixen Violette and Lux LaCriox. She shimmies, shakes, and promises to be your favorite mistake. She can also whip you up a mean screwdriver. She is also our 23rd "Peepshow Pin-Up" this month so I hope you were able to score one of her collectable cards. Drink her in during this very special show at Bordello on Wednesday, June 16th, in Los Angeles to see what she serves up!
http://www.myspace.com/oopsmyclothesfelloff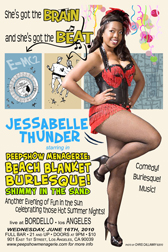 JESSABELLE THUNDER
While this will be Jessabelle's second time on our stage, it will be her first as a feature performer in our show and we hope it is far from her last. At a recent show for Red Snapper's Sassy Classy Review, Fine Arts L.A. said of her, "Ms. Jessabelle Thunder, who's David Lynch-esque number made me realize the hypnotizing effect of such dances." Jessabelle loves the art of dance and was a fan of burlesque before she decided to give it a try herself on stage and the audiences have been loving it since she did. Don't miss her in our show because you'll be kicking yourself later when all your friends are talking about it!
Jessabelle Thunder on Facebook


Hosted by: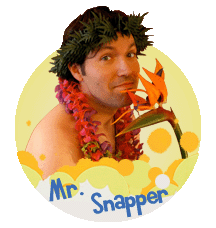 MR. SNAPPER
Mr Snapper is a creative generalist, an artistic jack-of-all trades. Normally seen on stage as one half of the vaudeville comedy and music duo Mr. Snapper and Mr. Buddy, Mr. Snapper has also hosted the Monday Night Tease in Hollywood and even co-produced our last show in Scarlett Letter's absence while on tour in Europe. When not crooning or laffing it up onstage in the burlesque scene, Mr. Snapper find his home on other stages, writing and directing plays as a founding member of Theatre Unleashed who recently celebrated their one year anniversary. His play "Pin-Up Girls" about burlesque dancers in the 1940's was a financial and critical success and his latest work "Tracing Sunny" recently opened in Los Angeles to rave reviews and made one reviewer laugh so hard, he almost died right there in the theatre. (True story!) See Mr. Snapper bring his best "Frankie" back to our stage at our show on Wednesday, June 16th.
http://www.myspace.com/scrapsflippy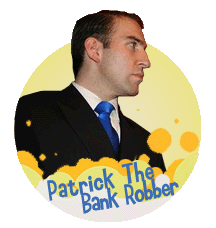 PATRICK THE BANK ROBBER
Since the beginning of Peepshow Menagerie, he has always occupied a corner of the upper deck of Bordello; well dressed, sharply combed, and watching silently from above. We eventually discovered that his name is Patrick The Bank Robber and when he isn't a burlesque enthusiast, he can often be found on stage reciting Shakespeare, traveling across the country, or just simply robbing banks. After being made at various shows across town, he eventually found himself hosting for shows like Ragdolls Burlesque and the Monday Night Tease as well as producing his own show called Raymond Burl Esq. & The Family Ballyhoo. This will be the one year anniversay of his first gig hosting our show. Watch your wallets, watches, and hearts, because Patrick The Bank Robber will be on our stage at Bordello on Wednesday, June 17th.
http://www.myspace.com/patrickthebankrobber

Guest Appearances by: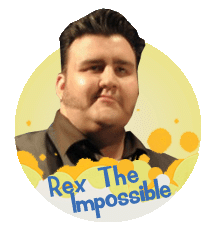 REX THE IMPOSSIBLE
Rex The Impossible has hosted, performed comedy, and made cameo appearances in several shows for Peepshow Menagerie including "Burlesqueland", "The Road To Burlesque", and "Watching The Detectives". He has also performed in various comedy clubs and has hosted a couple other burlesque shows including The Monday Night Tease and a gig at The Derby. In this show he'll be reprising a role he made a cameo appearance as as the end of last year's Beach Blanket Burlesque and we are happy to have him back.
http://www.myspace.com/therevofcomedy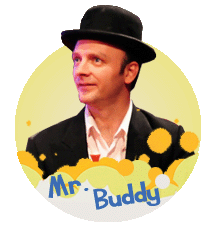 MR. BUDDY
You usually see Mr. Buddy as part of the comedy team of Mssrs. Snapper & Buddy but he has also hosted the Monday Night Tease solo on a few occasions and as a part of that team has performed in our show a few times a well, namely at our popular "Burlesqueland!" shows. Mr. Buddy admits that he is creative, but not in a monetarily lucrative way, though he's been told I deserve to be. When he's not onstage as Mr. Buddy, he is an actor/writer who writes tragedy and performs comedy. He often plays bad guys but prefers to live as a good guy. Though sometimes he feels it all gets confused. See him in our show in a role written especially for him at "Beach Blanket Burlesque 2: Shimmy In The Sand!"
Mr. Snapper & Mr. Buddy on Facebook

Live Music by: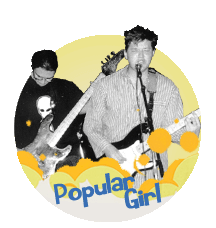 POPULAR GIRL
Originally we were supposed to have THE DEL REYS in this show, but due to other commitments, they had to drop out and this band - who were only supposed to be onstage for 15 minutes as part of the main show, is finding themselves opening for the show...after not having played live in front of an audience for over 10 years. POPULAR GIRL features producer Chris Beyond and Harry Mirkin as well as guest star Dick Envy who will be filling in for PG performer Ernie Mejia who lives out of state now. Dick Envy even wrote a new song for a dance sensation that they plan to debut at the show! So expect a bit of a rough set, but they hope that the fun and silliness of their performance shines though any of the rust that may have accumulated over the years.
http://www.myspace.com/populargirlband

Produced by: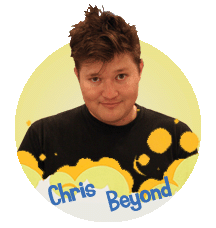 Produced and Special Appearances by CHRIS BEYOND
Chris Beyond has been a part of the L.A. independent music scene since the early nineties and has really had his hands full since then. He is the creator of No-Fi "Magazine" in 1996 and No-Fi "Radio" in 2002, both of which are still in production today. He has appeared on the television shows SEXBYTES on HBO and on DEADLINE on HDnet. He's been an in-studio guest on the radio show LOVELINE, was interviewed on Playstation.com, and has been published in Ben Is Dead and Harper's magazines. He has produced several concerts around the Los Angeles area as well as been a member of the bands EAR BEYOND and POPULAR GIRL. In fact you'll be able to see him performing with POPULAR GIRL tonight, opening for this show in their first live appearance in over 10 years. He is also a designer whose works have appeared in albums, magazines, newspapers, flyers, and DVDs (including the burlesque film Broad Daylight directed by JMM) and designs most of the posters you see associated with this show. He is a prominent burlesque and pin-up photographer in the burlesque scene and a staffmember of the Burlesque Hall Of Fame/Exotic World. He has hosted shows for Shimmy & Shake, Dolls Of Fox, Monday Night Tease, & more, and is co-host of The Burlesque Podcast with Lili VonSchtupp.
http://www.myspace.com/beyondphotography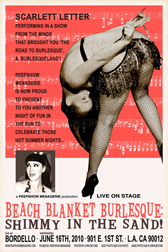 Produced by SCARLETT LETTER
Scarlett Letter is not only the co-producer of this show, but was also the co-producer of the long running MONDAY NIGHT TEASE. She has performed at Exotic World in 2007 and 2008 and was winner of "Most Classic" at the 2007 Boston Burlesque Exposition and most recently won "Best Solo Performance" and The Legends' Award at the 2010 Boston Burlesque Exposition. She has performed in more countries than you've been to. She's got "four feet of red hair and miles of bad intentions" and dances her life away every chance she gets. This includes currently: Burlesque at the 3 of Clubs, Rocky Horror with Wild and Untamed Things (WUT), and miscellaneous burlesque, go-go, and pole-go around the greater Los Angeles Metropolitan area.
http://www.myspace.com/apriest


Photos from event Coming Soon after the show!
















Click on each image to see a BIGGER version!
PAST SHOW REVIEWS!
Jack Dagger's experience at Peepshow Menagerie: Burlesqueland!