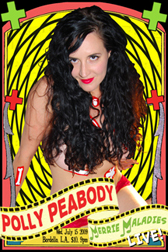 POLLY PEABODY
Polly Peabody has graced the stages of the following establishments: The Slipper Room, The Blue Angel, Limelight, Rififi, Veruka, Galapagos, SHOW, The Spider Club, The Key Club, The Derby, Tangier, Passive Arts Studios, MBar, El Cid, Fais Do Do, Bordello and many more that she's forgotten to mention. She has worked with The Boomshell Girls (NYC), The Va Va Voom Room (San Francisco and NYC), The Red Rooster Review (Key West), and with the great Shelly Bomb on events in Vegas, NY, Madison, Wisconsin and beyond. She and partner Crystal Swarovski competed in the Miss Exotic World competition 2006. Their production company, Lopsided Productions has been bringing infantile entertainment to LA for a good four years now -- on and off, you know, whatever... She was a contributor and co-writer on Miss Swarovski's opus, Kubrilesque. Before that, she was co-artistic director at SHOW Nightclub with NY club impresario, Norman Gosney. She co-directed The Pink Rhino Review, The Pirate Show, Dark Carnival and The Hitchcock Show, as well as co-opening for Pink, Britney Spears, and Dita Von Teese. Fancy right? Nowadays, her main focus within the wacky world of neuvo-retro-homo-fatso-metro-lesbo-burlesque is to sharpen her razor-like wit on the whetstone of David Hasselhoff, abortion jokes, and the vast comic trench of Adolf Hitler, securing a place for herself as the proverbial "hostess with the mostest," a cognomen she has bestowed shamelessly on herself (at least she admits it, girls). Her alter ego, Adria Lang, is a screenwriter and novelist living in Echo Park with her cat Bobo. This is her fourth appearance in Peepshow Menagerie.
http://www.pollypeabody.com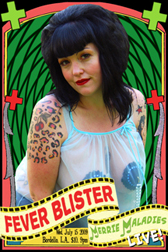 FEVER BLISTER
Fever Blister is a former club-kid & Go Go Gal turned "ENTERTAINER EXTRAORDINAIRE". An Unconventional conventionalist, don't call her a PIN-UP please. She is too heavy to hang on the wall... She isn't a model, she considers herself a personality! She believes in ambitious exploitation of her female assets... Her specialty is her own take on BURLESQUE ENTER*TEASE*MENT. Not only is she a burlesque performer, she's a producer of shows for the ANIMAL charity she founded - PAWS FOR A CAUSE in L.A. & also the producer of The BANG! BANG! Burlesque Show. She's a clothing & costume designer, sock rocker, jack-off of all trades, sex symbol, scavanger of used goods, former queen of the Cleveland scene now rocking out in Bob Barker's guest house in Burbank, California. A Voluptuous Blood Sucker, Volcanic Orgasmic Song Bird, Head stomper, Pastie twirler, Consumer of fine sparkling water, Candy advocate/enthusiast/addict and Tattoooed to the 9th power. She's the only fever you'd want to catch. And you'd better catch her at this show as she is going to be moving to Cleveland and this may be your last time to catch her in our show for a while. We hate seeing her go, but look HOW she goes!
http://www.myspace.com/feverbeaver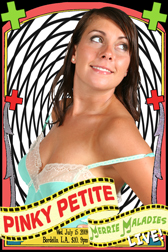 PINKY PETITE
The sweet petite treat known as Miss Pinky Petite hails originally from Boston where she was a member of THE BOSTON BABYDOLLS and even performed with them at the 2006 Miss Exotic World pageant. In 2007 she moved to Los Angeles and quickly found a place near the beach and a place in the Los Angeles Burlesque Scene. She has performed at VICTORY VARIETY HOUR, SHIMMY & SHAKE, PIRATE BURLESQUE, and the MONDAY NIGHT TEASE. She was the coverstar of "Chris Beyond's Bootleg Stag Party" cd and will also be featured in an upcoming issue of Bachelor Pad Magazine. This will be her fifth appearance at PEEPSHOW MENAGERIE and will be giving a demonstration of proper bandaging techniques!
http://www.myspace.com/pinkypetite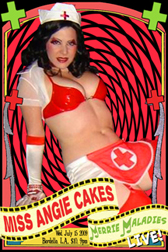 MISS ANGIE CAKES
Miss Angie Cakes has been performing in night clubs from East to West Coast since the late 1990's. By day, she's a Fashion Designer for a local clothing company in Los Angeles. At night, the stage is her second home. She also makes her own costumes and accessories and will be launching her very own line soon. This little cookie loves all things sweet, (especially cake!). She's a cupcake cutie who spreads her frosting where ever she goes. With just 2 cups of sugar, a little spice, & a pinch of glitter, she'll bake up the hottest show in town and plans to bake you right in your seat with her third performance with PEEPSHOW MENAGERIE on Wednesday, July 15th of 'Oh, Nine!'
http://www.myspace.com/missangiecakes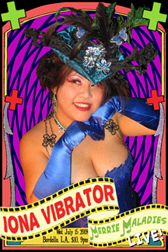 IONA VIBRATOR
Hitachi is her middle name and she wants you all to lubricate rather than hate. She has studied with amazing Jewel of Denial, Penny Starr Jr., Lux LaCroix, and Vixen Violette. One of L.A.'s newest performers, he is now booking shows and getting her feet wet in the Burlesque scene. She recently took part in the 4th Annual Las Vegas Photo Safari during Burlesque Hall Of Fame: Exotic World Weekend. She loves Burlesque dancers and aficionados, lovers of music and art, people who like to shimmy until their sides hurt, and the scientists who discovered the g-spot. She made the stage hotter, if that was even possible in last month's show-within-a-show "Fun In The Sun" during Beach Blanket Burlesque. If you missed her then, don't miss her this time on Wednesday, July 15th at Bordello!
http://www.myspace.com/ionavibrator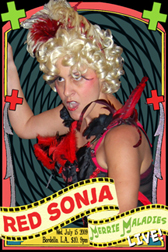 RED SONJA
We are very lucky to be able to bring to you Miss Red Sonja from New York, who is on tour around the country bringing her manic brand of burlesque from town to town like some kind of half dressed female Johnny Appleseed. Would that make her Joanie Appleseed? Well she also runs a burlesque workshop in New York so she really does bring burlesque straight to the people on all levels. She doesn't consider herself to be a dancer, but rather an actress, musician, director, and performance artist. She has performed in Rosie Red Burly-Q, Comedy Period, Hollywood's Monday Night Tease, and probably several others to long to list here. Her acts are very high high energy and we imagine she'll be bringing that same level of energy to our stage on Wednesday, July 15th at Bordello.
http://www.myspace.com/redsonja01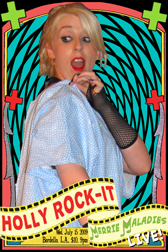 HOLLY ROCK-IT
JUST ADDED!: Holly Rock-It is a burlesque performer based out of Hollywood, CA. Trained by Penny Starr Jr. and Jewel of Denial, she has performed at Bordello, Vanguard, Mr T's Bowl, the American Legion Hall (deemed "too risque" for America's veterans!), and Hollywood's 3 Clubs at Monday Night Tease. She won the title "Miss May Sunset Striptacular" at the world famous Cat Club on the Sunset Strip. She also recently took part in the 4th Annual Las Vegas Photo Safari during Exotic World / Burlesque Hall Of Fame 2009 weekend. See her dish out the burlesque medicine at our show on Wednesday, July 15th at Bordello.
http://www.myspace.com/hollyrockitburlesque


With a Special Performance by: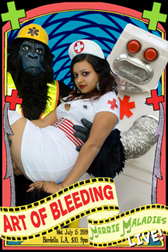 THE ART OF BLEEDING
The Art of Bleeding Foundation offers educational programs designed to familiarize children young and old with the immediate experience of medical emergency. Their presentations, often staged from an ambulance, utilize a unique mix of live performance, film, puppets, music, narrative, dance, and managed accidents to explore themes more productively addressed via common sense. They are promoters of EMERGENCY MEDICINE FOR THE UNCONSCIOUS MIND and TRUE SAFETY CONSCIOUSNESS. They believe learning can be fun and strive to create an engaging environment in which greater understanding of universal and catastrophic mortality is inescapable. As a non-accredited educational foundation, they are free to explore unconventional modes of teaching and presentation, conveying practical information on medical emergencies in a manner inclined to leave lingering impressions on both children and adults. Because they offer no placebo against life's ills, The Art of Bleeding has been labeled "a traveling medicine show without any cure". But once you meet Abram The Safety Ape and RT The Teacher Robot, your heart will warm up for at least the next 30 minutes. We are not liable for any kind of heart warming you endure during the show.
http://www.artofbleeding.com


Hosted by: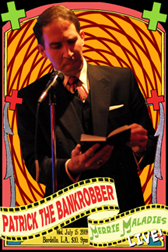 PATRICK THE BANK ROBBER
Since the beginning of Peepshow Menagerie, he has always occupied a corner of the upper deck of Bordello; well dressed, sharply combed, and watching silently from above. We eventually discovered that his name is Patrick The Bank Robber and when he isn't a burlesque enthusiast, he can often be found on stage reciting Shakespeare, traveling across the country, or just simply robbing banks (it is his name after all and he's a pretty genuine fellow). After being made at various shows across town, he eventually found himself hosting for shows like Ragdolls Burlesque and the Monday Night Tease. This will be his second time in two months hosting our show after co-hosting and writing the script for Peepshow Menagerie: Beach Blanket Burlesque last month. Watch your wallets, watches, and hearts, because Patrick The Bank Robber will be on our stage at Bordello on Wednesday, July 15th.
http://www.myspace.com/patrickthebankrobber


Produced by: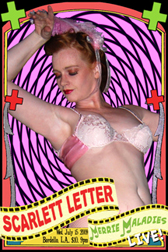 Performing Burlesque and Produced by SCARLETT LETTER
Scarlett Letter is not only the co-producer of this show, but is also the co-producer of the MONDAY NIGHT TEASE which takes place every Monday at 3 Clubs in Hollywood. Like most dancers in Hollywood, Scarlett Letter has been performing since childhood. However, her experiences have helped her develop a strong capacity for performing off the cuff and from the hip. During her lonely days in rural Nevada, she spent many a night performing under the glow of a black and white TV, dancing along with the best. She quickly developed an "I can do that" attitude and jumped at every performance opportunity that came her way. Upon moving to California, she put her dreams of a chorus girl life on the backburner and earned a bachelors in Performing Arts Management. Since her graduation, it has been all systems go. Now, she is using the skills acquired growing up Mormon to keep her trunk full of award winning costumes and ready for every situation. Scarlett has performed in a wide variety of venues including the World Famous Derby, The Queen Mary in Long Beach, The Whiskey a Go-Go, the Gig and the Mint. You may have recently seen her in an episode of the television show "Chuck" where she played the part of an unsavory stripper which is worlds away from her real life persona. She has also performed in Tucson, Vancouver, Seattle, Las Vegas and Boston, where she was awarded the title of "Most Classic" at the Great Boston Burlesque Exposition of 2007. She has been absent for the last two shows while on tour in Europe with the Kubrilesque burlesque show, but she's back, refreshed, and ready to hit the Peepshow Stage (and backstage) again!
http://www.myspace.com/apriest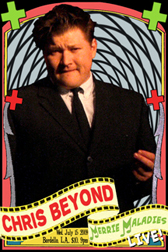 Produced and Special Appearances by CHRIS BEYOND
Chris Beyond has been a part of the L.A. independent music scene since the early nineties and has really had his hands full since then. He is the creator of No-Fi "Magazine" in 1996 and No-Fi "Radio" in 2002, both of which are still in production today. He has appeared on the television shows SEXBYTES on HBO and on DEADLINE on HDnet. He's been an in-studio guest on the radio show LOVELINE, was interviewed on Playstation.com, and has been published in Ben Is Dead and Harper's magazines. He has produced several concerts around the Los Angeles area as well as been a member of the bands EAR BEYOND and POPULAR GIRL. He is also a designer whose works have appeared in albums, magazines, newspapers, flyers, and DVDs (including the burlesque film Broad Daylight directed by JMM). He is a prominent burlesque and pin-up photographer in the burlesque scene and a staffmember of the Burlesque Hall Of Fame/Exotic World. He has hosted shows for Shimmy & Shake, Dolls Of Fox, Monday Night Tease, & more, and is co-host of The Burlesque Podcast with Lili VonSchtupp.
http://www.myspace.com/beyondphotography


Photos from the show!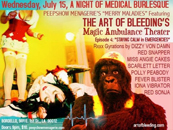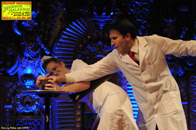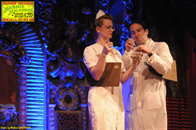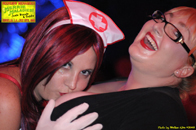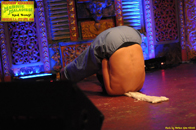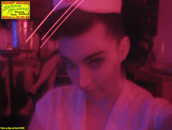 Click on each image to see a BIGGER version!
PAST SHOW REVIEWS!
Jack Dagger's experience at Peepshow Menagerie: Burlesqueland!