Featuring Burlesque & Tease Prescriptions by: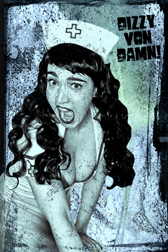 DIZZY VON DAMN!
Dizzy Von Damn! is an experiment gone horribly awry- she's what happens when you mix the genes of the lovely Bettie Page with those of kitschy-eccentric Liberace; she's proof that science can be sexy...and weird. As Miss Viva Las Vegas 2008, she can be seen in the 2010 LA Burlesque Calendar and she has performed across the country- not to mention performing regularly at Peepshow Menagerie, Monday Night Tease, and producing her own show, Uncommon Burlesque at the Commonwealth Lounge. She enjoys pineapples and space, and believes that the truth is out there.
http://www.dizzyvondamn.com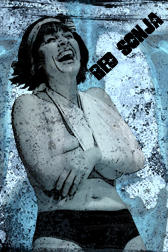 RED SONJA
We are very happy to bring to you Miss Red Sonja who is a recent transplant from New York, who is known for touring around the country, bringing her manic brand of burlesque from town to town like some kind of half dressed female Johnny Appleseed. Would that make her Johnny Appleseed? Well she also runs a burlesque workshop in New York so she really does bring burlesque straight to the people on all levels. She doesn't consider herself to be a dancer, but rather an actress, musician, director, and performance artist. She has performed in Rosie Red Burly-Q, Comedy Period, Hollywood's Monday Night Tease, and probably several others to long to list here. Her acts are very high high energy and if you missed her performance at our Beatles Inspired show; PLEASE TEASE ME, you won't want to miss her medical burlesque act at this show.
http://www.myspace.com/redsonja01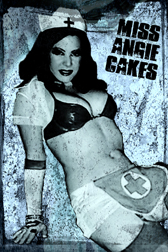 MISS ANGIE CAKES
Miss Angie Cakes has been performing in night clubs from East to West Coast since the late 1990's. By day, she's a Fashion Designer for a local clothing company in Los Angeles. At night, the stage is her second home. She also makes her own costumes and accessories and will be launching her very own line soon. This little cookie loves all things sweet, (especially cake!). She's a cupcake cutie who spreads her frosting where ever she goes. With just 2 cups of sugar, a little spice, & a pinch of glitter, she'll bake up the hottest show in town and plans to bake you right in your seat with her third performance with PEEPSHOW MENAGERIE on Wednesday, July 21st of 'Oh, Nine!'
http://www.myspace.com/missangiecakes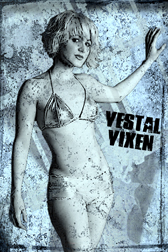 VESTAL VIXEN
VESTAL adjective- (1) Roman Mythology: a) Of or relating to Vesta b)Relating to or characteristics of the vestal virgins (2) Chaste; pure. noun- (1) Roman Mythology: A vestal virgin (2) A woman who is a virgin (3) A nun. VIXEN noun- (1) A female fox (2) a sexually attractive woman. Hailing from Southern California, Burlesque diva Vestal Vixen combines millennia of feminine sensuality in a shiny new package. Whether sizzling on stage as a member of Miss Kitty's Filthy Family or dazzling the room with beauty and class during her Burlesque numbers, Vestal Vixen knows how to seduce a crowd and leave them yearning for more.
http://www.myspace.com/vestalvixen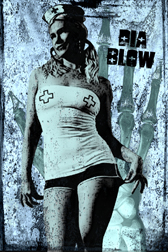 DIA BLOW
Your favorite fallen angel, from the depths of hell comes Miss Dia Blow, a favorite of Satan's roller skating, hellfire spitting vixens! Don't let that sweet smile fool you, she will steal your soul just as soon as kiss you! Dia is known to wear a lot of hats; helmets, top hats, fedoras, and of course her devil horns. She also wears a lot of shoes; skates, heels, chucks, spurs, folded up newspapers, and toe socks. She also wears a backpack with a towel in it and asks us not to question it. Dia is a member of the Angel City Derby Girls. If you ever get lucky enough to go skating with her, be sure to to wear more protection than your standard knee and elbow pads because if you get in her way, you surely find yourself under her wheels. Since skating her way into the burlesque scene, she has performed at the Monday Night Tease, Viva Las Vegas, Pirate Burlesque, and various others.
http://www.myspace.com/diablowburlesque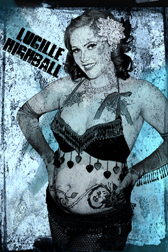 LUCILLE HIGHBALL
A sexpot so intoxicating it will take 12 steps to get over her! (And even still, she'll haunt you in your drunken dreams) Growing up doing musical theater and dance, she loves getting dolled up, and playing a role other than her day to day persona. She's also doing a bit of modeling on the side. She has performed at the Monday Night Tease and with Sealed With A Kiss Burlesque. This will be her 2nd performance with Peepshow Menagerie and we are very happy that she is joining us in our Operating Theatre at Bordello.
http://www.lucillehighball.com/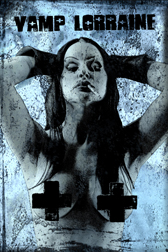 VAMP LORRAINE
Vamp Lorraine came to this mortal coil from the union between Vampira and Bela Lugosi. When she is not lurking in the cemetary with her pet Tarantula Lydia, she can be found shopping for shoes, tight-lacing corsets or tantalizing Los Angeles burlesque audiences. You may have seen her perform at Bordello before with Courtney Cruz, but we are happy to have here in our Operating Theatre of Burlesque for her Peepshow Menagerie debut.
http://www.modelmayhem.com/425375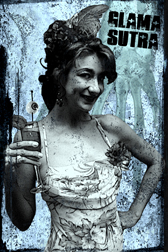 GLAMA SUTRA
Our favorite Los Angeles hedonist, Glama Sutra, considers herself to be a drag queen trapped in a straight woman's body. She recently made her burlesque debut at the Monday Night Tease and plans to bring her fresh energy and talents to our stage for a medical burlesque check-up that she and YOU won't forget.
Glama Sutra on FACEBOOK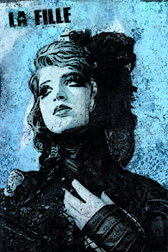 LA FILLE
La Fille is a broken dolly with a diabolical streak, a Tim Burtonesque aesthetic and David Lynchian flair. Throughout her childhood she studied ballet and acted in plays at The Knightsbridge Theatre. She moved on to study experimental improv at Rachel Rosenthal Studio and is currently a Film/Video major at the California Institute for the Arts. La Fille weaves her fascination with dark surrealism and Gothic Victorian aesthetics to create emotionally stimulating 'tragic burlesque' acts that both titillate and provoke the psyche. She currently performs with the LA Poetry Brothel and the band Many of Odd Nature and looks forward to producing some 'beautifully insane' interdisciplinary performance art shows in the near future.
La Fille on Facebook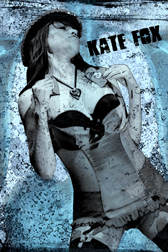 KATE FOX
Kate Fox is this month's "peepshow pin-up" that you may have seen on the back of all of our postcards and was booked to perform in this show but unfortunately has had to cancel for personal family reasons.


Pick-Up by: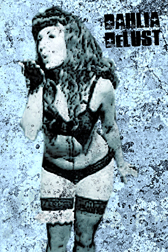 DAHLIA DeLUST
Normally Dahlia DeLust would be performing burlesque on our stage, but she couldn't miss out on getting on our stage for a burlesque medical show, even if she has to pick up after the doctor and his many nurses. Known to her friends as Voodoo Dahlia, she's been teasin' and peelin' since 2006 with the OC Underground Burlesque Society and is always shakin' her way to a burlesque stage near you! She is known for her Voodoo Doll act and her Raven act which she performs in seven and a half inch ballet heels, but she'll be bringing you an act dedicated to the working women of America. No, not THAT kind of working woman, but the kind that toils almost thanklessly using good ol' American know-how to get the job done!
http://www.myspace.com/dahliadelust


Live Music provided by: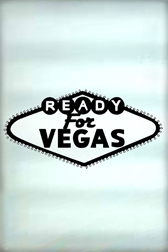 READY FOR VEGAS
Ready For Vegas is an award winning 6-piece, female-fronted, rock band from the Inland Empire region of Southern California. Since forming in 2002, they have been lucky enough to play with bands like Squirrel Nut Zippers, Cherry Poppin' Daddies, Agent Orange, The English Beat, The Blasters, and many more. They have opened for many burlesque shows including several shows by Shimmy & Shake. Ready For Vegas has released 1 e.p. and 3 full length albums on their own. The latest album "Up To No Good" helped them win and Inland Empire Music Award for best 'pop-rock' band for 2009.
http://www.myspace.com/readyforvegas


Hosted by: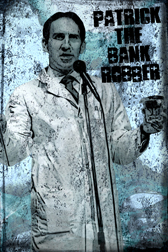 PATRICK THE BANK ROBBER
Since the beginning of Peepshow Menagerie, he has always occupied a corner of the upper deck of Bordello; well dressed, sharply combed, and watching silently from above. We eventually discovered that his name is Patrick The Bank Robber and when he isn't a burlesque enthusiast, he can often be found on stage reciting Shakespeare, traveling across the country, or just simply robbing banks (it is his name after all and he's a pretty genuine fellow). After being made at various shows across town, he eventually found himself hosting for shows like Ragdolls Burlesque and the Monday Night Tease and producing his own show called Raymond Burl Esq. & The Family Ballyhoo. Watch your wallets, watches, and hearts, because Patrick The Bank Robber will be on our stage at Bordello on Wednesday, July 21st.
http://www.myspace.com/patrickthebankrobber


Produced by: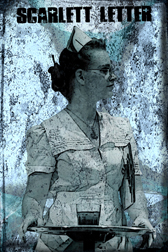 Performing Burlesque and Co-Produced by SCARLETT LETTER
Scarlett Letter is not only the co-producer of this show, but is also the co-producer of the MONDAY NIGHT TEASE which takes place every Monday at 3 Clubs in Hollywood. Like most dancers in Hollywood, Scarlett Letter has been performing since childhood. However, her experiences have helped her develop a strong capacity for performing off the cuff and from the hip. During her lonely days in rural Nevada, she spent many a night performing under the glow of a black and white TV, dancing along with the best. She quickly developed an "I can do that" attitude and jumped at every performance opportunity that came her way. Upon moving to California, she put her dreams of a chorus girl life on the backburner and earned a bachelors in Performing Arts Management. Since her graduation, it has been all systems go. Now, she is using the skills acquired growing up Mormon to keep her trunk full of award winning costumes and ready for every situation. Scarlett has performed in a wide variety of venues including the World Famous Derby, The Queen Mary in Long Beach, The Whiskey a Go-Go, the Gig and the Mint. You may have recently seen her in an episode of the television show "Chuck" where she played the part of an unsavory stripper which is worlds away from her real life persona. She has also performed in Tucson, Vancouver, Seattle, Las Vegas and Boston, where she was awarded the title of "Most Classic" at the Great Boston Burlesque Exposition of 2007. Recently Scarlett began teaching a class on burlesque in Ventura called "The Little Red Schoolhouse Of Burlesque." Even more recently Scarlett was BACK at the Boston Burlesque Expo and won the titles of "Best Solo Performance" and the "Legends Award" for 2010.
http://stagelightstudios.com/the_little_red_schoolhouse_of_burlesque_workshop.html
http://www.myspace.com/apriest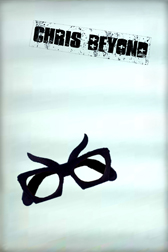 Co-Produced by CHRIS BEYOND
Chris Beyond has been a part of the L.A. independent music scene since the early nineties and has really had his hands full since then. He is the creator of No-Fi "Magazine" in 1996 and No-Fi "Radio" in 2002, both of which are still in production today. He has appeared on the television shows SEXBYTES on HBO and on DEADLINE on HDnet. He's been an in-studio guest on the radio show LOVELINE, was interviewed on Playstation.com, and has been published in Ben Is Dead and Harper's magazines. He has produced several concerts around the Los Angeles area as well as been a member of the bands EAR BEYOND and POPULAR GIRL. He is also a designer whose works have appeared in albums, magazines, newspapers, flyers, and DVDs (including the burlesque film Broad Daylight directed by JMM). He is a prominent burlesque and pin-up photographer in the national burlesque scene and a staffmember of the Burlesque Hall Of Fame/Exotic World. He has hosted shows for Shimmy & Shake, Dolls Of Fox, Monday Night Tease, & more, and is co-host of The Burlesque Podcast with Lili VonSchtupp which recently began production on it's second season of shows which are available for free on iTunes. By the way, if you are lucky and time permitting, you just MIGHT win a copy of his new "Chris Beyond's Bootleg Stag Party Volume 2" at this show! Just be prepared to be pulled on stage for the chance.
http://www.myspace.com/beyondphotography
http://www.facebook.com/chrisbeyond


Show Photos! (Live photos will be updated after the show.)













Click on each image to see a BIGGER version!
PAST SHOW REVIEWS!

GUEST OF A GUEST shares a very positive and humorous review of Burlesqueland 2010.

THE GLOSS suggests visiting Burlesqueland over Iceland.

THE L.A. WEEKLY joins the "Burlesqueland!!" cast at at the park for Burlesque Day At D-Land.

THE L.A. WEEKLY visits Peepshow Menagerie "Burlesqueland!!"

THE L.A. WEEKLY visits Peepshow Menagerie as their featured slideshow!

THE GUARDIAN U.K.'s very positive mention about Peepshow Menagerie in this article about David Lynch!

HOLLYWIRE.COM's review of Peepshow Menagerie: Beneath The Surface!

A review of Peepshow Menagerie: Beneath The Surface on YELP.COM!

Jack Dagger's experience at Peepshow Menagerie: Burlesqueland!