Featuring Mop-Top Inspired Burlesque Performances By: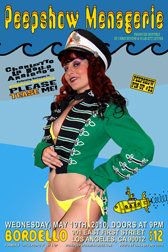 CHARLOTTE LA BELLE ARAINGE'E
Charlotte La Belle Arrainge'e (whose name translates into "Charlotte The Beautiful Spider") first performed in Peepshow Menagerie during last August's David Lynch themed show called Beneath The Surface). Even though it took us lat long to finally get her in one of our shows, she is actually one of the pioneers of the new wave of burlesque who has been performing since the late 80's. She produces a show called Buckingham Burlesque. She designs and creates the majority of her hats, corsets and costumes. She has performed on the main stage at Exotic World (aka "The Burlesque Hall Of Fame"), Lucha VaVoom, Ink & Iron, has opened for Dita Von Teese at The Orpheum Theatre, and has performed at many of the best burlesque stages all over the world. She is a great performer and friend of the show and we are very happy to have her back.
http://www.myspace.com/charlottesparlor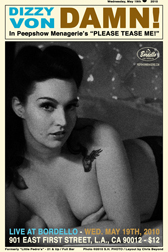 DIZZY VON DAMN!
Dizzy Von Damn! is an experiment gone horribly awry- she's what happens when you mix the genes of the lovely Bettie Page with those of kitschy-eccentric Liberace; she's proof that science can be sexy...and weird. As Miss Viva Las Vegas 2008, she can be seen in the 2010 LA Burlesque Calendar and she has performed across the country- not to mention performing regularly at Peepshow Menagerie, Monday Night Tease, and producing her own show, Uncommon Burlesque at the Commonwealth Lounge. She enjoys pineapples and space, and believes that the truth is out there. She last performed at Peepshow Menagerie as the host for the 2nd year in a row of our successful Burlesqueland! show.
http://www.dizzyvondamn.com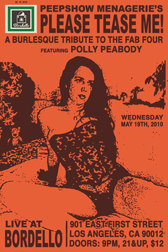 POLLY PEABODY
Polly Peabody has graced the stages of the following establishments: The Slipper Room, The Blue Angel, Limelight, Rififi, Veruka, Galapagos, SHOW, The Spider Club, The Key Club, The Derby, Tangier, Passive Arts Studios, MBar, El Cid, Fais Do Do, Bordello and many more that she's forgotten to mention. She has worked with The Boomshell Girls (NYC), The Va Va Voom Room (San Francisco and NYC), The Red Rooster Review (Key West), and with the great Shelly Bomb on events in Vegas, NY, Madison, Wisconsin and beyond. She and partner Crystal Swarovski competed in the Miss Exotic World competition 2006. Their production company, Lopsided Productions has been bringing infantile entertainment to LA for a good four years now -- on and off, you know, whatever... She was a contributor and co-writer on Miss Swarovski's opus, Kubrilesque. Before that, she was co-artistic director at SHOW Nightclub with NY club impresario, Norman Gosney. She co-directed The Pink Rhino Review, The Pirate Show, Dark Carnival and The Hitchcock Show, as well as co-opening for Pink, Britney Spears, and Dita Von Teese. Fancy right? Nowadays, her main focus within the wacky world of neuvo-retro-homo-fatso-metro-lesbo-burlesque is to sharpen her razor-like wit on the whetstone of David Hasselhoff, abortion jokes, and the vast comic trench of Adolf Hitler, securing a place for herself as the proverbial "hostess with the mostest," a cognomen she has bestowed shamelessly on herself (at least she admits it, girls). Her alter ego, Adria Lang, is a screenwriter and novelist living in Echo Park with her cat Bobo.
http://www.pollypeabody.com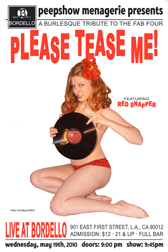 RED SNAPPER
"Sass, class and a black girl's ass" is only one of many ways to describe this performer. She brings with her a very impressive pedigree. She has studied pole dancing with Aphrodite Strip-N-Pole for two years. She's had the opportunity to study burlesque with several incredible performers: Lux LaCroix (Bump and Grind 101), Miss Indigo Blue (Academy of Burlesque), Jo Boobs (New York School of Burlesque), Jewel of Denial and Penny Starr, Jr. (Striptease Symposium), Scarlett Letter (Little Red Schoolhouse of Burlesque) as well as Lili VonSchtupp, Vanity Flair, Tigger!, Desire' D'Amour, Princess Farhana, and burlesque legends Wild Cherry and April March. Last year she starred in the play "Pin-Up Girls" (directed by Andrew Moore) in a role for which the L.A. Weekly called her "Robust And Sassy" and recently directed a play called "Tracing Sunny" for her theatre company Theatre Unleashed. She co-produced two Peepshow Menagerie shows during Scarlett Letter's absence (who was on a European tour) and has performed in more of our shows than any other performer, besides Scarlett. She is also the newest teacher with Striptease Symposium. Before that she has taught pole and chair dancing with Aphrodite Strip-N-Pole in West Hollywood, as well as coached a number of actresses in the art of striptease and she's even held a tassel twirling clinic for men. Ms. Snapper will perform to a number that fans of Fantasia would be familiar with.
http://www.myspace.com/ms_red_snapper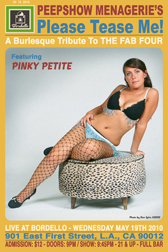 PINKY PETITE
The sweet and petite treat known as Miss Pinky Petite hails originally from Boston where she was a member of THE BOSTON BABYDOLLS and even performed with them at the 2006 Miss Exotic World pageant. In 2007 she moved to Los Angeles and quickly found a place near the beach and a place in the Los Angeles Burlesque Scene. She has performed at VICTORY VARIETY HOUR, SHIMMY & SHAKE, PIRATE BURLESQUE, and the MONDAY NIGHT TEASE. She was the coverstar of the first "Chris Beyond's Bootleg Stag Party" cd and will also be featured in an upcoming issue of Bachelor Pad Magazine. She is a regular performer at Peepshow Menagerie, but she hasn't been in our show since last October so we are very happy to have her back. show (or just wants to see her bring this character to life again!)
http://www.myspace.com/pinkypetite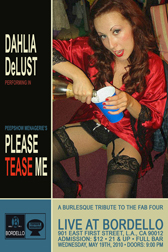 DAHLIA DeLUST
Dahlia DeLust has been missing from our stage for a while and we've certainly missed her. Known to her friends as Voodoo Dahlia, she's been teasin' and peelin' since 2006 with the OC Underground Burlesque Society and is always shakin' her way to a burlesque stage near you! She is known for her Voodoo Doll act and her Raven act which she performs in seven and a half inch ballet heels, but she'll be bringing you an act dedicated to the working women of America. No, not THAT kind of working woman, but the kind that toils almost thanklessly using good ol' American know-how to get the job done! Peepshow Menagerie is very happy to have her back for her 6th show with us! On our stage for this show she will be giving you a flashback of our Burlesqueland! show which, if you were there and remember, ties into the current theme quite nicely.
http://www.myspace.com/dahliadelust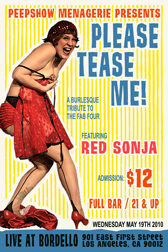 RED SONJA
We are very happy to bring to you Miss Red Sonja who is a recent transplant from New York, who is known for touring around the country, bringing her manic brand of burlesque from town to town like some kind of half dressed female Johnny Appleseed. Would that make her Johnny Appleseed? Well she also runs a burlesque workshop in New York so she really does bring burlesque straight to the people on all levels. She doesn't consider herself to be a dancer, but rather an actress, musician, director, and performance artist. She has performed in Rosie Red Burly-Q, Comedy Period, Hollywood's Monday Night Tease, and probably several others to long to list here. Her acts are very high high energy and we imagine she'll be bringing that same level of energy to our stage on Wednesday, April 21st at Bordello with an act the proposes that a big town like Seville has got to have more than one barber.
http://www.myspace.com/redsonja01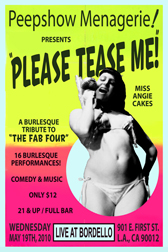 MISS ANGIE CAKES
Miss Angie Cakes has been performing in night clubs from East to West Coast since the late 1990's. By day, she's a Fashion Designer for a local clothing company in Los Angeles. At night, the stage is her second home. She also makes her own costumes and accessories and will be launching her very own line soon. This little cookie loves all things sweet, (especially cake!). She's a cupcake cutie who spreads her frosting where ever she goes. With just 2 cups of sugar, a little spice, & a pinch of glitter, she'll bake up the hottest show in town! In this particular show she intends to spread a particular word.
http://www.myspace.com/missangiecakes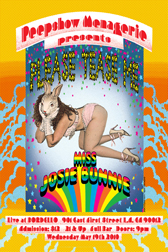 MISS JOSIE BUNNIE
She's got "Curves, Curls and Baby Blue Eyes!" Josie Bunnie is a burlesque performer, occasional nude model, and confirmed nudist who loves being creative and artistic. She has performed at El Cid with the Victory Variety Hour & Schmutzig, 3 Clubs with the Monday Night Tease, Mr T's Bowl and The Scene club with Burlesque-a-go-go, in the live Camp Burlesque show, and other various shows. She is a student of Kitten De Ville, Augusta (AKA Penny Starr Jr.), Jewel Of Denial, Lux La Croix and Vixen Violette. She is a very bubbly person who likes to socialize and meet new people. She knows what she's got and knows how to use it, as they say. She also says she loves being in front of a camera and playing with her kitty cats.
http://www.myspace.com/sarahcface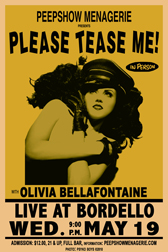 OLIVIA BELLAFONTAINE
Olivia Bellafontaine is a young woman with a heart full of artistic desires. She loves the worlds of vintage, fetish, and Avant-Garde art. In addition to burlesque, she is a model and actress who recently starred in the upcoming campy horror film; Burlesque Massacre (which also stars our friends Crystal Swarovski, Dolly Danger, and Polly Peabody who is also performing in Peepshow Menagerie this month). She has performed on our stage before as part of Cherry Kiss Burlesque at our David Lynch tribute called "Beneath The Surface" when they did their mind-blowing tribute to the David Lynch film "Inland Empire." This will be her 2nd time performing in our show.
http://www.myspace.com/flowergirlwithagun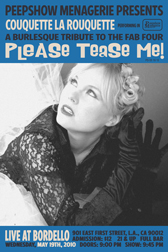 COUQUETTE LA ROUQUETTE!
Coquette spent years lost in a dark world until the fateful day she stumbled upon Lux Lacroix's Bump and Grind 101. From that day forward the wonderful world that is burlesque cast light overpowering all darkness and Coquette La Roquette was born! Coquette studied at the Striptease Symposium, danced at the Monday Night Tease, Pirate Burlesque, Burlesque a Go-Go, Club Schmutzig and Uncommon Burlesque ...just to name a few. This performance will be Coquette's Peepshow Menagerie debut! Coquette once met Sir Paul McCartney when she was seven and has been an avid Beatles fan ever since. Her burlesque as you will find, is fun and quirky. Much like herself! Coquette is also an actress and has if asked nicely may perform a dramatic monologue for you. In her free time she likes bedazzling and practicing her high kicks.
http://www.myspace.com/sarahcface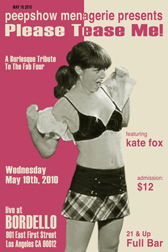 KATE FOX
Kate Fox was born into an aristocratic family in London, England and has been raising hell in polite society ever since. When her nasty mum and dad threatened to disown her if she didn't give up her dream of becoming a burlesque queen, she flipped her family the bird, denied her inheritance, and hightailed her arse to Orange County. Shortly after arriving in California in 2006, she noticed a serious lack of burlesque in OC and promptly founded The Orange County Underground Burlesque Society - a group of saucy, bawdy girls who love to shake their tailfeathers. Her interests include cabaret culture, modern art, lingerie, gender studies, class warfare, banned literature, witty men and French girls. An accomplished equestrian back in jolly old England, Kate loves to ride wild stallions...and phillies. Cheers!
http://www.myspace.com/katefox_ubs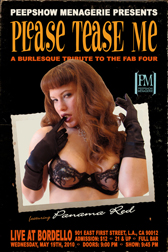 PANAMA RED
Panama Red talks about herself in the 3rd person. She is a lover of all things glamourous and ostentatious. She is a fan of rhinestones. She likes the bump and grind. It's no wonder that she is also a lover of Burlesque. She performs when she can and you should come see her. Her favourite drink is the Seagram's 7 & 7. Buy her one. In this show she will be performing not only a feature song, but will also be taking part in the group number at the end of the show. Which song will she be doing for her solo number? Who knows? Maybe we'll tell you tomorrow.
http://www.myspace.com/mspanamared
Featuring Comedy & Contortion by: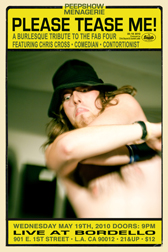 CHRIS CROSS
Chris Cross is a Stand-Up Comedian, Contortionist, Escapologist, and Magician from the UK. He Travels the World working for Many Corporate, Celebrity and VIP Clients. He Combines Stand-Up Comedy with Magic Tricks, Contortionism and Escapology. His Show Recieved a 5 Star 'Must See Act' Review at The 2008 Edinburgh Fringe Festival from The Stage Magazine and a 4 Star Review from Edinburgh's '3weeks' Reviewers. He's Supported Bands Such as: Bloc Party, Pendulum, stanton Warriors, Giles Peterson, and recently even opened for Lady Gaga. We are very happy to have him in our show and he lends the show the real tough of England in a show all about 4 guys from there.
http://www.facebook.com/group.php?gid=43708146774
Produced by: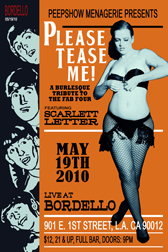 Performing Burlesque and Co-Produced by SCARLETT LETTER
Scarlett Letter is not only the co-producer of this show, but is also the co-producer of the MONDAY NIGHT TEASE which takes place every Monday at 3 Clubs in Hollywood. Like most dancers in Hollywood, Scarlett Letter has been performing since childhood. However, her experiences have helped her develop a strong capacity for performing off the cuff and from the hip. During her lonely days in rural Nevada, she spent many a night performing under the glow of a black and white TV, dancing along with the best. She quickly developed an "I can do that" attitude and jumped at every performance opportunity that came her way. Upon moving to California, she put her dreams of a chorus girl life on the backburner and earned a bachelors in Performing Arts Management. Since her graduation, it has been all systems go. Now, she is using the skills acquired growing up Mormon to keep her trunk full of award winning costumes and ready for every situation. Scarlett has performed in a wide variety of venues including the World Famous Derby, The Queen Mary in Long Beach, The Whiskey a Go-Go, the Gig and the Mint. You may have recently seen her in an episode of the television show "Chuck" where she played the part of an unsavory stripper which is worlds away from her real life persona. She has also performed in Tucson, Vancouver, Seattle, Las Vegas and Boston, where she was awarded the title of "Most Classic" at the Great Boston Burlesque Exposition of 2007. Recently Scarlett began teaching a class on burlesque in Ventura called "The Little Red Schoolhouse Of Burlesque." Even more recently Scarlett was BACK at the Boston Burlesque Expo and won the titles of "Best Solo Performance" and the "Legends Award" for 2010.
http://stagelightstudios.com/the_little_red_schoolhouse_of_burlesque_workshop.html
http://www.myspace.com/apriest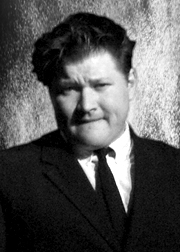 Co-Produced by CHRIS BEYOND
Chris Beyond has been a part of the L.A. independent music scene since the early nineties and has really had his hands full since then. He is the creator of No-Fi "Magazine" in 1996 and No-Fi "Radio" in 2002, both of which are still in production today. He has appeared on the television shows SEXBYTES on HBO and on DEADLINE on HDnet. He's been an in-studio guest on the radio show LOVELINE, was interviewed on Playstation.com, and has been published in Ben Is Dead and Harper's magazines. He has produced several concerts around the Los Angeles area as well as been a member of the bands EAR BEYOND and POPULAR GIRL. He is also a designer whose works have appeared in albums, magazines, newspapers, flyers, and DVDs (including the burlesque film Broad Daylight directed by JMM). He is a prominent burlesque and pin-up photographer in the national burlesque scene and a staffmember of the Burlesque Hall Of Fame/Exotic World. He has hosted shows for Shimmy & Shake, Dolls Of Fox, Monday Night Tease, & more, and is co-host of The Burlesque Podcast with Lili VonSchtupp which recently began production on it's second season of shows which are available for free on iTunes. By the way, if you are lucky and time permitting, you just MIGHT win a copy of his new "Chris Beyond's Bootleg Stag Party Volume 2" at this show! Just be prepared to be pulled on stage for the chance.
http://www.myspace.com/beyondphotography
http://www.facebook.com/chrisbeyond


Show Photos! (Live photos will be updated after the show.)




Click on each image to see a BIGGER version!
PAST SHOW REVIEWS!

GUEST OF A GUEST shares a very positive and humorous review of Burlesqueland 2010.

THE GLOSS suggests visiting Burlesqueland over Iceland.

THE L.A. WEEKLY joins the "Burlesqueland!!" cast at at the park for Burlesque Day At D-Land.

THE L.A. WEEKLY visits Peepshow Menagerie "Burlesqueland!!"

THE L.A. WEEKLY visits Peepshow Menagerie as their featured slideshow!

THE GUARDIAN U.K.'s very positive mention about Peepshow Menagerie in this article about David Lynch!

HOLLYWIRE.COM's review of Peepshow Menagerie: Beneath The Surface!

A review of Peepshow Menagerie: Beneath The Surface on YELP.COM!

Jack Dagger's experience at Peepshow Menagerie: Burlesqueland!