Featuring Readings by: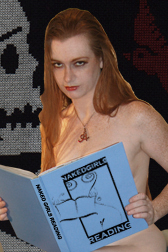 SCARLETT LETTER
Scarlett Letter is not only the co-producer of this show, but is the co-producer of The Letter Follies and also the former co-producer of the Monday Night Tease. She has performed at Exotic World in 2007 and 2008 and was winner of "Most Classic" at the 2007 Boston Burlesque Exposition and most recently won "Best Solo Performance" and The Legends' Award at the 2010 Boston Burlesque Exposition. She has performed in more countries than you've been to. She's got "four feet of red hair and miles of bad intentions" and dances her life away every chance she gets. This includes currently: Burlesque at the 3 of Clubs, Rocky Horror with Wild and Untamed Things (WUT), and miscellaneous burlesque, go-go, and pole-go around the greater Los Angeles Metropolitan area. Recently she was able to perform at a private show for director Quentin Tarantino who had never seen a real live fan dancer before in person and raved about her performance for over 5 minutes. This month she is also performing burlesque in Peepshow Menagerie's tribute to director David Lynch called Beneath The Surface.
http://www.scarlettlettera.com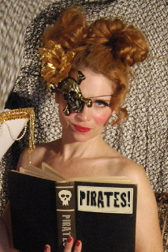 LAVENDAR LA RUE
Lavendar La Rue is in love with costumes and glam and everything vintage. Vaudville appeals to her and most of her performances reflect that. She's a little vaudvillian package, dancing to her own tune. She has performed at the MONDAY NIGHT TEASE at 3 Clubs, SCHMUTZIG(that's german for dirty) at El Cid, LE FEMMES CHERRIS at The Key Club, Bordello for Friday Nights, and SHIMMY & SHAKE. More than anything these days, Lavendar is known as the producer of Pirate Burlesque Presents which is a burlesque show dedicated solely to the pirate lifestyle. We can't imagine anyone more qualified to be in our show on "Talk Like A Pirate Day"!
http://twitter.com/LavendarLaRue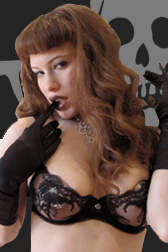 PANAMA RED
Panama often talks about herself in the 3rd person. She is a lover of all things glamourous and ostentatious. She is a fan of rhinestones. She likes the bump and grind. It's no wonder that she is also a lover of Burlesque. Her favourite drink is the Seagram's 7 & 7. Buy her one sometime. When she is not slaving away at her day job, you can find her in some of the very best burlesque shows in Los Angeles.
http://www.myspace.com/mspanamared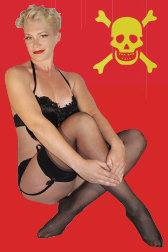 DIA BLOW
Your favorite fallen angel, from the depths of hell comes Miss Dia Blow, a favorite of Satan's roller skating, hellfire spitting vixens! Don't let that sweet smile fool you, she will steal your soul just as soon as kiss you! Dia is known to wear a lot of hats; helmets, top hats, fedoras, and of course her devil horns. She also wears a lot of shoes; skates, heels, chucks, spurs, folded up newspapers, and toe socks. She also wears a backpack with a towel in it and asks us not to question it. Dia is a member of the Angel City Derby Girls. If you ever get lucky enough to go skating with her, be sure to to wear more protection than your standard knee and elbow pads because if you get in her way, you surely find yourself under her wheels. Since skating her way into the burlesque scene, she has performed at the Monday Night Tease, Viva Las Vegas, Pirate Burlesque, and various others.


Photos from event Coming Soon after the show!




Click on each image to see a BIGGER version!