Starring: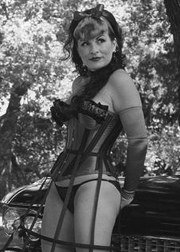 CHARLOTTE LA BELLE ARAIGNE'E
Last year at our first David Lynch Burlesque tribute, she saved the day when the person doing our Blue Velvet number fell ill and couldn't do the show. Lucky for us, we found out that Charlotte La Belle Arrainge'e (whose name translates into "Charlotte The Beautiful Spider") already had an act inspired by the film. And this year she's back and prominently credited on our poster. She is one of the pioneers of the new wave of burlesque who has been performing since the late 80's. She produces a show called Buckingham Burlesque. She designs and creates the majority of her hats, corsets and costumes. She has performed on the main stage at Exotic World (aka "The Burlesque Hall Of Fame"), Lucha VaVoom, Ink & Iron, has opened for Dita Von Teese at The Orpheum Theatre, and has performed at many of the best burlesque stages all over the world. She is a great performer and friend of the show and we are always very happy to have her back.
http://www.myspace.com/charlottesparlor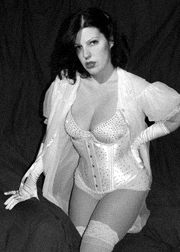 ANNA BELLS
Anna Bells first struck the Burlesque scene as half of The Fishnet Floozies back in the early to mid 2000's. Their talents brought them both to the Exotic World stage as well as appearing in the burlesque movie BROAD DAYLIGHT directed by John Michael McCarthy (Teenage Tupelo, Superstarlet A.D.). Until last year, she co-produced the annual burlesque holiday show "JESUS CHRIST: A HOLIDAY BURLESQUE REVUE." After taking much of 2008 off, she's back in her burlesque heels with force and plans to put one of Twin Peaks' favorite characters back in danger once again on this night of David Lynch themed burlesque. Beware the "Jack With One Eye."
http://www.myspace.com/annabells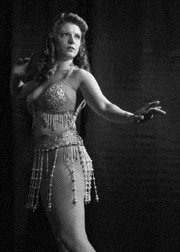 RED SNAPPER
"Sass, class and a black girl's ass" is only one of many ways to describe this performer. She brings with her a very impressive pedigree. She has studied pole dancing with Aphrodite Strip-N-Pole for two years. She's also had the amazing opportunity to study burlesque with several incredible performers: Miss Indigo Blue, Jo Boobs, Lux LaCroix, Jewel of Denial, Lili Von Schtupp, Vanity Flair, Scarlett Letter and Penny Starr, Jr.. Last year she starred in the play "Pin-Up Girls" (directed by Andrew Moore) in a role for which the L.A. Weekly called her "Robust And Sassy" and just finished directing a play called "Tracing Sunny" for her theatre company Theatre Unleashed. She co-produced two Peepshow Menagerie shows during Scarlett Letter's absence (who on her European tour) and has performed in more of our shows than any other performer, beside Scarlett, at this point. She recently performed in Inglorious Burlesque: The Third Annual Quentin Tarantino Burlesque Tribute in a private show for Tarantino himself who called her "Jack Rabbit Slims" act that she performed with Mr. Snapper one of his favorites. On this night she will be bringing one of David Lynch's most beloved characters back to life on our stage.
http://www.snapperburlesque.com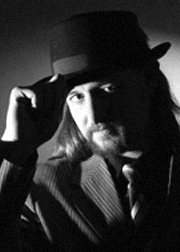 JONNY PORKPIE
According to the Wikipedia article about Jonny Porkpie, which Porkpie swears up and down he did not write, and which fails to meet the website's strict quality standards, "Jonny Porkpie is a New York City-based writer, director, and performer in neo-burlesque. So called for his porkpie hat, Jonny creates and hosts monthly theme-based burlesque shows as part of his production company, Pinchbottom Burlesque. His work has been touted in New York Magazine as the "best burlesque" in the City. He has of late been highlighted as a pivotal player in New York City's burlesque renaissance in media covering the phenemenon. Porkpie's own Web site states that he is running for Burlesque Mayor of New York City." His lurid pulp novel, "The Corpse Wore Pasties" (a burlesque murder mystery) which was published by Hard Case Crime in December 2009. He's a great friend to Peepshow from across the country and we are very happy and lucky to have him join us for this show in which he'll give us a peek "behind the trunk" (so to speak) of one of David Lynch's most critically acclaimed subjects
http://www.jonnyporkpie.com/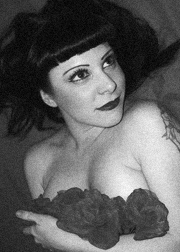 MISS ANGIE CAKES
Miss Angie Cakes has been performing in night clubs from East to West Coast since the late 1990's. By day, she's a Fashion Designer for a local clothing company in Los Angeles. At night, the stage is her second home. She also makes her own costumes and accessories and will be launching her very own line soon. This little cookie loves all things sweet, (especially cake!). You may have seen her perform at the Monday Night Tease, Miss Kitty's, and The Letter Follies or one of the many places she charms her audiences with her beautiful tease and wonderful smile. She's a cupcake cutie who spreads her frosting where ever she goes. With just 2 cups of sugar, a little spice, & a pinch of glitter, she'll bake up the hottest show in town and plans to bake you right in your seat.
http://www.myspace.com/missangiecakes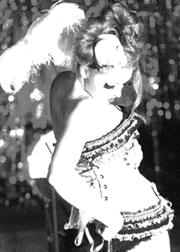 LAVENDAR LA RUE
Lavendar La Rue is in love with costumes and glam and everything vintage. Vaudville appeals to her and most of her performances reflect that. She's a little vaudvillian package, dancing to her own tune. She has performed at the MONDAY NIGHT TEASE at 3 Clubs, SCHMUTZIG(that's german for dirty) at El Cid, LE FEMMES CHERRIS at The Key Club, Bordello for Friday Nights, and SHIMMY & SHAKE. She also ran in a marathon last year. Lavendar has something very special planned for you on this night in her interpretation of a certain film named after a certain street so you might not want to miss it - and if you DO go to the show, don't blink or you might STILL miss it!.
http://www.myspace.com/lillianlassen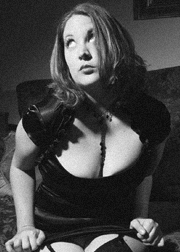 JOSIE BUNNIE
Let's get this straight... She's got "Curves, Curls and Baby Blue Eyes!" Josie Bunnie is a burlesque performer, occasional nude model, and confirmed nudist who loves being creative and artistic. She has performed at El Cid with the Victory Variety Hour & Schmutzig, 3 Clubs with the Monday Night Tease, Mr T's Bowl and The Scene club with Burlesque-a-go-go, in the live Camp Burlesque show, and other various shows. She is a student of Kitten De Ville, Augusta (AKA Penny Starr Jr.), Jewel Of Denial, Lux La Croix and Vixen Violette. She is a very bubbly person who likes to socialize and meet new people. She knows what she's got and knows how to use it, as they say. She also says she loves being in front of a camera and playing with her kitty cats.
Josie Bunnie on Facebook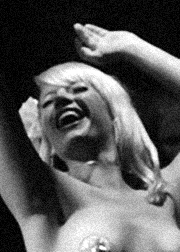 CAROLINA MOON
A student of Kitten DeVille, Carolina Moon is a Burlesque Performer, Costume Designer and Producer of The Cats Meow Burlesque Entertainment Company When this show was originally on the boards last year, we felt nobody else would be as qualified as Carolina to perform her particular act in the David Lynch tribute night. She has previously performed at Viva Las Vegas, Camp Burlesque and the Monday Night Tease. When she isn't on stage teasin' and twirlin', she's offstage volunteering for several humanitarian organizations such as WWF, the Sea Shepherd Conversation Society, and helping animals as a member of the ASPCA. She loves painting, hiking, literature, music, travel, retro tiki culture. She dislikes black licorice, homophobia, religious extremists, and racists and we think she does not perform with us as often as she should... But as luck would have it, she just happens to be this month's "Peepshow Pin-Up" and she'll be with us on our stage for this night! You might even be able to convince her to sign a poster after the show!
http://www.myspace.com/carolinamoonburlesque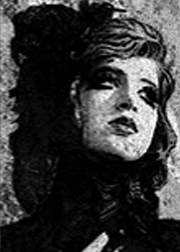 LA FILLE
La Fille is a broken dolly with a diabolical streak, a Tim Burtonesque aesthetic and David Lynchian flair. Throughout her childhood she studied ballet and acted in plays at The Knightsbridge Theatre. She moved on to study experimental improv at Rachel Rosenthal Studio and is currently a Film/Video major at the California Institute for the Arts. La Fille weaves her fascination with dark surrealism and Gothic Victorian aesthetics to create emotionally stimulating 'tragic burlesque' acts that both titillate and provoke the psyche. She currently performs with the LA Poetry Brothel and the band Many of Odd Nature and looks forward to producing some 'beautifully insane' interdisciplinary performance art shows in the near future. This will be her 3rd performance on our stage and from what we understand, the one she has been looking forward to the most.
La Fille on Facebook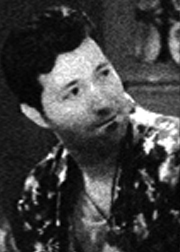 STEAK N. SHAKE
If you were at our burlesque tribute to the Fab Four called "Please Tease Me", then you probably saw the debut of the mysterious BOYLESQUE performer known as Steak N. Shake. He looks awfully familiar too. As appropriate for a David Lynch themed show, it's almost we've met him before...perhaps when he was...somebody else? He does look a lot like the performer known as Mr Snapper who has hosted the Monday Night Tease in Hollywood and even co-produced one of our shows in Scarlett Letter's absence while on tour in Europe. But that would be impossible because this performer's name is clearly "Steak N. Shake" and not the performer known as Mr. Snapper who recently performed in Inglorious Burlesque: The Third Annual Quentin Tarantino Burlesque Tribute in a private show for Tarantino himself who said that Mr. Snapper had his Vincent Vega character and dance "down PERFECT!" Nope, this just could not be that guy.
NOT Steak N. Shake's Facebook page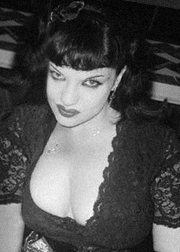 EDEN DRAVEN
Eden is "more than just a great set of boobs and a deck of unmarked cards... Eden Draven, the acknowledged 'Mortician Magician' brings the dead into dead glamorous. When she isn't helping the deceased to their final resting places, her arcane knowledge of the world of magic finds her at the Magic Castle - with the occasional time off for bad behaviour. She can occasionally be found painting the town in an apropriately Gothic shade of red. She has appeared with Madame Sunset & the Hollywood Kittens, Bondage Ball, and the Erotica Expo. Though her dancing career began as a childhood dream, her career in burlesque is a more recent development that she takes firmly to heart (but not one in formaldehyde). Underneath that demure and spookily seductive outside, she remains firmly a geek at heart, loving comic books, weird science and Cthulu in equal measure.
Eden Draven on Facebook
Live Music by: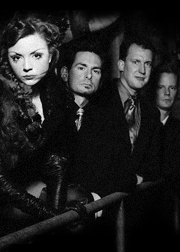 MATHER LOUTH AND RADIO NOIR
From Jeffry Pegg's review of a live Mather Louth And Radio Noir show from his blog on myspace; "Lights shine sultry on red lips spreading to a chrome polished microphone. What comes forth is an eerie southern breeze floating off a murky backwater bayou. David Meadow on drums pattering calm, Randall Keith on upright bass thumping lull, Jon Nilsen on sax blowing it smooth, and Mather on a blues guitar strums the strings to her glimmering soul while exhaling vocals from the shadowy depths of her heart. It's a mystical New Orleans sound from L.A. Mather dressed in southern belle Goth; the Goth being a slim midnight felt outfit with frills dangling from a short thick skirt with charcoal sheer stockings and black boot heels; the southern belle being her pale blush beautiful face with glittering peacock eyes and plum wine hair tied up in a red bouquet of flowers and feathers. She looked like a blossoming red rose with feather foliage penetrating through the darkness. In the essence of blues, Mather Louth vibes a depressingly hopeful feel in her music, like a steady trudge through thick oily mud with optimism to reach the sparkle in the distance. The air becomes thick with her rough ominous vocals that soak listeners completely. It's not a miserable 'I hate life' attitude, but rather a rhythmic release of despair and tiny possibilities. Your troubles are momentarily forgotten when Mather Louth absorbs you into her bourbon sipping blues, which lasted forty-five minutes." This is their third performance with Peepshow Menagerie.
http://www.matherlouth.com/


Produced by: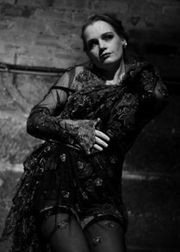 Performing Burlesque and Produced by SCARLETT LETTER
Scarlett Letter is not only the co-producer of this show, but is the co-producer of The Letter Follies and also the former co-producer of the Monday Night Tease. She has performed at Exotic World in 2007 and 2008 and was winner of "Most Classic" at the 2007 Boston Burlesque Exposition and most recently won "Best Solo Performance" and The Legends' Award at the 2010 Boston Burlesque Exposition. She has performed in more countries than you've been to. She's got "four feet of red hair and miles of bad intentions" and dances her life away every chance she gets. This includes currently: Burlesque at the 3 of Clubs, Rocky Horror with Wild and Untamed Things (WUT), and miscellaneous burlesque, go-go, and pole-go around the greater Los Angeles Metropolitan area. Recently she was able to perform at a private show for director Quentin Tarantino who had never seen a real live fan dancer before in person and raved about her performance for over 5 minutes.
http://www.scarlettlettera.com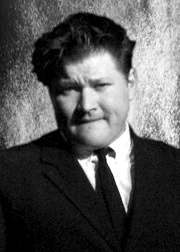 Produced and Hosted by CHRIS BEYOND
Chris Beyond has been a part of the L.A. independent music scene since the early nineties and has really had his hands full since then. He is the creator of No-Fi "Magazine" in 1996 and No-Fi "Radio" in 2002, both of which are still in production today. He has appeared on the television shows SEXBYTES on HBO and on DEADLINE on HDnet. He's been an in-studio guest on the radio show LOVELINE, was interviewed on Playstation.com, and has been published in Ben Is Dead and Harper's magazines. He has produced several concerts around the Los Angeles area as well as been a member of the bands EAR BEYOND and POPULAR GIRL. He is also a designer whose works have appeared in albums, magazines, newspapers, flyers, and DVDs (including the burlesque film Broad Daylight directed by JMM). He is a prominent burlesque and pin-up photographer in the national burlesque scene and a staffmember of the Burlesque Hall Of Fame/Exotic World. He has hosted shows for Shimmy & Shake, Dolls Of Fox, Monday Night Tease, & more, and is co-host of The Burlesque Podcast with Lili VonSchtupp.
http://www.facebook.com/chrisbeyond
Show Photos and Promotional Material! (Live photos will be updated after the show.)




Click on each image to see a BIGGER version!
PAST SHOW REVIEWS!

GUEST OF A GUEST shares a very positive and humorous review of Burlesqueland 2010.

THE GLOSS suggests visiting Burlesqueland over Iceland.

THE L.A. WEEKLY joins the "Burlesqueland!!" cast at at the park for Burlesque Day At D-Land.

THE L.A. WEEKLY visits Peepshow Menagerie "Burlesqueland!!"

THE L.A. WEEKLY visits Peepshow Menagerie as their featured slideshow!

THE GUARDIAN U.K.'s very positive mention about Peepshow Menagerie in this article about David Lynch!

HOLLYWIRE.COM's review of Peepshow Menagerie: Beneath The Surface!

A review of Peepshow Menagerie: Beneath The Surface on YELP.COM!

Jack Dagger's experience at Peepshow Menagerie: Burlesqueland!