Starring: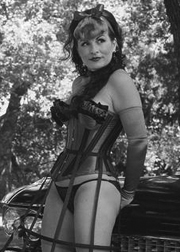 CHARLOTTE LA BELLE ARAIGNE'E
Last year at our first David Lynch Burlesque tribute, she saved the day when the person doing our Blue Velvet number fell ill and couldn't do the show. Lucky for us, we found out that Charlotte La Belle Arrainge'e (whose name translates into "Charlotte The Beautiful Spider") already had an act inspired by the film. And this year she's back and prominently credited on our poster. She is one of the pioneers of the new wave of burlesque who has been performing since the late 80's. She produces a show called Buckingham Burlesque. She designs and creates the majority of her hats, corsets and costumes. She has performed on the main stage at Exotic World (aka "The Burlesque Hall Of Fame"), Lucha VaVoom, Ink & Iron, has opened for Dita Von Teese at The Orpheum Theatre, and has performed at many of the best burlesque stages all over the world. She is a great performer and friend of the show and we are always very happy to have her back.
http://www.myspace.com/charlottesparlor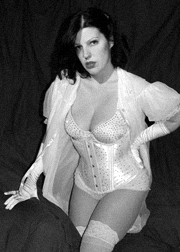 ANNA BELLS
Anna Bells first struck the Burlesque scene as half of The Fishnet Floozies back in the early to mid 2000's. Their talents brought them both to the Exotic World stage as well as appearing in the burlesque movie BROAD DAYLIGHT directed by John Michael McCarthy (Teenage Tupelo, Superstarlet A.D.). Until last year, she co-produced the annual burlesque holiday show "JESUS CHRIST: A HOLIDAY BURLESQUE REVUE." After taking much of 2008 off, she's back in her burlesque heels with force and plans to put one of Twin Peaks' favorite characters back in danger once again on this night of David Lynch themed burlesque.
http://www.myspace.com/annabells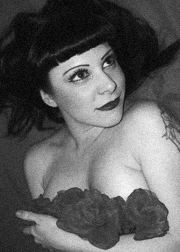 MISS ANGIE CAKES
Miss Angie Cakes has been performing in night clubs from East to West Coast since the late 1990's. By day, she's a Fashion Designer for a local clothing company in Los Angeles. At night, the stage is her second home. She also makes her own costumes and accessories and will be launching her very own line soon. This little cookie loves all things sweet, (especially cake!). You may have seen her perform at the Monday Night Tease, Miss Kitty's, and The Letter Follies or one of the many places she charms her audiences with her beautiful tease and wonderful smile. She's a cupcake cutie who spreads her frosting where ever she goes. With just 2 cups of sugar, a little spice, & a pinch of glitter, she'll bake up the hottest show in town and plans to bake you right in your seat.
http://www.myspace.com/missangiecakes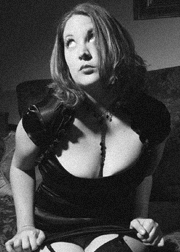 JOSIE BUNNIE
Let's get this straight... She's got "Curves, Curls and Baby Blue Eyes!" Josie Bunnie is a burlesque performer, occasional nude model, and confirmed nudist who loves being creative and artistic. She has performed at El Cid with the Victory Variety Hour & Schmutzig, 3 Clubs with the Monday Night Tease, Mr T's Bowl and The Scene club with Burlesque-a-go-go, in the live Camp Burlesque show, and other various shows. She is a student of Kitten De Ville, Augusta (AKA Penny Starr Jr.), Jewel Of Denial, Lux La Croix and Vixen Violette. She is a very bubbly person who likes to socialize and meet new people. She knows what she's got and knows how to use it, as they say. She also says she loves being in front of a camera and playing with her kitty cats.
Josie Bunnie on Facebook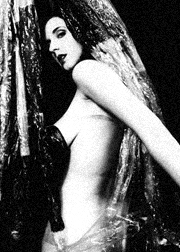 POLLY PEABODY
Polly Peabody has graced the stages of the following establishments: The Slipper Room, The Blue Angel, Limelight, Rififi, Veruka, Galapagos, SHOW, The Spider Club, The Key Club, The Derby, Tangier, Passive Arts Studios, MBar, El Cid, Fais Do Do, Bordello and many more that she's forgotten to mention. She has worked with The Boomshell Girls (NYC), The Va Va Voom Room (San Francisco and NYC), The Red Rooster Review (Key West), and with the great Shelly Bomb on events in Vegas, NY, Madison, Wisconsin and beyond. She and partner Crystal Swarovski competed in the Miss Exotic World competition 2006. Their production company, Lopsided Productions has been bringing infantile entertainment to LA for a good four years now -- on and off, you know, whatever... She was a contributor and co-writer on Miss Swarovski's opus, Kubrilesque. Before that, she was co-artistic director at SHOW Nightclub with NY club impresario, Norman Gosney. She co-directed The Pink Rhino Review, The Pirate Show, Dark Carnival and The Hitchcock Show, as well as co-opening for Pink, Britney Spears, and Dita Von Teese. Fancy right? Nowadays, her main focus within the wacky world of neuvo-retro-homo-fatso-metro-lesbo-burlesque is to sharpen her razor-like wit on the whetstone of David Hasselhoff, abortion jokes, and the vast comic trench of Adolf Hitler, securing a place for herself as the proverbial "hostess with the mostest," a cognomen she has bestowed shamelessly on herself (at least she admits it, girls). Her alter ego, Adria Lang, is a screenwriter and novelist living in Echo Park with her cat Bobo. Currently she is directing the film version of the Kubrilesque show.
http://www.pollypeabody.com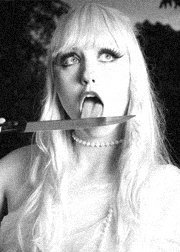 DOLLY DANGER
Dolly Danger is an actress as well as a writer and enjoys living the Burlesque and Vaudeville lifestyle. She has toured Europe with the popular Stanley Kubrick themed burlesque show called Kubrilesque. She has starred in a horror movie starring Steve Guttenburg and James Duval. We're pretty sure that if Mr. Guttenburg's character in Police Academy were real, he'd be a big fan of Dolly and her burlesque performances. Dolly has previously been seen in Peepshow Menagerie's burlesque productions of 1001 Burlesque Nights, Anchors A Go-Go and the original production of Beneath The Surface in 2009.
Dolly Danger on Facebook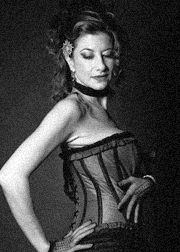 GLAMA SUTRA
Our favorite Los Angeles hedonist, Glama Sutra, considers herself to be a drag queen trapped in a straight woman's body who feels that there's no situation can't be made better by the proper application of a few feathers and rhinestones. She has performed in our 2010 Merrie Maladies and 2011's Flying Saucers Over Burlesque, Peepshow Menagerie's Flying Burlesque, and 1001 Burlesque Nights shows and is a regular at the Monday Night Tease. When she's not doing burlesque, you can often find her acting on television or in various plays around Los Angeles.
Glama Sutra on Facebook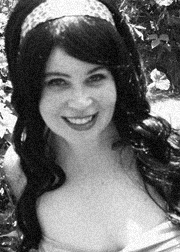 HOLLY GO DARKLY
It's been said they saved William Castle's brain and we know it to be true: One stormy night in the basement of the haunted honkytonk on the edge of town, they put that brain into a girl made from bits of showgirls, flappers, dames, dolls, and molls. Fed with electricity and a steady diet horror films, musicals, and the souls of men that girl became...Holly Go Darkly. Apart from a couple of our other shows, he has performed at the Monday Night Tease and with Sealed With A Kiss and we are happy to have her back on Peepshow Menagerie's stage.
Holly Go Darkly on Facebook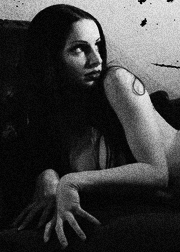 VAMP LORRAINE
Vamp Lorraine came to this mortal coil from the union between Vampira and Bela Lugosi. When she is not lurking in the cemetary with her pet Tarantula Lydia, she can be found shopping for shoes, tight-lacing corsets or tantalizing Los Angeles burlesque audiences. You may have seen her perform at Bordello before with Courtney Cruz and in our shows such as Merrie Maladies and Mad Monster Burlesque Pajama Party.
http://www.facebook.com/vamplorraine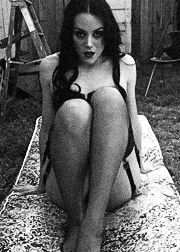 OLIVIA BELLAFONTAINE
Olivia Bellafontaine is a young woman with a heart full of artistic desires. She loves the worlds of vintage, fetish, and Avant-Garde art. In addition to burlesque, she is a model and actress who recently starred in the upcoming campy horror film; Burlesque Massacre (which also stars our friends Crystal Swarovski, Dolly Danger, and Polly Peabody who is also performing in Peepshow Menagerie this month). She often performs for Devil's Playground and performed in the first production of "Beneath The Surface" and will be performing on this night with Dolly Danger and Polly Peabody in a tribute to one of David Lynch's most divisive films. Olivia has also performed in Peepshow Menagerie's production of The Road To Burlesque.
http://www.facebook.com/oliviabellafontaine
Hosted by: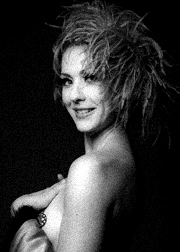 HONEY IMA HOME
Hosting this year's burlesque tribute to all things David Lynch is Honey Ima Home who recently has returned from Las Vegas after an extended stint as the lead clown in Cirque Du Soleil's Zumanity. In addition to being a member of the Sealed With A Kiss burlesque troupe, you may have seen her on television on shows such as Dexter, Ghost Whisperer, NYPD Blue, CSI: Miami and The Closer. This will be her first time hosting Peepshow Menagerie and in doing so will be bringing to life one of Mr. Lynch's fan-favorite characters to the stage. She has previously performed in Peepshow's Watching The Detectives and frankly it's been too long since she last graced our stage.
Honey Ima Home on Facebook
Special Appearances by: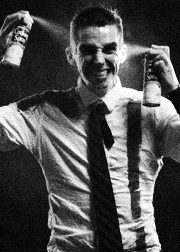 SCOT NERY
Scot Nery has spent the last 10 years of his life trying to be weird, awkward and as funny as possible. Sometimes he doubts this decision, but usually it works well for him. He started his on-camera career in 2003 with a starring role in a Cannes independent film Freak of the Week. He has since been in major motion pictures such as Adam Sandler's You Don't Mess with the Zohan!, Music videos such as Christina Aguilera's "Hurt" and several national television ads. Trained in improve and the circus arts, Scot has been a welcome presence in the L.A. burlesque circuit. This will be his second performance on our stage, having opened for Peepshow Menagerie's Flying Burlesque.
http://scotnery.com
Live Music by: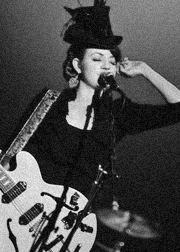 MATHER LOUTH AND RADIO NOIR
From Jeffry Pegg's review of a live Mather Louth And Radio Noir show from his blog on myspace; "Lights shine sultry on red lips spreading to a chrome polished microphone. What comes forth is an eerie southern breeze floating off a murky backwater bayou. David Meadow on drums pattering calm, Randall Keith on upright bass thumping lull, Jon Nilsen on sax blowing it smooth, and Mather on a blues guitar strums the strings to her glimmering soul while exhaling vocals from the shadowy depths of her heart. It's a mystical New Orleans sound from L.A. Mather dressed in southern belle Goth; the Goth being a slim midnight felt outfit with frills dangling from a short thick skirt with charcoal sheer stockings and black boot heels; the southern belle being her pale blush beautiful face with glittering peacock eyes and plum wine hair tied up in a red bouquet of flowers and feathers. She looked like a blossoming red rose with feather foliage penetrating through the darkness. In the essence of blues, Mather Louth vibes a depressingly hopeful feel in her music, like a steady trudge through thick oily mud with optimism to reach the sparkle in the distance. The air becomes thick with her rough ominous vocals that soak listeners completely. It's not a miserable 'I hate life' attitude, but rather a rhythmic release of despair and tiny possibilities. Your troubles are momentarily forgotten when Mather Louth absorbs you into her bourbon sipping blues, which lasted forty-five minutes." This is their fourth performance with Peepshow Menagerie.
http://www.matherlouth.com/


Produced by: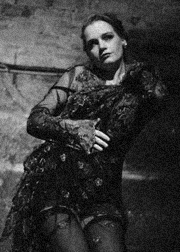 Performing Burlesque and Produced by SCARLETT LETTER
Scarlett Letter is not only the co-producer of Peepshow Menagerie and Naked Girls Reading Los Angeles, but is the producer of The Letter Follies and Dr Sketchy's Anti-Art School Ventura. She has performed at Exotic World in 2007 and 2008 and was winner of "Most Classic" at the 2007 Boston Burlesque Exposition and most recently won "Best Solo Performance" and The Legends' Award at the 2010 Boston Burlesque Exposition. She has performed in more countries than you've been to. She's got "four feet of red hair and miles of bad intentions" and dances her life away every chance she gets, be it pole-go, go-go, goth clubs or Burlesque stages. Recently she was able to perform at a private show for director Quentin Tarantino who had never seen a real live fan dancer before in person and raved about her performance to her for over 5 minutes.
http://stagelightstudios.com/the_little_red_schoolhouse_of_burlesque_workshop.html
http://www.myspace.com/apriest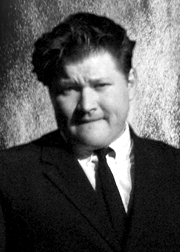 Produced by CHRIS BEYOND
Chris Beyond has been a part of the L.A. independent music scene since the early nineties and has really had his hands full since then. He is the creator of No-Fi "Magazine" in 1996 and No-Fi "Radio" in 2002, both of which are still in production today. He has appeared on the television shows SEXBYTES on HBO and on DEADLINE on HDnet. He's been an in-studio guest on the radio show LOVELINE, was interviewed on Playstation.com, and has been published in Ben Is Dead and Harper's magazines. He has produced several concerts around the Los Angeles area as well as been a member of the bands EAR BEYOND and POPULAR GIRL. He is also a designer whose works have appeared in albums, magazines, newspapers, flyers, and DVDs (including the burlesque film Broad Daylight directed by JMM). He is a prominent burlesque and pin-up photographer in the national burlesque scene and a staffmember of the Burlesque Hall Of Fame/Exotic World. He has hosted shows for Shimmy & Shake, Dolls Of Fox, Monday Night Tease, & more, and is co-host of The Burlesque Podcast with Lili VonSchtupp.
http://www.facebook.com/chrisbeyond
Show Photos and Promotional Material! (Live photos will be updated after the show.)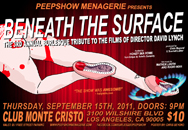 Click on each image to see a BIGGER version!
PAST SHOW REVIEWS!

LADY HUMP says that you "can't go wrong" with Peepshow Menagerie's Close Encounters Of The Burlesque Kind.

A wonderful article and review from the national CAMPUS CIRCLE newspaper.

Some great coverage of our Mad Monster Burlesque Pajama Party from FANGORIA Magazine.

GUEST OF A GUEST shares a very positive and humorous review of Burlesqueland 2010.

THE GLOSS suggests visiting Burlesqueland over Iceland.

THE L.A. WEEKLY joins the "Burlesqueland!!" cast at at the park for Burlesque Day At D-Land.

THE L.A. WEEKLY visits Peepshow Menagerie "Burlesqueland!!"

THE L.A. WEEKLY visits Peepshow Menagerie as their featured slideshow!

THE GUARDIAN U.K.'s very positive mention about Peepshow Menagerie in this article about David Lynch!

HOLLYWIRE.COM's review of Peepshow Menagerie: Beneath The Surface!

A review of Peepshow Menagerie: Beneath The Surface on YELP.COM!

Jack Dagger's experience at Peepshow Menagerie: Burlesqueland!