Featuring BURLESQUE from our MONSTERGIRLS: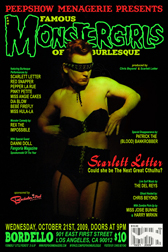 Performing Burlesque and Co-Produced by SCARLETT LETTER
Scarlett Letter is not only the co-producer of this show, but is also the co-producer of the MONDAY NIGHT TEASE which takes place every Monday at 3 Clubs in Hollywood. Like most dancers in Hollywood, Scarlett Letter has been performing since childhood. However, her experiences have helped her develop a strong capacity for performing off the cuff and from the hip. During her lonely days in rural Nevada, she spent many a night performing under the glow of a black and white TV, dancing along with the best. She quickly developed an "I can do that" attitude and jumped at every performance opportunity that came her way. Upon moving to California, she put her dreams of a chorus girl life on the backburner and earned a bachelors in Performing Arts Management. Since her graduation, it has been all systems go. Now, she is using the skills acquired growing up Mormon to keep her trunk full of award winning costumes and ready for every situation. Scarlett has performed in a wide variety of venues including the World Famous Derby, The Queen Mary in Long Beach, The Whiskey a Go-Go, the Gig and the Mint. You may have recently seen her in an episode of the television show "Chuck" where she played the part of an unsavory stripper which is worlds away from her real life persona. She has also performed in Tucson, Vancouver, Seattle, Las Vegas and Boston, where she was awarded the title of "Most Classic" at the Great Boston Burlesque Exposition of 2007. Recently Scarlett began teaching a class on burlesque in Ventura called "The Little Red Schoolhouse Of Burlesque." She will be bringing the power of the Great Cthulhu to our stage so be prepared for the possible destruction and consumption of all of mankind...or at least a great party.
http://stagelightstudios.com/the_little_red_schoolhouse_of_burlesque_workshop.html
http://www.myspace.com/apriest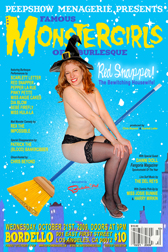 RED SNAPPER
"Sass, class and a loveable ass" is only one of many ways to describe this performer. She brings with her a very impressive pedigree. She has studied pole dancing with Aphrodite Strip-N-Pole for two years. She's had the opportunity to study burlesque with several incredible performers: Lux LaCroix (Bump and Grind 101), Miss Indigo Blue (Academy of Burlesque), Jo Boobs (New York School of Burlesque), Jewel of Denial and Penny Starr, Jr. (Striptease Symposium), Scarlett Letter (Little Red Schoolhouse of Burlesque) as well as Lili VonSchtupp, Vanity Flair, Tigger!, Desire' D'Amour, Princess Farhana, and burlesque legends Wild Cherry and April March. Last year she starred in the play "Pin-Up Girls" (directed by Andrew Moore) in a role for which the L.A. Weekly called her "Robust And Sassy" and recently directed a play called "Tracing Sunny" for her theatre company Theatre Unleashed. She co-produced two Peepshow Menagerie shows during Scarlett Letter's absence (who was on a European tour) and has performed in more of our shows than any other performer, besides Scarlett. She is also the newest teacher with Striptease Symposium. Before that she has taught pole and chair dancing with Aphrodite Strip-N-Pole in West Hollywood, as well as coached a number of actresses in the art of striptease and she's even held a tassel twirling clinic for men. See her bring a very bewitching housewife to life on our stage on Wednesday, October 21st at Bordello!
http://www.myspace.com/ms_red_snapper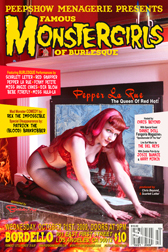 PEPPER LA RUE
Pepper La Rue is known as "The Queen Of Red Hot" who after moving from Riverside where she performs with BUCKINGHAM BURLESQUE, started producing her own show at The Anarchy Library in Downey called THE JUVENILE DELINQUENT REVUE. She has appeared as "The Red Hot Devilette" in the "Monstergirls" feature in No-Fi "Magazine" issue 55 (from which this very show was inspired) and is a member of the So. Cal Bombshells. She has performed in the 2007 Vancouver International Burlesque Festival and has performed at The Monday Night Tease and Shimmy & Shake here in Los Angeles. She's a fan of horror movies who brings a lot of energy and dazzle to every stage she performs on. This will be Pepper's third time performing at PEEPSHOW MENAGERIE and it really has been too long since her last appearance.
http://www.myspace.com/pepper_larue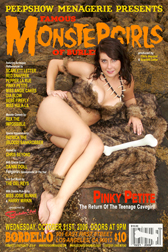 PINKY PETITE
The sweet and petite treat known as Miss Pinky Petite hails originally from Boston where she was a member of THE BOSTON BABYDOLLS and even performed with them at the 2006 Miss Exotic World pageant. In 2007 she moved to Los Angeles and quickly found a place near the beach and a place in the Los Angeles Burlesque Scene. She has performed at VICTORY VARIETY HOUR, SHIMMY & SHAKE, PIRATE BURLESQUE, and the MONDAY NIGHT TEASE. She was the coverstar of the first "Chris Beyond's Bootleg Stag Party" cd and will also be featured in an upcoming issue of Bachelor Pad Magazine. This will be her sixth appearance at PEEPSHOW MENAGERIE and will be bringing her Teenage Cavegirl to our stage again for anyone who missed last years Peepshow Menagerie: Not Dead Yet show (or just wants to see her bring this character to life again!)
http://www.myspace.com/pinkypetite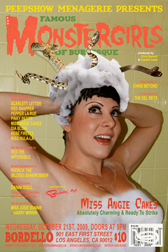 MISS ANGIE CAKES
Miss Angie Cakes has been performing in night clubs from East to West Coast since the late 1990's. By day, she's a Fashion Designer for a local clothing company in Los Angeles. At night, the stage is her second home. She also makes her own costumes and accessories and will be launching her very own line soon. This little cookie loves all things sweet, (especially cake!). She's a cupcake cutie who spreads her frosting where ever she goes. With just 2 cups of sugar, a little spice, & a pinch of glitter, she'll bake up the hottest show in town and plans to bake you right in your seat with her fourth performance with PEEPSHOW MENAGERIE on Wednesday, October 21st at Bordello in L.A.! See what happens when Medusa has a bad hair day!
http://www.myspace.com/missangiecakes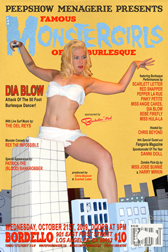 DIA BLOW
Your favorite fallen angel, from the depths of hell comes Miss Dia Blow, a favorite of Satan's roller skating, hellfire spitting vixens! Don't let that sweet smile fool you, she will steal your soul just as soon as kiss you! Dia is known to wear a lot of hats; helmets, top hats, fedoras, and of course her devil horns. She also wears a lot of shoes; skates, heels, chucks, spurs, folded up newspapers, and toe socks. She also wears a backpack with a towel in it and asks us not to question it. Dia is a member of the Angel City Derby Girls. If you ever get lucky enough to go skating with her, be sure to to wear more protection than your standard knee and elbow pads because if you get in her way, you surely find yourself under her wheels. Since skating her way into the burlesque scene, she has performed at the Monday Night Tease and at this year's Viva Las Vegas. This is her second performance with Peepshow Menagerie and we can promise that her burlesque act is going to be HUUUUGE!.
http://www.myspace.com/diablowburlesque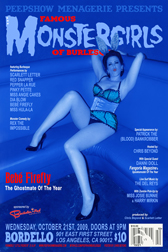 BEBE FIREFLY
Miss Firefly lists her favorite things as drinking wine, performing burlesque, and "watching horror, comedy, yoga." We're not sure if those last three things are supposed to go together like that, but you think of it, shouldn't they? Who couldn't imagine the fun in watching the comedy and horror of yoga while sitting back, drinking wine, and being inspired for your next burlesque act? She made her Peepshow Menagerie debut last month but has become a regular at the Monday Night Tease, Victory Variety Hour and Ragdolls Burlesque over the last year. She was even lucky enough to perform at Comicon this year in San Diego. Bebe' knows how to use her talents and is always a jot to watch on stage and it's no wonder why Penny Starr Jr, chose for her to help represent her school at our Burlesque teachers showcase last month. This will be Bebe's second performance with Peepshow Menagerie and will be bringing us a Playmate from Beyond The Graaaaave!
http://www.myspace.com/bebefirefly1000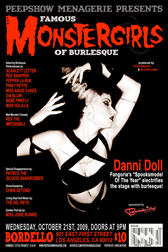 DANNI DOLL
Danni Doll has been a busy gal since her last performance with Peepshow Menagerie. Since last performing in our "Nightie Of Fairy Tales" show, she has since become Fangoria Magazine's Official "Spooksmodel Of The Year!" Still she hasn't let fame get to her head...at least not the one on her neck... The ones in the bag on the other hand... Danni is a retro, burlesque, horror movie, comic book, circus lovin' DORK. But she's an awfully cute and entertaining dork. This eclectic young lady is whirlwind of entertainment. If she's not sparklin' and tappin' with the Rocky Horror Picture Show troupe Midnight Insanity, you might find her walkin' tall on stilts at a fair, or flyin' above your head on a hoop or tissu at an LA club. Or, if you're really lucky, you'll get to see her takin' it off at a burlesque show near you...and what do you know! She's performing at THIS show on Wednesday, October 21st, 2009 with an electrfying act!
http://www.myspace.com/pirate_dolly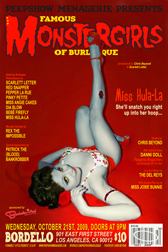 MISS HULA-LA
Miss Hula-La began Go Go dancing for a Los Angeles based theatre punk band in 2001, touring all over the USA and Europe with them. Shortly after, she became a feature dancer for an all female modern cabaret revue and danced across the USA in numerous nightclubs, casinos and theaters from Vegas to Nashville. She has danced with female revue dance groups The Darling Divas, The Hollywood Knockouts and The California Dolls. Hula-La has studied in the styles of Hoopdance, Ballet, Burlesque, Fan Dance, Belly Dance, Linedance, and Pole dance but her specialty is her naughty but nice hoopdance striptease act with her 'cat that ate the canary smile'. More Go-Go than burlesque and more burlesque than hoopdance; all of her performances are infused with an electrifying spunk with a punk rock vibe and a rock n' roll edge. This cat is charismatic which ever role she's playing; classy or trashy you're sure to be smitten by this Spanish starlet!
http://www.myspace.com/hoopsandfeathers
Special Mad Monster Comedy Appearances by: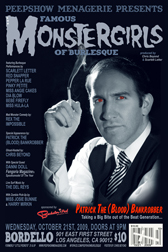 PATRICK THE BANKROBBER
Since the beginning of Peepshow Menagerie, he has always occupied a corner of the upper deck of Bordello; well dressed, sharply combed - sometimes in gloves - and watching silently from above. We eventually discovered that his name is Patrick The Bank Robber and when he isn't a burlesque enthusiast, he can often be found on stage reciting Shakespeare, traveling across the country, or just simply robbing banks (it is his name after all and he's a pretty genuine fellow). After being made at various shows across town, he eventually found himself hosting for shows like Ragdolls Burlesque and the Monday Night Tease. Besides, it's easier to see what he's up to when he's on stage rather than any dark corners of the club. This will be his third appearance in our show after hosting our "Merrie Maladies" show and co-hosting Peepshow Menagerie: Beach Blanket Burlesque. Watch your wallets, watches, and hearts - and this time, your necks - because Patrick The BLOOD Bank Robber will be on our stage at Bordello on Wednesday, October 21st, taking a bite out of the Beat Generation.
http://www.myspace.com/patrickthebankrobber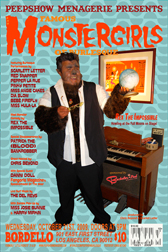 REX THE IMPOSSIBLE
Rex is making his Peepshow Menagerie comedy debut, but he's been on our stage before, making cameo appearances in both The Burlesque Gong Show and Beach Blanket Burlesque (of which he'll play a bigger part in the sequel next year). He has also performed in various comedy clubs and has hosted a couple other burlesque shows including The Monday Night Tease. Only this night will be different as the combination of a full moon and a broken razor has left him in a state of...well, let's just say that the carpet, chest, arms, and back match the drapes. Help him make his first feature act at Peepshow a howling success by joining us on Wednesday, October 21st at Bordello!
http://www.myspace.com/therevofcomedy
With LIVE SURF MUSIC By: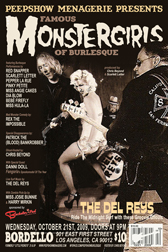 THE DEL REYS
The California Del Reys Of The San Fernando Valley, or simply "The Del Reys" as they're known to fans, formed in 2005 over a mutual love for rockin' instrumental music. They have been labeled a "surf group" by the media, but don't strictly adhere to a reverb-drenched, tidal wave of sound. Instead, the Del Reys include elements of fuzz, garage rock, heavy British blues, 50's rock & roll, and more into their eclectic approach. The band consists of Tony Marsico (Cruzados, Matthew Sweet, Martini Kings), Ric Menck (Velvet Crush, Matthew Sweet, Susanna Hoffs), and Pete Phillips (Matthew Sweet, Marianne Faithfull, Six Finger Satellite). Their debut album was recorded on a cheap 2 track recorder because they wanted to achieve a "trashy, primitive" sound similar to their biggest idols, Link Wray & the Wray Men. The Del Reys are intent on a basic, no frills approach that rocks hard, but they also have a romantic side. They have performed burlesque shows for Shimmy & Shake and Dolls Of Fox and will be playing at Bordello again shortly in Haunted House Au Go-Go. Dig their scene (not their graves) and see what they're all about at our show on October 21st!
http://www.myspace.com/thedelreys


Hosted By: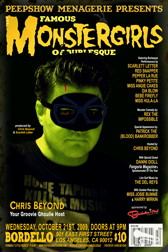 CHRIS BEYOND
Chris Beyond has been a part of the L.A. independent music scene since the early nineties and has really had his hands full since then. He is the creator of No-Fi "Magazine" in 1996 and No-Fi "Radio" in 2002, both of which are still in production today. He has appeared on the television shows SEXBYTES on HBO and on DEADLINE on HDnet. He's been an in-studio guest on the radio show LOVELINE, was interviewed on Playstation.com, and has been published in Ben Is Dead and Harper's magazines. He has produced several concerts around the Los Angeles area as well as been a member of the bands EAR BEYOND and POPULAR GIRL. He is also a designer whose works have appeared in albums, magazines, newspapers, flyers, and DVDs (including the burlesque film Broad Daylight directed by JMM). He is a prominent burlesque and pin-up photographer in the national burlesque scene and a staffmember of the Burlesque Hall Of Fame/Exotic World. He has hosted shows for Shimmy & Shake, Dolls Of Fox, Monday Night Tease, & more, and is co-host of The Burlesque Podcast with Lili VonSchtupp which recently began production on it's second season of shows which are available for free on iTunes. This particular show is based on an issue of No-Fi "Magazine" which carried the theme of a kind of Playboy Magazine if it were set in a world where 60's hepcat monsters ruled the earth. This show would be the "Monster Playboy After Dark" extention of that. By the way, if you are lucky, you just might win a copy of his new "Chris Beyond's Bootleg Stag Party Volume 2" at this show! Just be prepared to be pulled on stage for the chance.
http://www.myspace.com/beyondphotography
http://www.facebook.com/chrisbeyond
Show Photos! (Live photos will be updated after the show.)



















Click on each image to see a BIGGER version!
PAST SHOW REVIEWS!

THE L.A. WEEKLY visits Peepshow Menagerie as their featured slideshow!

THE GUARDIAN U.K.'s very positive mention about Peepshow Menagerie in this article about David Lynch!

HOLLYWIRE.COM's review of Peepshow Menagerie: Beneath The Surface!

A review of Peepshow Menagerie: Beneath The Surface on YELP.COM!

Jack Dagger's experience at Peepshow Menagerie: Burlesqueland!