Featuring BURLESQUE from our FAMOUS MONSTERGIRLS: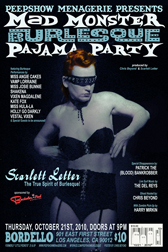 Performing Burlesque and Co-Produced by SCARLETT LETTER
Scarlett Letter is not only the co-producer of this show, but is the co-producer of The Letter Follies and also the former co-producer of the Monday Night Tease. She has performed at Exotic World in 2007 and 2008 and was winner of "Most Classic" at the 2007 Boston Burlesque Exposition and most recently won "Best Solo Performance" and The Legends' Award at the 2010 Boston Burlesque Exposition. She has performed in more countries than you've been to. She's got "four feet of red hair and miles of bad intentions" and dances her life away every chance she gets. This includes currently: Burlesque at the 3 of Clubs, Rocky Horror with Wild and Untamed Things (WUT), and miscellaneous burlesque, go-go, and pole-go around the greater Los Angeles Metropolitan area. Recently she was able to perform at a private show for director Quentin Tarantino who had never seen a real live fan dancer before in person and raved about her performance for over 5 minutes.
http://stagelightstudios.com/the_little_red_schoolhouse_of_burlesque_workshop.html
http://www.myspace.com/apriest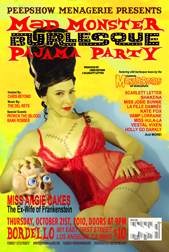 MISS ANGIE CAKES
Miss Angie Cakes has been performing in night clubs from East to West Coast since the late 1990's. By day, she's a Fashion Designer for a local clothing company in Los Angeles. At night, the stage is her second home. She also makes her own costumes and accessories and will be launching her very own line soon. This little cookie loves all things sweet, (especially cake!). She's a cupcake cutie who spreads her frosting where ever she goes. With just 2 cups of sugar, a little spice, & a pinch of glitter, she'll bake up the hottest show in town and plans to bake you right in your sea as the most electrifying bride you'll ever see!
http://www.myspace.com/missangiecakes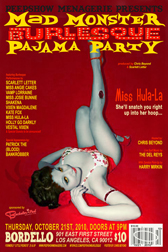 MISS HULA-LA
Miss Hula-La began Go Go dancing for a Los Angeles based theatre punk band in 2001, touring all over the USA and Europe with them. Shortly after, she became a feature dancer for an all female modern cabaret revue and danced across the USA in numerous nightclubs, casinos and theaters from Vegas to Nashville. She has danced with female revue dance groups The Darling Divas, The Hollywood Knockouts and The California Dolls. Hula-La has studied in the styles of Hoopdance, Ballet, Burlesque, Fan Dance, Belly Dance, Linedance, and Pole dance but her specialty is her naughty but nice hoopdance striptease act with her 'cat that ate the canary smile'. More Go-Go than burlesque and more burlesque than hoopdance; all of her performances are infused with an electrifying spunk with a punk rock vibe and a rock n' roll edge. This cat is charismatic which ever role she's playing; classy or trashy you're sure to be smitten by this Spanish starlet!
http://www.myspace.com/hoopsandfeathers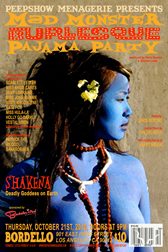 SHAKENA
Shakena has Metamorphosed to a higher plane of existance. She is a gal of many skills. When she's not bellydancing, you can find her eatting fire, hula hooping, messing around on the guitar, or hanging out at the all-you-can-eat indian buffets. She started her dance career as a Go Go dancer at the tender age of 18, and now produces fire and bellydance shows throughout Los Angeles. She enjoys Old school Metallica, Ren and Stimpy, stories of epic proportions, and dimension transporting. She first performed on our stage in April, 2009 for our "Nightie Of Fairy Tales" show doing her interpretation of the Hindu god Kali Ma! On this night she brings the wraith of an angry god to our stage.
http://www.myspace.com/lizardsarecool25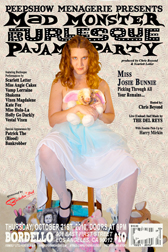 MISS JOSIE BUNNIE
She's got "Curves, Curls and Baby Blue Eyes!". Josie Bunnie is a burlesque performer, occasional nude model, and confirmed nudist who loves being creative and artistic. She has performed at El Cid with the Victory Variety Hour & Schmutzig, 3 Clubs with the Monday Night Tease, Mr T's Bowl and The Scene club with Burlesque-a-go-go, in the live Camp Burlesque show, and other various shows. She is a student of Kitten De Ville, Augusta (AKA Penny Starr Jr.), Jewel Of Denial, Lux La Croix and Vixen Violette. She is a very bubbly person who likes to socialize and meet new people. She knows what she's got and knows how to use it, as they say. She also says she loves being in front of a camera and playing with her kitty cats.
Josie Bunnie on Facebook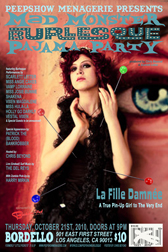 LA FILLE DAMNEE
La Fille is a broken dolly with a diabolical streak, a Tim Burtonesque aesthetic and David Lynchian flair. Throughout her childhood she studied ballet and acted in plays at The Knightsbridge Theatre. She moved on to study experimental improv at Rachel Rosenthal Studio and is currently a Film/Video major at the California Institute for the Arts. La Fille weaves her fascination with dark surrealism and Gothic Victorian aesthetics to create emotionally stimulating 'tragic burlesque' acts that both titillate and provoke the psyche. She currently performs with the LA Poetry Brothel and the band Many of Odd Nature and looks forward to producing some 'beautifully insane' interdisciplinary performance art shows in the near future. This will be her 4th performance on our stage.
La Fille on Facebook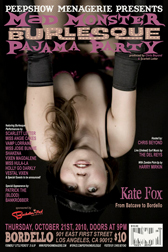 KATE FOX
Kate Fox is the Producer/Founder/Host of the Orange County Underground Burlesque Society. She was born into an aristocratic family in London, England and has been raising hell in polite society ever since. When her nasty mum and dad threatened to disown her if she didn't give up her dream of becoming a burlesque queen, she flipped her family the bird, denied her inheritance, and hightailed her little arse to Orange County, where she is currently living and working illegally. Now she's flat broke, but happy to be in her new surroundings. She was an accomplished equestrian back in jolly old England, and she loves to ride wild phillies and stallions of all varieties. (She is rarely seen without her riding crop.) She has also performed in the second day of our Burlesqueland 2010 show at the Monday Night Tease.
http://www.myspace.com/katefox_ubs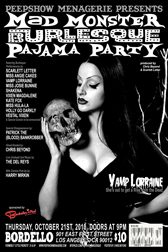 VAMP LORRAINE
Vamp Lorraine came to this mortal coil from the union between Vampira and Bela Lugosi. When she is not lurking in the cemetary with her pet Tarantula Lydia, she can be found shopping for shoes, tight-lacing corsets or tantalizing Los Angeles burlesque audiences. You may have seen her perform at Bordello before with Courtney Cruz. This Thursday, October 21st, she will be performing her signature performance as everyone's favorite 1950's horror host!
http://www.modelmayhem.com/425375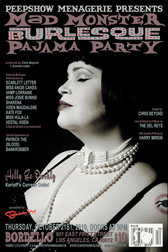 HOLLY GO DARKLY
It's been said they saved William Castle's brain and we know it to be true: One stormy night in the basement of the haunted honkytonk on the edge of town, they put that brain into a girl made from bits of showgirls, flappers, dames, dolls, and molls. Fed with electricity and a steady diet horror films, musicals, and the souls of men that girl became...Holly Go Darkly. She has performed with Monday Night Tease and Sealed With A Kiss and we are happy to have her back on Peepshow Menagerie's stage.
Holly Go Darkly's profile on Facebook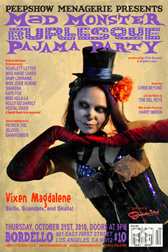 VIXEN MAGDALENE
Vixen Magdalene brings the stage alive with her hot choices for music and hot burlesque moves. Part pin up come to life, part naughty girl next door, Vixen will tease your senses. You can catch her often on Mondays at the 3 Clubs, but you'll never catch her heart! We believe this is Vixen's 4rd time performing at Peepshow Menagerie and are always happy to have her back. http://www.myspace.com/vixen_magdalene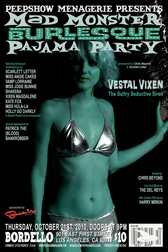 VESTAL VIXEN
VESTAL adjective- (1) Roman Mythology: a) Of or relating to Vesta b)Relating to or characteristics of the vestal virgins (2) Chaste; pure. noun- (1) Roman Mythology: A vestal virgin (2) A woman who is a virgin (3) A nun. VIXEN noun- (1) A female fox (2) a sexually attractive woman. Hailing from Southern California, Burlesque diva Vestal Vixen combines millennia of feminine sensuality in a shiny new package. Whether sizzling on stage as a member of Miss Kitty's Filthy Family or dazzling the room with beauty and class during her Burlesque numbers, Vestal Vixen knows how to seduce a crowd and leave them yearning for more.
http://www.myspace.com/vestalvixen


Special Mad Monster Comedy Appearance by: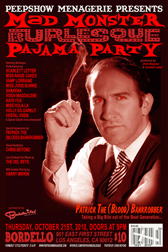 PATRICK THE BANKROBBER
Since the beginning of Peepshow Menagerie, he has always occupied a corner of the upper deck of Bordello; well dressed, sharply combed - sometimes in gloves - and watching silently from above. We eventually discovered that his name is Patrick The Bank Robber and when he isn't a burlesque enthusiast, he can often be found on stage reciting Shakespeare, traveling across the country, or just simply robbing banks (it is his name after all and he's a pretty genuine fellow). After being made at various shows across town, he eventually found himself hosting for shows like Ragdolls Burlesque and the Monday Night Tease. Besides, it's easier to see what he's up to when he's on stage rather than any dark corners of the club. This will be his third appearance in our show after hosting our "Merrie Maladies" show and co-hosting Peepshow Menagerie: Beach Blanket Burlesque. Watch your wallets, watches, and hearts - and this time, your necks - because Patrick The BLOOD Bank Robber will be on our stage at Bordello on Thursday, October 21st, taking a bite out of the Beat Generation.
http://www.myspace.com/patrickthebankrobber
With LIVE (UNDEAD) SURF MUSIC By: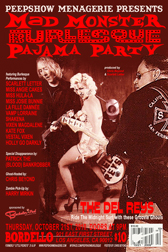 THE DEL REYS
The California Del Reys Of The San Fernando Valley, or simply "The Del Reys" as they're known to fans, formed in 2005 over a mutual love for rockin' instrumental music. They have been labeled a "surf group" by the media, but don't strictly adhere to a reverb-drenched, tidal wave of sound. Instead, the Del Reys include elements of fuzz, garage rock, heavy British blues, 50's rock & roll, and more into their eclectic approach. The band consists of Tony Marsico (Cruzados, Matthew Sweet, Martini Kings), Ric Menck (Velvet Crush, Matthew Sweet, Susanna Hoffs), and Pete Phillips (Matthew Sweet, Marianne Faithfull, Six Finger Satellite). Their debut album was recorded on a cheap 2 track recorder because they wanted to achieve a "trashy, primitive" sound similar to their biggest idols, Link Wray & the Wray Men. The Del Reys are intent on a basic, no frills approach that rocks hard, but they also have a romantic side. They have performed burlesque shows for Shimmy & Shake and Dolls Of Fox and will be playing at Bordello again shortly in Haunted House Au Go-Go. Dig their scene (not their graves) and see what they're all about at our show on October 21st!
http://www.myspace.com/thedelreys


Hosted By: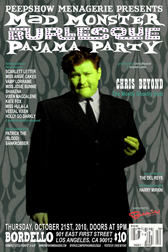 CHRIS BEYOND
Chris Beyond has been a part of the L.A. independent music scene since the early nineties and has really had his hands full since then. He is the creator of No-Fi "Magazine" in 1996 and No-Fi "Radio" in 2002, both of which are still in production today. He has appeared on the television shows SEXBYTES on HBO and on DEADLINE on HDnet. He's been an in-studio guest on the radio show LOVELINE, was interviewed on Playstation.com, and has been published in Ben Is Dead and Harper's magazines. He has produced several concerts around the Los Angeles area as well as been a member of the bands EAR BEYOND and POPULAR GIRL. He is also a designer whose works have appeared in albums, magazines, newspapers, flyers, and DVDs (including the burlesque film Broad Daylight directed by JMM). He is a prominent burlesque and pin-up photographer in the national burlesque scene and a staffmember of the Burlesque Hall Of Fame/Exotic World. He has hosted shows for Shimmy & Shake, Dolls Of Fox, Monday Night Tease, & more, and is co-host of The Burlesque Podcast with Lili VonSchtupp which recently began production on it's second season of shows which are available for free on iTunes. This particular show is based on an issue of No-Fi "Magazine" which carried the theme of a kind of Playboy Magazine if it were set in a world where 60's hepcat monsters ruled the earth. This show would be the "Monster Playboy After Dark" extention of that. By the way, if you are lucky, you just might win a copy of his new "Chris Beyond's Bootleg Stag Party Volume 2" at this show! Just be prepared to be pulled on stage for the chance.
http://www.myspace.com/beyondphotography
http://www.facebook.com/chrisbeyond
Show Photos! (Live photos will be updated after the show.)


















Click on each image to see a BIGGER version!
PAST SHOW REVIEWS!

GUEST OF A GUEST shares a very positive and humorous review of Burlesqueland 2010.

THE GLOSS suggests visiting Burlesqueland over Iceland.

THE L.A. WEEKLY joins the "Burlesqueland!!" cast at at the park for Burlesque Day At D-Land.

THE L.A. WEEKLY visits Peepshow Menagerie "Burlesqueland!!"

THE L.A. WEEKLY visits Peepshow Menagerie as their featured slideshow!

THE GUARDIAN U.K.'s very positive mention about Peepshow Menagerie in this article about David Lynch!

HOLLYWIRE.COM's review of Peepshow Menagerie: Beneath The Surface!

A review of Peepshow Menagerie: Beneath The Surface on YELP.COM!

Jack Dagger's experience at Peepshow Menagerie: Burlesqueland!