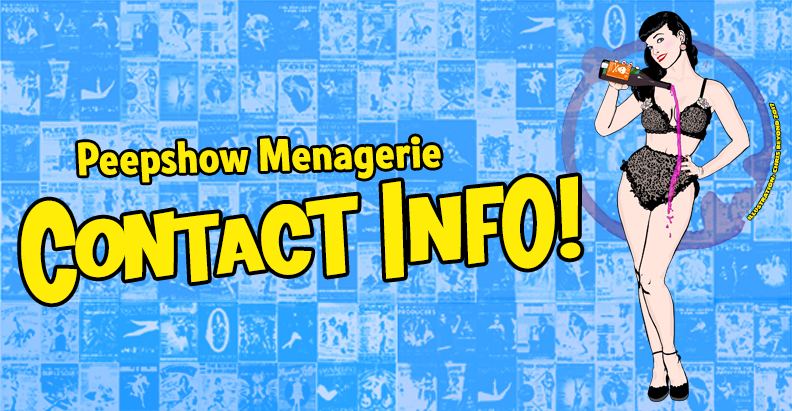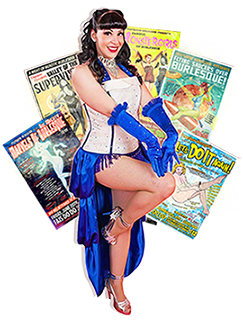 PEEPSHOW MENAGERIE is L.A.'s longest running monthly burlesque show with new and often eclectic themes every month since 2008. It is produced by Chris Beyond and Angie Cakes who each have a long list of entertainment credits under their belts. For more about our history, please check our BIO PAGE.

Currently PEEPSHOW MENAGERIE produces its show at THE IRON TRIANGLE BREWING CO> at 1581 Industrial St., Los Angeles, CA 90021 on the Third Saturday of Every Month. These shows are often big productions with storylines, featuring several stars of the Los Angeles Burlesque Scene.

We also produce a smaller show called PEEPSHOW TO GO-GO which is built to fit into smaller clubs and events and features both experienced and newer performers. There is no set "home" for this particular show at this time, but we are available for bookings.

Additionally we produce THE NAKED SHOW & TELL which is our 'naked & nerdy' live on stage talk show.



---

PERFORMERS:
We are fortunate to be able to work with performers from all over the world and are always looking for new performers to join us on stage. If you have some experience and would like to be booked in one of our shows, please contact us!.

CONVENTIONS / CORPORATE EVENTS / CLUBS:
We also welcome booking possibilities for corporate events and would be very happy to bring our show to another town. We have a multitude of special themes to choose from from classic burlesque to horror to sci-fi to tiki party and so much more! We are very lucky to be able to work with most of the top performers in and around L.A. (as well as national touring acts) and can help you find the right kind of talent to go with your budget.

BIRTHDAYS / BATCHELOR & BATCHELORETTE PARTIES:
Looking for a Burlesque themed Birthday Party or Batchelor / Batchelorette Party? We love hosting parties at our events! E-Mail us for future show dates to see if it lines up with the dates you are looking for. We are also available for private parties. Just e-mail us to let us know what you are looking for, where, and when and we'll give you our rates.

FILM & TV PRODUCTIONS:
We have taken part in television productions (domestic and foreign) and documentaries and are always happy to discuss being a part of your production. With a wide variety of performers of every style from classic to nerdlesque to boylesque to neo-burlesque to go-go dancers, we are lucky enough to work with with many of the top and diverse performers in the art from around the world. Need somebody with actual burlesque experience to train your cast? Looking for background or featured performers? Send us a line at peepshowburlesque@hotmail.com and tell us what you are looking for.

SPONSORS:
We often have sponsors for each of our shows. We love it best when the sponsor also has something they are marketing goes with the theme of our show and we especially love D.I.Y. businesses (ie: people who actually need the extra advertising). Sponsors get their logos printed on our cards, banner links on our show page and newsletters, and have an option to set up a booth at our shows. If this interests you, contact us for more details and our very reasonable rates.

PRESS:
If you are a member of the press, we would be very happy to speak with you regarding articles or interviews. Contact us at: peepshowburlesque@hotmail.com. Please note that submitting a request for media passes and/or photo/video credentials does not guarantee that you will receive them.

FANS:
We have many ways that we interact with fans online including our Facebook Group, subscribing to our Youtube Channel, and our Instagram account. You can also sign up for our newsletter on the front page of peepshowmenagerie.com.



Contact E-Mail:
peepshowburlesque at hotmail dot com



---
Return to the
PEEPSHOW
MENAGERIE
Main Menu