What is a "Peepshow Menagerie?"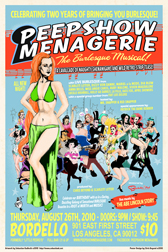 It is exactly what it sounds like, a collection of rare and varied "animals" held for exhibition - only our particular "animals" show a little more...

On the Surface, Peepshow Menagerie is a themed Burlesque and Variety Show that occurs on the Third Friday of every month in Los Angeles. Beneath The Surface you will find a reckless romp into the depths of pop culture and fandom, as navigated by producers Chris Beyond and Scarlett Letter.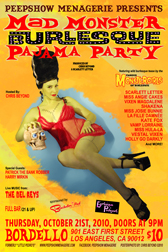 Their qualifications for these journeys are immense. Avid fans and collectors of most forms of media and entertainment - they are two sides of the same coin. As film buffs, they have taken you on the road (ala Bob Hope and Bing Crosby) and down darker paths for a night of Lynchian Burlesque. They've gone back to their childhoods, for "A Nightie of Fairytales" and taken you on (s)trips to "Burlesqueland"

They have obsessed with the best of them (60's beach movies, Nurses, Monsters...)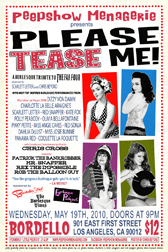 They love Music (there is usually a live band that opens almost every show), Art ("The Burlesque Of Nibelung" - in honour of L.A. Opera's first Ring Cycle), Literature ("Watching The Detectives"), and Comedy (we have been lucky to feature several of L.A.'s top "alternative" stand-up and baggy pants comics).

No territory is too uncharted ("A Burlesque Space Oddity") - no topic too taboo ("Televangelesque") - or esoteric ("Red October")

It certainly doesn't hurt to mention that they are lucky enough to be able to showcase many of the best and beautiful Burlesque Performers from L.A. and all over the country.


They guarantee a wild and varied collection of music, art, comedy, dance and sex (but still PG-13) - in other words...

"Peepshow Menagerie" is a true burlesque show, by all definitions.




Still have questions? Would you like to know more?
Want to book us for a private party or corporate event?
E-Mail us at peepshowburlesque at hotmail dot com!



---

A few nerdy facts about our Producers (A FAQ)

GEEKIEST/NERDIEST COLLECTION

Scarlett - I own 85% of the books for White Wolf's "Vampire The Masquerade"
Chris - I literally have a paid storage space filled to the ceiling with boxes of various toys.

FIRST BURLESQUE WE EVER SAW

Scarlett - "Dance, Girl, Dance"
Chris - Yikes, I think it may have been "Dance, Girl, Dance" too! My first time seeing burlesque LIVE was at Exotic World in 2002.

TIDBITS AND HISTORY ABOUT SCARLETT...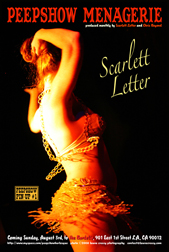 - Grew up Mormon, but not in Utah.
- Can draw an accurate scale map of the Contiguous 48 states - to properly demonstrate the isolation of her tiny home town.
- Neither of her parents has ever had red hair.
- involved with RHPS since 1996 - Wrote Bachelor's thesis at Scripps College "The Transducer will Seduce Ya': The Continued Success of The Rocky Horror Picture Show"
- A Pianist, Percussionist, and general lover of complex, layered, clean music.
- has not CUT hair since 1994 - trims happen every so often.
- believes Maureen O'Hara is the Samuel L Jackson of Irish Women - I dare you to find a movie where she doesn't have a tirade.
- has been sewing since she was 6 yrs old, won first sewing award at 8 yrs (County Fair) and spent "hardtime" in mom and grandmothers fabric store.

TIDBITS AND HISTORY ABOUT CHRIS...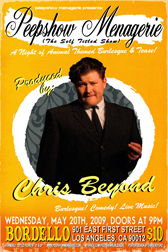 - Grew up in the South Bay towns of Carson and Torrance as an only child.
- Spent a lot of time alone drawing, reading, or playing with Star Wars toys.
- His favorite shows growing up were Tom Hatten's Popeye and Family Film Festival shows as well as The Little Rascals (aka Our Gang). He sites much of his burlesque inspiration from these shows and Tom Hatten as a huge artistic influence.
- Has been in three bands: Popular Girl, Ear Beyond, and oddly a goth band called Faith Collapsing that disbanded after their first show. Ear Beyond and Popular girl played many shows as part of the "Silverlake Scene" in the late 90's.
- Started producing his own live music shows right out of high school including one show where he used Republican Party funds to produce a live show that featured a lesbian punk band.
- Created No-Fi "Magazine" in 1995 as a way to promote his own and his friends' bands, not expecting that soon he would be able to meet many of his musical idols because of it.
- Has been an in-studio guest on Loveline.
- Created the online radio show No-Fi "Radio" in 2001 so that people could hear the bands he wrote about.
- Started covering burlesque in 2001 with a random trip to Exotic World. Eventually he would become one of the main photographers in the L.A. burlesque scene covering live shows and doing pin-up work.
- Is co-host of The Burlesque Podcast with Lili VonSchtupp.


---
PAST PEEPSHOW MENAGERIE REVIEWS!

GUEST OF A GUEST shares a very positive and humorous review of Burlesqueland 2010.

THE GLOSS suggests visiting Burlesqueland over Iceland.

THE L.A. WEEKLY joins the "Burlesqueland!!" cast at at the park for Burlesque Day At D-Land.

THE L.A. WEEKLY visits Peepshow Menagerie "Burlesqueland!!"

THE L.A. WEEKLY visits Peepshow Menagerie as their featured slideshow!

THE GUARDIAN U.K.'s very positive mention about Peepshow Menagerie in this article about David Lynch!

HOLLYWIRE.COM's review of Peepshow Menagerie: Beneath The Surface!

A review of Peepshow Menagerie: Beneath The Surface on YELP.COM!

Jack Dagger's experience at Peepshow Menagerie: Burlesqueland!


---
Return to the
PEEPSHOW
MENAGERIE
Main Menu