Starring Our Teachers: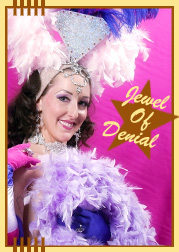 JEWEL OF DENIAL
Sharing the title of Miss Exotic World Best Duo 2008 with Kat Bardot, Jewel Of Denial began her burlesque career when she entered the sparkling world of the Velvet Hammer Burlesque, LA's pioneering neo-burlesque troupe. Jewel has graced stages in 4 countries, 6 states, and 17 cities; including Las Vegas, Hollywood, San Francisco, San Diego, Sacramento, Portland, Seattle, Washington D.C., London, and Amsterdam. She was recently seen in the LA Weekly 30th Anniversary Theater Awards. Jewel has years of movement training: from ballroom at Arthur Murray to jazz and dance fitness at L.A. Dance Arts Academy. She has also painstakingly researched retro dances such as apache, lindy hop, swing, and jive; other interests include hip-hop, capoeria, power yoga, even breakdancing! Jewel has taught a number of different dance disciplines including striptease at the on-going belly dance meets burlesque event Stiletto, and is co-founder of Striptease Symposium. You can catch her performing regularly all around Los Angeles!
http://www.myspace.com/jewel_of_denial
http://www.itsachick.com/burlesqueclasses.html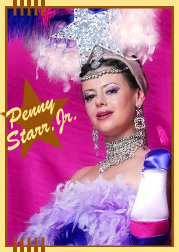 PENNY STARR JR.
Following in her grandmother's acrylic heels, Penny Starr Jr. is the "Pe-Tite Barnum of Burlesque". After spending 3 years making the documentary THE VELVET HAMMER BURLESQUE, it was no wonder that she decided to pick up the mantle held by her grandmother, Philadelphia burlesque dancer Penny Starr. Or, as Penny Starr Jr. puts it, "You can only live with the circus for so long before you want to join!" In 2004, on her first anniversary of performing, Penny Starr Jr. became First Runner-Up at Miss Exotic World. Penny Starr, Jr. continues to pop up all over the country, and dare I say, Canada. She was a recurring dancer at the legendary 20's club Bricktops at the Parlour Club as well as Margaret Cho's The Sensuous Woman. She has made guest appearances in shows like Joey Altruda's Macabaret, Lucha Va Voom, the Va Va Voom Room in San Francisco, the W Hotel in San Diego, Skin Tight Outta Sight Rebel Burlesque in Toronto, Starshine Burlesue and the Slipper Room in NYC and the Peek-A-Boo Revue in Philadelphia, as well as the big three: Tease-O-Rama, Exotic World and the New York Burlesque Fest. She has been featured in the burlesque edition of STYLE MONTE CARLO and been a centerfold for Barracuda Magazine, and writes the entertainment page in Bachelor Pad Magazine. In addition to dancing, Penny is the founder of the Striptease Symposium burlesque classes and has taught at Tease-O-Rama, the Toronto Burlesque Fest, with Vaudezilla Productions in Chicago, and Burly-Con in Seattle. She also produces and directs the Princess Farhana line of belly dance and burlesque instructional DVDs. Currently, she is producing VICTORY VARIETY HOUR (voted one fo the best shows in LA by Bizarre Magazine).
http://www.myspace.com/thepetitebarnum
http://www.itsachick.com
http://www.itsachick.com/burlesqueclasses.html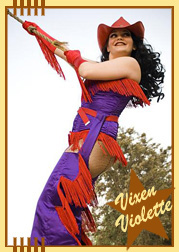 VIXEN VIOLETTE
Vixen Violette can't decide if she is an alter ego, or if she has an alter ego. One thing that is for sure is that she is a very talented performer and producer who produced BURLESQUE-A-GO-GO with her co-producer Lux LaCroix. This past year she made her Burlesque Hall Of Fame: Exotic World debut at The Palms casino in Las Vegas. She has performed in the Quentin Tarantino Burlesque Film Festival two years in a row. She's known for her "Sharp Tongue and Soft Curves" and has taught costuming as part of the "Bump 'N' Grind Bootcamp" and Wig Styling with Striptease Symposium. This year she is branching out on her own and has started a new costuming class called Costume Therapy with teaches everything from basic costume making to more advanced costume arts and techniques. In addition to burlesque, she also sings - something she often incorporates into her burlesque performances!
http://www.myspace.com/VixenViolette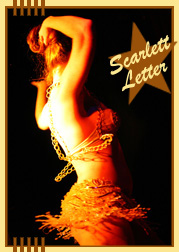 Performing Burlesque and Co-Produced by SCARLETT LETTER
Scarlett Letter is not only the co-producer of this show, but is also the co-producer of the MONDAY NIGHT TEASE which takes place every Monday at 3 Clubs in Hollywood. Like most dancers in Hollywood, Scarlett Letter has been performing since childhood. However, her experiences have helped her develop a strong capacity for performing off the cuff and from the hip. During her lonely days in rural Nevada, she spent many a night performing under the glow of a black and white TV, dancing along with the best. She quickly developed an "I can do that" attitude and jumped at every performance opportunity that came her way. Upon moving to California, she put her dreams of a chorus girl life on the backburner and earned a bachelors in Performing Arts Management. Since her graduation, it has been all systems go. Now, she is using the skills acquired growing up Mormon to keep her trunk full of award winning costumes and ready for every situation. Scarlett has performed in a wide variety of venues including the World Famous Derby, The Queen Mary in Long Beach, The Whiskey a Go-Go, the Gig and the Mint. You may have recently seen her in an episode of the television show "Chuck" where she played the part of an unsavory stripper which is worlds away from her real life persona. She has also performed in Tucson, Vancouver, Seattle, Las Vegas and Boston, where she was awarded the title of "Most Classic" at the Great Boston Burlesque Exposition of 2007. Recently Scarlett began teaching a class on burlesque in Ventura called "The Little Red Schoolhouse Of Burlesque" and we hope you don't mind us saying that she is an multi-talented performer with a lot of secrets of the trade to share.
http://stagelightstudios.com/the_little_red_schoolhouse_of_burlesque_workshop.html
http://www.myspace.com/apriest
With Our Teacher's Pets: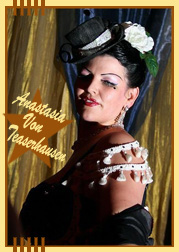 ANASTASIA VON TEASERHAUSEN
As a four year old, Anastasia Von Teaserhausen looked at her of mother's Erté books and said "Mommy I want to make these." She taught herself to use a sewing machine at age 14, breaking 2 in the process. Sewing professionally since she was 17, she studied in New York for Accessory and Millinery design at Fashion Institute of Technology. After specializing in fetish and club costuming for several years, she was introduced to the amazingly fun world of burlesque and found a passion in it. She is performing at this show representing Lux LaCroix's Bump And Grind 101 classes as one of her students who has since had a very active and successful career in the Los Angeles burlesque scene. We love having her on our stage and are very happy to have her back at Peepshow Menagerie.
http://www.myspace.com/pinkfouffy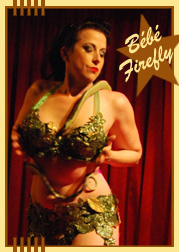 BEBE FIREFLY
Miss Firefly lists her favorite things as drinking wine, performing burlesque, and "watching horror, comedy, yoga." We're not sure if those last three things are supposed to go together like that, but you think of it, shouldn't they? Who couldn't imagine the fun in watching the comedy and horror of yoga while sitting back, drinking wine, and being inspired for your next burlesque act? She is a student of the Striptease Symposium and will be performing with and representing the teachings of Penny Starr Jr. on her own as well. Bebe' knows how to use her talents and is always a jot to watch on stage and it's no wonder why Penny chose for her to help represent her school. This will be Bebe's first performance with Peepshow Menagerie and it's about time, right?
http://www.myspace.com/bebefirefly1000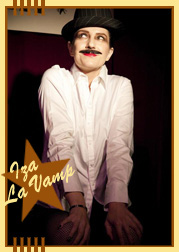 IZA LA VAMP
She is known as "The Lost Ziegfeld Girl!" This will be Iza La Vamp's first time performing with Peepshow Menagerie but in a short time has taken the Los ANgeles Burlesque Scene by storm! She is a student of Penny Starr Jr. and Jewel of Denial of Striptease Symposium and will be performing with Penny as well as doing a solo number representing the school. She has also performed at Victory Variety Hour as well as The Monday Night Tease. She also recently got the chance to work with Chicago's Michelle L'Amour during a recent rare appearance in L.A. One odd thing about Iza; she recently discovered that she loves to wear moustaches as part of her act. Will she break out a `stache at our show? You'll just have to come to find out. We are very happy to finally get to work with Iza in what we hope is the first of many appearances in our show.
http://www.myspace.com/izalavamp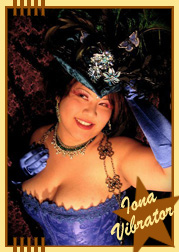 IONA VIBRATOR
Hitachi is her middle name and she wants you all to lubricate rather than hate. She has studied with amazing Jewel of Denial, Penny Starr Jr., Lux LaCroix, and Vixen Violette and will be representing Vixen's Costume Therapy classes as her student. One of L.A.'s newest performers, she is now booking shows and getting her feet wet in the Burlesque scene. She recently took part in the 4th Annual Las Vegas Photo Safari during Burlesque Hall Of Fame: Exotic World Weekend. She loves Burlesque dancers and aficionados, lovers of music and art, people who like to shimmy until their sides hurt, and the scientists who discovered the g-spot. She made the stage hotter, if that was even possible in Peepshow Menagerie's show-within-a-show "Fun In The Sun" during Beach Blanket Burlesque and brought the dead back to life during our medical themed "Merrie Maladies" show. We love having her perform with us and look forward to her showing us her report card at this special show!
http://www.myspace.com/ionavibrator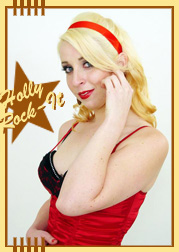 HOLLY ROCK-IT
Holly Rock-It is a burlesque performer based out of Hollywood, CA. Trained by Penny Starr Jr. and Jewel of Denial of Striptease Symposium and will be representing the teachings of Jewel Of Denial at this special show. She has performed at Bordello, Vanguard, Mr T's Bowl, the American Legion Hall (deemed "too risque" for America's veterans!), and Hollywood's 3 Clubs at Monday Night Tease. She won the title "Miss May Sunset Striptacular" at the world famous Cat Club on the Sunset Strip. She also recently took part in the 4th Annual Las Vegas Photo Safari during Exotic World / Burlesque Hall Of Fame 2009 weekend. This will be her 2nd time performing with Peepshow Menagerie after performing in July's "Merrie Maladies" show.
http://www.myspace.com/missjosiebunnie
Live Baggy Pants Comedy by: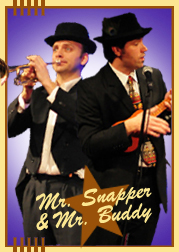 MR. SNAPPER & MISTER BUDDY
This is Mr Snapper & Mr Buddy's 3rd show with us and we are ALWAYS happy to have them grace our stage! Wait, can what they do be considered "graceful?" With all the falutin' up there, we're lucky nobody has broken a shinbone or spontaniously combusted from all the antics with these two jokers. Helping to keep Vaudeville alive in the modern burlesque circuit, the chatty and singing ukulele playing Mr Snapper and ever-silent but deadly Mr. Buddy bring their years of stage experience to our own stage to entertain all of you looking in at us through our invisible monkey bars Multi-instrumentalist Mr. Snapper and comedy-savant Mr. Buddy have entertained audiences from Hollywood to...North Hollywood. Whether an old-fashioned song and dance, or a comedy variety act, Mr. Snapper & Mr. Buddy live to delight audiences and get paid. Wait, we have to pay them?
http://www.myspace.com/snapperbuddy


Hosted By: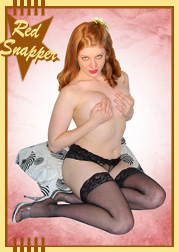 RED SNAPPER
"Sass, class and a black girl's ass" is only one of many ways to describe this performer. She brings with her a very impressive pedigree. She has studied pole dancing with Aphrodite Strip-N-Pole for two years. She's had the opportunity to study burlesque with several incredible performers: Lux LaCroix (Bump and Grind 101), Miss Indigo Blue (Academy of Burlesque), Jo Boobs (New York School of Burlesque), Jewel of Denial and Penny Starr, Jr. (Striptease Symposium), Scarlett Letter (Little Red Schoolhouse of Burlesque) as well as Lili VonSchtupp, Vanity Flair, Tigger!, Desire' D'Amour, Princess Farhana, and burlesque legends Wild Cherry and April March. Last year she starred in the play "Pin-Up Girls" (directed by Andrew Moore) in a role for which the L.A. Weekly called her "Robust And Sassy" and recently directed a play called "Tracing Sunny" for her theatre company Theatre Unleashed. She co-produced two Peepshow Menagerie shows during Scarlett Letter's absence (who was on a European tour) and has performed in more of our shows than any other performer, beside Scarlett, at this point. She is also the newest teacher with Striptease Symposium. Before that she has taught pole and chair dancing with Aphrodite Strip-N-Pole in West Hollywood, as well as coached a number of actresses in the art of striptease and she's even held a tassel twirling clinic for men. She is one of the most studied performers in the world of burlesque and we couldn't imagine anyone else more qualified to host this particular show.
http://www.myspace.com/ms_red_snapper
Co-Produced by: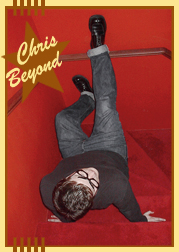 CHRIS BEYOND
Chris Beyond has been a part of the L.A. independent music scene since the early nineties and has really had his hands full since then. He is the creator of No-Fi "Magazine" in 1996 and No-Fi "Radio" in 2002, both of which are still in production today. He has appeared on the television shows SEXBYTES on HBO and on DEADLINE on HDnet. He's been an in-studio guest on the radio show LOVELINE, was interviewed on Playstation.com, and has been published in Ben Is Dead and Harper's magazines. He has produced several concerts around the Los Angeles area as well as been a member of the bands EAR BEYOND and POPULAR GIRL. He is also a designer whose works have appeared in albums, magazines, newspapers, flyers, and DVDs (including the burlesque film Broad Daylight directed by JMM). He is a prominent burlesque and pin-up photographer in the national burlesque scene and a staffmember of the Burlesque Hall Of Fame/Exotic World. He has hosted shows for Shimmy & Shake, Dolls Of Fox, Monday Night Tease, & more, and is co-host of The Burlesque Podcast with Lili VonSchtupp which recently began production on it's second season of shows which are available for free on iTunes. Having been kicked out of the finest burlesque schools across the nation and abroad (although he was never registered as a student), Mr. Beyond may be sitting out this particular show, but if you are lucky, you just might win a copy of his new "Chris Beyond's Bootleg Stag Party Volume 2" which makes its debut as a prize at this show!
http://www.myspace.com/beyondphotography
http://www.facebook.com/chrisbeyond
Show Photos! (Live photos will be updated after the show.)





Click on each image to see a BIGGER version!
PAST SHOW REVIEWS!

HOLLYWIRE.COM's review of Peepshow Menagerie: Beneath The Surface!

A review of Peepshow Menagerie: Beneath The Surface on YELP.COM!

Jack Dagger's experience at Peepshow Menagerie: Burlesqueland!