Featuring enough Heavenly Burlesque performers
to fill a High Heeled Choir: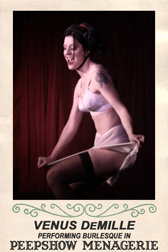 VENUS DeMILLE
The Deity Of Desire is reborn! She has come to Earth as Burlesque Artist Venus De Mille, crowned "Legend In The Making" at the Miss Exotic World 2005 Pageant. Mere mortals are held spellbound by her heavenly body and dazzling performances which combine the glamour of Hollywood with the temptation of striptease and the bluster of a good old bump 'n'grind earning her the nickname "Weapon of Man's Destruction". Emerging from a mad scientist's laboratory (as opposed to the usual half shell), Venus adapted her lofty self to portraying a range of earthy vixens. Her accordion skills are unparalleled, and whether she's serenading the audience while shedding flimsy garments, rappelling from the rafters, or transforming before your very eyes into a ball of flame, she always envelops the crowd in preternaturally supreme theatrical experience, continuously reducing human spectators to helpless piles of rubble with a mere glance. The Divine One's own costume designs were so spectacular, that though he preferred to see her unclothed, Zeus himself was inspired to bestow upon her a Master's Degree in Theater. But Venus can be benevolent as well as meddlesome. In addition to costuming many of your favorite burlesque starlets, she has been sharing her costuming expertise with other mortals for several years now, teaching Burlesque Costume Classes at Costume College (Van Nuys), Stiletto (Redlands), and Tease-O-Rama (San Francisco.) She also donates her time and efforts to various local charities. Venus has graced the stage at such diverse events as The Velvet Hammer Burlesque, Tease-O-rama, The Miss Exotic World Pageant, The Victory Variety Hour, Margaret Cho's Sensuous Woman, and many others. Venus, having once been rendered tragically armless, knows the importance of having one's limbs properly clothed. Thus, she has unveiled her own line of luxuriously embellished gloves under the name: "Gloves By Venus." This is her long awated 2nd performance in Peepshow Menagerie.
http://www.venusdemille.net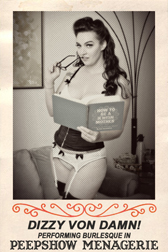 DIZZY VON DAMN!
Dizzy Von Damn! is a science-experiment gone horribly awry- she's what happens when you mix the genes of the lovely Bettie Page with those of kitschy-eccentric Liberace... She's proof that science can be sexy...and weird. Last year, she won the title of Miss Viva Las Vegas 2008, has performed across the country, as well as performing regularly at VICTORY VARIETY HOUR, MONDAY NIGHT TEASE, as well as various shows around town, and can be seen in the new LA Burlesque Calendar for 2010 which will be available for purchase at the show. She dabbles in design and is a jill of all trades - She's the Always Girl. She has both hosted and performed burlesque in our shows.
http://www.dizzyvondamn.com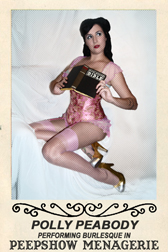 POLLY PEABODY
Polly Peabody has graced the stages of the following establishments: The Slipper Room, The Blue Angel, Limelight, Rififi, Veruka, Galapagos, SHOW, The Spider Club, The Key Club, The Derby, Tangier, Passive Arts Studios, MBar, El Cid, Fais Do Do, Bordello and many more that she's forgotten to mention. She has worked with The Boomshell Girls (NYC), The Va Va Voom Room (San Francisco and NYC), The Red Rooster Review (Key West), and with the great Shelly Bomb on events in Vegas, NY, Madison, Wisconsin and beyond. She and partner Crystal Swarovski competed in the Miss Exotic World competition 2006. Their production company, Lopsided Productions has been bringing infantile entertainment to LA for a good four years now -- on and off, you know, whatever... She was a contributor and co-writer on Miss Swarovski's opus, Kubrilesque. Before that, she was co-artistic director at SHOW Nightclub with NY club impresario, Norman Gosney. She co-directed The Pink Rhino Review, The Pirate Show, Dark Carnival and The Hitchcock Show, as well as co-opening for Pink, Britney Spears, and Dita Von Teese. Fancy right? Nowadays, her main focus within the wacky world of neuvo-retro-homo-fatso-metro-lesbo-burlesque is to sharpen her razor-like wit on the whetstone of David Hasselhoff, abortion jokes, and the vast comic trench of Adolf Hitler, securing a place for herself as the proverbial "hostess with the mostest," a cognomen she has bestowed shamelessly on herself (at least she admits it, girls). Her alter ego, Adria Lang, is a screenwriter and novelist living in Echo Park with her cat Bobo.
http://www.pollypeabody.com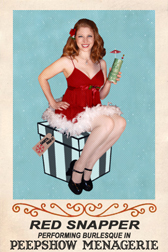 RED SNAPPER
"Sass, class and a black girl's ass" is only one of many ways to describe this performer. She brings with her a very impressive pedigree. She has studied pole dancing with Aphrodite Strip-N-Pole for two years. She's had the opportunity to study burlesque with several incredible performers: Lux LaCroix (Bump and Grind 101), Miss Indigo Blue (Academy of Burlesque), Jo Boobs (New York School of Burlesque), Jewel of Denial and Penny Starr, Jr. (Striptease Symposium), Scarlett Letter (Little Red Schoolhouse of Burlesque) as well as Lili VonSchtupp, Vanity Flair, Tigger!, Desire' D'Amour, Princess Farhana, and burlesque legends Wild Cherry and April March. Last year she starred in the play "Pin-Up Girls" (directed by Andrew Moore) in a role for which the L.A. Weekly called her "Robust And Sassy" and recently directed a play called "Tracing Sunny" for her theatre company Theatre Unleashed. She co-produced two Peepshow Menagerie shows during Scarlett Letter's absence (who was on a European tour) and has performed in more of our shows than any other performer, besides Scarlett. She is also the newest teacher with Striptease Symposium. Before that she has taught pole and chair dancing with Aphrodite Strip-N-Pole in West Hollywood, as well as coached a number of actresses in the art of striptease and she's even held a tassel twirling clinic for men. This Sunday School Teacher's Pet has put together a presentation on safe sex that you just might find interesting.
http://www.myspace.com/ms_red_snapper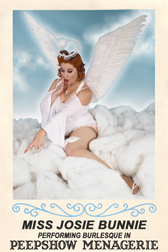 JOSIE BUNNIE
She's got "Curves, Curls and Baby Blue Eyes!" Josie Bunnie is a burlesque performer, occasional nude model, and confirmed nudist who loves being creative and artistic. She has performed at El Cid with the Victory Variety Hour & Schmutzig, 3 Clubs with the Monday Night Tease, Mr T's Bowl and The Scene club with Burlesque-a-go-go, in the live Camp Burlesque show, and other various shows. She is a student of Kitten De Ville, Augusta (AKA Penny Starr Jr.), Jewel Of Denial, Lux La Croix and Vixen Violette. She is a very bubbly person who likes to socialize and meet new people. She knows what she's got and knows how to use it, as they say. She also says she loves being in front of a camera and playing with her kitty cats. This will be Josie's 5th performance with PEEPSHOW MENAGERIE.
http://www.myspace.com/missjosiebunnie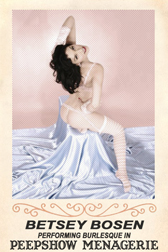 BETSEY BOSEN
She is known as "The Peruvian Princess of Burlesque" and is an American burlesque performer trained by the legendary Dee Milo Venus of Dance, Betsey is here to bring back old Hollywood glamour and to keep classic, American burlesque alive! Betsey has appeared in numerous magazines, books, websites and zines. She can most recently be found on the cover of "Bad Agent", Bill Raetz's latest spy pulp fiction thriller. Curve Magazine says of her, "A divine triple threat, Betsey Bosen is a calendar darling, a bombshell model and a striptease artist. This sexy starlet revels in burlesque's timeless art, teasing and delighting her many admirers, ourselves included. The ladies (and gentlemen) line up in droves to experience her sensual talents. Part Bettie Page, part Sally Rand, Betsey Bosen is our generation's pin-up idol and the ultimate good girl-bad girl." This will be her first performance with Peepshow Menagerie.
http://www.myspace.com/betsey_bosen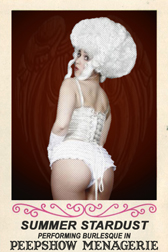 SUMMER STARDUST
Her profile on Burlesque 411 simply describes her as "Sings pretty. Smiles a lot." Her myspace profile says even less! What I can tell you from memory is that she is a very talented former member of The Rag Dolls burlesque troupe who has branched to to a smashing solo performance career performing at the Monday Night Tease and all over the Los Angeles area. And not only can she dance, but she is blessed with such a voice it'll feel like mana from heaven for your ears. This will be her first performance with Peepshow Menagerie.
http://www.myspace.com/summerstardustburlesque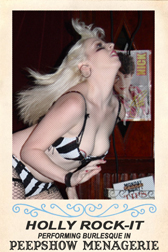 HOLLY ROCK-IT
Holly Rock-It is a burlesque performer based out of Hollywood, CA. Trained by Penny Starr Jr. and Jewel of Denial of Striptease Symposium, she has performed at Bordello, Vanguard, Mr T's Bowl, the American Legion Hall (deemed "too risque" for America's veterans!), and Hollywood's 3 Clubs at the Monday Night Tease. She won the title "Miss May Sunset Striptacular" at the world famous Cat Club on the Sunset Strip. She also recently took part in the 4th Annual Las Vegas Photo Safari during Exotic World / Burlesque Hall Of Fame 2009 weekend. This will be her 4th time performing with Peepshow Menagerie after performing in "Merrie Maladies", "Hot For Teacher", and last months smash hit "The Road To Burlesque". Join us and see why we just have to keep bringing her back!
http://www.myspace.com/hollyrockitburlesque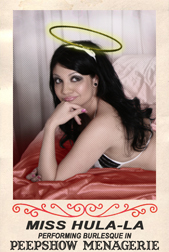 MISS HULA-LA
Ooh La La! It's the hoop spinning hell-cat Miss. Hula- La! Hula-La's dance career started as a ghoulishly vamped Go Go dancer touring Europe and America with the Los Angeles based horror-punk band 'Penis Flytrap'. She danced for a few local nightclubs before she moved on to joining an all female modern burlesque revue. Touring state to state through North America for four years as a feature dancer she performed with groups such as The Darling Divas, The California Dolls, The Hollywood Knockouts and recently with the wonderful ladies of Cherry Kiss Burlesque. Hula- La is also a certified and licensed Hoopgirl.com hoopdance instructor and spends her days off playing banjo, watching scary movies and of course hooping for health! She tells us she is the happiest hooper to be a part of Televanaglesque II.
http://www.myspace.com/hoopsandfeathers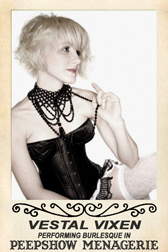 VESTAL VIXEN
VESTAL adjective- (1) Roman Mythology: a) Of or relating to Vesta b)Relating to or characteristics of the vestal virgins (2) Chaste; pure. noun- (1) Roman Mythology: A vestal virgin (2) A woman who is a virgin (3) A nun. VIXEN noun- (1) A female fox (2) a sexually attractive woman. Hailing from Southern California, Burlesque diva Vestal Vixen combines millennia of feminine sensuality in a shiny new package. Whether sizzling on stage as a member of Miss Kitty's Filthy Family or dazzling the room with beauty and class during her Burlesque numbers, Vestal Vixen knows how to seduce a crowd and leave them yearning for more. This is her first performance with Peepshow Menagerie.
http://www.myspace.com/vestalvixen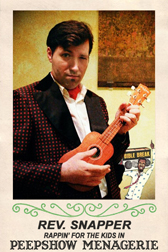 MR. (REV.) SNAPPER
Mr Snapper is a creative generalist, an artistic jack-of-all trades. Normally seen on stage as one half of the vaudeville comedy and music duo Mr. Snapper and Mr. Buddy, Mr. Snapper has also hosted the Monday Night Tease in Hollywood and even co-produced our last show in Scarlett Letter's absence while on tour in Europe. When not crooning or laffing it up onstage in the burlesque scene, Mr. Snapper find his home on other stages, writing and directing plays as a founding member of Theatre Unleashed who recently celebrated their one year anniversary. His play "Pin-Up Girls" about burlesque dancers in the 1940's was a financial and critical success and his latest work "Tracing Sunny" recently opened in Los Angeles to rave reviews and made one reviewer laugh so hard, he almost died right there in the theatre. (True story!) Tonight Mr. Snapper is performing a number he hasn't performed in public since Jr. High.
http://www.myspace.com/scrapsflippy
with Baggy Pants Comedy by: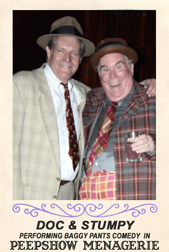 DOC & STUMPY
Doc And Stumpy celebrate the golden age of burlesque and the vaudeville routines that are often forgotten in most burlesque shows. They have been dazzling audiences in Las Vegas and Hollywood with their performances at The Burlesque Hall Of Fame and the Monday Night Tease. If you are a true fan of the history of burlesque, you'll understand why they fit right in to our show and we are very excited and lucky that they have donated their time and talent to opening this year's annual charity show.
with a LIVE musical performance by: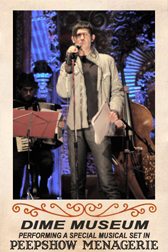 DIME MUSEUM
Dime Museum is a young project, but carries with it a lot of talent that makes it seem like this band has been around for years. After wowing the crowd at our show "The Road To Burlesque" last month, we are very lucky to have them back for a short musical performance. In fact we were so happy with their performance, we've already booked them for at least a couple more shows next year. Made up of a world renowned opera singer, a accordionist for puppet shows (who happens to also be an inventor of one of a kind musical instruments), a cellist fluent in the language of north indian classical music, a cacophonist gypsy banjo player, and the most sought after session player in the clarinet world. Dime Museum is probably THEE most well rounded cabaret act you will ever hear.
http://www.facebook.com/acavedazebac
Your Hosts and Producers: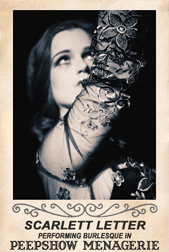 Performing Burlesque and Co-Produced by SCARLETT LETTER
Scarlett Letter is not only the co-producer of this show, but is also the co-producer of the MONDAY NIGHT TEASE which takes place every Monday at 3 Clubs in Hollywood. Like most dancers in Hollywood, Scarlett Letter has been performing since childhood. However, her experiences have helped her develop a strong capacity for performing off the cuff and from the hip. During her lonely days in rural Nevada, she spent many a night performing under the glow of a black and white TV, dancing along with the best. She quickly developed an "I can do that" attitude and jumped at every performance opportunity that came her way. Upon moving to California, she put her dreams of a chorus girl life on the backburner and earned a bachelors in Performing Arts Management. Since her graduation, it has been all systems go. Now, she is using the skills acquired growing up Mormon to keep her trunk full of award winning costumes and ready for every situation. Scarlett has performed in a wide variety of venues including the World Famous Derby, The Queen Mary in Long Beach, The Whiskey a Go-Go, the Gig and the Mint. You may have recently seen her in an episode of the television show "Chuck" where she played the part of an unsavory stripper which is worlds away from her real life persona. She has also performed in Tucson, Vancouver, Seattle, Las Vegas and Boston, where she was awarded the title of "Most Classic" at the Great Boston Burlesque Exposition of 2007. Recently Scarlett began teaching a class on burlesque in Ventura called "The Little Red Schoolhouse Of Burlesque."
http://stagelightstudios.com/the_little_red_schoolhouse_of_burlesque_workshop.html
http://www.myspace.com/apriest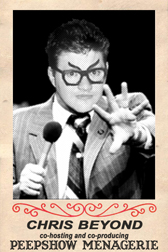 Co-Hosted and Co-Produced by CHRIS BEYOND
Chris Beyond has been a part of the L.A. independent music scene since the early nineties and has really had his hands full since then. He is the creator of No-Fi "Magazine" in 1996 and No-Fi "Radio" in 2002, both of which are still in production today. He has appeared on the television shows SEXBYTES on HBO and on DEADLINE on HDnet. He's been an in-studio guest on the radio show LOVELINE, was interviewed on Playstation.com, and has been published in Ben Is Dead and Harper's magazines. He has produced several concerts around the Los Angeles area as well as been a member of the bands EAR BEYOND and POPULAR GIRL. He is also a designer whose works have appeared in albums, magazines, newspapers, flyers, and DVDs (including the burlesque film Broad Daylight directed by JMM). He is a prominent burlesque and pin-up photographer in the national burlesque scene and a staffmember of the Burlesque Hall Of Fame/Exotic World. He has hosted shows for Shimmy & Shake, Dolls Of Fox, Monday Night Tease, & more, and is co-host of The Burlesque Podcast with Lili VonSchtupp which recently began production on it's second season of shows which are available for free on iTunes. By the way, if you are lucky, you just MIGHT win a copy of his new "Chris Beyond's Bootleg Stag Party Volume 2" at this show! Just be prepared to be pulled on stage for the chance.
http://www.myspace.com/beyondphotography
http://www.facebook.com/chrisbeyond


Show Photos! (Live photos will be updated after the show.)


















Click on each image to see a BIGGER version!
PAST SHOW REVIEWS!

THE L.A. WEEKLY visits Peepshow Menagerie as their featured slideshow!

THE GUARDIAN U.K.'s very positive mention about Peepshow Menagerie in this article about David Lynch!

HOLLYWIRE.COM's review of Peepshow Menagerie: Beneath The Surface!

A review of Peepshow Menagerie: Beneath The Surface on YELP.COM!

Jack Dagger's experience at Peepshow Menagerie: Burlesqueland!