Featuring BURLESQUE of International Proportions: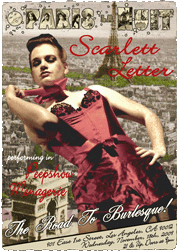 Performing Burlesque and Co-Produced by SCARLETT LETTER
Scarlett Letter is not only the co-producer of this show, but is also the co-producer of the MONDAY NIGHT TEASE which takes place every Monday at 3 Clubs in Hollywood. Like most dancers in Hollywood, Scarlett Letter has been performing since childhood. However, her experiences have helped her develop a strong capacity for performing off the cuff and from the hip. During her lonely days in rural Nevada, she spent many a night performing under the glow of a black and white TV, dancing along with the best. She quickly developed an "I can do that" attitude and jumped at every performance opportunity that came her way. Upon moving to California, she put her dreams of a chorus girl life on the backburner and earned a bachelors in Performing Arts Management. Since her graduation, it has been all systems go. Now, she is using the skills acquired growing up Mormon to keep her trunk full of award winning costumes and ready for every situation. Scarlett has performed in a wide variety of venues including the World Famous Derby, The Queen Mary in Long Beach, The Whiskey a Go-Go, the Gig and the Mint. You may have recently seen her in an episode of the television show "Chuck" where she played the part of an unsavory stripper which is worlds away from her real life persona. She has also performed in Tucson, Vancouver, Seattle, Las Vegas and Boston, where she was awarded the title of "Most Classic" at the Great Boston Burlesque Exposition of 2007. Recently Scarlett began teaching a class on burlesque in Ventura called "The Little Red Schoolhouse Of Burlesque." In her performance, she will be paying tribute to Paris!
http://stagelightstudios.com/the_little_red_schoolhouse_of_burlesque_workshop.html
http://www.myspace.com/apriest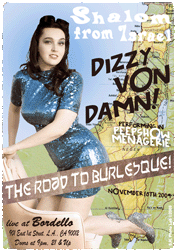 DIZZY VON DAMN!
Dizzy Von Damn! is a science-experiment gone horribly awry- she's what happens when you mix the genes of the lovely Bettie Page with those of kitschy-eccentric Liberace... She's proof that science can be sexy...and weird. Last year, she won the title of Miss Viva Las Vegas 2008, has performed across the country, as well as performing regularly at VICTORY VARIETY HOUR, MONDAY NIGHT TEASE, as well as various shows around town, and can be seen in the new LA Burlesque Calendar for 2010 which will be available for purchase at the show. She dabbles in design and is a jill of all trades - She's the Always Girl. She has both hosted and performed burlesque in our shows. Lucky YOU! She's taking off her clothes in this show! She will be doing a burlesque tribute to Israel and finally brings peace to The Gaza Strip.
http://www.dizzyvondamn.com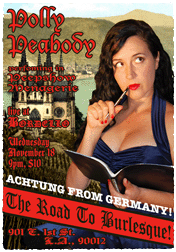 POLLY PEABODY
Polly Peabody has graced the stages of the following establishments: The Slipper Room, The Blue Angel, Limelight, Rififi, Veruka, Galapagos, SHOW, The Spider Club, The Key Club, The Derby, Tangier, Passive Arts Studios, MBar, El Cid, Fais Do Do, Bordello and many more that she's forgotten to mention. She has worked with The Boomshell Girls (NYC), The Va Va Voom Room (San Francisco and NYC), The Red Rooster Review (Key West), and with the great Shelly Bomb on events in Vegas, NY, Madison, Wisconsin and beyond. She and partner Crystal Swarovski competed in the Miss Exotic World competition 2006. Their production company, Lopsided Productions has been bringing infantile entertainment to LA for a good four years now -- on and off, you know, whatever... She was a contributor and co-writer on Miss Swarovski's opus, Kubrilesque. Before that, she was co-artistic director at SHOW Nightclub with NY club impresario, Norman Gosney. She co-directed The Pink Rhino Review, The Pirate Show, Dark Carnival and The Hitchcock Show, as well as co-opening for Pink, Britney Spears, and Dita Von Teese. Fancy right? Nowadays, her main focus within the wacky world of neuvo-retro-homo-fatso-metro-lesbo-burlesque is to sharpen her razor-like wit on the whetstone of David Hasselhoff, abortion jokes, and the vast comic trench of Adolf Hitler, securing a place for herself as the proverbial "hostess with the mostest," a cognomen she has bestowed shamelessly on herself (at least she admits it, girls). Her alter ego, Adria Lang, is a screenwriter and novelist living in Echo Park with her cat Bobo.
http://www.pollypeabody.com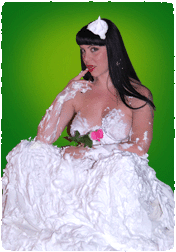 MISS ANGIE CAKES
Miss Angie Cakes has been performing in night clubs from East to West Coast since the late 1990's. By day, she's a Fashion Designer for a local clothing company in Los Angeles. At night, the stage is her second home. She also makes her own costumes and accessories and will be launching her very own line soon. This little cookie loves all things sweet, (especially cake!). She's a cupcake cutie who spreads her frosting where ever she goes. With just 2 cups of sugar, a little spice, & a pinch of glitter, she'll bake up the hottest show in town! At this particular show she will be paying tribute to "The Sarong Girl"; Dorothy L'Amour and will be performing as well as show a bit of her acting chops in the in-between host segments. And she just happens to be our Peepshow Pin-Up this month!
http://www.myspace.com/missangiecakes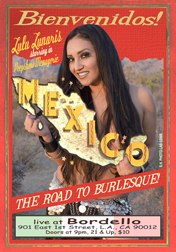 LULU LUNARIS
From Mr. Snapper's blog about his favorite performers: "There is a natural and historic overlap of bellydance and burlesque. They're not the same artform, to be sure, but it is no surprise to find bellydancers who have migrated to burlesque. One such performer is Lulu Lunaris, who offers a compelling fusion of the two styles with an emphasis on the exotic. There are performers who excite an audience and bring on the hoots, hollers and applause. There are still others who seem to hypnotize an audience, and perhaps don't generate the same level of vociferous response. I would put Lulu in this latter category. The effect she creates is dazzling; watching her is like watching a tongue of fire dancing atop a candle. Mesmerizing. Her beauty and confidence as a performer contribute to this effect -- one understands how a Salome could convince a king to kill a prophet." For her first appearance in Peepshow Menagerie, Lulu will be doing a tribute to Mexico, which happens to also be a tribute to one of her favorite films...
http://www.myspace.com/412309207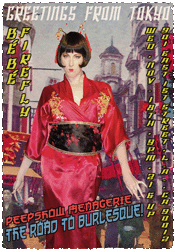 BEBE' FIREFLY
Miss Firefly lists her favorite things as drinking wine, performing burlesque, and "watching horror, comedy, yoga." We're not sure if those last three things are supposed to go together like that, but you think of it, shouldn't they? Who couldn't imagine the fun in watching the comedy and horror of yoga while sitting back, drinking wine, and being inspired for your next burlesque act? She made her Peepshow Menagerie debut a couple months ago but has already been a regular at the Monday Night Tease, Victory Variety Hour and Ragdolls Burlesque over the last year. She was even lucky enough to perform at Comicon this year in San Diego. Bebe' knows how to use her talents and is always a jot to watch on stage and it's no wonder why Penny Starr Jr, chose for her to help represent her school at our Burlesque teachers showcase last month. This will be Bebe's second performance on the Peepshow Menagerie stage in a tribute to the land of the rising sun.
http://www.myspace.com/bebefirefly1000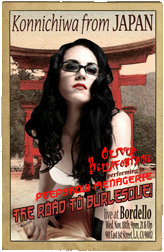 OLIVIA BELLAFONTAINE
Olivia Bellafontaine is a young woman with a heart full of artistic desires. She loves the worlds of vintage, fetish, and Avant-Garde art. In addition to burlesque, she is a model and actress who recently starred in the upcoming campy horror film; Burlesque Massacre (which also stars our friends Crystal Swarovski, Dolly Danger, and Polly Peabody who is also performing in Peepshow Menagerie this month). She has performed on our stage before as part of Cherry Kiss Burlesque at our David Lynch tribute called "Beneath The Surface" when they did their mind-blowing tribute to the David Lynch film "Inland Empire." We look forward to seeing her perform solo on our stage for the first time.
http://www.myspace.com/flowergirlwithagun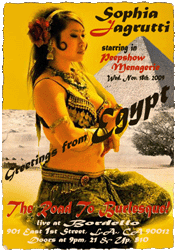 SHAKENA
Shakena (the burlesque artist formerly known as Sophia Jagruti as you can see from her postcard here) has Metamorphosed to a higher plane of existance. She is a gal of many skills. When she's not bellydancing, you can find her eatting fire, hula hooping, messing around on the guitar, or hanging out at the all-you-can-eat indian buffets. She started her dance career as a Go Go dancer at the tender age of 18, and now produces fire and bellydance shows throughout Los Angeles. She enjoys Old school Metallica, Ren and Stimpy, stories of epic proportions, and dimension transporting. She first performed on our stage in April, 2009 for our "Nightie Of Fairy Tales" show doing her interpretation of the Hindu god Kali Ma! Well, now with a new name, she is happy to be bringing to you a Little Egpyt for your viewing pleasure.
http://www.myspace.com/lizardsarecool25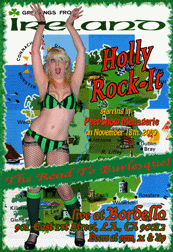 HOLLY ROCK-IT
Holly Rock-It is a burlesque performer based out of Hollywood, CA. Trained by Penny Starr Jr. and Jewel of Denial of Striptease Symposium, she has performed at Bordello, Vanguard, Mr T's Bowl, the American Legion Hall (deemed "too risque" for America's veterans!), and Hollywood's 3 Clubs at the Monday Night Tease. She won the title "Miss May Sunset Striptacular" at the world famous Cat Club on the Sunset Strip. She also recently took part in the 4th Annual Las Vegas Photo Safari during Exotic World / Burlesque Hall Of Fame 2009 weekend. This will be her 3nd time performing with Peepshow Menagerie after performing in July's "Merrie Maladies" show and September's "Hot For Teacher" show and will be representing the land of leprechauns and clover.
http://www.myspace.com/hollyrockitburlesque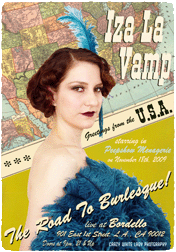 IZA LA VAMP
Iza la Vamp is known as the "Lost Ziegfeld Girl!" She was a chorus girl on her way to center stage until a freak accident caused her to body to be frozen. The details are sketchy as records of spontaneous freezings were not as well kept as they are today. Lucky for you and the art of burlesque, she is now defrosted and ready to perform. She is finding herself in a different time with different music and decades of history to catch up with, but she seems to be taking it in stride and taking the stage by force. Please join her on an adventure in recreating herself as a Burlesque starlet. Iza is a regular at Victory Variety Hour as one of the Vamp til Ready Dancers and is also one of Penny Starr Jr.'s proteje's. This will be her third appearance on our stage after her debut at the "Hot For Teacher" show and a cameo appearance in our last show. She's a great performer with a lot of talent so we are very happy to have her back!
http://www.myspace.com/izalavamp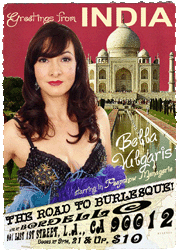 BELLA VULGARIS
Bella Vulgaris' bio is very short, but that's only because she is just getting started in the world of burlesque. She is a student of Penny Starr Jr. and Jewel Of Denial's Striptease Symposium and was a part of their first graduating class. She has also taken dance classes with the fabulous Lux Lacroix. More recently, performed at Red Snapper's benefit for the annual Burlesque Hall of Fame and in June went to Las Vegas for that same weekend burlesque festival and participated in the Pinup Safari during the Miss Exotic World weekend. FOr this show she will be representing the beauty of the country of India.
Your Hosts To The World: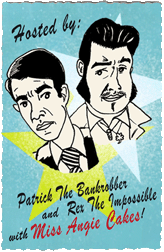 PATRICK THE BANKROBBER & REX THE IMPOSSIBLE
Since the beginning of Peepshow Menagerie, he has always occupied a corner of the upper deck of Bordello; well dressed, sharply combed - somearial in gloves - and watching silently from above. We eventually discovered that his name is Patrick The Bank Robber and when he isn't a burlesque enthusiast, he can often be found on stage reciting Shakespeare, traveling across the country, or just simply robbing banks (it is his name after all and he's a pretty genuine fellow). After being made at various shows across town, he eventually found himself hosting for shows like Ragdolls Burlesque and the Monday Night Tease. Besides, it's easier to see what he's up to when he's on stage rather than any dark corners of the club. This will be his fourth appearance in our show and third as a host.
http://www.myspace.com/patrickthebankrobber
Rex The Impossible made his Peepshow Menagerie comedy debut last month, but he's been on our stage before, making cameo appearances in both The Burlesque Gong Show and Beach Blanket Burlesque (of which he'll play a bigger part in the sequel next year). He has also performed in various comedy clubs and has hosted a couple other burlesque shows including The Monday Night Tease and a gig at The Derby. If you love this show, you'll have him to thank first as he came up with the idea for this particular night.
http://www.myspace.com/therevofcomedy
On this night you will see Patrick and Rex take over the spiritual reins of Bing Crosby and Bob Hope in this show that takes you on a road show around the world, where you don't even have to leave your seat!
With LIVE MUSIC By: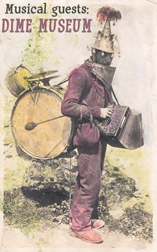 DIME MUSEUM
Dime Museum is a young project, but carries with it a lot of talent. We are very lucky to be able to feature this new act before they start making their own path through the burlesque scene. In fact we've already booked them for a couple more shows next year. Made up of a world renowned opera singer, a accordionist for puppet shows (who happens to also be an inventor of one of a kind musical instruments), a cellist fluent in the language of north indian classical music, a cacophonist gypsy banjo player, and the most sought after session player in the clarinet world. Dime Museum is probably THEE most well rounded cabaret act you will ever hear.
http://www.facebook.com/acavedazebac
Produced By: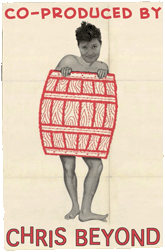 CHRIS BEYOND
Chris Beyond has been a part of the L.A. independent music scene since the early nineties and has really had his hands full since then. He is the creator of No-Fi "Magazine" in 1996 and No-Fi "Radio" in 2002, both of which are still in production today. He has appeared on the television shows SEXBYTES on HBO and on DEADLINE on HDnet. He's been an in-studio guest on the radio show LOVELINE, was interviewed on Playstation.com, and has been published in Ben Is Dead and Harper's magazines. He has produced several concerts around the Los Angeles area as well as been a member of the bands EAR BEYOND and POPULAR GIRL. He is also a designer whose works have appeared in albums, magazines, newspapers, flyers, and DVDs (including the burlesque film Broad Daylight directed by JMM). He is a prominent burlesque and pin-up photographer in the national burlesque scene and a staffmember of the Burlesque Hall Of Fame/Exotic World. He has hosted shows for Shimmy & Shake, Dolls Of Fox, Monday Night Tease, & more, and is co-host of The Burlesque Podcast with Lili VonSchtupp which recently began production on it's second season of shows which are available for free on iTunes. By the way, if you are lucky, you just MIGHT win a copy of his new "Chris Beyond's Bootleg Stag Party Volume 2" at this show! Just be prepared to be pulled on stage for the chance.
http://www.myspace.com/beyondphotography
http://www.facebook.com/chrisbeyond
Show Photos! (Live photos will be updated after the show.)














Click on each image to see a BIGGER version!
PAST SHOW REVIEWS!

THE L.A. WEEKLY visits Peepshow Menagerie as their featured slideshow!

THE GUARDIAN U.K.'s very positive mention about Peepshow Menagerie in this article about David Lynch!

HOLLYWIRE.COM's review of Peepshow Menagerie: Beneath The Surface!

A review of Peepshow Menagerie: Beneath The Surface on YELP.COM!

Jack Dagger's experience at Peepshow Menagerie: Burlesqueland!